Where to stay in Tel Aviv – the Dan Tel Aviv hotel
My first time visiting Tel Aviv and Israel in general was in September in 2015. After a year I came back and stayed at the same Dan Tel Aviv hotel which is one of the 14 Dan hotels in Israel, the oldest Israeli hotel chain.
The Dan hotel Tel Aviv was the first luxury Tel Aviv hotel and it still remains my first personal choice, too. No wonder many stars, such as Michael Jackson, Lady Gaga, Madonna, U2, The Rolling Stones, Paul McCourtney and Sharon Stone chose the same hotel for their Tel Aviv visit. If they did, how could I go wrong? 🙂
What I loved at Dan Tel Aviv hotel:
location – Dan hotel is situated on the Hayarkon street 99 which is the closest street to the beach. There are no hotels directly on the beach so a 2-minute walk across the road is the shortest hotel distance here in Tel Aviv. It's great for business but also for vacationers, couples, families and even solo travelers like me.
free wifi all around – as you might have noticed I need wifi to work online and update my social media channels so fast wifi is a necessity for me at every hotel. And at Dan hotel it did work well and I could upload anything I wanted to, videos included.
buffet breakfast – one of the best hotel breakfasts I have ever seen, especially on Shabbat Saturdays. You can find there anything from fresh fruit, vegetables, pastries, cheese, eggs, fish, cakes, halva etc.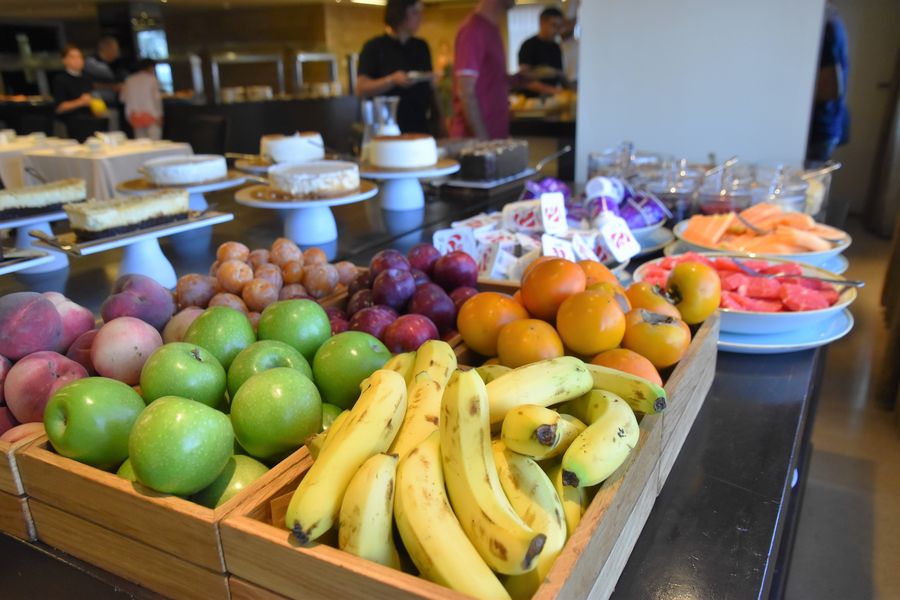 2 swimming pools – one outdoor and one indoor pool heated in winter. We can find a jacuzzi by the indoor pool and a small kids' pool by the outdoor pool. The outdoor sea water pool is so awesome with a sunbathing deck facing the Mediterranean sea. I simply love pools with sea water as it's easier to swim in there and it's also beneficial for the skin and sinuses.
dry sauna included in the room price – I only wish I had time to go there as I am a sauna lover, but unfortunately I did not. Maybe next time 🙂
yoga and chi kung by the pool – there should be a free yoga class each Friday at 5 pm and a chi kung class every Saturday at 8 am. However, during my stay the yoga teacher also walked around the pool on Saturday just after 12 pm asking guests to join the easy yoga class in the shadow behind the pool overlooking the sea. I so needed more yoga after my Eilat visit that I joined them without hesitation. I have to say it was very easy for anyone. We did a nice mixture of pranayama, yoga and chi kung. I still remember the teacher's words which describe it the best: "yoga is about union. Here we are uniting our body and mind using the breath as the glue."
my beautifuly designed spacious Executive Suite – with tea and coffee makers with a wide selection of tea, fridge with drinks and snacks, beautiful bathroom, big king size bed with 3 different kinds of pillows (soft, soft medium and medium-firm made of different materials), a living room with a sofa, chairs and a work table, a security box, 2 hairdryers, 2 LCD TVs and a number of wardrobes. I can imagine living in a suite like this for longer without any problems. I had there everything I needed.
a welcome chocolate cake was waiting for me at my suite after check in
free fruit, chocolate bonbons and water bottles in the room every day
natural toiletries in the rooms – it might sound weird but I was looking forward to using these toiletries as I remembered them very well from my previous visit. Shampoo, hair conditioner, body lotion and shower gel all smell nice and are made of natural ingredients. I avoid chemicals as much as I can so at many hotels I cannot use the toiletries they provide as they are not natural/organic/without chemicals but at the Dan Tel Aviv I had no problems.
VIP King David Crown Lounge with drinks and snacks where you can have a meeting, work, write, use the printer, watch a beautiful sunset, read magazines or just chill out. Lounge entrance is only included in the price of some rooms so make sure you have it included as you need to say your room number at the entrance. I loved working there trying out some snacks that are changed every few hours. And the sunsets from there were incredible! (The Lounge is facing the beach so you can watch the Sun setting above the sea).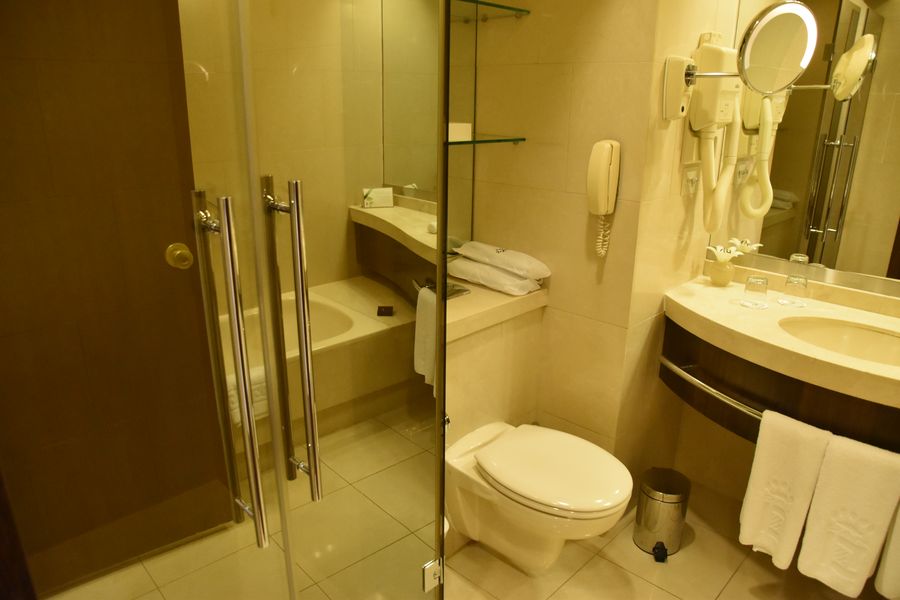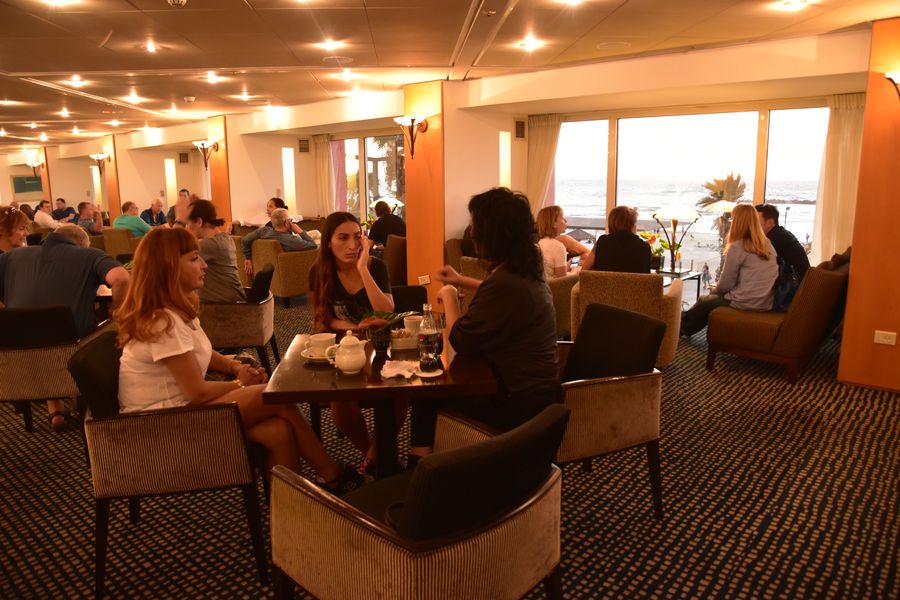 new spa offering different massages (Swedish, deep tissue and Ayurvedic massage, peeling, facial treatments etc.) – trying out some spa treatments are on my bucket list for my next Tel Aviv visit
shops on the Lobby floor – e.g. jewelry, hair and make-up salon, Dead Sea cosmetics, archaeological center selling antiquities, Art Time selling Israeli 3D modern art
E-Dan club – you can register online for the club and get many benefits, such as room discounts, always the best available room in the category you pay for, a welcome check in gift (I received a hand cream and a hand scrub) and even hotel restaurant discounts and much more.
soundproofed windows and very dark curtains make it easy to sleep even for people with light sleep like me. I really appreciated the dark curtains which let me catch up with much needed sleep.
the hotel offers more modern meeting rooms and halls with advanced technology
hotel restaurants and bars: D-bar with homemade pastries and drinks; D-Brasserie offering Mediterranean dairy cuisine; Hayarkon 99 is a Kosher chef restaurant offering contemporary international cuisine; Pool bar open in summer offers snacks, ice cream and drinks.
you can ask for laundry and medical service, in-room dining service, tours and ticket reservations and other services
Dan Tel Aviv is a non-smoking hotel which is why I give it thumbs up. You can only smoke in the designated outdoor areas.
If you are staying in Tel Aviv for a few days, then definitely read my article about 17 things to do in Tel Aviv.
You can find more of my photos in my Dan hotel album.
For more information, please check out Dan Tel Aviv hotel website. And if you are visiting other cities in Israel, such as Jerusalem, Eilat or Haifa, there are also Dan hotels in there.