Exotic Yoga Retreats in Costa Rica – Blue Osa day 7
The previous day on the Exotic Yoga Retreats in Costa Rica was not so much fun. I was tired, slow like a turtle and with some muscle pain.
Rafa, a sweet guy from the Blue osa staff asked me to take some photos of him surfing. I wake up early to watch the sunrises in Osa Peninsula every single day anyway, so I said yes. It was the first time we really talked as until that day he was always very shy and showing me just his best smile. It was so nice to find out a guy does not smoke, or drinks, nor takes drugs but works hard on his body. I am not the only weirdo, yay!
But then at breakfast, I became upset as it was our last full day of the yoga retreat. Let me be honest with you, I am NOT happy. I still do not know what I am doing starting tomorrow as so many plans have changed in the meantime.
I spent the whole night thinking and doing meditation to find out what to do next and where to go. I have even written down a list of the things that could improve at Blue Osa. Just my both positive and negative feedback about my stay. My intuition was telling me I should stay at Blue Osa so I sent an email to one of the owners. It made him laugh. It made me laugh. It also made me nervous.
I am still exhausted but spend some time running around trying to sneak some shots of the birds and howler monkeys across the dusty road where I spot a howler monkey family with the sweetest baby monkey jumping from one branch to another.
I just try to enjoy the present moment as much as I can. That's also what our today's walking meditation says – presence.
"Where mind goes, energy flows.

Align your mind

with what you deeply want."
The morning yoga class is tough as it is the last 2-hour class of our Exotic Yoga Retreats in Costa Rica. I am proud of myself. I am getting better at headstands. Just wish I could do handstands and forearms stands easily, too. One day, one day.
After a salad for lunch, I check out my emails.
My intuition was not wrong. Everything happens for a reason, that's so true! As my plans changed, it meant I should stay for longer. So it's decided. I am staying at Blue Osa for a few more weeks participating on other yoga retreats in Costa Rica and helping out with blogging and social media.
Then I spend some time swimming. Gayle Kabaker also draws me by the pool 🙂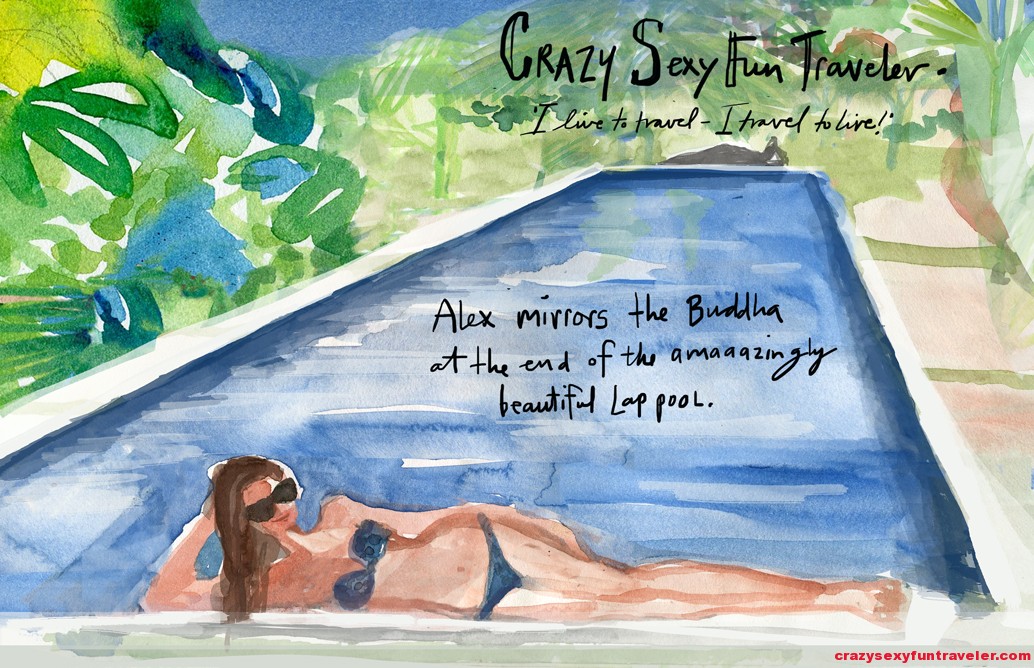 I take a nap by the pool after the snack. Jose, the chef, brings me a palm leaf flower. So sweet of him! We are both happy I am staying for a little longer. Koji, the acupuncturist, brings me small packs with different herbs for better breathing and energy.
Our last yoga class with Gayle Olson is slow, probably the slowest one when we try to open the hips. In the end, we do some pranayama and meditation.
"Divinity within you,

divinity in others."
The dinner is absolutely delicious again – cauliflower with coconut milk and other veggies. With full stomachs, we play a game when each one of us tells to the person sitting next to us something we like about them. Michelle told me I am a huge inspiration to many and I give it all out there 🙂
Then we play another game, a very funny one when everyone says 2 truths and 1 lie.
I said:
a) I have 3 piercings
b) when I snorkeled in Egypt, I almost died
c) I spent hours with Ian Somerhalder and we even hugged and kissed
Could you guess which one is the 1 lie out of the three? 😀
For more information about Exotic Yoga Retreats in Costa Rica, please visit Exotic Yoga Retreats website and like the Exotic Yoga Retreats Facebook. Thanks so much, Gayle and everyone else at Blue Osa who made my first day awesome.
*** It took me 3 hours to write this post.