Good and bad about 3 months in the jungle in Costa Rica
If you were following me, you know I spent 4 and a half months in Panama and Costa Rica, out of which maybe 3 months were on the beach close to the jungle in Costa Rica. To be precise, I enjoyed to maximum 6 weeks of volunteering at Blue Osa on the Pacific coast and then another 6 weeks in Puerto Viejo – Manzanillo area on the Caribbean coast of Costa Rica.
There's million things I could not stand when living in the jungle/beach, but for sure even more reasons why I LOVED it there so much…
Now, after spending 3 weeks in Slovakia, which means no beach, and no rainforest jungle (not counting some weird human habits as a sort of jungle right now!), I am slowly realizing all the differences between these 2 places that are both dear to my heart.
I consider myself a very adaptable person and usually just need a day or two to completely merge with the environment. However, when thinking of my 3 months in the jungle in Costa Rica there were still a few things I did not enjoy that much and could easily go without them.
How was it to live in the jungle in Costa Rica?
So here's my take on it.
Bad things:
mosquitoes all around
having to carry a flash light each time I stepped out of the bed at night to go to the bathroom
getting dark around 6 pm which was very uncommon to me. We could never walk without a flashlight, not even leave our place without one/smartphone in the afternoon as on the way back we needed it
peeing with cockroaches in front of my face
never sleeping without a mosquito net around my bed
at least 5 different kinds of ants were living around us
bugs flying right into my face when close to light bulbs
howler monkeys waking me up from 4 to 5 am. Haven't you noticed I am NOT a morning person?! How rude of you!
humidity making everything simply worse. Your clothes never dry up, you feel like you need a shower straight after taking one. The best would be to stay in the shower 24/7 but who has time for that? Not even a travel blogger 😀
sweating 24/7
smell of marijuana all around – you might find it surprising (or maybe not) but I've never been a fan of it, never smoked it in my life and just the strong smell makes me sick. However, I noticed that many people do smoke it in Costa Rica.
having at least 10 different types of bites all around the body. As soon as some of them were finally gone, I'd scratch myself just to find new bites. Thank you for your attention, bugs!
3 to 10 cm big grasshoppers of different colours, the black and red ones hold pretty strong to your skin and clothes when they jump on you which is not  a pleasant feeling
always being covered with bites, sand, salt and sweat at the same time which made me feel a sort of dirty
having a messy hair – for some reasons it just never looked nice
doing yoga with gecko shit falling on my mat and then stepping into it or touching it with my hands, NOT fun!
chocolate massages at Samasati, Blue Osa Spa and Cariblue

falling asleep to geckos making a sort of laughing noise
never taking showers alone – thank you, geckos and spiders, for keeping me company!
Caribbean beaches of Costa Rica are stunning, don't get me wrong, but I always had tons of sand in my hair no matter how many showers I took
not eating 100% raw vegan, but at least some 80% raw – I admit it's way more than most people do but I could feel the difference when it came to energy levels, sleep, glowing skin, no belly fat etc. I blame all the organic chocolate, brownies, plantains and rice and beans.
Good things:
barefoot more than 80% – basically I only wore shoes at night time as you never know what you can step on, and also to enter the stores and restaurants and very deep parts of the jungle (such as when I went hiking to a waterfall from Samasati), otherwise always barefoot. Most of the time I even left the house/bungalow/hotel with no shoes. Walking barefoot is extremely healthy, it connects you to nature, grounds you and the negative ions of the Earth stabilize you and balance your body. And trust me, I could feel it.
enjoying stepping into the mud on the paths – no one cared in the jungle/beach if your feet were dirty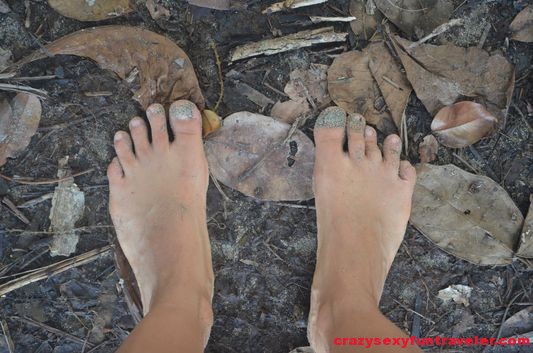 bunch of different lizards always crossing the street/path in front of me which made me stop, breathe and admire them (I love lizards and don't understand how some people can dislike them)
random beautiful butterflies flying around me always when I least expected it – the beauty is all around us, just open your eyes 🙂
eating organic chocolate every day – such as the one from Caribeans on Cocles beach, Puerto Viejo (no milk, no artificial flavors, no chemical sugar, basically nothing bad to your health)
fresh coconut water as much as I could – it is the best drink for me
organic meals – yes, you hear me, I am against GMO, and companies like Monsanto. I enjoyed the most visiting Puerto Pirata Deli in Puerto Viejo where the fresh organic meal combinations are based on Ayurveda 🙂
a lot of Afro-Caribbean people – I truly enjoy their culture
surrounded by a lot of rasta men – I would not say I am the biggest fan of the rasta hair but all those guys are pretty chilled, thumbs up
Spanish and English language – could it get even better?
buying fruit and veggies from street sellers coming straight from their farms. My favorite one was Jorge on the Cocles beach 🙂
cold showers (in 4 months and 10 days I had only 5 hot showers, the rest were cold. In many places they didn't even have hot water and where they did, I so got used to cold water already that in mostly warm weather, I didn't need hot shower any more) – I guess it was good for boosting my immune system
unforgettable sunrises at Blue Osa and sunsets on the Caribbean beaches of Costa Rica
full moon above the palms on the beach
using a sarong for everything – from a towel, to a dress, a skirt and something to lie down on on the beach … so easy and useful. I didn't have to spend much time thinking what to wear as I could almost always wear a sarong. It saved me a few minutes per day 😀
not using a comb at all – I don't travel with a comb and in the jungle it was completely unnecessary anyway as most of the time my hair was up
being able to recognize which bird was the one making the noise kept making me happy every day
waking up to jungle noises – the first few days it could get pretty annoying if I wanted to sleep in the morning but just because the wildlife was up, everyone had to wake up too. But then I learned to even love it.
always looking up at the trees – we tend to forget to look up at the sky, the trees, the animals living up there so I learned to stop and take a while to do so every day
spending time with Indigenous people was the most eye-opening experience ever, I visited for example Bribri in Talamanca
learning about plants and their medicinal use – no, we really do NOT need to go to pharmacy to heal ourselves; the nature has it all for us!
drinking home-made Ahau kombucha – great for digestion but tried it just a few times because I still prefer fresh fruit with no artificial sugar added
not using make-up – I didn't use make-up on my face at all for the entire 3 months, all natural.
no nail polish
using the same dress for all the occasions possible was such a liberating feeling.
incredibly huge leaves and many heart-shaped leaves always put a smile on my face
not using any perfume for more than 80% of the time (the rest I used just natural essential oils put on coconut oil on my skin/clothes)
using the same oil to repel the mosquitoes and attract men, isn't that cool? 😀
sleeping mostly naked or in very light clothes
using beach sand as the best body peeling
using organic cosmetics made in the local area
using fresh coconut oil for so many things
eating wild plants I had not even heard of until then. I could just go to the garden, pick some and make a green smoothie of them, cheap, healthy and yummy!
being the most grateful for having a blender at some accommodations so I could make smoothies for a change
being crazy about organic home-made chocolate brownies – hm should I put this point under the bad things as I put on weight because of the brownies?!
singing loud all the time almost anywhere – jungle, beach – you would not do that at the street in a city
putting used toilet paper into the trash bin and not into the toilet bowl – seemed gross in the beginning but at least we were not clogging the nature with the toilet paper
not caring about clothes, they could be dirty or not match at all and no one cared
shaving every 2 days was not necessary, even though more comfortable – I saw many women not shaving their legs/armpits in the jungle at all but that was not my case
I learned to take showers in nature when standing in the dirt and letting mosquitoes suck my fresh blood while I was trying to get rid of the sand in my butt
going with the flow and not planning much was less stressful
allowing myself to be lazy, to relax and slow down – I so needed it
reading in a hammock or just swinging
having no plans at all for the whole day was sometimes the best thing ever
living in the now, enjoying every single moment, every single detail, every breeze, every star, every animal, every plant, every smile…
getting energy from nature and becoming part of it
Dealing with #jungleproblems was not always easy. In fact, sometimes I felt I couldn't handle it any more, especially all the insects, bites, humidity and feeling kind of dirty, and far from sexy all the time.
But living in the jungle in Costa Rica taught me more than I could ever learn in a city.
It's always the challenging moments that teach us the most, right?
I learned about myself, my habits, nature, animals, what matters and what is not important.
I learned that the most important thing is living in the moment and being grateful for everything. Even for every single bite covering your once beautiful skin.
Let me just tell you, going back to the civilization where I had to wear shoes, dress nicely and behave like a serious adult again instead of a barefoot child stopping everywhere to play with everything and admire everything, was a big shock to me…