Basic facts about Slovakia
"Where are you from?"
"Slovakia" I answer.
After a deep thought comes up "Oh yes, Czechoslovakia, Prague."
This one is quite close, but to be honest when I hear "Slovenia?" or "Russia?" I am going crazy.
N O !!! I'm really sorry to wake you up from such a sweet long dream but it was about time to improve your horrible geography knowledge by the fact that Czechoslovakia split into 2 independent countries on the 1st January 1993 already – two parliamentary democratic republics, Czech Republic and Slovakia.
Each country has its own capital – Prague and Bratislava; and yes, own language, too. Czech and Slovak are two different languages, not just two dialects or accents. Two languages, very similar though. For majority of people it is too easy to understand both as we have many similar words, usually just one or two letters in a word can be a bit different. Slovak is softer than Czech. There are some words completely different, for example Slovak korytnačka is Czech želva; or Slovak čučoriedka is Czech borůvka (similar to Slovak synonym borovka). Czech differs from Slovak having letters ů, ě and ř which does not exist in Slovak, while Slovak has ä, ĺ, ŕ, ľ and ô that one could not find in Czech.
The name of the language and the nationality is SLOVAK, not Slovakian. It belongs to Slavic language family.
From 1st May 2004 Slovakia is a member of European Union and of Shengen area from 21st December 2007.
From 1st January 2009 we started using Euro instead of Slovak crown (1 Euro = 30,126 Slovak crown) … and the prices went up the same as in all other European countries. It used to be cheap in Slovakia in comparison with the rest of Europe but even now for foreign tourists it is still cheaper (good for you guys who love beer – 50 cents to 1 euro for 0,5l of great Slovak/Czech beer is priceless. In the center of Bratislava and High Tatras is more expensive.)
For your biggest surprise, Slovakia does NOT belong to Eastern Europe like many people think. It's situated exactly in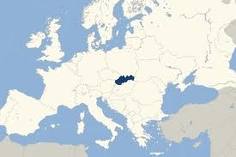 the heart of Europe together with the Czech Republic. Besides, Slovakia has boundaries with Austria, Hungary, Ukraine and Poland.
Do you see the map? That white thing is Europe, and the little dark blue one is Slovakia. Do you still think it is the Eastern Europe? Isn't it exactly in the centre???
I beg you to use your logic before you ask if we have sea. However, Slovak nature is purely marvelous! I have to say it is nicer than Czech scenery (and I do not say it because I am Slovak, but because I spent 5 years in Czech Republic and I could compare it.) Czech nature is more flat, with less forests and high mountains. In Slovakia you find absolutely different landscape every 100 km, lowlands to highlands. We have 9 National parks: Vysoké Tatry (High Tatras), Nízke Tatry (Low Tatras), Malá Fatra, Veľká Fatra, Muránska planina, Poloniny, Slovenský kras, Slovenský raj and Pieniny.
The highest mountains are Vysoké Tatry – High Tatras (with the northern part lying in Poland) with the highest peak Gerlachovský štít (2655 m above see level).
The deepest and biggest lake is Veľké Hincovo jazero in High Tatras with 53 m.
The biggest volcanic lake is Morské oko (The Sea Eye).
Out of 166 rivers, the longest one is Váh. Plus we have many little brooks not included in the number 160.
The lowest place is river Bodrog at the place leaving Slovakia and entering Hungary.
The biggest cave complex is Demänovská jaskyňa in Low Tatras.
The biggest European river island with 132 612 ha is situated in Southern Slovakia and it is called Žitný ostrov (The Rye Island).
The narrowest canyon is Manínska tiesňava in Súľovské vrchy.
The oldest protected plant is plesnivec (the edelweiss).
The largest castle complex in the Central Europe is Spišský hrad in East Slovakia with more than 41 000 m2. We have 170 castles in Slovakia.
The highest church tower is considered the tower of Spišská Nová Ves church with its 82 m.
The oldest European marathon (the second oldest in the world) was in Košice which is the second biggest town in Slovakia after Bratislava.
The biggest Slovak Gothic castle is  Dóm Svätej Alžbety (St. Elizabeth's Cathedral) in Košice.
Slovakia has continental climate. The average annual temperature is around 5 to 10°C. We can have more than 30 °C in summer and less than -15 °C in winter months. We have four seasons. The place with the lowest annual temperature is Lomnický štít in High Tatras with 3.7 °C below zero.
The mystery remain wooden churches in Eastern Slovakia. They were built of wood without using any nails in the 15th, 16th and 17th century. Now out of more than 300 wooden churches are left only a few which belong to UNESCO world heritage.
Apart from the mentioned places there are many many more in Slovakia worth the visit. Slovak nature (1 of 10 reasons to visit Slovakia) will fill you with energy and towns with cultural experience. And boys, it is said that Slovak girls are the prettiest in the world (just look at me haha joking), so why do you still hesitate? Book the ticket now!