5 things to do in Kolhapur – Deccan Odyssey luxury train day 5
After exploring two UNESCO rock-cut temples of Ellora and Ajanta on the previous days on Deccan Odyssey luxury train, our day 5 was going to be very different. And as much as I loved visiting both caves, I was looking forward to wander around Kolhapur, a local city where not many tourists go. What did I learn there? Below you will find my list of top things to do in Kolhapur. 
We could have an early breakfast on the train and enjoy relaxing morning until early lunch at 11.15 am. As I haven't been sleeping much, I decided to skip breakfast and stay in bed until 10 am. That was exactly what I needed. Then instead of lunch I kind of had brunch before disembarking Deccan Odyssey 🙂
We got a really nice welcome at the train station with 3 men and a boy playing instruments for us. And then they put a traditional orange turban "Pheta" on our heads. Was so fun! Each pheta is 3.5 metres up to 6 metres long and 1 metre wide so I had no idea how they manage to roll it in a turban so easy. Wearing Pheta shows respect. It's been part of tradition to put it on strangers' heads if they are visiting Kolhapur from somewhere else.
Deccan Odyssey luxury train day 5
 8 facts to know about Kolhapur
1. A bus took us from the train station to Kolhapur situated in South-West part of Maharashtra state of India. We learned from the guide that Kolhapur is famous for jewelry (both silver and gold), spices, jaggery and city history. It's also known for racing as its stadium can hold up to 2,000 people. Many artists, film makers, sculptors etc. live in the city.
2. From the bus we spotted a statue of a person on a horse in the middle of the roundabout. It was made by a local artist who was the son of the man who started the film industry in Kolhapur area. Don't ask me for their names though, I didn't manage to write them down 😀
3. There's 35 sugar factories in the area so tasting jaggery is a must do when visiting Kolhapur.
4. Kolhapur is a very colorful vivid town with a lot of life and little stalls selling different things. It's one of the oldest trade and religious centres in Western India. An archaeological research in 1945 revealed there was a city in the same place already during the Roman era.
5. Cuisine is very famous there too. Non-veggie meals are made mostly of goat meat mixed with with cashews, coconut and dried pickles. For example Kolhapur missal (sometimes spelled with one s only as misal) is a vegetable curry meal made of beans, sprouts, many herbs and spicy sauces.
6. First the city was named "Kolhasur" after a demon who was killed by a Goddess in the same city. Only later Kolhapur was renamed from Kolhasur to Kolhapur, as pur means city.
7. Kolhapur is a very traditional city with many festivals celebrated there in the old traditional way.
8. There's quite a few collaborative factories where they make Chappal sandals from buffalo skin. They looked cool but as a vegan I don't support anything made of animal skin. Personally, I don't wear leather products so basically I am trying to say do not buy those sandals. Until people stop buying these products, they won't stop making them :/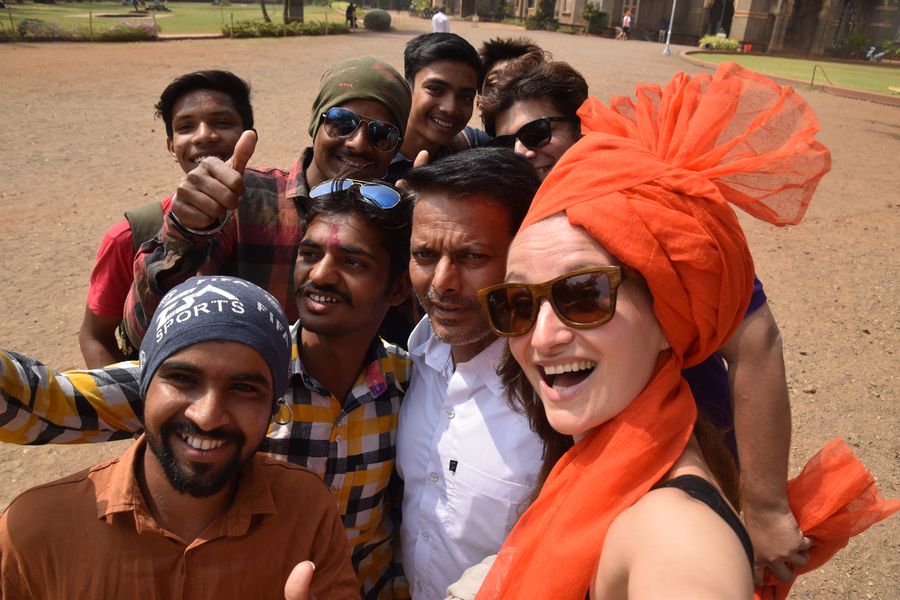 5 things to do in Kolhapur
 1. New Palace Museum
New Palace was built in the 19th century in the place of the old one which burnt down. The current palace was constructed of sandstone and black polished basalt in octangonal shape with a tower in the middle. It was a seat of Maharaja who still lives there which is why it's forbidden to take photos inside. He lets guests to visit his Palace but without photos.
Nowadays the ground floor of the New Palace is Shahaji Chhatrapati Museum. It is possible to take as many photos as you want outside of the palace. The palace facade is really pretty and inside you can find many different artifacts, furniture, paintings, decorated ceiling and colorful walls, a collection of arms, costumes, embroidery, and even stuffed animals. As a vegan I enjoyed the whole museum except the animals. The museum is dedicated to Kolhapur rulers and they Royal way of life.
 2. Town Hall Museum
Then we went to the beautiful neo-Gothic Town Hall which was finished in 1876. Nowadays, it's a newly renovated museum with some artifacts excavated only in 2017. We could observe objects of various types, old photos, statues, decorative large plates, and a Portuguese bell which was acquired after the battle at Vasai Port. Also typical jewelry, vassals and decorative pots, Terra cotta musical instruments, almanacs, decorative hand fans, small rings made of glass, paintings from the 20th century, plaster sculptures, and some art made by many local artists can be all found inside the museum. What I found especially interesting were the statues of dancers and musicians from the 12th century. They are completely different to the marble statues from the beginning of the 20th century in the next corridor. 
No photos and videos are allowed inside the museum. And you have to leave your shoes at the entrance door. The museum is open 10.30 am to 5.30 pm, with lunch break from 1 pm to 1.30 pm. It is closed on Mondays.
Even if you don't feel like going inside the museum, the building is very charming from outside. I so enjoyed a little pond with lotus flowers in front of the Town Hall.
3. Local performance
Then we made our way to the Pavilionn hotel in Kolhapur to have a cup of tea with snacks. Potato balls were so delicious! And chips too, but I usually don't eat them. We could also taste local cashews and jaggery (traditional non-centrifugal cane sugar) there. Our tea time was followed by a local performance with local dancers and musicians. Loved it! Even though I had no idea what the performance was about, it was so interesting to watch it. I had goosebumps when the singers were singing so close to me.
4. Mahalaxmi temple
Mahalaxmi temple is located at the main Kolhapur square. The unique energy of the square with so many busy locals got under my skin so much. I could just sit in there and do people watching for hours. There were locals colorfully dressed, women selling different products, kids running around, families taking selfies of them and also with us and obviously some cows.
A part of the Mahalaxmi temple was built before the 6th century but some parts were constructed between 7th to 10th century AD. You have to leave your shoes outside on the right side of the main entrance and they are also checking the big cameras and won't let you go in with them. We could leave our DSLR cameras with Deccan Odyssey train staff members and walk around the temple just with our phones. The temple is open from 4 am till 10.30 pm and offers 5 daily worship services there.
Right once you enter, look up. We can see a demon statue on the roof eating himself which means that he is eating the sins of the people who enter the temple. 
I really wish I could have taken photos and videos in the temple as it is very difficult to describe the energy there. The temple is diametrically different to all the other temples I've ever visited in India. There are many columns inside around which you walk through the temple in a line with other people.
The Mahalaxmi temple is dedicated to Goddess Shakti which is why it is sometimes also called Shakti Peethas. It is said that inside the temple you can or get your desires fulfilled, or simply get free from all your desires to lead a calmer and easier life. I wish I had known this before our visit as maybe I would have focused on that while there.  But not really sure which option I'd choose. Most probably asking for all my desires to come true 🙂 
Mahalaxmi temple, sometimes also spelled as Mahalashmi, was built on a big stone platform and we can notice a 90 cm tall Mahalaxmi carved into black stone.
5. Mardani Khel martial arts Kolhapur
After a quick visit to the temple, we got chairs on one side of the square to watch Mardani khel martial arts. I am not really sure how long the performance was, maybe more than half an hour, but I honestly felt like I didn't catch a breath during it at all. It was so interesting to watch a family of men, women and kids from 6 to 80 years perfoming martial arts. Some moves were really dangerous! It was an unforgettable experience, let me tell you! They performed with sticks, swords, fire, and even cutting lemons and bananas on someone else's body. OMG! I had my eyes wide open throughout the whole perfomance and even had tears in my eyes for a bit. They really did a great job! Saying it was impressive is an understatement.
---
---
---
---
Thanks so much to Deccan Odyssey and Incredible India for making this trip happen. I seriously fell in love with Maharashtra and Goa exploring them on a luxury train Deccan Odyssey really was.