Ramallah, Jericho, Jordan river and Bethlehem in West Bank
Spending a few days in Jerusalem at the Abraham Hostel, I decided to take my chances for a quick visit to the West Bank, Palestinian territory.
Abraham Tours offer a full day Best of West Bank tour where you can visit 3 towns: Ramallah, Jericho and Bethlehem which sounded like a plan.
We were picked up by a van at 8 am at the reception and started driving towards Ramallah. Taking a road used by Palestinians which is under the control of Israelis we stopped to pick up our Palestinian guide Tamer.
The morning when we took the tour was just a few hours after the Israeli army entered Jenin town in West Bank. At the beginning they said that 6 Palestinians were killed but then around 3 am the town hospital announced that they were just injured and not killed. Which was a good news for us as if they died, there would definitely be consequences in West Bank and it might not be so safe for us to visit.
Our guide Tamer told us the best way to follow the current situation is on Twitter or Facebook (+972 Magazine) which he checked just before he met us. 
"When you are sitting relaxed and news like this one get to you saying 6 people were killed, including 1 important Palestinian, you expect that if that's true, the things would become chaos in the whole West Bank. That's why we were all trying to find out what was really happening instead of getting in the middle of rumours."
That was my first encounter with the real situation and even though I promised myself not to ever get involved in politics and religion, in this part of the world it was not posible.
What you need to know about West Bank
West Bank got its name because it is located on the West bank of the Jordan river.
3 million Palestinians live here, out of which 93% are Muslims, almost the 7% are Christians (Catholic, Orthodox and Armenians) and a small community of Jewish.
NIS Shekel is used in West Bank, the same currency as in Israel.
West Bank teritory used to belong to both Egypt and Jordan in the past.
The Palestinians started to control Gaza Strip and West Bank major cities in the 1990's.
Since the Palestinian Declaration of Independence n 1988 more than 130 UN countries officially recognized State of Palestine (Israel and USA have not recognized it.)
1998 to 2013 West Bank was controlled by the Palestinian National Authority (PA). In 2013 the UN replaced the Authority name by the term State of Palestine, or simply Palestine.
Nowadays, West Bank is divided into three areas – area A (Jewish Israeli cannot enter) and B are under control of the Palestinians, while the area C (61% of West Bank) is run by the Israeli army (both civil and military control.) There's red road signs with white letters between the zones A, B and C.
West Bank now forms just 21% of the historical Palestine (which was the territory before 1948 when Israel state was established.)
Obviously, West Bank citizens cannot vote in Israel. 
Most Palestinians refuse to join the army but you can find some Beduins soldiers.
Hebron is the largest city of West Bank.
Ramallah serves as the (un)official de facto administrative capital of West Bank.
There are some check points between West Bank and Israel where you are not checked. Then some others are used by Palestinians to go to Israel (only those who got a permit) so even you as a foreigner/tourist you would be checked going from West Bank to Israel. So sometimes on the way to the West Bank no one checks you but on the way back, yes.
There are some security roads used just by the Israeli army and many security towers with Israeli soldiers all around.
Living in West Bank is way cheaper than living in Israel.
Since 1967 the building of Israeli settlements began. Now almost 500 settlements with 500,000 Israelis living there. All settlments are situated on top of the hills believing that the Palestinians wouldn't be able to reach them. Also, there are natural water wells so it's easier for them to get water.
Israel takes 88% of water in West Bank and they sell it to the Palestinians. Sometimes a city like Ramallah can be without any water for a month in summer. That's why there's many water tanks on the building roofs. Israel controls all the water pipes that go to the towns in West Bank. However, there's always water 24/7 in Israeli settlements. Palestinians need a special Israeli Army permit to build water wells in West Bank which is a mission impossible.
From the van windows we could see some Beduin settlements, and also randomly spread Israeli settlements.
There is a plan to link Jerusalem to the Dead Sea through the most important Israeli settlement in West Bank which would mean the end of the 2 states (Israel, Palestine) as the West Bank would be divided into two parts then.
Ramallah
Ramallah is situated at the 880 m a.s.l. just 10 km North of Jerusalem. Its name translates to ram = mountain and Allah = God. The area was empty until late 16th century when a Christian family came there and founded the town. Once a Christian town, nowadays the majority of approx. 30,000 inhabitants are Muslims.
It's good to visit Ramallah in summer but not so much in winter when the temperature drops down to 5 Celsius below 0 and the snow reaches 1 m. Ramallah is a cultural capital of West Bank with a lot of festivals happening in summer.
Arafat Mausoleum
First, we stopped at the Arafat Mausoleum which holds Yasser Arafat tomb in Ramallah, a famous Palestinian leader who died in 2004. Although you might not follow politics, you would know Arafat – a man always wearing a black and white head scarf. Now at least 5 soldiers are guarding the entrance to the white buildings surrounded by nice green grass. No bags and no videos are allowed inside, only photos.
If you walk to the middle building, you can even take a selfie with 2 soldiers and the tomb. This is Arafat's official tomb even though some say, he is not buried here. There's even more stories about Arafat's death, too. The official version confirms he died of stroke after a few days of feeling sick, but some rumours say he was poisoned or by the Israelis or by the Palestinians themselves who were not happy with his last actions. The Swiss experts confirmed polonium (radioactive poison) found in Arafat's body.
Symbolism of the Arafat Mausoleum:
the glass means the sensibility when Arafat was still alive
3 flags = 3 countries where doctors took care of him before he died (Palestine, Egypt and France)
the tower is 75 m high the same as Arafat's age when he died (he was 75) 
Quran (Koran) words written on top of the building
Anyway, there was one cute soldier at the Arafat Mausoleum who kept smiling at me at the entrance and then when I asked him to take a photo with me, he stood like a real soldier not showing any emotions.
Then our van took us to the museum.
Mahmoud Darwish Museum
We had a little tour around the Mahmoud Darwish Museum to find out more about his life:
Darwish first worked in an Egyptian newspaper.
He defended the Palestinians through his poems so the Israeli occupation destroyed the house where he used to live and then he had to stay in Haifa for 10 years.
He was arrested 5 times. After that he issued Carmel magazine 1981 – 2000. He wrote 22 collections of poems and 11 volumes.
The first poem on the museum wall translates to: "Tell the absence you missed me, here I come to complete you."
The second poem on the wall was written 40 days before Mahmoud's death and it's here to show how proud the poet was of his beautiful Arabic language. 
Darwish was in coma for 3 months and once he woke up he wrote a poem where he talked with death. 
The museum holds poet's personal belongings, such as first suitcase from his student years, the last suitcase he took to Houston for the heart surgery; his Israeli ID, Palestinian passport, a coffee pot, carpets, work table, glasses, watches, pens; a letter he wrote to his brother Ahmad when he was in prison. Also photos with his family, other poets and the President.
He lived in Ramallah in 1986.
He loved coffee as much as his partner and even talked about it in his poems saying "coffee is the key of each morning."
After he died, the Israelis refused to bury him in his village so his family brought soil from there and made an installation which now contains many prices he won.
His poems were translated into French and in Paris there's even a Palace dedicated to him as he won a medal there. His poems were translated into 22 languages (I even saw Czech – Denník všedního smůtku) and the book covers are now on the museum wall.
Darwish wrote a poem in Arabic for Arafat when he declared the Palestinian state in Algeria in 1988 and the original hand-writing can now be found at the museum.
We could take photos after the little tour.
PS: There's a really cool view of Ramallah town from the Museum doors.
Ramallah City Centre
After visiting the famous museum, we hopped on the van again which dropped us then in the city centre. There is an information centre in town with free wifi 🙂
Then, we had a break at Shishapresso coffee shop where I ordered fresh orange juice. We could smoke a shisha but I decided not to. It was a way of observing the local Palestinians passing by and trying to find our more about their everyday life. We could see that local women go for lunch/coffee together without men which is not so normal in many Arab countries (Lebanon.)
PS: the waiters and some locals at the coffee shop were so sweet, they smiled at me each time I looked at them 🙂
The Ramallah streets were pretty empty.
Many of the shops are closed until 5 pm which is when most of the women and people in general get out to the streets after work/once it's not so hot any more.
Here you can find more of my photos from Ramallah, West Bank.
Jericho
From Ramallah we drove around a refugee camp, Israeli settlements, an Israeli military base and finally around the Jordan Valley to the Jericho oasis.
Jericho is the lowest town on Earth (at 258 m below sea level) and most probably one of the oldest ones (if not THE oldest continuously occupied town), too. The age of Jericho is from 8,000 to 11,000 BC.
The highest summer temperature in Jericho can reach unbearable 55 Celsius so Tamer warned us about the heat we were going to feel. If you don't like heat, visit Jericho in any other time but summer (exactly the opposite to Ramallah visit.)
Once in Hebrew Bible, Jericho was called the City of Palm Trees which are commonly grown here. It also got a nickname of Mark Anthonio's gift town which was in love with an Egyptian Queen so gave her some lands in Syria and part of Jericho to win her heart.
Jericho town lives mostly out of Christian tourists going visiting the Monastery and walls.
Temptation Mount and cable cars
"The cable cars are not made by Palestinians but by German and Austrians so you can trust them" Tamer laughed before we even got out of the van.
Our elder smiling guide whose Arabic name translated to Thursday in English, took us by Tell es-Sultan cable cars up to the Temptation Mount. 
Tip: Not recommended to go on the cable car if you are scared of heights.
We could hear singing from the Mosque which gave a special local touch to the whole experience. 
The town is full of small green fields with bananas, oranges and lemons even though there's very little rain in Jericho. 
Getting out of the cable car, we had to climb 120 steps to the Greek Orthodox Monastery of Temptation. The dry hot air was killing all of us when walking up.
To enter, no head caps are allowed, and you need to cover your knees and shoulders. 
Jesus was baptized at the Jordan river not so far from Jericho and then he came here to the Temptation Mount to fast for 40 days and 40 nights. He sat on the white rock in the back of the Monastery during his fast.
Then Jesus was super hungry so he got bread from a monk who told him "not only by bread a man can live, but by words from Lord's mouth."
We could take some photos at the fasting place in silence.
Then, we had a minute to buy fresh pomegranate juice at the restaurant letting the breeze cool us down while observing the breath-taking panoramic views of Jericho!
Oasis Archaeological site in Jericho and Wall of Jericho
After taking the cable car back down to the town, we walked a lot of steps up again to the Oasis Archaeological site. That's the centre of the old city overlooking the modern one.
The small mount in Jericho is not natural. One civilization left or died, another one came and built on top of it. So nowadays, we can see at least 20 different settlement layers excavated underneath.
In 1952 – 1958 an English excavator Kathleen Kenyon discovered an 8.5 m tall tower with internal 22 stairs down. The Tower of Jericho was built in 8,000 Before Common Era (= 8,000 Before Christ.)
We are still not sure about the purpose of the tower, but maybe served as protection, was built for religious reasons or astronomical purposes.
Around the Tower of Jericho we can see the Wall of Jericho which was first built approx. in 8,000 BC and firt excavated in 1868. The estimated reason of its construction was flood-prevention but also defensive purposes.
The shaking bridge we walked on now shows us what scientifically happened with the Wall of Jericho – the walls had collapsed within centuries (Dead Sea is the centre of earthquakes in the area.)
Check out more photos of Jericho, West Bank.
Jesus baptism site Jordan river
After Jericho we were taken Southeast to the Jordan river which marks the border between Israel and Jordan state.  Although we were still in West Bank, all the borders are controlled by the Israelis. There are signs saying land mines on both sides of the road to make sure no one will try to cross through there. 
With its 251 km, the Jordan river runs through 4 states: Syria, Lebanon, Israel and Jordan. With its lowest elevation 416 m below sea level it is the lowest river on Earth.
According to the New Testament, this is the place where Jesus was baptised. There's a Greek Orthodox Church at the site visited by Christian tourists.
On the Jordanian side there's more evidence of the Qasr el Yahud baptism site but at least we could walk close to the river which over years became more shallow and yellowish.
It was super hot, difficult to breathe that suffocating air. I only put my left-hand fingers to that non-transparent river and then hid under the tall palm trees.
More photos from the Jordan river.
Bethlehem
Just outside of Bethlehem we stopped at a petrol station as the wall behind it is covered with graffiti by Banksy, a British guy famous all around the world. This graffiti shows a man in black throwing a flower bouquet instead of a grenade. "You have to throw love, not war."
Bethlehem facts:
The New Testament considers Bethlehem to be the birthplace of Jesus.
Bethlehem is located at 777 m a.s.l. just 10 km South from Jerusalem and 28 from Hebron. In the Hebrew Bible it is called the City of David who was born here and crowned the King of Israel.
The name of Bethlehem is pronounced a bit differently in Hebrew where it means House of Bread and in Arabic with the meaning of House of Meat. 
In 1936 when the British Mandate was ruling the area, 98% of Bethlehem inhabitants were Christians.
Now with just 30%, Christians represent a minority in town. All the others left town looking for better life possibilities.
The majority of inhabitants are Muslims.
Until now all the Bethlehem Mayors were Christians. For the first time in 2015 they have a female Christian Mayor. 
Nowadays, Bethlehem lives mostly of tourism (300 handicraft shops) so out of the West Bank towns is probably the safest one to visit. They really try their best to keep the tourists safe here. 
We started our Bethlehem visit the best way possible – eating!
Finally it was lunch time at The Square restaurant! An Indian guy Jigar and me, the only vegetarians in the group, we had rice with black beans and onions, and shared hummus with pita.
The rest of our group had a traditional Palestinian lunch made of chicken, vegetables and rice cooked together and eaten with hummus and yoghurt. It all came on a huge plate which covered half of the table! 
With full stomachs we walked to our new guide Abud.
Abud as a Muslim Christian was born and raised in Bethlehem and only in 2014 he took his first flight abroad to Germany (he looked older than my parents.) Lovely Abud speaks 4 languages fluently (Arabic, English, German and Hebrew) and now he even started to study Spanish.
We started our tour at the Manger Square which is the main square in Bethlehem. It gets crowded at Christmas on the 24th December when there's a huge Christmas tree and a TV screen to watch the mass.
Then we were taken to the church. We were lucky as there was no line to get into the church, as sometimes you have to wait for up to 5 hours to get in. 
Have a look at other Bethlehem photos in my album.
The Church of the Nativity
There's 3 different religions who share The Church of the Nativity here – Greek Orthodox have the biggest middle part of the church, Armenians the smallest right part, and Roman Catholic Franciscans the left part of the church.
When Joseph and Mary came from Nazareth, Jesus was born in a humble cave here in Bethlehem. 
In 135 AD a grotto was built here over the cave by Hadrian to make the Christians forget about this place. However, the Byzantine Queen Helena was looking for the Holy place later on, she demolished the grotto and built the first basilica here in 327 – 339 AD.
The first church bult by Helena was damaged in 529 by the Samaritans and a new one was built here by Justinian I in 565 AD (that is the one we can visit nowadays.)
Outside of the church entrance there was a mosaic of the Three Kings wearing Oriental clothing which saved the church from later demolition. In 614 AD the Persians who destroyed all the other 360 monasteries in the Holy Land, thought that the Three Magi came from their own area so kept the Church of Nativity untouched.
Which is what makes The Church of Nativity the oldest church in the world that is still active…
The church attracts thousands of Christian pilgrims who have been coming here for 2,000 years. 
Nowadays, we can observe 3 levels on the church exterior facade. The 1st one is from the 6th century, 2nd arch is from the Crusaders and then the third from the 16th century when it was minimized in the Ottoman period.
The Door of Humility, the main church door is now closed for reconstruction and it is very low so you have to bow to show respect when you enter (it prevented horse-riders to enter in the past.)
For 700 years the British roof on the church was strong enough. However, the church is being reconstructed now because in winter a lot of water leaks in. The project costs at least 5 million euros and is being supported mostly by Vatican, Italy, Spain and Palestine.
First Greek Orthodox, then Roman Catholics and finally the Armenians they all have a mass down in the cave when they do not allow any ther religion to visit.
The locals celebrate Christmas 3 times per year here – 24th December (Roman Catholic), 6th January (Greek Orthodox) and 18th January (Armenians.) 
Greek Orthodox
We finally entered the Church of Nativity with Abud explaining us the most important facts. It is allowed to take any photos inside but remember: no chewing gums, no food, no loud laughing and men with no hats/caps.
We walked to the right all around and took stairs to the cave to the star where Jesus was born. We can take photos there, kneel down next to it, touch or kiss it. The star has 14 points representing the 14 generations of Jesus Christ. This is not the original star from 1717 which was put here by the French Government. In 1852 an Ottoman Sultan of Turkey replaced it by the current one with Latin inscription.
The cave is of dark colour now as it was burnt twice. First in 1869 and then around 4 am on 28th May 2014 after the visit of the Pope Francisc. We still don't know what exactly caused the fire.
Once Mary gave birth to Jesus, she wrapped him and put him down into the manger. Now there's an altar where Roman Catholics make service there. There was a mosaic on top of the altar which disappeared, unfortunately.
At the main floor of the church not so far from the entrance, we can see the original floor mosaics looking like carpets which Queen Helena, the mother of Constantine the Great, placed there.
In 1927 there was an earthquake and partly damaged the church. In 1934 during excavations these mosaics were found underneath. The mosaics have the Byzantine crosses and stars, and 5 colours of the Constantine the Great flag which directly show they were built here in the 4th century.
The paintings on the columns around are from the Crusaders in the 12th century and have not been restored yet. A different Saint is painted on each column so now they are covered with wood to protect them until the end of the church reconstruction process.
Three massive beautiful chandeliers with silver and gold decorate now the Greek Orthodox church. Alexandra III from a Russian family donated them in 1869.
The altar where only the priest can go (Old Testament for the Greek Orthodox vs. Roman Catholics have an open altar like in the New Testament) is behind all the icons from the 17th century. 
Roman Catholic
On Sundays there is a mass three times a day (at 9, 10 and 11 am.) As they pray in Arabic language here even other religions/nationalities, such as Syrians, can join if they understand the language.
We had a chance to walk around the Roman Catholic part of the Church of Nativity built in 1881. A bishop from Jerusalem comes here every weekend and you can see the mass on TV.
The church belongs to Saint Catherine who came from Alexandria. Her parents did not believe in Christianity but she converted anyway. She was the second Christian martyr.
The church has a small courtyard. In the middle of the courtyard we can see Jerome who came from Croatia and stayed in the chapel for 36 years translating Bible from ancient Hebrew and Arabic into Latin.
Down at Jerome's feet we can see a skull which represents mortality, knowledge and widsom.
There's a cross from the 12th century built by the Crusaders which was restored in 1948 by an Italian scholar Antonio Bellucci.
A Jerusalem Cross found here means Jesus Christ is the head of the church with 5 wounds of Jesus. Another meaning could be with Jerusalem in the middle (as the centre of the whole world) with 4 directions of the world or the 4 quarters (Jewish, Muslim, Chistian and Armenian.)
Armenian Apostolic
Armenians have a small section of the cave and they pray in Armenian language.
More photos of the Church of Nativity Bethlehem are in my album.
After the church we walked through the market observing the local life and then some graffiti. I saw the cutest girl with the longest eyelashes ever who came to me smiling.
Our tour of Bethlehem was finished at the Separation Wall (= the Israeli West Bank barrier) where we had a chance to spray on it. It was such a powerful moment reading it all that my hands were shaking so much I could not spray anything and had to walk a bit further from the others.
More graffiti photos from Bethlehem.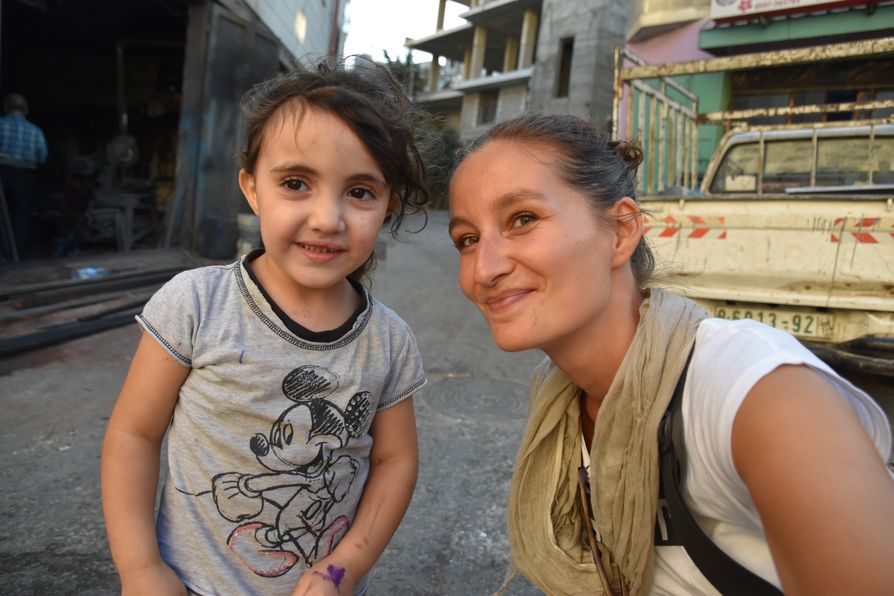 I was not able to absorb all the places we visited in West Bank as much as I'd like to, as having just one day for 3 towns can only scratch the surface of their beauty. At least, I could see the huge difference between Ramallah, Jericho and Bethlehem as each town has a completely different feel to it.
I could go on this Best of West Bank tour thanks to Abraham Tours. Thanks so much for letting me visit West Bank. For more about Israel, please visit Tourist Israel.