10 things to do in Osa Peninula
During my last visit to Costa Rica, when I spent around 4 month in my second favorite country in the world, I was lucky enough to get to know the not so known Osa Peninsula. Península de Osa, as its Spanish name says, is located in the Southwestern part of the most expensive Central American state surrounded by the Pacific Ocean to the West and the Golfo Dulce (Sweet Gulf) to the East.
One of the great things about Costa Rica is their bus system, you can get just about anywhere using public transportation and it's the best way to see the country.  But, the fastest way to get to the Osa Peninsula is the ferry! 
10 things to do in Osa Peninula:
1. Wildlife. More than half of all the species of Costa Rica live in the peninsula. That's pretty impressive, right? Hiking through the jungle that covers the biggest part of the peninsula is a very popular activity. The Corcovado National Park is one of the least touristy parks and you can even spot a jaguar or other unique animal species in here.
I fell in love with the area mostly because of its wildlife.  Many times I had tears of joy in my eyes when I could observe butterflies, hummingbirds, parrots, toucans, scarlet macaws, crabs or iguanas all around me as if I lived right in the middle of a ZOO. If you would like to experience the rainforest, the hills and the beach at the same time, find a horse farm and go on a walk. Maybe you can stop at one of the waterfalls to cool off, too.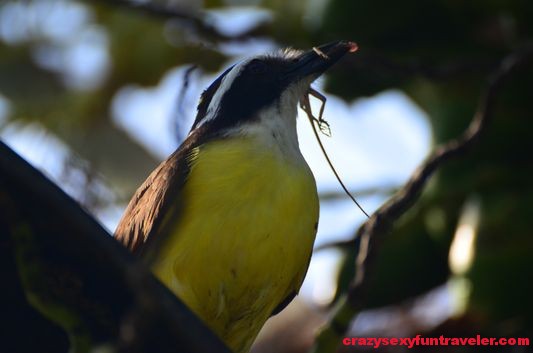 2. Go on a yoga retreat. There's some hotels in the area that focus on yoga retreats, the new way of vacations. Personally, I had a chance to participate on 4 yoga retreats while at Blue Osa all inclusive hotel. Yoga was the main reason why I came to the peninsula in the first place and cannot stress it enough if you are into yoga at all. Blue Osa ranks as the top 2nd place for yoga retreats in the world so it is definitely a must stay!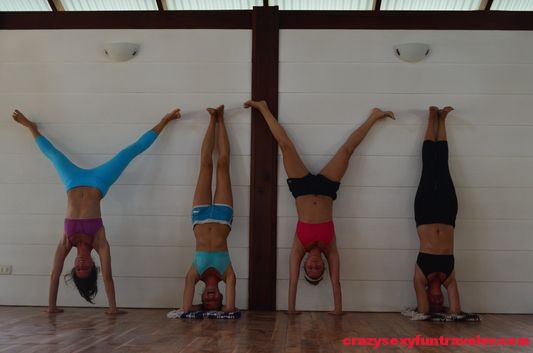 3. Visit an organic cocoa farm. I bet that I am not the only chocolate addict out there so to see how organic cacao beans are grown, gathered and then processed into finger-licking healthy chocolate without any chemicals is better than any sexual orgasm. Bananas and other exotic fruit covered with hot chocolate after the tour of Finca Kobo? Which woman would say no to that? Of course the farm made it high on my list of the things to do in Osa Peninsula.
4. Get home-made vegan ice cream in Puerto Jimenez. Puerto Jimenez is the main town of the peninsula and to me it felt more like a peaceful village. My ever favorite spot in this town is the little ice cream stand called Jade Luna on the main street as they sell the most delicious vegan icea cream ever! Chocolate, coconut, berry or even chilli pepper flavor made with coconut milk were my best picks! OMG! I want to go back right now!
5. Get a spa treatment. Who would not like to be pampered at a spa with exotic plants and organic chocolate? I tried acupuncture which released a lot of year-long pain in my back and groins, and also a chocolate massage at the Blue Osa Spa. I enjoyed it to maximum, no doubt. There's some local companies making organic cosmetics, such as Rainforest Solutions which are used in the spa so no worries to get chemicals into your skin in the peninsula.
6. Learn to surf. Cabo Matapalo is definitely one of the best places if you would like to learn how to surf. Many local guys (very good looking, btw!) offer private or group surfing lessons if you are staying in the area. If you are like me and scared of waves, you can still enjoy just watching the sexy surfer bodies on the beach. The guy on the photo is my friend Rafael.
7. Go on a boat trip around Golfito and observe wild dolphins. Fingers crossed for you! You can rent a boat at the port and spend a few hours, or even half a day touring around, observing dolphins jumping all around and then even take a swim.
8. Enjoy the beach time. Osa Peninsula does not offer the best beaches I've even been to (at least I personally prefer those on the Caribbean coast of Costa Rica) but some of them with brownish or greyish volcanic sand are definitely worth a visit for well-deserved chilling time. Pura vida!
9. Watch a sunrise. If I tell you I woke up every single morning at 5.30 am except 2 mornings during my whole 6-week stay at Blue Osa hotel and I am so NOT a morning person, there must be a huge reason for that. I've never seen so many breath-taking sunrises wich the biggest Sun ball on the horizon with occasional ships, or even dolphins as in here. The Sun was so close I could almost touch it! Morning meditations on the beach with the sunbeams on my fave gave me a lot of energy for everyday tasks. Sunrise in Puerto Jimenez is one of the best!
10. Pay a visit to the Osa Wildlife Sanctuary. I am so not into ZOOs and that sort of places as I am trying to protect the animals as much as I can (not only by being vegan), but in the Osa Sanctuary its owner Carol only takes care of hurt animals until they are able to go back to their nature habitat. The coolest thing about the sanctuary was Sweetie, a spider monkey that shows you with your finger where she wants you to scratch her.
Bonus: Indulge in the local cuisine.  Get as many fresh coconuts here as you can (commonly known as pipa around Costa Rica), taste guanabana (the best fruit to fight against cancer), starfruit, melons or other kinds of exotic fruit you have never heard of. Costa Rica is a pretty good country for healthy ingredients so definitely make sure to check out the weirdest packs all around the grocery stores. Fresh smoothies and squeezed juices should also make it to your daily menu.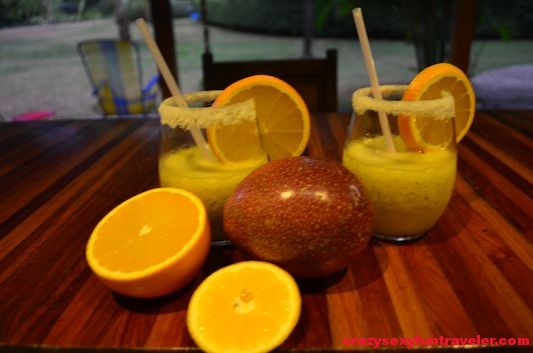 Also, check out my article about 150 things I learned after 6 weeks of volunteering in Blue Osa.