Wildlife in Osa Peninsula
One of the main reasons why I wanted to stay for longer at Blue Osa is the rainforest in Osa Peninsula, one of the most untouched ones in Costa Rica. You literally live surrounded with the wildlife, howler monkeys wake you up for sunrise, then great kiskadee sings you it's around 7 am, at lunch time everyone disappears and before sunset all the flowers smell the most …
Wildlife in Osa Peninsula was what captured me the most since the very first moment at Blue Osa and it kept sweeping me out of my feet for the entire 6 weeks I spent there. Every single day I learned a new thing (I even learned 150 things at Blue Osa), I watched how the nature changes within a few days and I even memorized the habits and "time schedule" of the animals living around us.
There's a bunch of different animals you can see directly at Blue Osa property, such as lizards, green iguanas, frogs, toads, beetles, wasps, bees, butterflies (swallow tails, morphos, owl butterflies – moths).
Walking through the garden I also spotted howler, capuchin and yellow titi monkeys and toucans. Happy times!
 Jungle hike
You can see a lot of wildlife right outside of your room or next to the open kitchen, but the best is to take a jungle hike with Rufillo at 6 am in the morning, the most active time of the day.
And obviously, that's what I did …
Filio, how we all call him, is a very knowledgeable man and getting all the information about animals from him was such an easy thing to do and it saved me hours of research. He took me together with the yoga retreat groups to the jungle twice.
The first thing we noticed on many trees around were all the termite nests.
"As the vultures eat dead animals and thus help the natural cycle, the termites recycle the wood. Sometimes you can see holes in the termite nests as some birds, e.g. parrots nest there. The Blue Osa old building was made of thick wood first and then they rebuilt it also because of the termites."
"Teak trees along the main road just outside of the Blue Osa are expensive wood and their leaves were used for painting as they leave red colour if you smash them but now it is illegal to do so." Filio shows us red colour on his fingers.
"Right now we are in the dry seasons so you can see less green scenery." And I can only confirm that as within just 2 weeks of difference we had to walk on a lot of dry leaves that were almost non-existent before.
One of my definitely favorite wildlife members in the area are the scarlet macaws that never cease to inspire me. Just walking out of Blue Osa we saw a couple of them munching on a Balsa tree. Surprisingly, the biggest predators of the macaws are the beautiful toucans as they eat their eggs. Otherwise, these intelligent creatures can live up to 70 years. Both macaws and toucans stay together for life. How romantic!
When watching a macaw eating, a caracara flew above our heads and sat on a tree together with the black vultures as they often hang out on the same tree. Also a couple of red-lored parrots flew around (those are difficult to photoshoot as they merge completely with the surrounding.)
On the ground just under the balsa tree Filio showed us dormilona mimosa plant that is so sensitive that if you touch it, it closes its leaves, hence the sleeping plant name. I was very familiar with the plant but it was pretty awesome to watch the happy laugh of surprise from those who saw it for the first time. We learned that mimosa leaf tea is good for insomnia and root extract for teeth, gums and cavities (but do not drink the root tea, just spill it out after.)
We saw a sort of soft fibre from balsa tree that hummingbirds use for their nests and in the past women used it for pillow filling.
On an upper tree branch far away there was a road-side hawk, called gavilan in Spanish.
Then, we walked towards the beach and from there entered a jungle trail with hundreds of holes in the ground.
"It's from the big halloween crabs nesting here. Crabs leave their shells and get bigger shells which serve as protection. There's also many hermit crabs along the beach. The crabs eat almost everything, including other crabs, so it's just logical you see all the crabs getting back inside the shell if they see any movement whatsoever."
On fallen trees on the beach on the right side from the Blue Osa we spotted a common black hawk that nests close by and chooses this tree to sit on all the time.
Walking along the beach we were leaving our footprints among the fresh pizote racoon tracks, and then we entered the jungle again. Sour cane plants, a type of ginger, good for kidneys greeted us. Then, we saw the so called pepper candle leaves used for example for twisted ankle and a large amount of them have anesthesia effect.
Then I remembered hiking Cahuita National Park on the Caribbean side back 2 years ago as some golden spiders (golden silk orb-weaver) were in our way when hiking. The best thing about these huge spiders is that they do not bite and actually do not bother me at all. I learned another thing today – use a banana leaf or any other big leaf to put behind the spider and its web for a nicer photo.
What we were hiking through is a secondary forest, not the primary one (which means there was some kind of disruption for certain period of time, in here it was agriculture land), so some 70 years ago the area was covered with cows and horses and now you can still see banana leaves in here since the previous period.
We saw a cute tent bat under a banana leaf (just one of around 100 kinds of bats there are in Costa Rica.) Some heliconia – paradise flowers relative of bananas, but with no fruits, were all around.
"I believe we have 7 types of strangle trees in Costa Rica. Matapalo tree is the famous "kill tree" (mata means killing and palo in Costa Rica is tree.)" Filio is explaining to us.
The strangle tree we saw is around 150 years old and started around an old palm tree and then grew around it getting higher to get more light and thus killing the palm tree inside. It is very good for shade but not for wood. This strangle tree starts like a parasite somewhere up and then put its roots down but in reality it serves as a support, so it's not a real parasite.
A beautiful blue morpho butterfly flew around us as they tend to stay close to magnificent matapalo trees.
At times it was a bit challenging to hike watching out for many spiny palms around and not to touch them at all.
Belly ceiba tree (called barrigon in Spanish) in a shape of a big belly is one of the tallest trees in the area. On the ground there were a lot of interesting white flowers falling off from the ceiba tree. Shame they have no smell. The ceiba fruit on the other hand is soft inside and full of seeds.
Filio showed us orchids that did not make it – the orchids are the real parasites but it's too dry for them in this part of the year to get enough nutrients from trees so they die drying up.
A white-nosed coati ran along the branches above us. At first we thought it was a monkey and unfortunately it was just against the sun so I didn't manage to take a photo of it before it was gone. The coatis are trying to get crabs digging into the crab holes in the ground. On my second jungle hike we also found a coati skull.
"This coati was a pizote solo, as we say here. Usually coatis live in families and have only one boss so sometimes if there is more than 1 male coati in the group, he is thrown out and has to spend the rest of his life without his family. How tough!"
Yay, we looked up and saw black-mandibled toucans (at least I think it was not the chestnut-mandibled toucans as they have a little reddish on their belly too and these ones did not), one on each tree as they travel in couples. We spent some time down the trees taking photos and videos of them as it doesn't happen so often that they stay so quiet for such a long time.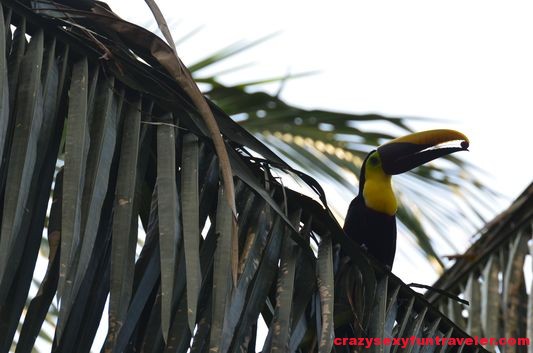 Then it was monkey time. Howler and capuchin monkeys were suddenly surrounding us, howling, playing, munching and making faces into the cameras.
The beach calabazas – jicaro de playa – where all hanging out from the tall trees along the beach.
A baby and an adult blue heron on the beach said goodbye to us when we headed off back to Blue Osa.
Many thanks to Blue Osa for giving me a chance to spot the best wildlife in Osa Peninsula as part of my Adventure and Spa project.
*** It took me more than 10 hours to write this post (I had to go through some 7,000 photos I took at Blue Osa to choose.)