5 things to do in Sofia Bulgaria in 2 days
To some Slovaks, and maybe even to other Europeans it might seem strange that I hadn't visited Bulgaria until August 2017. Bulgaria is one of the top summer destinations for many Slovaks who go there to the beach. However, my first time in Bulgaria was not a traditional beach holidays with family. Instead, together with a friend we took a flight from Bratislava to Sofia, the capital. 
5 things to do in Sofia Bulgaria in 2 days
1. churches
If you look at the map of Sofia, you will see mostly churches there. I counted more than 50 churches! It seems like there is one church at every corner which does make the city unique. The biggest and the most known church is the Alexander Nevsky Cathedral which was built in 1904 to 1912. This Orthodox church is the second largest in the Balkans. If you get a chance, do go to look inside. I was impressed by the huge chandeliers and well-preserved wall paintings. Also it was a bit dark, I did spot the many frescos around. You are supposed to pay to be able to take photos inside but I managed to take a shot or two when no one was looking. But psssst!
2. parks
Together with the churches, the map of Sofia city is full of parks. I have to admit I do love cities with many green parks where I can relax. For example, the Borisova Gradina named after the Bulgarian Tsar Boris III, is located a bit further from the city center but not that far when walking from the Alexander Nevsky Cathedral. It' the oldest park in Sofia, now attracting many children thanks to big playground and different vehicles to ride around the park. Then the park continues into real forest. So close to the city center, yet you are in the woods. Loved it! Hiking, jogging, cycling, anything is possible there. We just walked there and I had 2 packs of blackberies with a banana for brunch.
Another park that is quite cool is the one starting at the end of the Vitosha Boulevard called National Palace of Culture Park. Many young people go there to do skating or cycling, or even play volleyball etc. My favorite parts of the park were the little waterfall and then flower fields.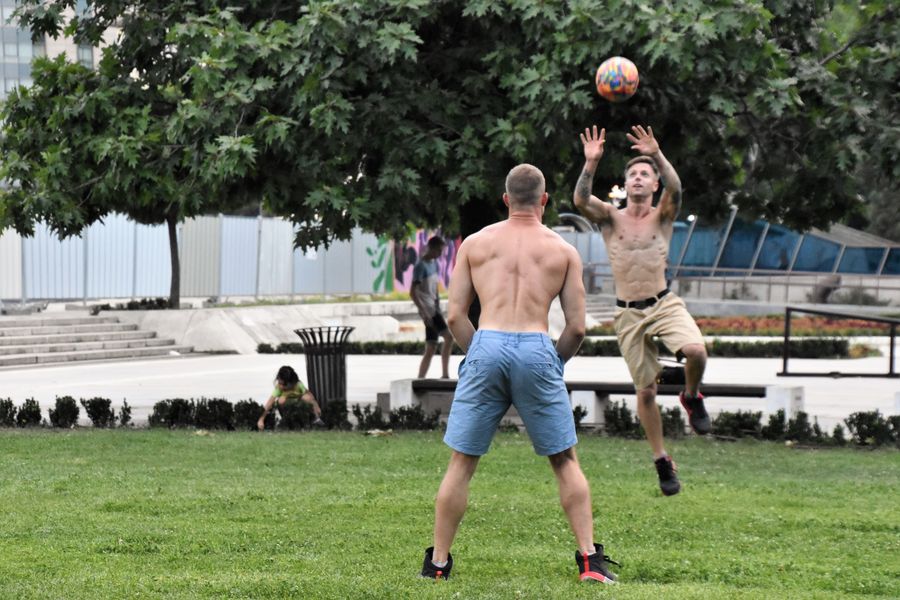 3. vegan food
To be honest, I did not even check if any restaurants serve vegan food in Sofia. Not until we arrived and I got really hungry. At first, I was afraid I would not find any vegan options in the city. But when I opened the map with veggie places in the city center, a huge smile appeared on my face. Yes! During our 2 day visit, I had a chance to try a few of the restaurants offering vegan options. 
My favorite vegan place in Sofia was Loving Hut where they serve only many vegan meals, such as sweet raw cacao balls, pizza, snacks, cakes, sandwiches etc. The chocolate brownie was melting in my mouth! The best ever, seriously. If you are looking for raw vegan meals, there are many at Loving Hut Sofia.
4. ancient Roman Serdika (Serdica)
In 2010 to 2012 when the Serdika 2 metro station was being built, ancient Roman ruins were found underneath. The ruins date back to the 4th to 6th century AD and became my favorite part of the city. I am crazy about the history and old buildings, especially ruins. It was just getting dark when we found them so all the lights around even added to the romantic atmosphere. I even did some yoga poses there which put a smile on  the faces of strangers passing by. The following day we had to go back to see the ruins at sunlight as well.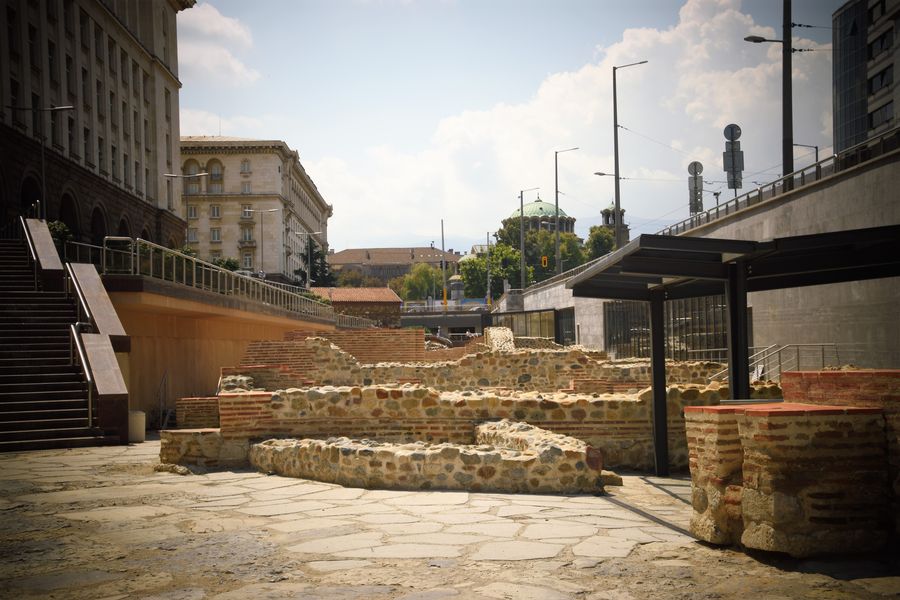 5. walking
In my opinion, walking is always the best way to explore any city because you will find hidden gems or interesting buildings that might not be in the top ten things to visit. This is exactly how we found the ancient ruins I mentioned above. We just went for a walk to the other side of the city and stumbled upon the ruins. I also recommend you to walk along the Vitosha Boulevard which is the main street with restaurants, cafeterias and shops in Sofia. It's beautiful especially at sunset hours, when more people go for a walk or dinner. This vibrant street is also a place of street artists and musicians. When we were there, a young girl played and sang in the middle of the boulevard. And I also saw two guys of my age playing the hang instrument. I could listen to them for hours! At the end of the Vitosha street, going in the direction outside of the city center, notice the Vitosha moutains in the background. I guess that's why the street got its name.
Overall, Sofia is a nice, relaxing city with not that many things to do. There are a couple of beautiful churches if you are into architecture, ancient ruins if you like history, green parks to recharge your batteries, and I've heard there's also good bars But I don't drink alcohol and avoid nights out. Personally, I was super happy for all the vegan meals and that the city was not overcrowded. However, what I seriously missed there were more colors and water. Sofia is one of the few European capital that has no big river. Did you know? Maybe that's why I was missing water there so much.
Buildings in Sofia are mostly grey and not very attractive to me. The whole city could be taken a better care of, for example some parks were missing water when we were there (both fountains and small artificial lakes). Not sure if that was just because of a hot summer or it's a usual thing. Anyway, it was nice to explore Sofia briefly. Our visit was pleasant, yet the city did not impress me too much. It's worth a visit but the next time I would also go to the Vitosha mountains and surrounding villages to see something different, not just the capital.
Have you been to Sofia? What other things to do in Sofia Bulgaria would you recommend? Share in the comments.