7 top things to do in Palolem Goa India
During my second visit to India, when I spent 2 months exploring Maharashtra and Goa states in Southern India, I explored Palolem for 10 days a little bit. It was a really cool experience to be able to combine work, yoga and relax on the Palolem beach.
Palolem is a small village in South Goa, which is sometimes also spelled as Pololem. It's inhabited by many local fishermen and expats living in cute huts along the beach or directly in the village. 
To be honest, I didn't do that many things while in there as I usually do when exploring a new destination. It was because of a few reasons. First, I went to Palolem after a busy week on the Deccan Odyssey luxury train so I needed to catch up with sleep and just take it easy. Second reason was, that I was there with 2 friends, also travel bloggers: Stef and Gloria.
So logically, we spent some time chatting about life, men, blogging and digital nomad lifestyle. They also took some of the photos of me in this article, so no more selfies :D
And the third reason, I needed to move and stretch every day because right after Palolem I went to do the 200-hour yoga teacher training in Preksha Ashram in North Goa. So every day instead of exploring surrounding beaches and areas, I spent 3 to 4 hours a day doing yoga, walking, swimming and jumping in the sea to prepare my body at least a bit.
However, I did a few things I can recommend you, too.
7 things to do in Palolem Goa India
1. Sunset on the beach
I have to admit that all the 10 nights I spent in Palolem, the sunsets were incredibly beautiful. I was on the beach every single afternoon to watch yet another unforgettable sunset. The beach would always get more crowded at sunset time as everyone wanted to get a photo of the huge Sun ball.
The skies would turn from yellow to orange and to pink, all the sunset colors you can imagine. I would always walk along the 1.6 km beach up and down, getting my daily 10,000 steps and breathing in the calming sunset energy.
Sunsets have been always my favorite part of the day and frankly, every morning I was already looking forward to watching yet another sunset. If you get to the beach and walk towards the left, you will see the Sun for longer. On the right sife of the beach the Sun will be behind the mountain sooner.
2. Yoga
Palolem is famous for many yoga schools. Initially, I was planning on joining yoga classes while there but then I decided I'd do yoga in the morning on the beach on my own. I wanted to take advantage of staying a minute walk from the beach until I could. So I cannot really say which yoga studio in Palolem offers good classes as it mostly depends on the teachers themselves.
A group of German guys I met on the beach said that some classes at Earth Yoga Village were great, while others "so so". I even heard that one of the male yoga teachers was correcting female students in a very inappropriate way :/ So I really hope you will get a better yoga class while there. Each yoga teacher is unique. But you should try at least one yoga school if you don't know how to do yoga on your own.
Or just do what I did…. yoga on the Palolem beach on my own.
And if you are not god at yoga YET, at least do meditation at sunrise or sunset on the beach. Sunrise will be a lot more quiet. Whatever time of the day you choose, you won't regret doing meditation and practicing yoga on the Palolem beach, trust me. Those moments for me where priceless :) 
3. Eat vegan
Before my visit to India, I was a bit worried about following my vegan diet. And especially when not on a press trip, but traveling on my own. But Stef came to Palolem before us and she found a number of vegan and vegetarian restaurants where they do understand what veganism means. I was eternally grateful for that. You have no idea. So happy!
I wish it was not the case but vegan meals are also more expensive in Palolem than non-vegan ones. Or let's say vegan restaurants are usually more expensive than regular ones. But logically, they are also trying to use more organic, fresh ingredients and some vegan ingredients are not that cheap on their own anyway. So it makes sense.
But back to vegan diet. If you are vegan, Palolem will be heaven for you. If you are not yet, you should go and taste a vegan meal anyway. In Palolem you have a unique opportunity to become healthier and to get inspired by many vegan options. My favorite restaurants were Little World, Cafe Rumba (ask about what vegans meal they can make for you as their menu is not very clear) and Zest.
4. Massage
I am crazy about massages almost as much as beaches. And to be honest I was really looking forward to getting a daily cheap massage while on Palolem beach. However, massages are more expensive there as I'd imagined. Normal price per an hur full body massage goes from 800 to more than 2,000 rupees (more or less 10 to 25 euros each).
We naively thought getting a massage in Palolem would be as cheap as in Thailand. Nope! You won't really find 5 euro one hour massages. Together with friends we went to 2 different massage places. I cannot even call them spas, as it's usually just a room or a little hit where they do massages.
Most of those places don't even have proper names. They are just called "Ayurvedic massage", "Ayur massage" or something similar. 
In the end we managed to bargain the first massage for 650 rupees, the second for 550, and the third for 500 rupees :)
Remember, in India it's culturally unacceptable to get a massage done by the opposite sex. So if you are a woman, you should be massaged by a female masseuse, while men by male masseurs. Some tourists do not like it, but I personally always prefer a woman giving me a massage. Just because then I can relax easier and I don't have to feel shy or uncomfortable.
5. Shopping
If you know me, then you might have noticed that since I've started traveling, I've become a minimalist. I do not buy much stuff. Basically, I do not buy what I do not really REALLY need. Most of my clothes are from cheap countries, such as Thailand, India, Cambodia etc. Especially those I wear when traveling as they get damaged quite easy. Then I don't have to feel upset if they cost just a few euro each. You know, this helps in learning not to be attached to material things as much as I can.
Palolem is perfect for shopping if you need clothes, colorful bags or healthy natural cosmetics, for instance. My friends got quite a few gifts there but I only bought a long dress. I was traveling for another month and my suticase was already full. Maybe that was a sign to save money, don't you think? :D
Remember to bargain as they always tell you higher price in the beginning.
6. Kayaking
Honestly, I didn't go kayaking in Palolem but I've seen loads of tourists going every single day. The best time is usually in the morning when the sea is calmer and there's less waves. My friends Stef and Jub tried an hour of kayaking and explained it as fun and a good arm workout.
I've done kayaking many times in different locations around the world, but I have to be in the mood for that.
And I already had my yoga and swimming in the morning and late afternoon when I was spending time on the beach. However, if you'd like to do something different, go for it.
Just remember, be prepared to get wet :) If you want to carry your phone bring a waterproof bag or case.
There's many other things you can do in Palolem. Loads of boats invite tourists for boat trips to see dolphins not far from the shore. But as I've seen way too many dolphins a few months before Palolem in Gaafaru in Maldives, I opted for more yoga on the beach instead. 
7. Photo with a cow
Palolem is full of cows. They are walking freely along the roads and even the beach. Usually they just stay close to the main beach entrance (big white gate) as they get there from the main road. They are not dangerous at all and most of the time just do not care about what's going on around them. You will spot cows on the beach mostly late afternoon and at sunset. Or they are eating everything they find in the rubbish bin, or they go for a short walk, or they simply sit/lie down on the beach among many boats.
For many foreigners, cows are an attraction all around India. So when visiting Palolem Goa, you should get a photo with a cow. Or more of them. They won't move much if you come closer so feel free to take even a selfie :)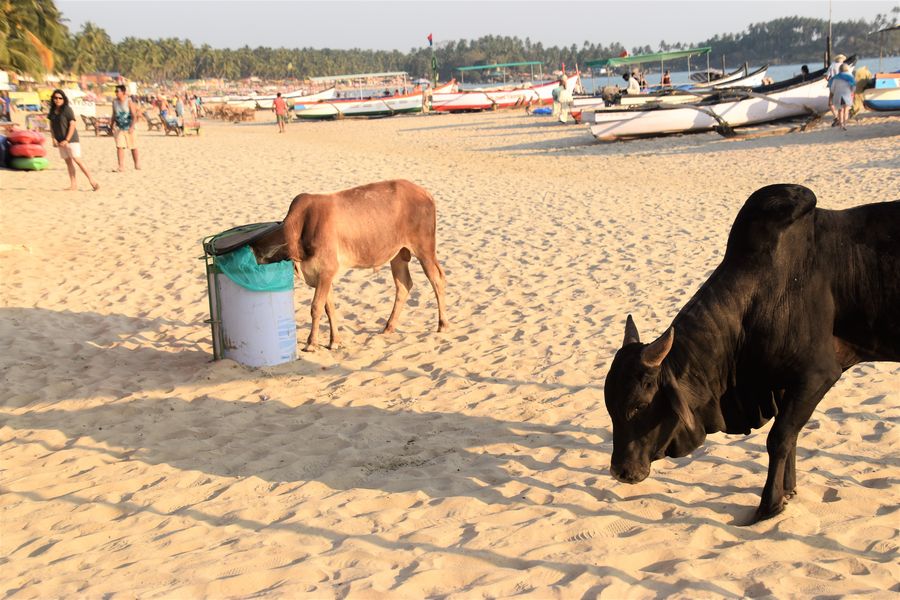 Obviously, swimming in the sea is a must and I don't think it's necessary to even mention it. But just in case :)
---
---
TIP: If you are planning a visit to the area, read also my 5 tips about Palolem Goa India.
---
---
*Have you heard of Palolem? Or have you been? Can you recommend us in the comments below other things to do in Palolem Goa?