Is Boracay a party place?
My last two days in the Philippines were on the Boracay island. I got there on the 2p 259 Air Phil Express flight from Cebu to Caticlan and then by a boat to Boracay.
Boracay is the most famous party place of the Philippines and one of the well-known around the world, too. It means I had big expectations about party life in this lovely little island.
Boracay a party place, I heard a lot. I went to explore it on my own.
I am not a party lover any more, I quit drinking alcohol on the 1st January 2009 (which you might know already from About page info) but I still do enjoy going out when it is with people I like.
I mean people I can easily talk to and have fun with who don't have to get necessarily wasted after just 1 hour out in a bar. It was the case with the two Czech girls I met on my way to Boracay, Lida and Pavla.
As it were my last 2 days in the Philippines and 2 last days at the beach before heading off to Thailand again, I decided we should celebrate it with the girls and have some fun. And of course, try the great Boracay party life ourselves.
I remember that the night before, on Saturday night, I walked the beach and around most of the bars/restaurants after the dinner on the way back to my place.
It was after 10.30 pm and there were almost no people around. I saw probably 3 groups of drunk guys, but that was pretty much it.
Many restaurants were closing slowly, the live music was finishing and the tourists were buying some food in the stalls and shops (such as Jammers open 24/7)on the way back to their hotels. I was wondering where all the life was on a Saturday night, before 11 pm and in Boracay???
I did not get the answer until late the following night, on Sunday the 5th December when after a delicious dinner in Island Chicken Inasal, we were trying to find a good place for some drinks (juice for me.) There was not much happening to be honest along the beach which is where all the bars are located.
The first bar we sat in to have something to drink and chat, was with live music we really liked at first. There were also some cute guys around to look at (e.g. Danish guys we kept meeting around the island by accident for the whole 2 days in Boracay). All looked perfect.
Then, unfortunately, they changed the singer who brought up horrible country music that 20-something girls do not enjoy (sorry, but it's really for the older ones). So we had to change the place (yes, leaving the hot guys still there, arghh).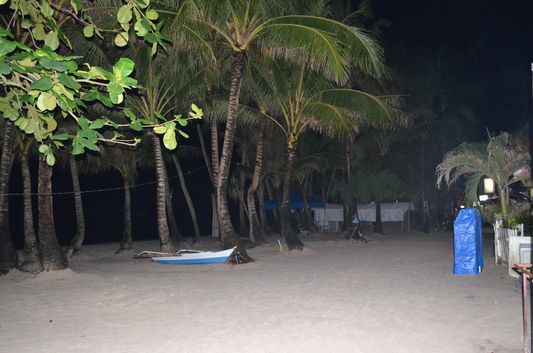 We walked up and down the beach bars twice and the bar my Czech friends were at the night before was closed already, so we sat down at the beach club with rock live music. Surprisingly, we had fun. The Boss Band Boracay, which was the name of the band playing, were very funny to look at and good to listen to.
The main singer was running all around the tables, making funny faces and poses to entertain the audience while singing. His voice was truly amazing! But after a couple of minutes of this great concert, it was midnight already so the beach bar closed and the visitors could move downstairs with different kind of live music that was not our cup of tea.
So we changed the place again, for the third time already, walked up and down the beach bars again, and sat in the one with another live music which was not very loud so we could actually speak.
But in the end, the guys were singing too low so we could not really hear any music and it seemed more like karaoke beginners than a real band. Plus, before we could finish our drinks, the bar closed as well, which meant we had to change the place for the fourth time!
It would not be a big problem if there was a good place to go! But we walked the whole Station 3 and Station 2, up to the beginning of the Station 1 and we still did not find a bar with many people where all the Boracay party life was.
What was wrong with Boracay? Party place? Where??? Saturday and Sunday night during the peak season, at the beach and the majority of the bars were closed and those that were not, were almost empty?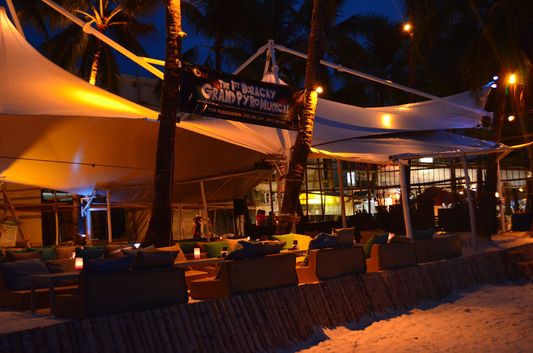 We found just one disco called Summer Place that was crowded but the music was extremely loud to have any conversation and it was full of the local Asian people, including a lot of dancing gays and ladyboys. And some three or four completely drunk white guys. Not a place for three hot chicks from Central Europe, I'm afraid. Not how we imagined the party life in Boracay!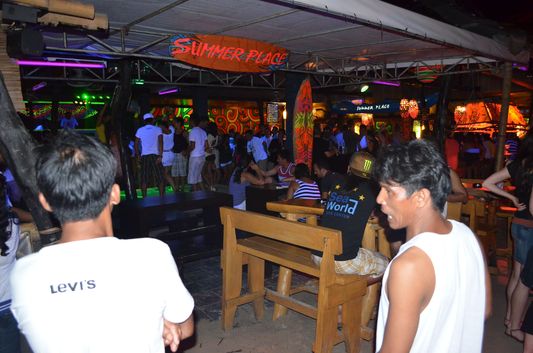 So not much was happening in Boracay. Is it really a party place? Boracay a party place? I was asking myself.
And the Czech girls were wondering, too! We ended up a bit disappointed, especially knowing how the parties back home are, or for example in Spain.
If what was happening in Boracay meant that Boracay is a huge party place for the Filipinos, or Asian people in general, or some tourists, then probably for them yes. Maybe for them Boracay is a party heaven but not for me. Everyone can have a different opinion, right?
Like I said, I am not a party person, not any more. But what we saw in Boracay was not a party place, not even for me so how can it be a great party place for some party lovers then?! (I guess party lovers expect even more from a party than a non-party person like me). Maybe if you get wasted anywhere very quickly, then yes.
Then Boracay is a party place.
Then any place can be a party place for you. But not for me. Even though Boracay party life disappointed me a bit, I still had a lot of fun there. For me it is about the company I have. There are some things you can hate about Boracay, but there are still so many reasons to love it. For example Boracay beaches.
Actually, to be at least a bit positive, after we said good night with the Czech girls, I mean after 'the party', walking back to my place at 1.30 am, I did see where all the people were partying. It was Guilly's Island and Club Paraw located in Station 1. So if you do not want to waste the whole night looking for some party, just go straight there.
Find here what budget travelers can hate about Boracay and why you might need more money when visiting Boracay.