2P 259 flight from Cebu to Caticlan – Boracay with Air Phil Express
Three weeks in the Philippines for me meant that I obviously had to pay a visit to Boracay, too, which is where all the tourists go.
After visiting Bohol beaches, I went back to Cebu just to take a flight 2P 259 from Cebu to Caticlan with Air Phil Express which is where you get a boat to Boracay. The island of Boracay is too small to have its own airport so there are different ways of coming to the island, with one of them being a flight to Caticlan airport.
The check-in was extremely smooth, it took me a minute to get the ticket and check in the bag. As the airplanes going to Caticlan are smaller, the free Air Phil check-in baggage is limited to only 10 kg, instead of the usual 15 kg for all the other flights.
It was on the 3rd December 2011 when I took the flight 2P 259 to Caticlan. And it was my first time on a small plane like this, Q300.
It was really exciting for me as airplanes are one of my big loves. There are just 2 cabin crew and 2 pilots on Q300 airplane which I found really cute.
The right side of the plane has 14 rows (row number 13 doesn't exist, so it's from 1 to 12 and then 14 and 15), while the one on the left side of the aisle has one more row number 16 (also without the row 13). I got one of the back seats which is exactly what I tend to get as I enjoy the flights more when I sit in the back of the plane.
I had fun looking at the stewardess as it reminded me of the time when I used to work as one of them in Europe for 2 years. Oh yes, my hard life of a cabin crew! Not that easy as it can seem at the first sight so I do appreciate all the work they have to do.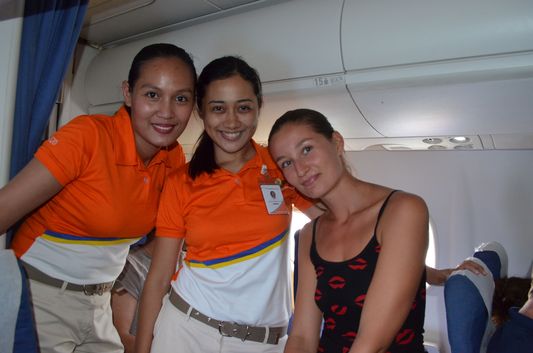 I talked a bit with Angel and Grace, the 2 cabin crew of the flight, and they were extremely nice and did their job very well.
First, as usual safety first and the safety demonstration.
Then after the take-off, they handed us passenger information sheet – to fill in the information about us and our flight out of Caticlan in case something happened and they had to contact us to give us the news about our outbound flight from Caticlan.
To sell drinks and snacks, Angel actually had to pass with a little basket as there is no space for the trolleys. Much easier, I guess, than to push the big heavy trolleys (and I know what I'm talking about).
What I really find interesting, and definitely also very useful and logical (as I know very well how stressful and tiring the stewardess job can be) were the comfy sportsshoes the stewardess of Air Phil Express can wear.
Much better than heels in case of any emergency, and also with all the walking up and down along the airplane it saves the leg and foot pain a lot.
And it does fit the Air Phil Express kind of sporty comfy uniform, too. In my opinion the uniforms must be very comfortable which makes it easier for cabin crew than to walk in a suit or a very tight skirt and a jacket. From my professional point of view, I give a big thumb up to Air Phil for their choice of the cabin crew uniform and shoes.
The Cebu – Caticlan flight went very fast when I read La Isla magazine found inside every seatback of the airplane. There are always some good travel articles to check out. And if you are done, you can always reread the safety information card, just in case 🙂
We landed 20 minutes earlier and I could even take a photo with lovely pilots. Good times! And then another photo of the very small Caticlan airport and let's enjoy one of the 10 nicest beaches in the world – Boracay beaches! Many thanks again to Air Phil Express for letting me fly with them!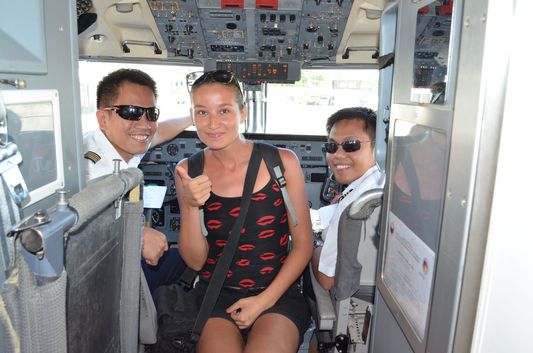 To get the best deals with Air Phil Express, please check out Air Phil Express website, and follow them on facebook and twitter.