Holidays in Eilat Israel – new Egypt?
We landed in Eilat Israel in the evening, got some dinner and went for a night walk along the promenade. My first impressions of Eilat, and those of my Slovak travel colleagues, were all the same.
"OMG, this looks like in Egypt!"
Strolling around all the bars, restaurants and shops crowded with tourists did have more of a holiday feeling than other parts of Israel I've visited. No wonder Eilat is considered to be THE holiday destination also for the Israelis who go there to get the most of the  duty free shopping, too.
I am writing this article mainly for two reasons:
show you that also in the religious country such as Israel there are cool holiday beach destinations good for non-religious visitors as well
now with new direct flights from Bratislava to Eilat people from my home country Slovakia will be able to visit Eilat easily. There will be 2 weekly flights since the end of October which is a great opportunity for the Slovaks to go on holidays in Eilat Israel
5 reasons to go on holidays in Eilat Israel
1. Hotels
There's around 70 hotels in Eilat rating from 1* to 5*, and different apartments for rent so anyone could find a hotel in the price category he can afford. Many hotels offer breakfast, or breakfast and dinner included in the package, but in comparison to hotels in Egypt the Slovaks are used to, not that many hotels in Eilat offer all inclusive packages. Which might be a good thing – you won't put on weight that much, you will spend more time exploring outside of the hotel, and you might try various cuisines eating in a different restaurant every day.
I stayed at the
Isrotel Royal Garden
hotel just a few minutes from the beach and can honestly recommend it for single travelers, couples and families as everyone would find there something interesting. The food at the hotel is amazing and I also loved one of the swimming pools which resembles a sandy beach due to sand on the ground.
Eilat is very easy to walk, especially if you are staying at a promenade hotel but even if not, one of the thousand taxi cars would happily take you anywhere in town.
2. Food
Unfortunately, there are no Micheline stars restaurants in Eilat (nor in Israel in general) but some restaurants are really good. And when I say really, I mean that good that you will not want to leave them.
If I had to pick just 3 of them, then I'd say you have to try hummus at the local
Humusof
 restaurant in the industrial zone, then all the little salad dishes at the famous
Achla Platinum Grill
and hummus with tahini and salads at the
Bar Beach
restaurant on the Aqua beach. Oh, and the desserts at the
5th Avenue
, too. I wrote an entire article just about the best
7 vegetarian and vegan restaurants in Eilat
, so for sure go check it out.
3. Diving
Did you know that approx. 12 km of the Red Sea coastline belongs to Israel? That is exactly where Eilat is situated. What does it mean to you? Being the Northern-most coral reef in the world, the Red Sea location makes Eilat a popular destination for divers. Unfortunately, I could not go diving because of bad earache but at least we went snorkeling with the wild dolphins at the
Dolphin Reef
which gave us a little insight into the rich underwater world.
If you are a diver based in Europe, Northern Africa or Middle East, Eilat is a perfect scuba diving spot easily reachable from all these places within a few hours. For example it takes just a 4-hour flight from Bratislava to get to Eilat so you can even fly there to go diving for the weekend. How cool is that?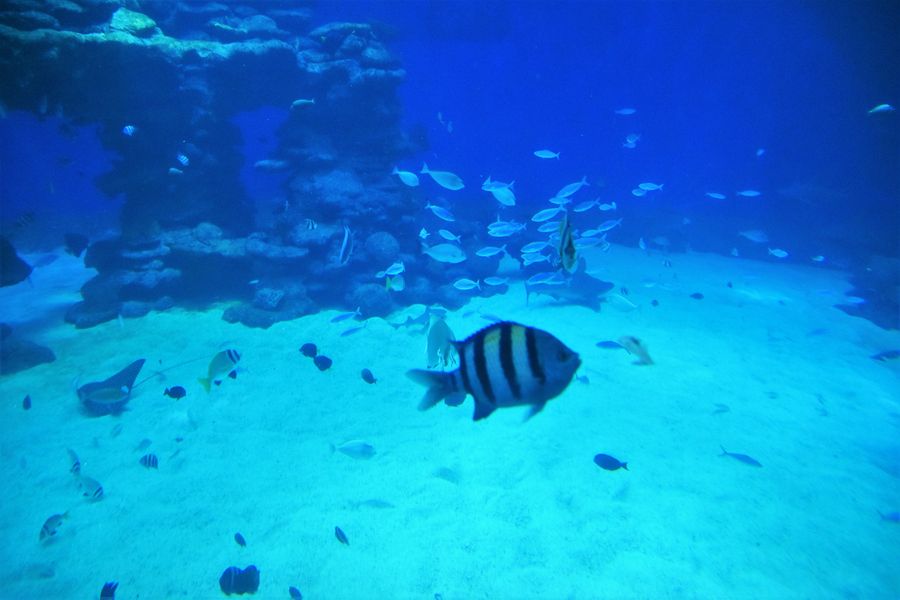 4. Safety
 With all the bad recent things happening in Egypt and Turkey, many people are super scared of taveling to these countries. And I don't blame them, especially if talking of families with kids. This is why the number of holiday tourists in Egypt went down heaps in 2016. So where should all those divers, couples and families go on relaxing holidays now if they still would like to go to the Red Sea area? Eilat is the answer.
I admit there might be some negative news about Israel in the media too but in Eilat you won't experience any of that. We could not see any men walking along the streets with guns, we coul not see any violence, we could not see any sign of unsafety there. Nothing at all. Everyone seemed enjoying Eilat, be it the pleasant locals or the vacationers. So if you've spent years going on holidays to Egypt and now the fear overcame you, try Eilat instead which is just behind the corner from Egypt (the Israeli – Egyptian border is just outside of Eilat town).
5. Attractions
For such a small population of 65,000 inhabitants, Eilat gives its visitors a chance to have fun in many different ways. Besides those already mentioned above, the holiday town is famous for a bunch of various attractions, such as Timna park, skydiving, Ice Mall with a skating ring, bird watching, Desert marathon (the closest one will be on the 18th November 2016) etc. I recommend you to read my article about 15 things to do in Eilat where you can learn more about what you should not miss on your holidays.
For more information please visit Eilat tourism website or the general Go Israel Tourism.
My big thanks to the Ministry of Tourism of Israel and the Embassy of the State of Israel in Slovakia for this opportunity to visit Eilat. I am sure to go back in the future.