Monitor lizards welcome guests at the luxury hotel in Coron Club Paradise Palawan
After attending TBEX conference in Manila I was one of the bloggers invited to Coron. The 3-day trip was organized by the Ministry of Tourism in Philippines when we were first taken to the Funny Lion hotel close to Coron town, went snorkeling to the main spots in Coron and then spent some time at the Club Paradise Palawan hotel and snorkeled once again.
To get to the hotel you need to get from the Busuanga airport to the river where a boat will take you to Club Paradise Palawan. Our boat ride lasted for approx. 40 minutes and we got free water and oat cookies on the way. It was a very peaceful ride first with mangroves around followed with many stunning hilly islands. Once we arrived to the hotel, we were greeted with wet towels, a refreshing drink and live music when the staff members sang "Welcome to Club Paradise…" So sweet, I still remember the melody 🙂
If you are looking for a luxury hotel in Coron area, this should be your choice 🙂
What I loved about Club Paradise Palawan:
very personal touch – the staff members knew my name; a welcome note saying "Welcome home Ms. Alexandra" was waiting for me on the wall in my room; the staff took photo of us after the arrival and then we got it printed; each one of us received a cookie after check-out. All these details really made me feel as part of a family 
you get a complimentary foot massage in your room after your arrival which, unfortunately, I missed because I was taking sunset photos on the beach 
I stayed at very nice Garden view room with king size bed, a table, a TV, a wardrobe and a really nice bathroom with shower 
bigger cosmetic dispensers are used in the bathrooms to avoid the overuse of small plastic bottles – thumbs up for the ecological approach
paraben-free shaving cream in the bathrooms – I personally don't use any but it's a great thing to see they are thinking of using as less chemicals as possible
Glow spa – I was blessed to get an hour anti-stress massage with virgin coconut oil. So relaxing, indeed! My massage took place right in the spa building as it was late in the evening but during the day it's also possible to order a massage at the beachfront cabana. I could enjoy a cup of ginger with honey tea after the massage.
monitor lizards live around the resort – I loved watching them in the morning swimming in the pond just a few metres down from my room. However, it was difficult to take a beautiful shot of them there as it was all muddy during our stay. But, when I was grabbing an apple for breakfast on our last morning, a waiter pointed out to a monitor lizard just by the restaurant door. I was so amazed to see the lizard so close to me that I spent maybe around half an hour then taking photos and videos of it and just observing its behavior. Unfortunately, we noticed its back right leg was hurt so probably it came to the restaurant looking for some easy-to-get food. Please, do not touch nor harm the monitor lizards as they might bite you if you do so. Otherwise, if you leave them alone, they are not dangerous at all.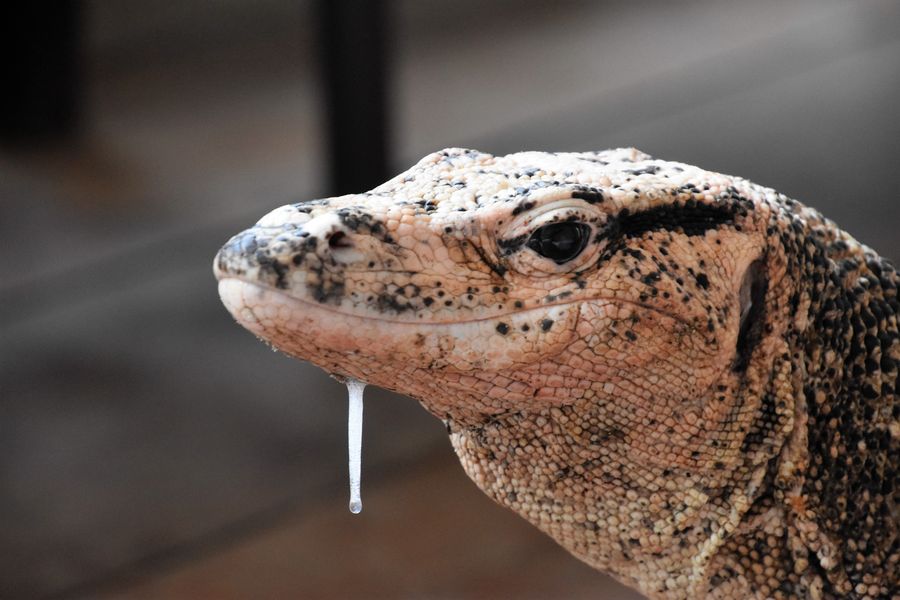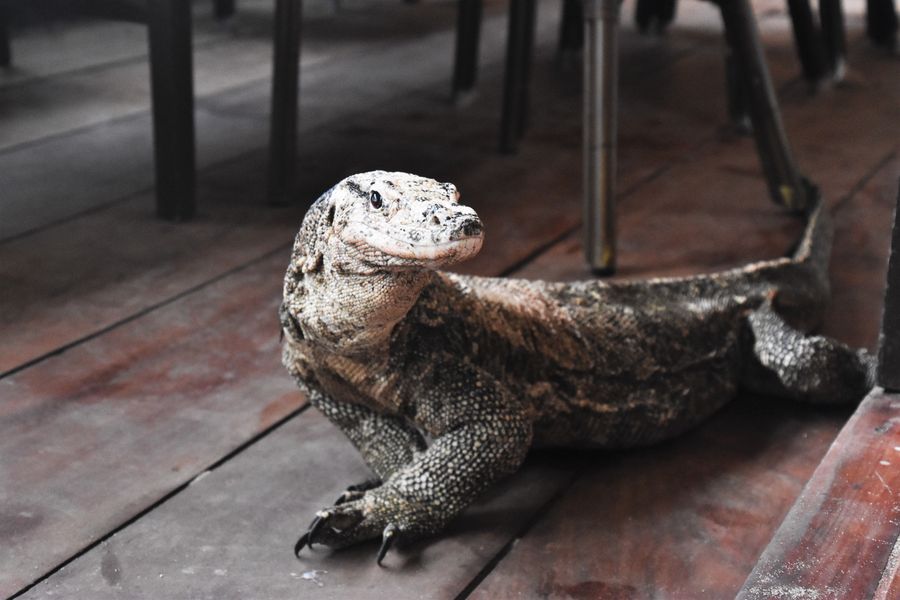 the cleaners made awesome towel animals which made my day
every evening a different piece of cake is served to the room – mostly rice cakes without dairy which meant I could eat them and not just stare at them wishing they'd given me something my diet allows me to eat 😀
buffet breakfast at the Ocean restaurant – juices, fruit (I was surprised to see apples and oranges and not something more exotic and local), pancakes, dairy, meat, cooked meals, etc. Out of many different options I could enjoy fresh juices every morning with mango, coconuts, calamansi etc. and fruit.
traditional filipino lunch in the Hidden beach shack – after snorkeling trip we were surprised with a traditional filipino lunch = food served on banana leaves which is supposed to be eaten with hands only and no cutlery. The rest of our group got meat and seafood, I received okra soup, vegan noodles and ensalada filipina (okra, red onion, tomato) 
romantic dinner on the beach – on our last night the staff prepared for us a really good dinner on the beach. We had our own buffet there under a tent and also live music. The 3 local men played well-known international songs for us. Such a romantic dinner!
the resort meals are made of organic herbs and spices grown in their own garden, and other local ingredients from the surrounding islands
amazing 700-metre white sand beach was empty during our stay so I could take photos there with no other tourists 🙂 It made this place even more exclusive. This beach is a real paradise!
the chef was willing to prepare me special vegan meals as very few of them were in the buffet so they made sure my meals did not contain any animal products 
snorkeling just outside of the resort – we heard you can even spot sea turtles or sharks when snorkeling just a few metres from the resort. Unfortunately, a big storm destroyed my snorkeling plans on our last morning at the resort.
bats – huge fruit bats live on the island and at sunset time they fly from here to next islands which is a must see when staying at the hotel. When I was there, they would start flying above the beach from approx. 5.40 pm to 6.30 pm until it got really dark. These bats are the biggest I've ever seen and looked like condors when flying above my head. 
lovely sunsets on the beach are not to be missed when it's not raining
day trips from the hotel – we did a half-day snorkeling trip which was included in our room stay. Because of the reconstruction going on at the resort the guests can enjoy this complimentary snorkeling trip together with the sunset cruise.
sunset cruise – shame our sunset cruise was canceled because of the rain and we could not see the sun setting on the horizon 
if you visit between December to February, you might spot endangered sea turtles laying eggs on the beach at night. Wish I could have seen that! Just thinking of that reminded me of observing turtles nestling in Costa Rica.
hiking trail to the Eagle's point – there's a short hiking trail to a viewpoint which again because of the rain we could not do
the staff did everything they could to make us feel comfortable and dry when it was raining – they used umbrellas, hand us ponchos and towels, cover our baggage with plastic bags
And what I disliked about Club Paradise Palawan? It's not the best place for digital nomads as wifi only works in the Ocean restaurant and only sometimes it is fast enough to do anything. But, this place is not meant to be for work anyway. Who would like to work in paradise?
For more information, please check Club Paradise Palawan hotel website. Thanks to the hotel and Tourism Philippines for hosting me. Remember, #itsmorefuninthephilippines.