Grand Mirage Nusa Dua hotel for families and couples
During my holidays in Bali I stayed at a couple of different hotels and one of them was also the 5* Grand Mirage located on the Nusa Dua beach.
The Grand Mirage hotel is very family oriented and offers many activities for kids and their parents. It's also good for weddings and couples. I have to say it was nice to watch the couple and families all around me but to be honest, I did feel a bit out of the place as I was there on my own. On the other hand, the waiters then knew me by name 🙂
In my opinion, the hotel is not as luxurious as I expected for a 5* (I visited in November 2015). At least it is not the top luxury I am used to. However, I believe they are trying to change and renovate many things at the hotel so fingers crossed for even a better resort soon.
Anyway, there were still many things I did like at the hotel.
What I enjoyed at the Grand Mirage Nusa Dua hotel:
The first thing I did after the check in was to go to the spa which is different to all the others I've ever been to. There at the Thalasso Spa I did exercising in the Aquamedic pool with 38 Celsius sea water. The jet streams massaged my legs to improve the circulation and lymphatic system to get rid of toxins (which was really great after the raw vegan detox I did for 10 days before that.) What a unique experience! There's also a bunch of really cool spa rooms (such as tranquil cave) where I recommend you to get a spa treatment. I don't even know why I didn't get any and now going through the photos I do regret it. So don't miss your chance for a special spa treatment once there.
free wifi around – I was updating my social media channels from the pool
I enjoyed the all inclusive package as it's easier to get drinks and meals throughout the day. ANd the buffets usually do offer fresh fruit and vegetable salads which makes big part of my (mostly raw) vegan diet.
my room was pretty nice and it had everything I might need. I even had 2 double beds so one of them was full of my clothes as I finally needed to fold them in a nice way before I left. I also enjoyed the pool view and could dry my bikini on the balcony chairs. And my balcony door with the image of birds sitting on trees looked awesome! The bathroom was lovely as well as I could open the windows and see from the bathtub to my room and even out of the balcony if I wanted to 🙂
swimming pool was great for swimming and I would spend hours there every day sunbathing on sunbeds and going for a swim
beach with sunbeds – good for sunbathing, reading and chilling but not so good for swimming. The views are worth a walk so or early morning or at sunset time I recommend you to go for a relaxing walk or for a run/jogging.
you can get a massage not far from the pool
I saw a nice wedding there on the beach. It was a young Russian couple getting married there barefoot wearing traditional Balinese dresses. Just the two of them, 2 of their best friends taking videos of them and 2 sweet Balinese women to make the wedding ceremony look more local. I was standing there with tears of happiness watching the whole wedding. Oh my… One day I will have a beach wedding, I promise…
romantic dinner watching a show – it was supposed to be outside at the Rama Theatre but it started to rain so we all moved inside just after the beginning of it. At least the newly married couple had a dance on the stage and then it poured down raining cats. I felt sorry to see we couldn't enjoy the beautifully arranged outdoor tables and trees but the show was very interesting anyway. I had a good laugh looking at the dancers who then asked some of the guests to dance with them.
young coconuts at the pool bar – if you've been following my blog or social media accounts, then you know I am crazy about coconuts. There's nothing better than drinking young coconut water in the pool. Heaven!
some staff was very nice and they even remembered what I preferred to drink and eat 
the restaurants do offer vegetarian meals (inspired by Balinese, Indonesian, Thai and Indian cuisine) but not that many vegan options. I had to order special meals to keep on with my vegan diet and it was not so easy, especially dinner. Buffet breakfast and lunch were fine.
many activitities to choose from – table tennis, chess, yoga classes, water aerobics, pool volleyball, beach soccer, fruit carving, Ocean kayaking, Batik painting class etc.
the Cool's Leisure Launge has computers with internet, gym, chess, karaoke room
I really liked all the trees and flowers around the hotel outside. It made the place look more romantic and the trees were awesome for the shade on hot mid-days.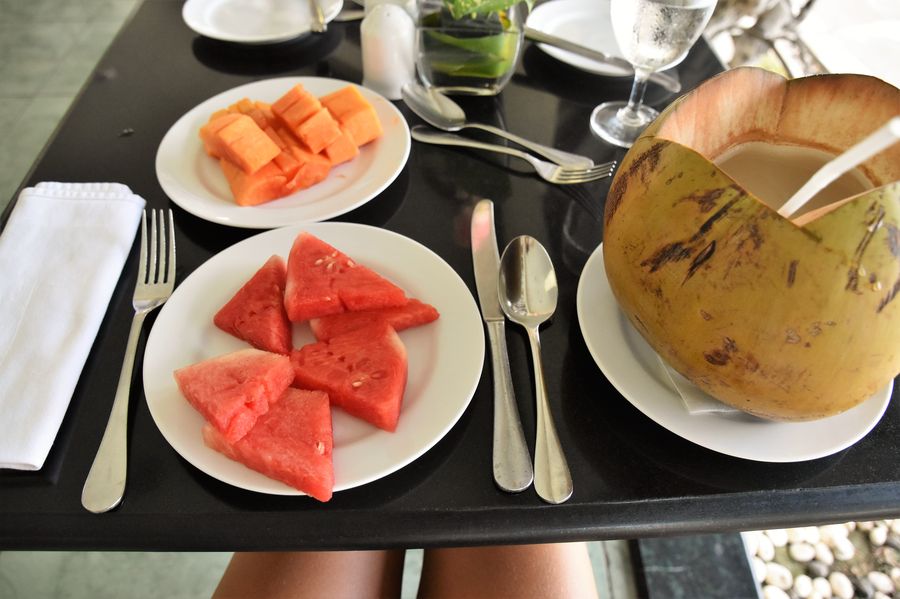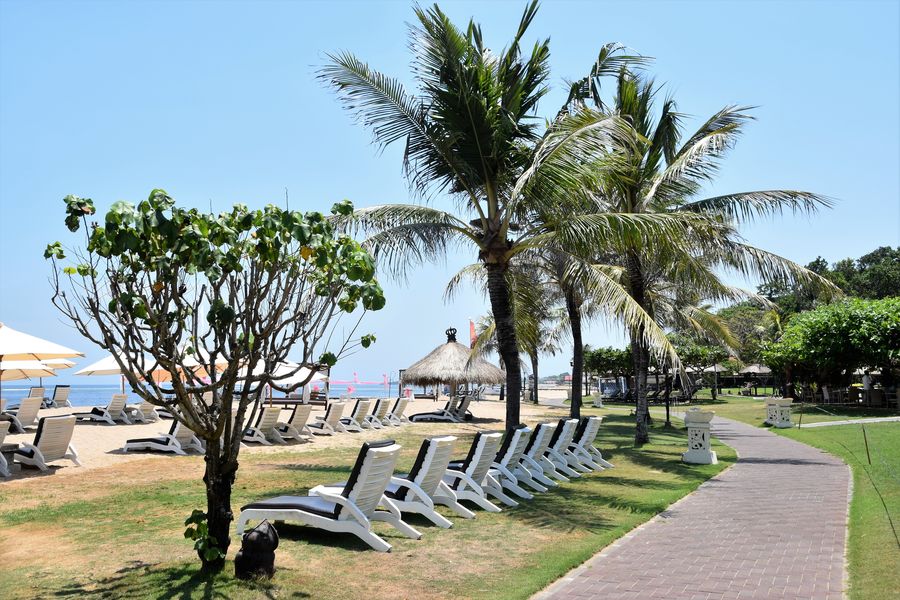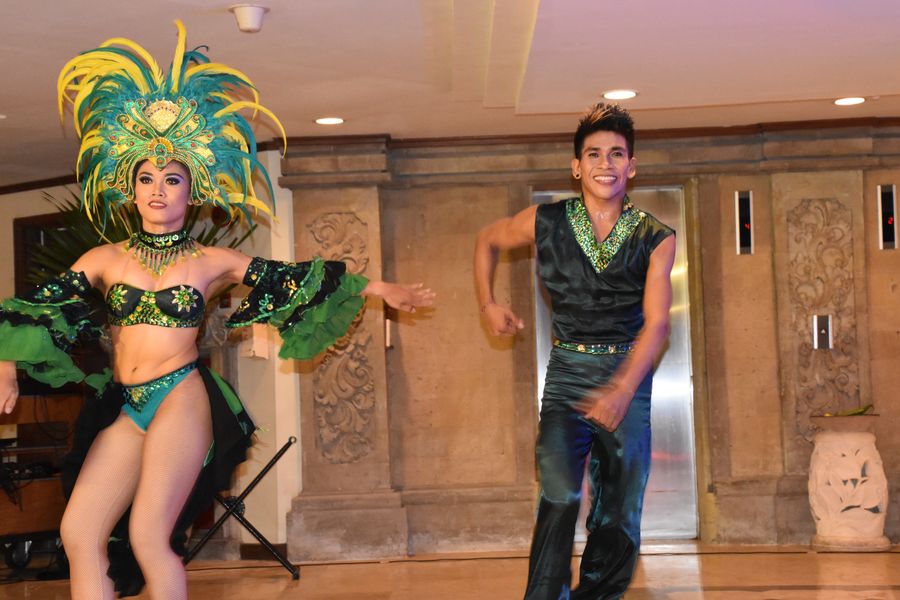 You can find more photos in my Grand Mirage photo album 🙂
PS: if you are looking for more luxury, then go and stay at the unique
Samabe villas
– one of the best places I've ever stayed at 🙂
 For more information, check out Grand Mirage Nusa Dua website. Thanks so much for my press stay.