Plane crashes – Last goodbye to Pavol Demitra
It's 9am on the 15th September 2011 and I am just watching a movie Alive from 1993 about the Uruguayan rugby team guys who survived in the snowy Andes. They play this movie today on purpose. It is the last goodbye to Pavol Demitra, Slovak hockey player in Trencin, Slovakia, and his funeral on the 16th September. I think the movie is supposed to show how difficult it is to survive a plane crash.
Maybe you are asking what this post has to do with traveling. I say a lot. It is not just of personal matter for me as Pavol Demitra was from the same country like me and I've always liked hockey which is one of the few things Slovakia is known for.
But all the people who travel, they have to travel by plane sometimes as well, even if they are scared of flying or hate heights. Air travel is just so quicker … and still safer, even though there are more and more plane crashes recently. I don't want to freak you out with this post, not at all. There is a very very small percentage of all the flights for something bad to happen.

I know a lot about plane crash and possible problems with the airplanes after 2 years of working as a cabin crew. I learned a lot not just about how to try avoid any problems or deal with them if they happen, but about a sort of a survival after the crash, too. Fire, bird strike, storm, technical problems etc are one of the main reasons of a plane crash.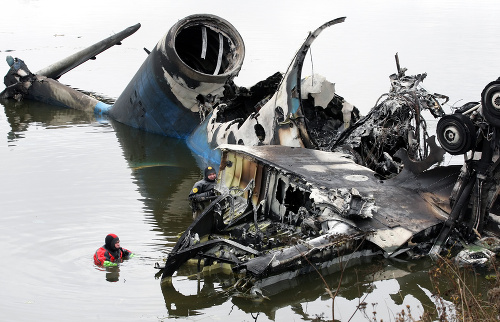 Most of them happen during the take-off or landing. Unfortunately, it was the case of the airplane Yak-42 with KHL Lokomotiv Yaroslavl players flying to Minsk on the 7th September 2011 for the first game of the season. We all heard of it on the TV. The plane landed on the Volga river – ditching is almost impossible to survive – and 44 people out of 45 died, including 3 Czech players (Karel Rachunek, Jan Marek and Josef Vasicek) and the rest Russian. A horrible tragedy not just for the hockey, Slovakia, Czech republic and Russia, but unfortunately for the whole world. I saw the news about it on TV a couple of minutes after it happened and my whole body was covered up with the goosebumps. It reminded me of a few problem flights I had.
I am sure all the Lokomotiv Yugoslavl who died were not just very talented hockey players, but as well great persons. At least Pavol Demitra was. During his last visit to Slovakia he fulfilled the dreams of a young boy on a wheelchair – meeting with the boy's idol Pavol Demitra himself. And Pavol bought him a special wheelchair and playstation, too. This act makes all the Slovaks mourn even more. Today afternoon on the 15th September many people will give the last goodbye to Pavol Demitra at the hockey stadium in Trencin. And then the whole Slovakia will watch on the TV. Thousands and thousands of people crying. Sad moment.
photo credits: topky.sk
Pavol Demitra, we will always remember you with a smile on your face, as our amazing hockey player and a person with a big heart!