Puerto Escondido – paradise for surfers
On my way from Acapulco to Oaxaca, I spent 19 hours in a small town at the Pacific coast, in the state of Oaxaca in Mexico. I heard of the place and as soon as I was told it is a place of surfers, I had to come at least for a bit. Right now I am sitting in my room, the one at the very top of the hotel Acuario with a breath-taking view of the beach. And yes, can see some great muscles of the half-naked surfers. A paradise on the Earth, isn't it?
At least it is a paradise for girls who like some rough men but who are really good-looking and with every move you can see very easily all the veins and trained muscles. I bet you will see many of them. To be specific, everywhere you look, as the place is a paradise for surfers, too. The hotties visit mostly from Australia, Canada (Vancouver and Quebec), Brasil, Spain, France, Italy etc. And no wonder they come over here, Puerto Escondido is the third well-known surfer beach in the world.
There is everything a good surfer need. You can buy surfs, shorts, T-shirts, flip flops, learn to surf in one of the surfer schools, very quiet area to relax but most of all big waves you need to surf. Sorry, I mean BIG BIG waves. Last week they had up to 6 m.
It means if you do not surf, better do not get into to water. Forget about swimming as many people had accidents here and even died because the sea is very strong here. I am talking about the biggest beach of Puerto Escondido – Zicatela and where it ends at La Punta rocks.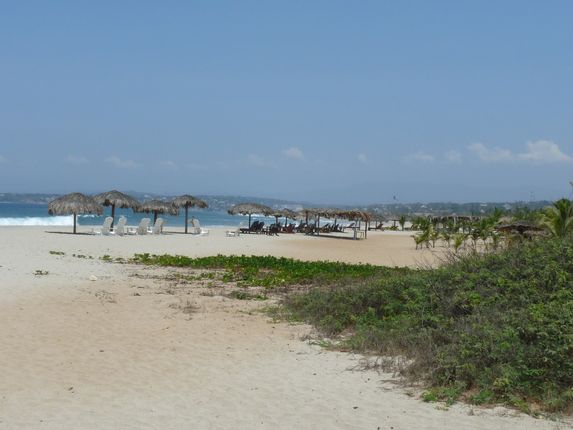 Anyway, once said this, do not think there is no place to swim in Puerto Escondido, because there is and really lovely little bay called Carrizalillo Beach. This beach is more quiet when it comes to the waves, but you can get here only walking once you go down all the stone steps made down the hill just recently.
Because of its not very easy entrance, the beach remains clean and more virgin, how they say in Spanish as it is not easy to carry food or drinks here and build a restaurant fot the visitors. Carrizalillo is just a couple of minutes of the famous Bacocho which is the area where the rich Americans live.
For my, and now also your biggest surprise, Puerto Escondido (literal traduction Hidden Port) does not exist, it is really hidden. I was told there is actually no such town with the name of Puerto Escondido in reality. Yes, there is – both on the map and the destination on the bus says Puerto Escondido, but that is all.
The weird thing is that the statue of Benito Juarez where the centre starts, divides the town into two: to the South there is Santa María Colotepec (in náhuatl means Twisted hill) and San Pedro Mixtepec (Cloudy hill). The districts/towns or whatever they are nowadays are fighting between themselves but hopefully one day the peace will come and they will carry just one name of Puerto Escondido.
Once you visit all the beaches, make friends with surfers and tattoo girls with rasta hair, you should visit the most famous El Cafecito for some coffee, or go to the bridge in Santa María Colotepec and observe the river there. It has a strange shape, full of sand and trees from November to May which is when I visited.
Then during the rainy season the river becomes 10 times bigger than now and the sand disappears under the water level. I really enjoyed looking at the river because during a month in Mexico I have seen like 3 rivers, and just the morning coming from Acapulco to Puerto Escondido, I saw twice as many in the state of Oaxaca. So it was a real change for me to see a river in Mexico from so close and so wide with the sand like the one at the beach.
I am happy I paid a quick visit to Puerto Escondido. Even though less than a day and without entering the sea for the first time in my life, I did have a great time here. The view from my room, listening to the waves, watching the sexy surfers and nice people made my visit unforgettable.
My visit to Puerto Escondido was a press trip organized by Hotel Acuario. However, all the opinions in this post are honest and just my own.