5 surprising Finnish sauna traditions
I hope we are all familiar with the fact that the well-known dry sauna originally comes from Finland. Being such a sauna and spa freak for more than 15 years, I have to admit that I only paid my first visit to Finland in July 2016. It was then when I found out some Finnish sauna traditions and how the locals really enjoy their sauna time there. And saying I was shocked is an understatement.
You wonder why?
Well, going to sauna regularly for many years in a row, sometimes even up to 3 times in winter months made me think I knew pretty much everything a person needs to know about sauna rules.
And trust me, I've spent loads of time learning about the healthy ways of sauna sweating, what to do before, during and after to help your body get rid of toxins. As a health and raw vegan coach, I've read through heaps of articles, books and videos on this topic. I am a perfectionist and really want to get as many details as possible when it comes to experimenting with my own body and health, and spending time in sauna could be considered part of that.
I was always the one passing the sauna ethics on other people and except one or two people, I've never met anyone with at least the same sauna knowledge as myself.
And then I went to Finland…
What did I learn there about the Finnish sauna customs?
5 surprising Finnish sauna traditions:
1. One of the Finnish traditions is to build sauna even before the house itself. It's a necessity for the locals, not part of a luxurious lifestyle as people think in other parts of the world. There's more than 3 million saunas per 5 million inhabitants in Finland so pretty much a sauna per household.
We even saw a new free sauna by the Aura bank in Turku town. Yes, a little yellow cubicle in the city centre. Even mobile saunas can be found around Finland – portable tent saunas built into trailers, cars or even bicycles! That's what I call being true to traditions 🙂
I even read that Finnish mothers often gave birth in almost sterile saunas, lived in them, cooked food on the stove and took care of personal hygiene centuries ago when bathing was not very common yet.
2. For the Finns, sauna is a socializing event with their partners, friends and family. At least twice a week the locals go to sauna in their house and talk to each other. Before entering sauna, the Finns take a shower and wet the hair to avoid hair damage due to dry air. Then they pour water on the sauna stove and they also hit themselves with birch branches (birching) to improve the blood circulation.
Afterwards, they take a cold shower or most probably a swim in the Baltic sea (yes, also in cold winter months they make a whole in ice to dip in). It's interesting to see that the tradition around the world says that to speed up your metabolism, you should spend at least 60 seconds in freezing water or cover yourself with ice after each sauna session. Again, I am not sure of its origin, if it was based at all on winter ice bathing in the sea, but in the Finnish saunas we visited there were no ice cold pools/waterfall showers/ice caves to dip in/freeze our butts off.
3. One of the Finnish sauna traditions that truly shocked me was the following… It's very common to get some food and drinks right in the sauna or between the sauna sessions (when in own saunas, not so much in the public ones). To be honest, I consider myself a sauna expert as I've been to hundreds of different saunas in so many countries but have never seen anyone drinking alcohol in any of them.
I mean usually it's not allowed at all as sauna makes you dizzy; and alcohol makes it worse and you could collapse (that's my health coach speaking here). Eating and drinking alcohol when your body is trying to get rid of toxins, water and minerals make it extremely hard for the body. And sauna should make you relaxed instead.
4. I've heard million times that you should go to sauna with empty stomach and before that just drink water or water with lemon, to help your body with the cleanse. And that's exactly what I've been following for years.
But in Finland people tend to go to sauna after dinner to chill out before going to bed which to me, makes no sense, as your body is digesting food and have no energy left to deal with toxins. But maybe once again, I am looking at the health approach more here than on the socializing relaxing event before sleeping.
5. In Finland, you need a permission to build anything bigger than 7 square metres so some small saunas are built on wheels just outside of the houses to make it easier. And it is pretty usual, indeed.
We saw a couple of those cute wheeled saunas when cycling through Turku archipelago to Nagu town. Can you see the real local sauna obsession here or is it just me?
What do you think? Does it seem ok to you or did I surprise you?
I sweated in 4 different saunas in Finnish islands:
Klobben sauna
The first sauna I've entered in Finland was on Klobben, one of the Aland islands and it was only for a few minutes to take a video. The very modern wooden sauna building is located on the rocky shore where you can go for a swim to cool down. I only wish we had time for a sauna session there after practicing yoga, tasting local products and taking a stroll around the peaceful island. Hopefully next time 🙂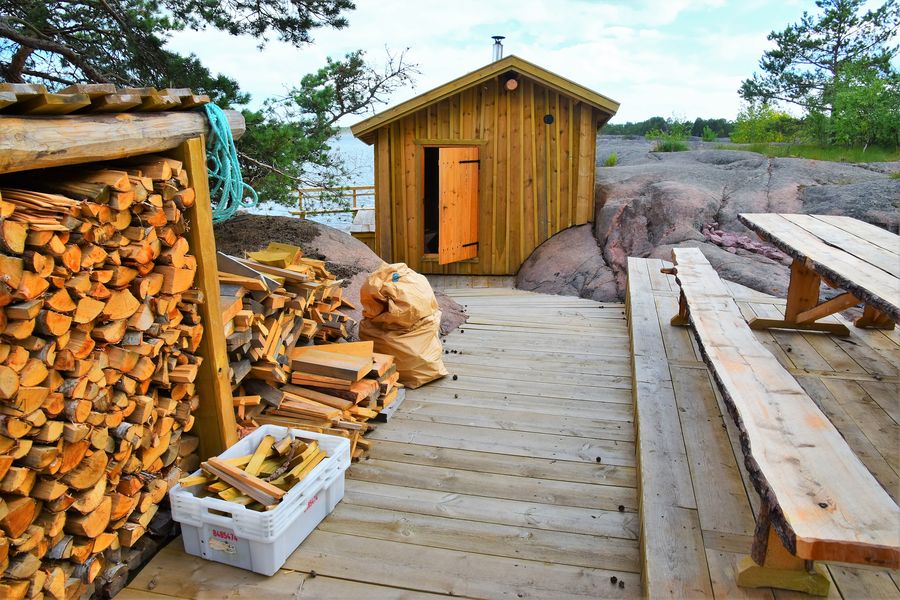 Silverskar sauna
We stayed overnight on Silverskar island not far from Klobben. There we really had to do the very traditional Finnish thing – stay in a summer cottage, sweat in the wooden sauna and then take a dip in the Baltic sea. It was a super funny feeling to put bikini on and just walk barefoot covered with a bathrobe through the island towards the wooden sauna building. There was a room with fridge and drinks, followed by showers and then the sauna itself with 2 different stoves.
At first I swore I would not go into the sea. But actually then I realized that usually I enter even colder water after each sauna session so swimming in the Baltic sea at 11 pm did not seem so weird to me any more. Add a hot jacuzzi with friends overlooking summer bright skies just before Full Moon and I didn't need anything else to feel happier.
PS: the skies on the photos are after 11 pm!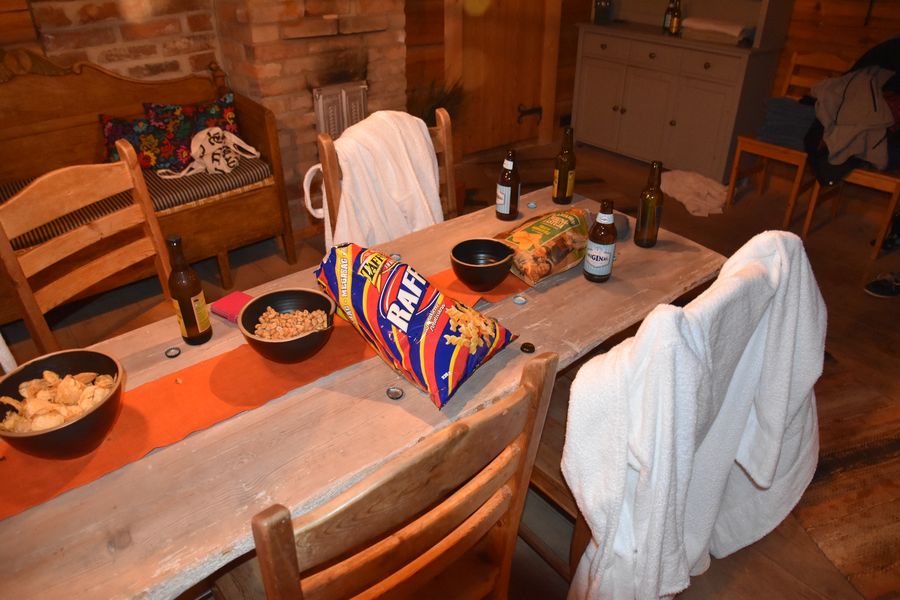 Havsvidden sauna
Together with a friend we shared a super luxurious Havsvidden cliff villa number 31. We had the whole house to ourself, a big hot tub and even a private sauna with awesome sea views through the bathroom. We tried it once very late at night after dinner. So wish we had more time at Havsvidden to spend a few hours properly relaxing in the sauna and then chilling on the terrace. Peaceful little piece of paradise!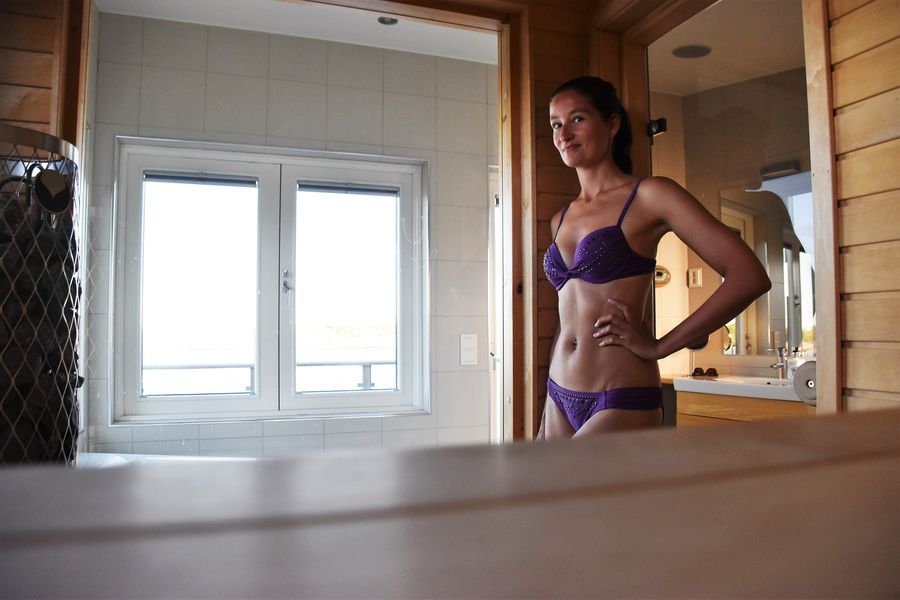 Pensar Syd sauna
The above mentioned saunas are all located on the islands which belong to Aland islands. Pensar Syd, however, is a couple-owned accommodation and restaurant situated on Pensar island, one of the Turku archipelago islands. Pensar Syd has even two different sauna houses which is a unique fact in a place like this. Usually nature ecological hotels in Finnish islands only offer just one sauna.
This is where I finally had enough time for sauna. Both when traveling or at home I tend to spend at least 3 or 4 hours in sauna and relaxing, always chilling outside at least the same amount of time as inside the sauna. We rented the whole sauna house at Pensar Syd just for our group and I spent 2 hours there – 3 sauna sessions, then birching and Baltic sea swim. And it was before dinner on empty stomach, exactlythe way I am used toAwesome experience! 
Visiting Finnish saunas was part of my Adventure and Spa project. For more information, check out Visit Aland, Visit Turku and Visit Finland websites 🙂
What do you think about the Finnish sauna traditions? Have you heard of them? Do you follow their customs or you have your own way of spending time at sauna? Please share in the comments.