11 things to do in Bohol in 2 days
In November 2011, when I spent 3 weeks traveling around the Philippines, with my friend Jason, we spent 2 days in Bohol. Two days were enough for me to fall in love with this magic place. We spent a day exploring the island and the second day hanging around the beaches. Then again in November 2016 I returned to Bohol and stayed at the Amorita resort in Panglao, which I can highly recommend :)
Here I mention the main Bohol attractions that can be easily done in just 2 days as we did. However, the more time you have to explore the island, the better :)
11 things to do in Bohol:
1. Sagbayan Peak 
It is a man-made mountain resort. It is located above the town of Sagbayan. There are plenty of steps to climb, but once you get to the top, the 360° perspective view will be so rewarding! You can take some pretty good photos in here as Carmen Chocolate hills and distant blue sea are visible from here. Don't forget to shoot some of the cartoon statues in here (not only for children) and eat at the restaurant. 
2. Carmen Chocolate hills 
A National Heritage Site of the Philippines. I remember when I saw a photo of Chocolate hills for the first time years ago and I wanted to visit them badly! But dreams do come true :)
This is a must see as Carmen hills are unique and you can't find them anywhere else in the world. There are at least 1,268 hills of 30 to 120 metres high spread over an area of around 50 square kilometres.
The names Chocolate hills was given to the hills because of the grey colour they have in dry season which looks like as if they were made of chocolate. Otherwise, not in dry season, the hills are covered with grass which is when I took the photos.
3. Mahogany man-made forest 
2 kilometres of densely planted Mahogany trees. It is the first and the only man-made forest in the Philippines.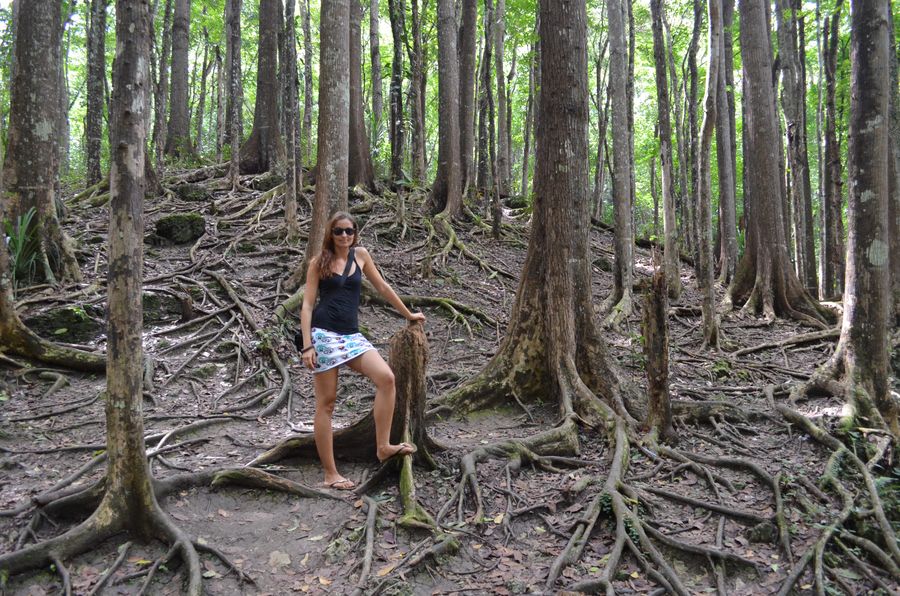 4. Tarsier sanctuary 
Something sweet and cool to add to your Bohol itinerary. Tarsiers are the smallest primates in the world and visit their sanctuary is something you will never forget even though the tour takes less than 30 minutes.
The tarsiers, nocturnal animals, weigh maximum 150 grams and their tails are around230 mm long. The main characteristic of tarsiers are big brown eyes and they can rotate their head 180° in each direction. Cuties!          
5. Bohol Python in Albuquerque Zoo 
They have the biggest python in captivity ever known. Prony, the famous python, is 23 feet and 300 kilograms. As a vegan though, I do not recommend people to visit ZOOs but rather spend time in nature, instead :)
6. Hanging bridge
Bamboo bridge in the upper part of the Loboc river. It is considered as one of the most dangerous hanging bridges in the world, as Dir journal stated.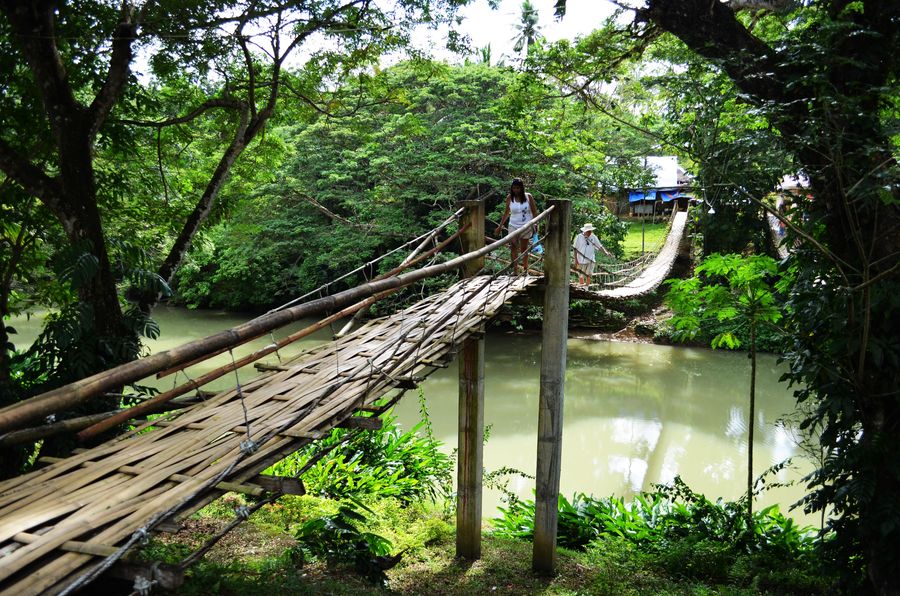 7. Loboc River 
A very famous river from a couple of Filipino movies. But I think it is overpriced. But the cruises on Loboc river or floating restaurants with live music are very famous in Bohol. You can swim in the river, watch local children playing or even visit Busay Falls. The cruise offers scenic views of the forest around.
You can book your Loboc river cruise with buffet lunch here.
8. Loboc church 
Church of San Pedro is the second oldest church in the Philippines. It was originally built in 1602, then put on fire and rebuilt in 1638. Since then the church survived a lot of floods.
You have to take a bridge to cross Loboc River to the other side to get to Loboc church. It is huge and gives the place a bit of a mystery. The Loboc Museum is situated on the third floor of the church. One hundred meters from the church you can find Loboc bell tower.
9. Baclayon church 
Located 6 km from Tagbilaran City is known also with the name of The Church of Our Lady of the Immaculate Concepcion. Its construction began in 1595 and what we can see nowadays was finished in 1727.
It is considered to be one of the oldest churches in the Philippines and one of the best preserved Jesuit-built churches in the region. There is an old convent with a small museum next to the church.
10. Blood Compact Shrine 
Situated at Barangal Bool in Tagbilaran City. The place is considered as the first Treaty of friendship between Asia and Europe where in 1565 Miguel de Legazpi and Datu Sikatuna forged blodd compact.
The event is commonly known as Sandugo. The sculpture located now here was made by Napolean Abueva, an artist from Bohol. Two of the life-sized statues are Legazpi with Sikatuna making a toast.
11. Beaches 
There are a couple of amazing beaches and me, as a well-known beach bum, I can recommend you Doljo beach for snorkeling, then Alona beach for touristy things, Dumaluan beach for some peace an quiet, swimming and good food with locals or extremely expensive and luxury Bohol Beach Club. Both Alona and Dumaluan beach made it to my 24 favorite beaches of 2011.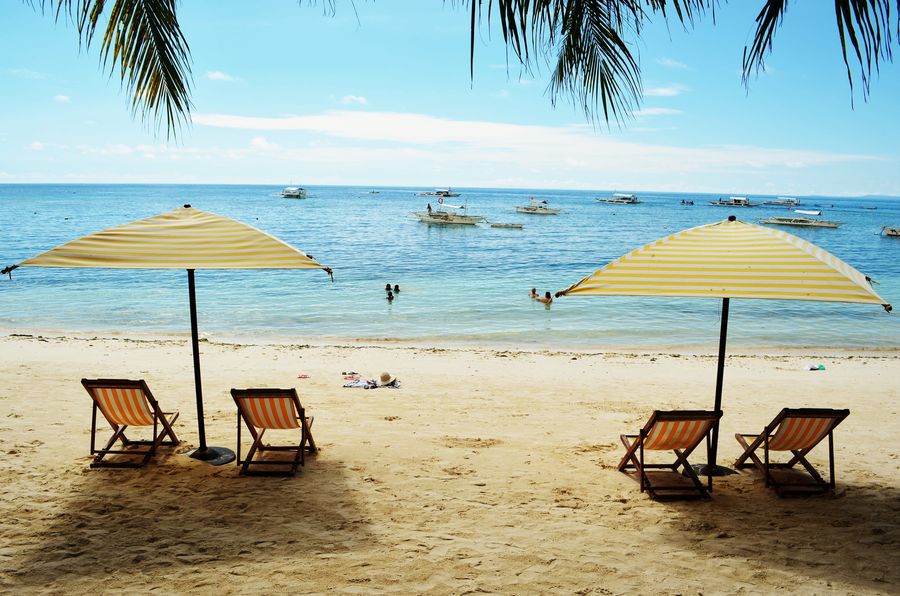 Tips when visiting Bohol:
if coming from Cebu, the cheapest way to get to and from Bohol is to get a ferry to Tubigon port (way cheaper then to go to Tagbilaran)
the cheapest way to get around Bohol is to take local transport – jeepneys but remember there are usually no timetables so if your time is limited and you want to visit as many places as possible, this would not be the best thing to do as sometimes you could wait for hours waiting for the next jeepney to pass.
probably the best way to get around Bohol is to hire a motorbike with a driver. Don't forget to bargain the prices, you could even get to half of the price they first asked for.
there are entrance fees almost everywhere (from 10 to 50 Php usually): e.g. Sagbayan Peak 10 Php, Carmen Chocolate Hills 50 Php.
you have to be properly dressed when entering Baclayon church (under the knees and shoulders covered.)
if you don't like full touristy beaches and high prices, visit Dumaluan beach instead of Alona beach.
if you are in Tagbilaran City and you need wifi, there is free no password wifi in Jollibee.
you should not use flash when taking photos of the tarsiers and you have to be silent. You could scare them to death (literally.)
---
---
TIP 1: Visiting Philippines and you have more time to explore also other islands? Here's my other informative posts about the Philippines.
---
---
PS: I went to the country twice already. The first time it was for 3 weeks, and the second time for 4 weeks (because of the free visa on arrival). I tried to write about most of the places I've been to, so you can find many other useful articles about the Philippines on my blog. By the way, did you know that Philippines are my 3rd favorite country in the world?