Amazing Amorita resort Bohol – where to stay in Panglao Bohol
After my 17 days on the Malapascua island North of Cebu, I spent 9 hours traveling through Cebu island to Panglao in Bohol where my next hotel was located – Amorita resort Bohol. I have to say I could have not chosen a better place for my last days in the Philippines. It was love at first sight – the name meaning "little love" in Spanish hit the nail on its head and straight from the very first minute I felt like at home there. 
But let me start from the beginning… I was picked up by a resort driver at the ferry terminal in Tagbilaran who handed me 2 bottles of water and helped with my suitcase. The drive took us approx. 35 minutes when I just observed the life outside of the van. So different to small Malapascua island where I just came from.
After a quick check in I was walked to my suite, took some photos around and went to enjoy an hour-long massage at the spa before a dinner with my friends.
Unfortunately, during my stay the Amorita villas where under reconstruction so I was not able to stay at one of them (hopefully my next stay I will). Anyway, my bedroom suite was pretty awesome, too. And during my stay the hotel was not fully booked which meant more privacy by the pool. So I was more than happy 🙂
I loved about Amorita resort Bohol:
my modern luxurious bedroom suite with 80 square metres – the suite had it all from living room, bathroom with a big rainfall shower and bath tub, toilet, balcony, and a bedroom with super comfy king size bed. I can not express enough how much I loved the bed. I could sleep across it and still have loads of space for my long legs, oh yesss! Having tea making facilities in my little kitchen was a plus point, too. 
bath tub – the weather was not super hot so in the evening I could enjoy a bath tub and travel blog from it. That's one of the activities I am famous for so thumbs up for the bath tub in my room. I loved taking a bath on my first evening after a long trip to Amorita when I got frozen on the ferry.
Sea Tree Spa – I tried a traditional filipino one hour Raja massage which started with a foot bath with antiseptic guava leaves. My masseuse Tina was very gentle and polite. It seemed as if she moved her hands massaging me to the rhythm of the flute and piano music in the background. The whole massage was very slow and soft which was exactly what I needed after my day trip to the resort with hardly any sleep on the night before. Oh, and looking towards a bowl with sand full of sea shells under my masage bed was such a cute little detail. So was a cup of ginger tea after the massage.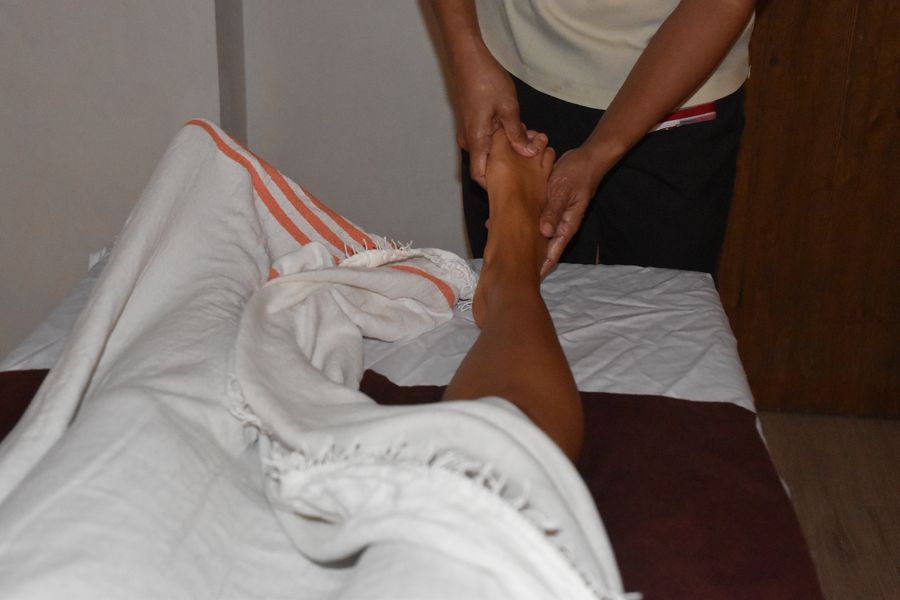 free buffet breakfast was the best! Many different options for vegans, vegetarians and also meat-eaters. I could try juices, very tasty jams, non-sugar bread, fresh fruit (e.g. tasty watermelon, papaya, pineapple), soy milk and even different veggies every morning, vegetable noodles. There's also a salad station and freshly made pancakes and eggs if you like them. Don't forget to try peanut butter!
infinity pool – oh my, those infinity pools are always the best! I did quick yoga there, sipped coconut water, sunbathed, swam and enjoyed the peaceful sea view with light breeze playing with my messy hair.
short distance to the Alona beach – the Amorita resort is situated on a limestone cliff on the Southern edge of the Panglao island. It will take you just a short walk down the steps to the Alona beach. I was very happy indeed not to stay in the hustle of the busy beach but just a short distance from it, and yet go to the beach whenever I felt like just barefoot in my bikini. Amorita resort is indeed a good choice for an Alona Bohol hotel. Not too overcrowded.
tasty meals at the restaurants – I tasted Spanish tapas at the Tomar restaurant on my first night there with my friends from the Canary islands (Yolanda and Marcos from LaGavetaVoladora who happened to be at the same resort at the same time) and then also some meals at the main Saffron restaurant (where breakfast is also served). I highly recommend you to try Tomar if you are into Spanish food, and they can make a delicious veggie paella and other vegetarian/vegan meals if you ask for them. The paella was for sure the best paella I've had in my life. There's a wider choice of meals at the Saffron restaurant where I got ratatouille pasta with vegetables. If you get a chance, try mushroom soup with truffles as well. I am crazy about both mushrooms and truffles and can never get enough of them.
young coconuts – you can order one at the Saffron restaurant and drink + eat it there or by the pool. I did both. Just before I left the Amorita resort, I ordered my last coconut by the pool and the waiter laughed they had no more left, if I could wait for a bit as they needed to climb a palm tree to get me one. Was so nice! I love men willing to climb palm trees to get me coconuts 🙂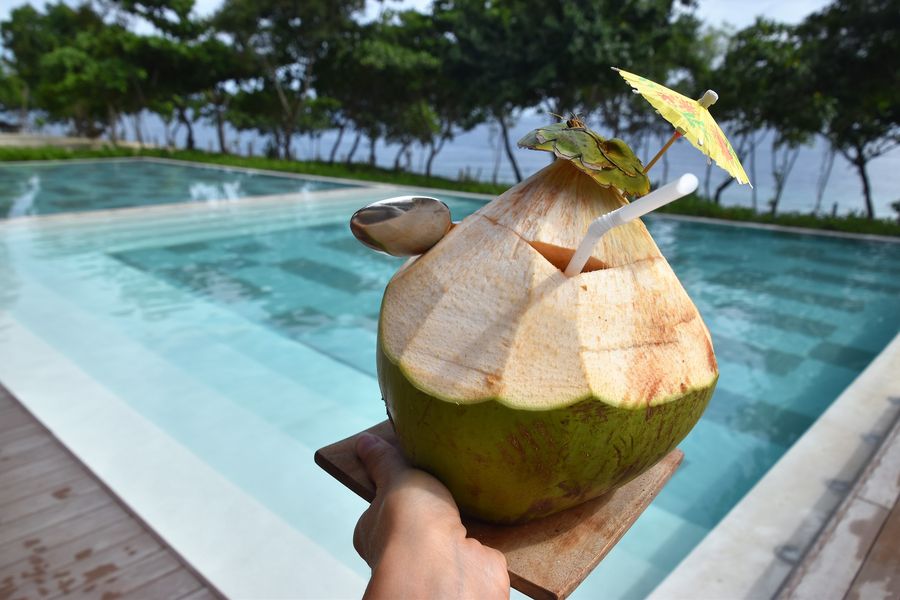 free snorkeling – the resort offers free snorkeling trips and/or free snorkel gear rental. Together with Yolanda we went snorkeling for an hour on our own to have more flexility for photos and videos. I just rented a snorkel gear. I was very surprised to see so many starfish just a few metres from the shore! And of so many different colors: blue, orange, red and even black starfish. The corals with fish can be found a bit further from the beach, closer to the boats. I highly appreciated that the guide gave us towels and water after snorkeling. Such a nice gesture, right? Just a quick advice: please if you go snorkeling, please be careful not to step on anything. There are some sea urchins around. Under no circumstences should you step or touch the starfish, and definitely do not take them out of the water as they die within 2 or 3 seconds outside. 
free kayaking – you can also rent a kayak for free to go with the resort guide (check the schedule at the reception or in your room leaflet) or go on your own
nice green garden around the hotel – you can grab a book and sit on a bank under a tree, or just indulge in garden's peace and quiet
free gym – if swimming is not enough for you, you can hit the gym, too
free cookies at check in, free bottle of water each day and free little cakes each evening
on Saturday morning there's also free yoga classes but unfortunately I missed it as I stayed on weekdays so I did my own yoga practice by the pool
personal feeling – every staff member was extremely nice to me and always smiling and helpful which really made me feel like part of a family. I really do prefer hotels with a friendly atmosphere like the Amorita resort has.
The only thing I did not like? Wifi. Sometimes it worked perfectly fine (mostly at the Saffron restaurant), sometimes not at all (especially in my room). However, that's very normal all around the Philippines so I knew I should expect that. And because it was my last days out of 4 weeks in the country, I did not mind not having a good wifi at all. At least it made me forget about online travel blog work and be more present and enjoy the Bohol hotel. 
More photos from my stay are in my Amorita album 🙂
Many thanks to the Amorita resort staff and everyone who made my stay unforgetable. Please follow #loveamorita and #amoritaresort hashtags on Facebook, Instagram and Twitter to find more photos and videos from this lovely resort. For more information, please check Amorita resort website.