23 things to do on Malapascua Philippines
I have to admit that out of all my trips in 2016, the most I fall
in love with Malapascua
island in the Philippines. I think spending 17 days there in one place on Malapascua Philippines, which is very uncommon to me, helped it, too. Malapascua locals and atmosphere had time to get deeply under my skin. 
23 things to do on Malapascua Philippines
1. watch sunrise on Bounty beach
When I visited in October, the Sun started rising at approx. 5.30 am and it was nice to watch it until approx. 7 am, then it would get hot. I would go to the Bounty beach every morning to do my meditation and stroll along the beach. If there was high tide, I would also go for a dip in the sea.
2. go for a walk around the village
Logon village, sometimes just called the village is the main village on Malapascua island. This is the right place to see how the locals really lead a traditional filipino life. Just go for a walk and you will see non-touristy life.
3. drink buko juice
For those who don't know it yet, buko in filipino means young coconut. It's not as easy to get buko juice here as on most other filipino islands as you won't find sellers at each corner. But some restaurants do sell buko juice, unfortunately double price than what you might get on the street somewhere else. Thanks to all the coconut health benefits, it's worth every penny.
4. hike to the lighthouse
On one of my first days on Malapascua, we decided to walk around the whole island together with a friend. Waking up at 5.30 am, we wanted to do the hike avoiding the high mid-day temperatures. Once we got to the other side, 2 local kids showed us the way up to the lighthouse which is the highest point on the island. I hiked it all barefoot. Adventure!
5. diving
Malapascua is one of the most famous diving sites in the Philippines, mostly because of thresher sharks that can be seen around. Many travelers come to the island just to go diving. I am not a diver so I can't share my own experience with you but everyone else say it's so worth to go diving there.
I've heard that the Evolution Dive Center is the most eco-friendly out of all dive centers on Malapascua so please go diving with them. We really do want to protect the natural coral reefs as much as possible.
6. snorkeling
For those non-divers, snorkeling might be an option, too. You can snorkel directly from the beach or go on island hopping snorkeling trips to the nearby reefs.
7. taste local fruit
Who would not like to eat tropical fruit while on a tropical island? Get loads of fresh mango, pineapple and bananas, they are all super tasty. You can buy them at small stalls in the village, or from a street vendor. Trying a fruit smoothie at a restaurant is an option, too.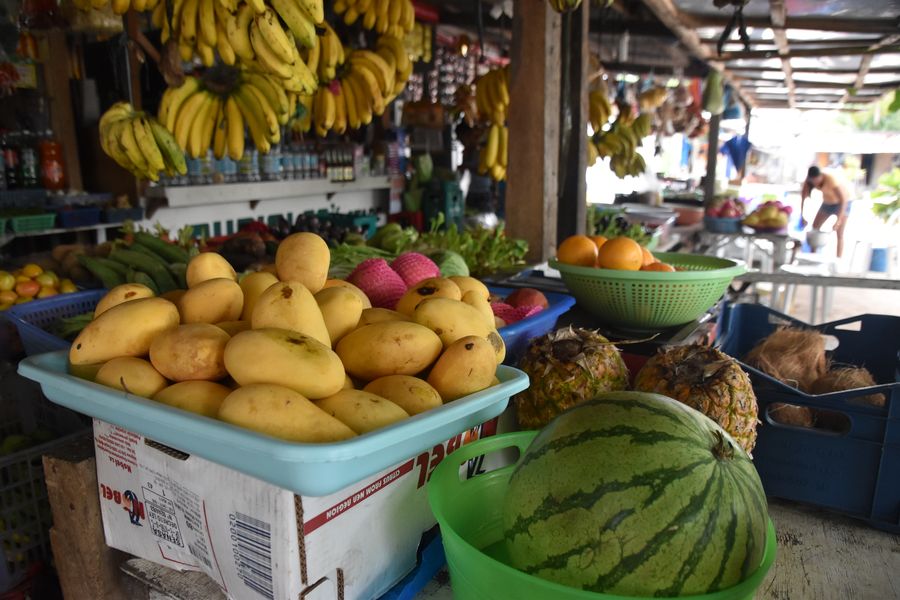 8. try vegan meals
I wrote an entire article about
vegan and vegetarian meals on Malapascua
as I went around different restaurants sampling vegan meals. Some were more delicious than others, but taking the island size in consideration, I was more than happy with at least some meals. 
9. get a massage on the beach
If you walk along the Bounty beach, you will be approached by many masseuses. When the weather is fine, you can get a massage right on the beach, otherwise inside. The one on the beach is cheaper. I got a better deal for all my massages from the same masseuse. 
10. practice yoga
If you know at least some yoga basics, you could practice on your own on the beach at sunset. Or, head off to the Buena Vida Resort & Spa to practice with a yoga teacher. I attended one of their morning classes and was very happy with it. 
11. go to spa
If you would like to try different spa treatments in silent privacy instead of public beach massage, then get pampered with many different spa treatments at the Buena Vida Resort & Spa. I had an hour full body massage there, so peaceful, so relaxing. It's more expensive than beach massages, but it's a different level and you can completely switch off your mind. No distractions whatsoever. 
12. relax on the Langob beach
In my humble opinion, Langob beach is the nicest beach on Malapascua. It's located on the opposite side of the island than the Bounty beach. You need to take a motorbike or walk there. There's no bars nor restaurants on the Langob, so I recommend you to bring a lot of water with you, and some food. Most probably you won't find many tourists there. When we visited, there was just a group of local kids playing in the sea, and 4 men sitting under a palm tree. Langob beach is THE must visit paradise beach with crystal clear water and white sand. The only disadvantage is that I got stung by a jellyfish there. Maybe just a bad timing. But I haven't seen any jellyfish on Bounty.
13. get fresh juice or cocktail at the Ocean Vida
If you drink alcohol, or even if you don't (like me), Ocean Vida on the Bounty beach is the place to be at sunset time. Many tourists enjoy the cocktail happy hour there. Shame they won't give you 2 juices/smoothies for the price of 1 as well. Why can you get the unhealthy alcoholic drinks 2 for the price of 1 while the healthy ones cost more and you will only get 1? No happy healthy hour get a dislike from me! Yet, the chill-out sunset atmosphere will amaze you.
14. watch sunset on Logon beach
Sometimes the sunsets are even nicer on the Logon beach. The Sun setting above all those boats will put a smile on your face, for sure. There's more locals than tourists on Logon, which is also a plus.
15. try local pastry from a bakery
Surprisingly enough, there are many bakeries spread around the island. And what's even more odd, they sell loads of colorful pastries, e.g. violet, green, dark purple, yellow etc. Unfortunately, bakeries are very cheap compared to healthy fruit.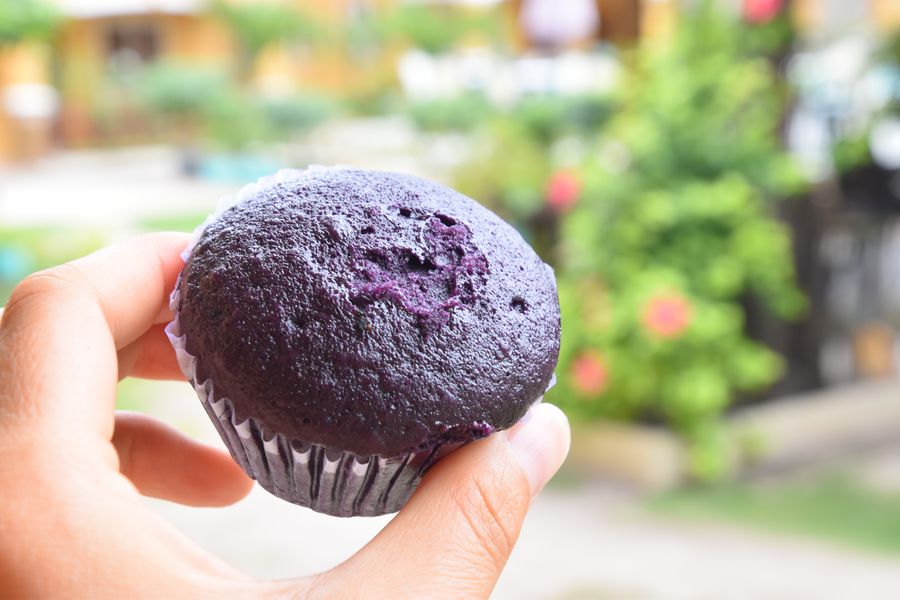 16. look for starfish on Bounty beach
Bounty beach is also famous for starfish. These starfish are very different to all those I've seen before. They are way smaller and skinnier. Please, if you see the starfish are still alive, do not take them out of the water as they die within 2 seconds!
17. look for sea shells along the beach
Hopefully you will get as lucky as I did and find big beautiful shells. The Bounty beach is full of corals and shells and each time I went for a walk there, I noticed huge shells. Beautiful, indeed.
18. disco on a Saturday night
If you are into disco at all, then go and check the local disco. I've heard it's a lot of fun. I was very surprised to hear loud music one Saturday until I found out it was a disco close by. The locals seem to love it as much as they are crazy about karaoke. But I am not a party girl, so I just listened to the music from my room.
19. blend with locals
Filipinos are such a friendly nation. They love to say hi, they smile all the time and they are sincerely interested in others. So don't be afraid to talk to them and make new friends. I have so many filipino friends I admire 🙂
20. play with local kids
When a good friend of mine was waiting for me on Malapascua, he told my name to a group of kids so when I finally arrived they were shouting my name each time we met. Some local kids are selling jewelry and other souvenirs as they don't really realize what they're doing. However, they are very sweet, they can sing well, and if you don't buy anything, they will play with you. Cuties!
21. visit the local cemetery
All Saints Day (1st November) was in the middle of my Malapascua visit so I could not lose a chance to see how they celebrate the holidays. I was the only tourist among local families at the cemetery, and also the only one with a camera. It was very interesting to see that the locals go to the cemetery at dark, they bring candles, food, drinks, and chairs and spend some time there. Some kids were even wearing sweet animal costumes. It didn't look like a sad holiday as it is in my home country Slovakia.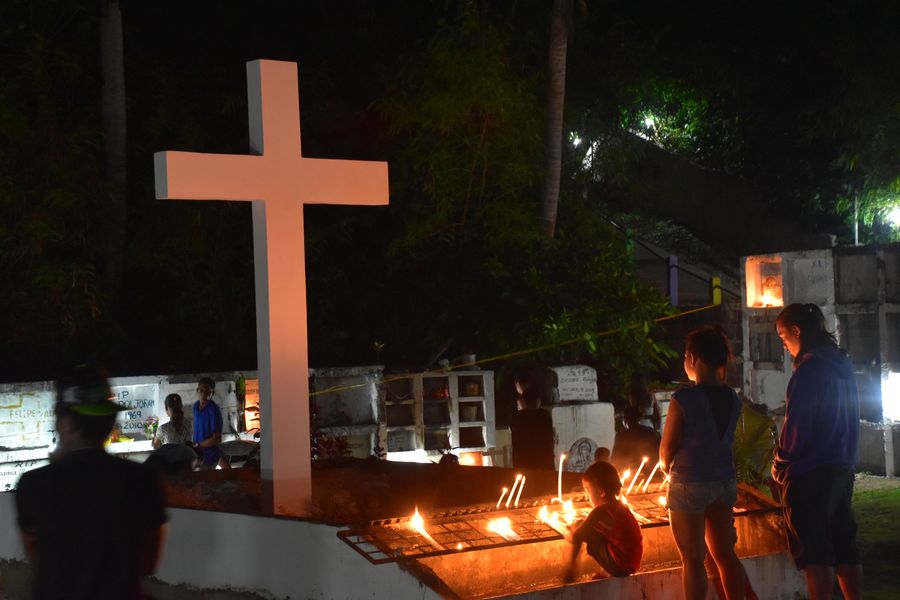 22. play basketball or football with the locals
Well, kids are playing on the beach, and teenagers and adults play or basketball or football. Once we noticed a tourist playing basketball with the locals and knowing how nice they are, I'm sure they would appreciate you joining them. Let's have fun.
23. take a day trip to Kalanggaman island
Unfortunately, I did not take a boat to go to Kalanggaman because each time I wanted to, the weather was not the best (I visited during the rainy season). But I saw some photos and Kalanggaman is heaven!
TIP 2:
And if you want to be ready for some disadvantages in the country, I recommend you also to have a look at
7 cons of traveling to Philippines
. Philippines is an incredible island country but not everything there is positive. You should know exactly what to expect before your visit.
---
---