30 things to do in Karlovy Vary Czech republic
How did I come up with the idea of writing about things to do in Karlovy Vary?
Let me start from the very beginning…
Sadly, I have not visited as many places in Czech republic as I'd like to and as I believe I should. Not even after having lived in Olomouc during my studies for 5 years, and not even when having the country so close to me. You know, Czech republic is my home country Slovakia's neighbor.
I know Prague quite well as most of my flights are from/to Prague so I stop there for a few days on the way. But what about so many other beautiful destinations scattered around Czech republic? Not really. And that fact makes me feel ashamed.
We really tend to take for granted the places that are close by. 
So when I got a chance to explore more of the Czech republic for #K700 campaign with the Czech tourism board, I said yes without even thinking about it.
The Czech destination that fit my personal passion and also one of my main blog topics, was Karlovy Vary.
Karlovy Vary name and location
English name of the town is Carlsbad but don't mix it with other two Carlsbad towns in the USA (one in California and one in New Mexico.) The Carlsbad I am talking about in this article is Karlovy Vary which is its original name in the Czech language.
Vary, as Czech and Slovaks tend to call it, are situated 130 km West of Prague, in Western Bohemia, Czech republic on the confluence of the rivers Ohře and Teplá.
Karlovy Vary is named after the King of Bohemia and Roman Emperor Charles IV, or Karel IV in Czech. He was the one who founded the settlement here in approx. 1350. It was then when hunting, he saw a deer jumping into a hot spring and thus discovered hot springs in the area. Then the King decided to build a town around hot springs where he could come to heal his wounds. In 1370 Charles granted the settlement the status of a town. Karlovy Vary has been growing ever since.
Karlovy Vary, are nowadays the biggest and the most known spa town in Czech republic and also one of Europe's most sophisticated spa towns.
Many famous people got spa treatments in Karlovy Vary in the past, such as Peter I of Russia, Sigmund Freud, J. W. Goethe, Beethoven, Vladimir Voronin (former President of Republic of Moldova) and loads of actors, too. Did you know that the movies Last Holiday and also the James Bond Casino Royale were filmed here? The other part of it was filmed in Loket town close by.
More than 7% of the population are foreigners, mostly Germans, Vietnamese, Russians, Ukrainians and Slovaks, which after Prague is the second highest foreigner rate in Czech cities.
Many hotels and restaurants are now owned and run by Russians so in some places be prepared for Russian attitude. I have to say that I didn't have any bad experiences at all, but some of my friends who visited Karlovy Vary were surprised to see not much English is spoken around and words such as "please" or "thank you" are not so common like in the US, for example. Yes, the Eastern European culture is way colder.
30 things to do in Karlovy Vary:
1. Karlovy Vary Film Festival 
I've paid a short visit to the 46th festival in 2011, but now in 2017 already the 52nd one will take place in town. The Karlovy Vary International Film Festival is not only the biggest in Czech republic but also in Central and Eastern Europe. During the festival days, the town of approx. 50,000 inhabitants accommodates thousands of visitors in more than 200 hotels.
2. Buy a Karlovy Vary ceramic cup 
This is one of the traditions in town and it's a must do. You can choose one of hundred different cup versions in one of many stalls close to the springs. Even if you didn't know about this tradition, you would notice every tourist, and sometimes also locals, walking around the city center and sipping on hot thermal water from the colorful cup. And this brings me to the next point…
3. Drink thermal water 
Karlovy Vary are known thanks to its hot springs. It's said there's between 80 to 100 hot springs in town, out of which 15 are used for drinking. The hot spring water rises from the depth of more than 2,000 meters and can reach the temperature of up to 76 Celsius. The water is believed to help with digestion, and have many other health benefits. For example, head off to springs under the colonnades or to the Freedom Spring (Pramen Svoboda) under the white octagonal wooden arbour on the main town promenade. Just please peace out the drinking, as loads of the water could be too much to handle. Good thing to know? There's loads of public toilets around city center (for a fee). And trust me, you will need them 😀
4. Hot Spring Colonnade 
This is probably the most famous out of 5 colonnades in town thanks to its hot spring geyser number 1 called Vřídlo bursting out in front of it. The main hot spring jets up to 2,000 liters of thermal water of 72 Celsius degrees to the height of up to 12 meters. The Hot Spring Colonnade is the most modern looking colonnade because the glass and concrete Socialist structure replaced the previous one there in 1975. This is the only colonnade that is open only during the day as all the others are outdoor collonades with ceilings and pillars only, but not fully covered buildings. Remember not  to drink water from the geyser outside. Instead, walk inside, where you can choose from 3 water temperatures. As the 72 Celsius water is too hot for drinking, cooled water is running from other 2 fountain faucets (30 or 50 Celsius).
5. Mill Colonnade
Mlýnská kolonáda was built in the Pseudo-Renaissance style between 1871 – 1881 based on the project of the Czech architect Josef Zítek. You can drink from 5 different springs along the colonnade. In 2016 a 4-m tall sand statue of Charles IV was standing proud by the Mill Colonnade to commemorate the 700th anniversary of King's birth. The majestic stone 132-meter long Mill Colonnade with 124 columns is the biggest colonnade in Karlovy Vary and the only one I remembered from my 2011 visit. It was there where my friend explained me a bit about the springs years ago. Now during my second Karlovy Vary visit I walked along the whole promenade visiting all the 5 colonnades.
6. Market Colonnade 
Not far from the Holy Trinity Plague Column everyone will notice Tržní kolonáda, the white structure with 3 springs (Charles IV spring included.) The colonnade was also built by the Viennese architects Fellner and Helmer in 1882 and 1883 and underwent a huge reconstruction in the early 1990's. I cannot decide if this one or the Mill Colonnade is my favorite colonnade as both are stunning in a different way.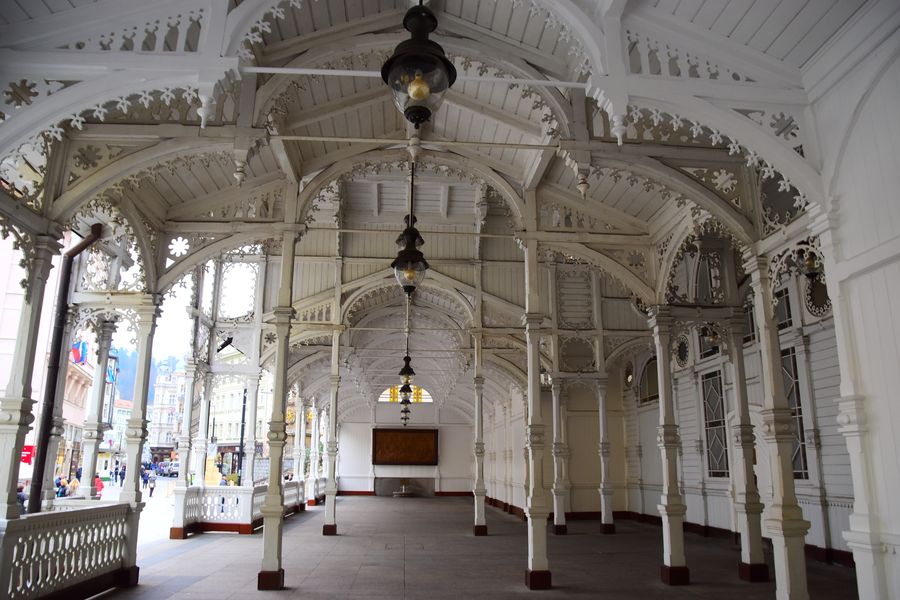 7. Park Colonnade 
The impressive cast-iron Sadová kolonáda is the romantic structure in the Dvořákovy sady (Dvorak's Gardens park) built by Fellner and Helmer in 1880 and 1881. Since 2001 it's possible to drink from the Snake spring there. It's easily recognizable thanks to its little snake statue from which the water is running.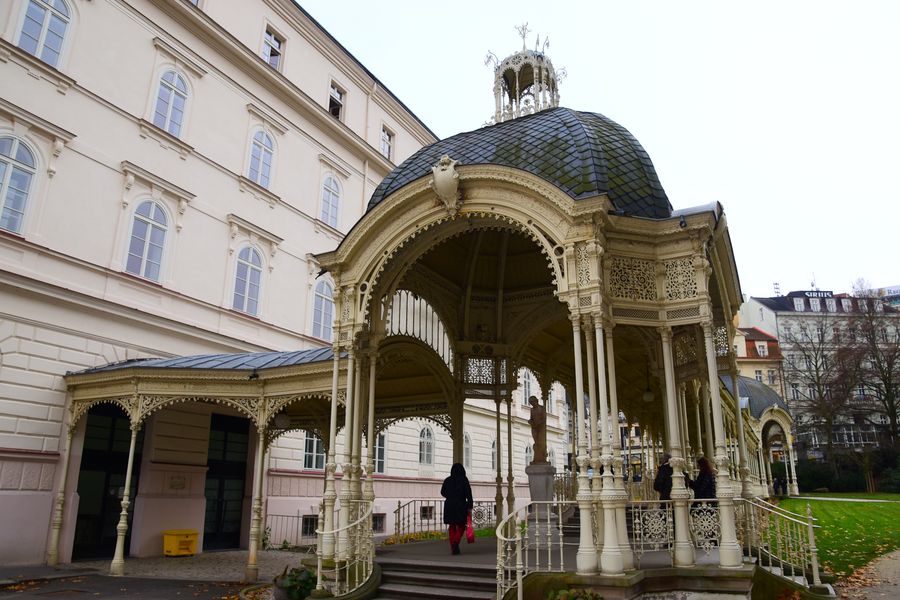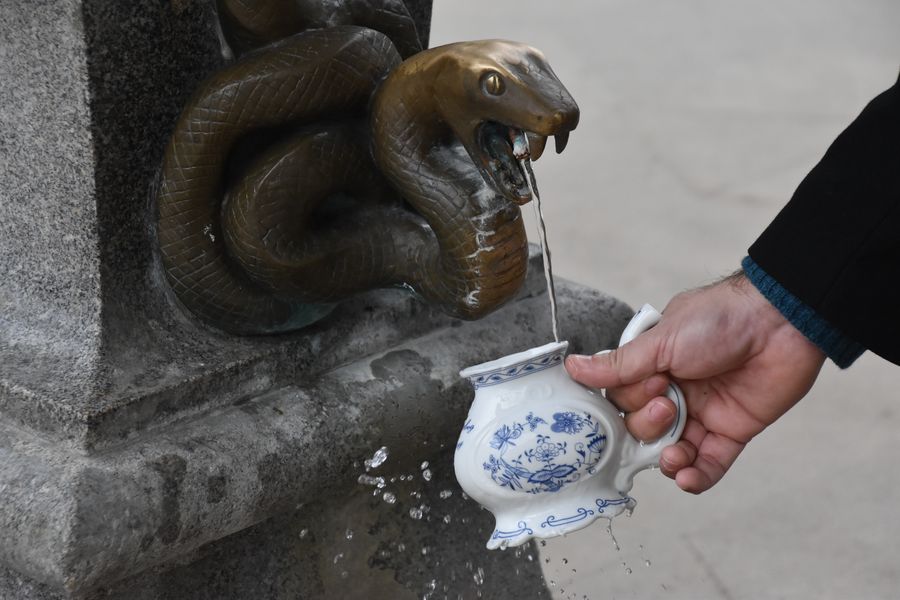 8. Castle Colonnade 
The Zámecká kolonáda was built between 1910 and 1912 in the Art Nouveau style. During my visit, the springs had no running water but it was worth going up there anyway to get different views of town. Only later I found out that the Castle Colonnade has been part of the Castle Spa Zámecké lázně not open for general public. 
9. Karlovy Vary Spa
Because Karlovy Vary is a famous spa town, you cannot leave without pampering yourself at spa. I spent loads of time in 3 different spas which are all very unique and offer different treatments. My personal picks are Tawan, Alžbětiny lázně and Imperial hotel spa. Please promis yourself to visit spa as it's one of the most important things to do in Karlovy Vary 🙂
Tawan Thai house Nikolina is located on the Mlýnské nábřeží 468/1 above the Mill Colonnade next to the Pramen Svoboda. There I recommend you to try a 2-hour hot chocolate massage, Euforia hemp seed oil massage or a combi massage which is a mixture of Thai and aroma oil massage. This is the right place to get real Thai treatments. I recommend you to read my popular article about all the massages I got at Tawan in another article.
Alžbětiny lázně, Elizabeth Spa or Elizabeth Baths, sometimes also called Spa 5 were named after the Empress Elizabeth of Austria, known as Sissi. The baths are situated in Smětanovy sady Smetana Park and I think you should spend the whole day there in the swimming pool and trying various wellness procedures, such as peat wrap, also underwater massage, hot bath with mint, Indian head massage with Champagne face mask, salt chamber and infra-red sauna. For the best treatments in Alzbetiny lazne, check also my full article.
And the Imperial hotel spa can be find on Libušina street where you can get walking or on the Imperial Funicular from the Divadelní street. I stayed at the hotel for 5 days and tried a really great aroma massage done by Eugenio Bubir; then also a head massage, pearl bath and my favorite oxygen therapy.
10. Imperial spa 
The Imperial spa/bath, or Císařské lázně in Czech, also called Lázně 1 are my very favorite building in Karlovy Vary. Nowadays it's a museum but it was the Spa 1 house in town built by two architects from Vienna, Mr. Fellner and Helmer. It was built in 1893 in the Rennaisance style with some classical elements and opened for public in 1895. Imperial spa proved the significance of its name by being among the most modern spa houses of its time. They offered a number of different treatments there, such as hot and cold baths, foot baths, steam baths, massages, electrotherapy etc. The Zander's hall on the second floor was a huge gym with 64 exercise devices. Now the former gym holds some paintings and old photographs. The most important part of the spa is the well-preserved Imperial bathroom for famous guests.
11. The oldest house 
The oldest house in town dates back to 1709. It used to be called U zlatého vola (At the golden ox) but now it's Petr hotel and restaurant. It's the dark purple house which is smaller than all the other colorful façade houses at the Vřídelní ulice street. You will notice the house straight away when standing in front of the Mill Colonnade with the colonnade behind your back, and you facing the river. Then you will find the house on the other side of the river Teplá.
12. Castle Tower 
It's the Gothic three-storey tower built in the middle of the town in 1608 on the place of the original 14th century tower. It was exactly there where the King Charles IV built his summer royal palace which had a similar tower that burnt in fire. Now only the tower and cellars have remained. However, you can pay a little fee to climb the Zámecká věž tower and get the same view of Karlovy Vary that Charles IV also loved during his life. Now until the end of 2016 three different Charles IV exhibitions take place in the Castle Tower. Tip: if you get tired of walking, there's a glass lift in tall yellow building which can take you up just next to the Castle Tower. It's sticking out from the stone hill above the shops on the Lázeňská street.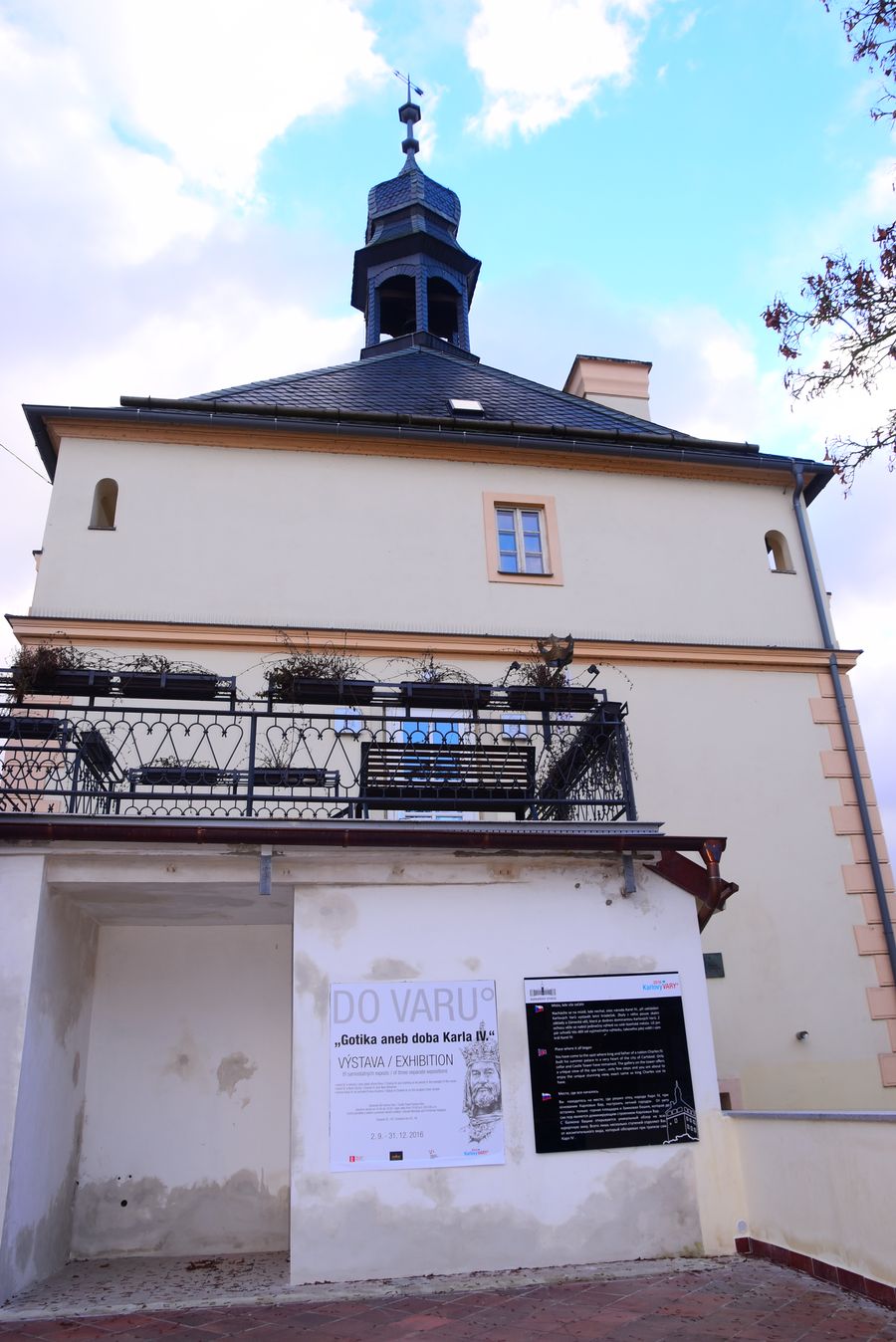 13. Saint Peter and Paul church 
It's the pastel blue church with golden cupoles which can be seen from many parts of town. The magnificent Russian Orthodox church with one aisle was constructed in 1897 and 1898 in Byzantine style. Its architect was inspired by a church outside of Moscow and thus received money from Karlovy Vary Russian patients for its construction. It's not allowed to take photos inside but I managed to take one through the glass door when standing. Disclaimer: there's also an Evangelic church with the same name of St. Peter and Paul finished in 1856 behind the Císařské lázně. So yes, there's 2 churches with the same name in Karlovy Vary but the Orthodox one is a lot bigger. 
14. St. Mary Magdalena church 
The twin-steeple Baroque Catholic church is located just a few metres from Vřídlo hot spring 1. It was built in 1737 and is open to public daily. A unique funeral chapel is located underneath.
15. Holy Trinity Plague Column 
The column is located not far from the Market Colonnade. And in between the Column and the colonnade you will spot the Crying fountain (Plačící fontána) which unfortunately had no water in winter during my visit.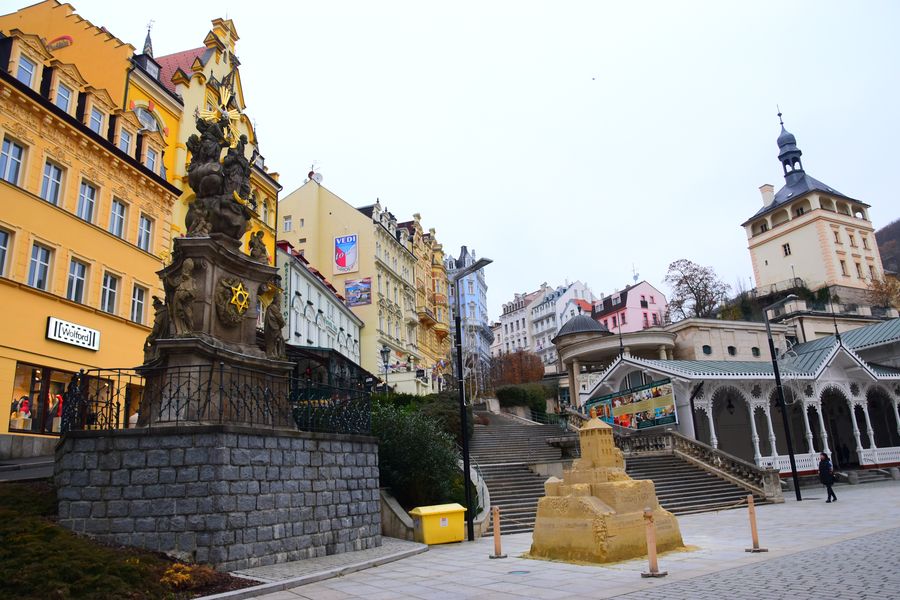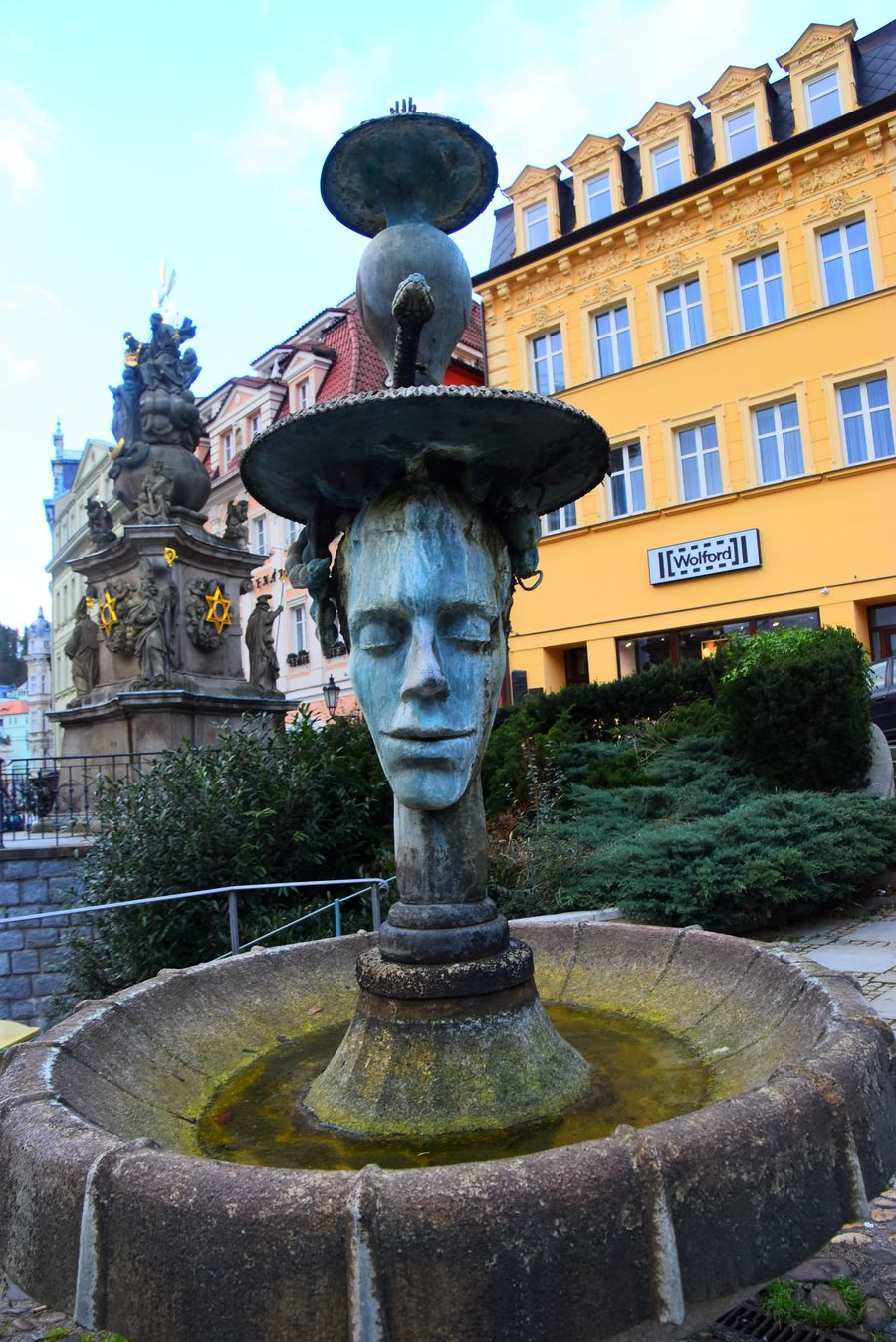 16. Buy bath salt from Karlovy Vary 
There's loads of Carlsbad natural spa cosmetics shops around the town but not all the cosmetics they sell is local and/or really natural and organic. So choose carefully. I bought bath salts at the shop called U bílého lva (At the white lion) on the Tržište 19 street.
17. Observe ducks on the Teplá river 
I guess it's always nice to stop and smell the roses. Well, I mean stop and smell the ducks; or at least observe them. Loads of them swim along the Teplá river which runs through the city center and also in the Dvorak's Gardens lake. Ducks are the only animals you can easily find in Karlovy Vary together with pigeons and sparrows.
18. Buy a painting
A handful of artists sell paintings by the Dvorak's Gardens lake just a few metres from the Park Colonnade. They are standing together with their paintings by the wide Dvorak's platan tree. That place was so magical in the end of fall when I visited. The lake was full of ducks swimming among colorful leaves, the last foliage of 2016. I spent around half an hour taking photos there.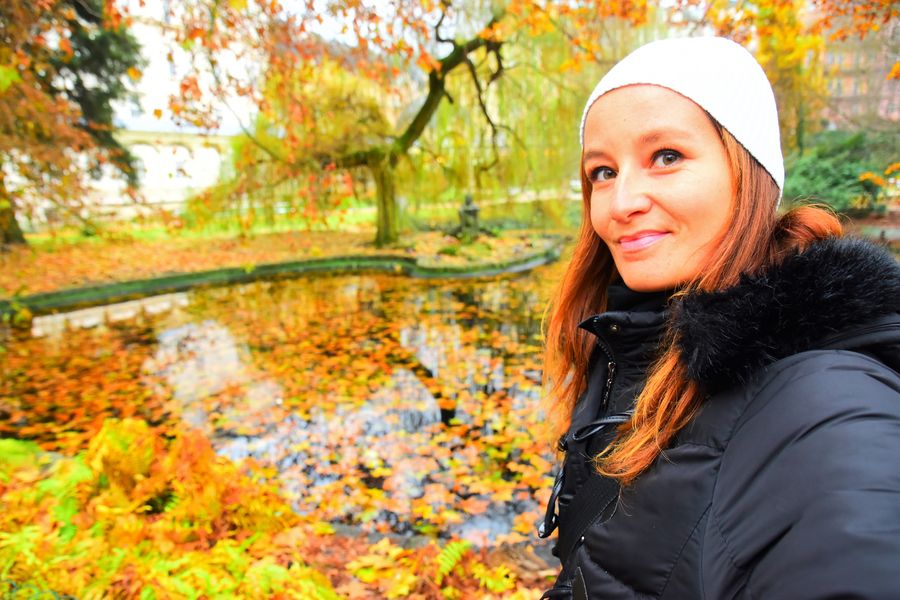 19. Christmas market 
If you happen to visit Karlovy Vary any time 4 weeks before Christmas as I did, then I recommend you to do it on the first Advent Sunday. On that evening both locals and tourists gather in front of the hotel Thermal to watch the Christmas tree being lit for the first time. Then the same happens also with the first candle on the Advent wreath. And for the rest of the night people go around drinking hot wine svařák, munching on salty potato pancakes bramboráky, and buying first Christmas presents in the booths. There's also some concerts right there by the stalls. I enjoyed listening to Petr Janda, a Czech singer, even though it was freezing. Aw, and look for a stall selling chocolate things made of dark chocolate and cacao powder. Most of them resemble tools but I managed to find a chocolate camera as well. 
20. Hiking in Lázeňské lesy
The forests offer 180 km of paths and walking trails. Many spa patients are advised to go for a walk in the forest as part of their treatment. Green signs show minor difficulty, blue signs middle, and red signs big difficulty. We can find 4 observation towers in the Lázeňské lesy: Jelení skok Deer Leap, Diana, Charles IV tower and Goethe lookout tower (Goethova vyhlídka with 165 steps is located 638 m a.s.l. but it's closed now.) 
21. Charles IV Observation Tower 
I have to say that I only planned to go for a short stroll along the river because I felt tired. But then I noticed the Goethe's path (Goethova stezka) with the Deer Spring (Jelení pramen), started walking along and decided to get some view from the hill. Then I kept climbing and climbing until I reached the reddish Pseudo-Gothic tower. The Charles IV observation tower is located 514 m a.s.l. and has 79 steps to the top. You have to climb the round staircase, there's no other option. It's possible to check the view from the middle of the tower or the top itself. Saying I loved the view would be an understatement. So rewarding after the unexpected hike! From the tower I took a different path to the other direction, passing around the Pseudo-Gothic Ecce Homo Chapel until I walked to the Deer Leap where I hopped on the Diana funicular reach the Diana lookout tower.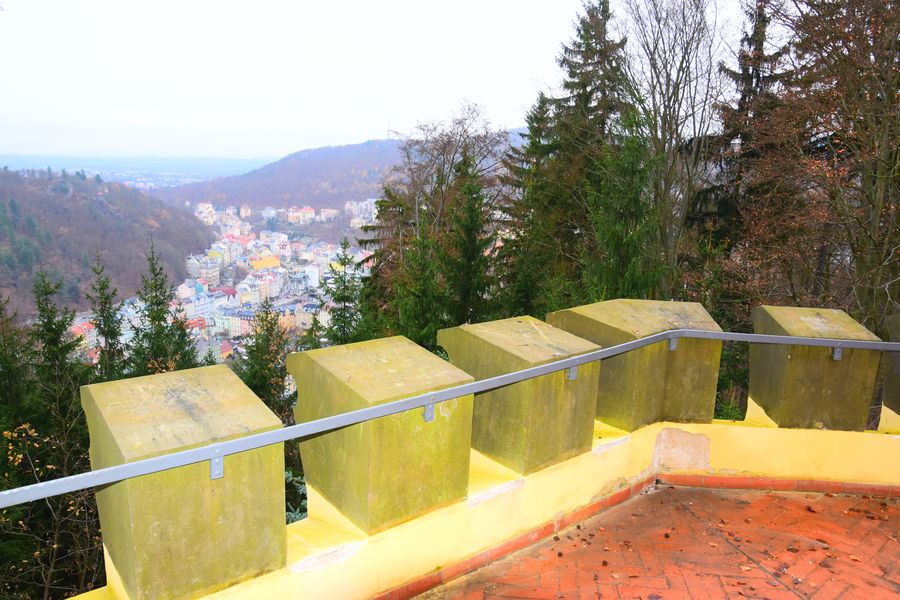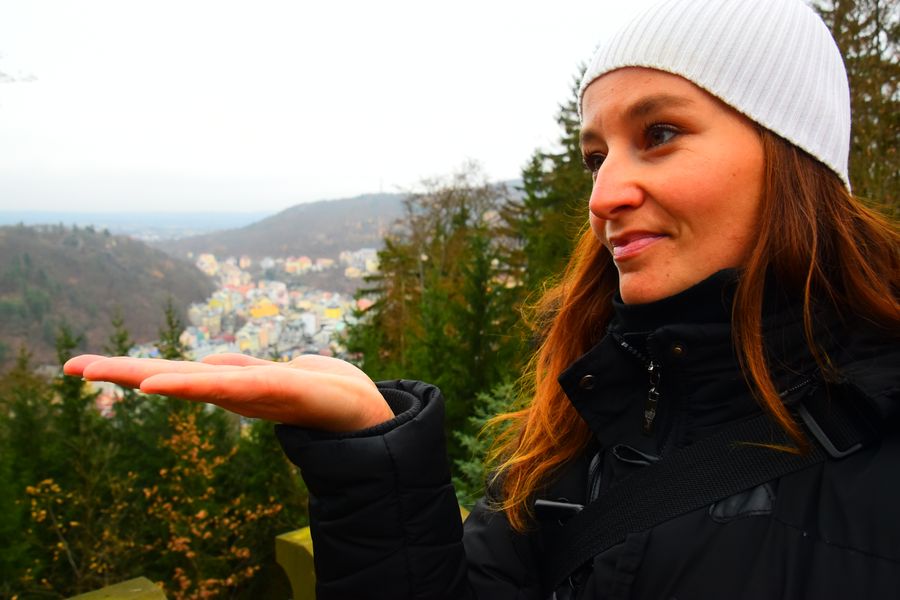 22. Diana Observation Tower 
In 1914 the stone Diana Tower was constructed in 547 m a.s.l. You have two options to reach the tower, or hiking or taking the Diana funicular leaving a couple of meters on the right from the Grandhotel Pupp, or from the half-way station Stag's jump (= Deer Leap.)  You need to pay for the Diana funicular but then once up there, it's free to enter the tower itself. To get to the top you need to climb 150 steps or take a lift. The view of Karlovy Vary town and Krušné hory from up there is so worth it! It's possible to see up to 70 km of distance on a clear day. Despite of the cold and mist, I spent 20 minutes there walking in circles and taking photos. The tower is open every day since 9 am, but the closing time varies depending on the month (between 5 and 7 pm.)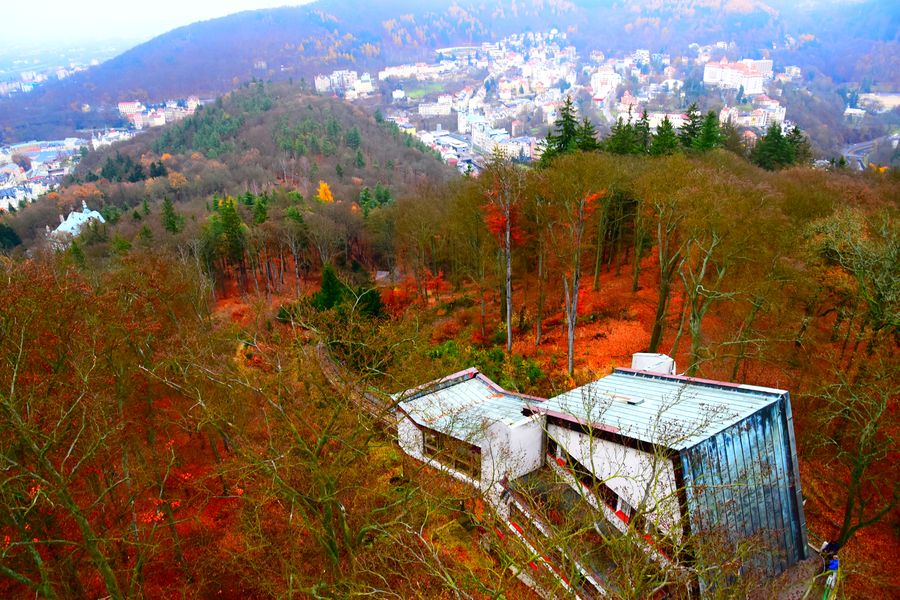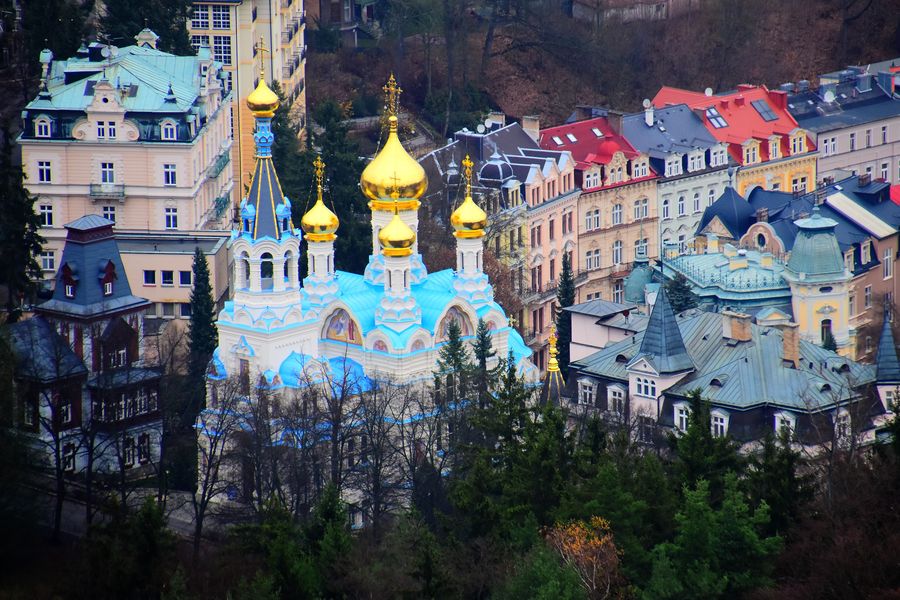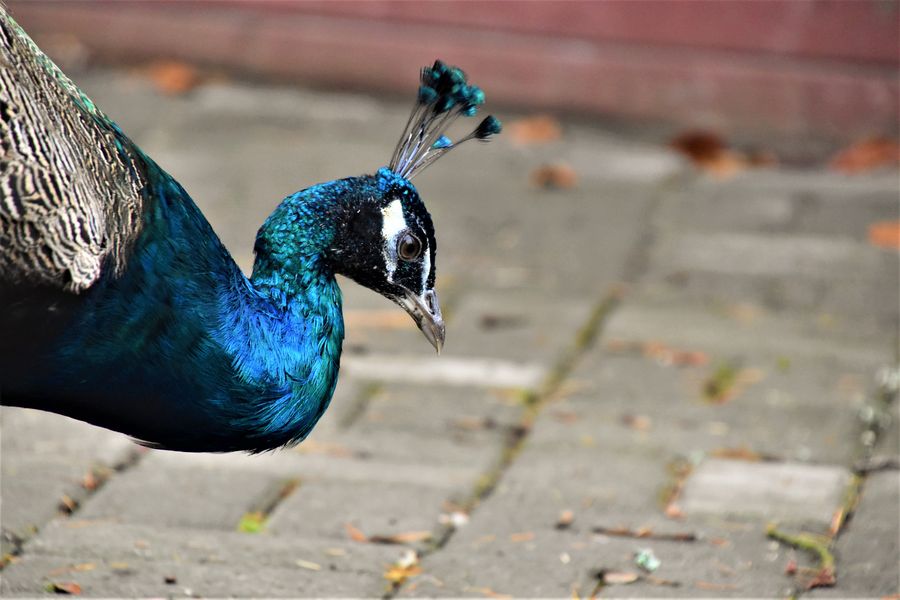 23. Dobrá čajovna tea house
If you are such a tea lover and/or visit Karlovy Vary in winter as I did, you so should spend a couple of hours at the Dobrá čajovna tea house on the Bulharská 2 street. Its unique location in the cellar together with smell of shisha will make you forget about the hustle and bustle of the city outside. It was also the place where I tried hummus with veggies for dinner. There's very few restaurants in Karlovy Vary that offer vegetarian meals and even less vegan meals (almost none unless you directly ask for a vegan meal), which put Dobrá čajovna even higher on my to-do list.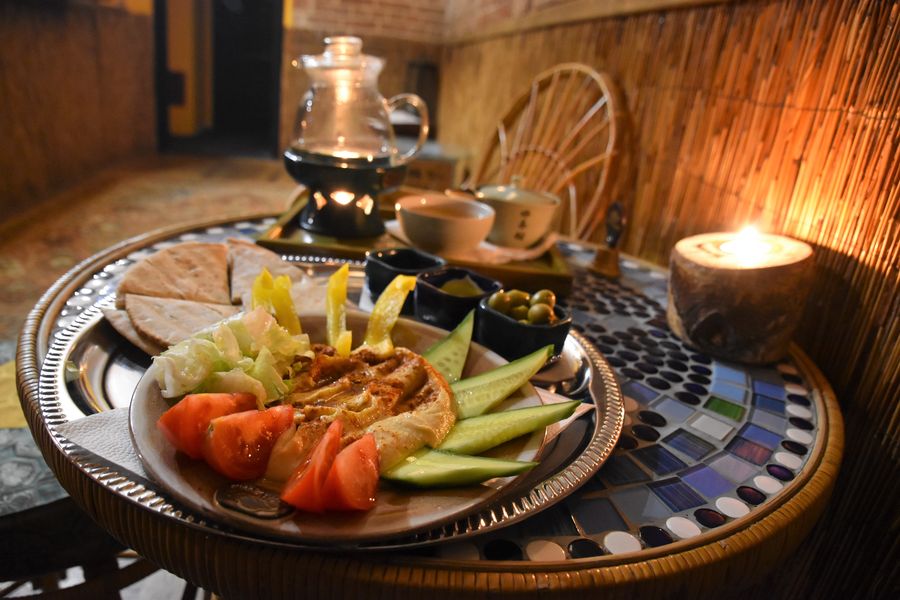 24. Buy BIO Havlíkova Apoteka cosmetics 
I am all into organic cosmetics and when taking my daily walks around Karlovy Vary promenade, I bumped into Havlíkova Apoteka shop. Their products are not locally made in Karlovy Vary, but they grow organic herbs in Prague where the main store is also located. While to get the Ecocert bio certification only 20% of the product ingredients must be organic, the Havlíkova Apoteka cosmetics contain 96% of organic herbs and plants. The company follows traditional methods of growing plants. Their cosmetic recipes are based on the Czech pharmacist Karel Havlík's books who spent years making own cosmetics for rich women. I believe you definitely should get some products while in Karlovy Vary. They all smell fantastic, like pure herbs.
25. Get a smoothie or fresh juice at Rubin 
Rubin is on the left side of the oldest house. They sell fresh smoothies and juices there. The second floor with some tables for guests (and also WC toilet) had the nicest Christmas decoration I saw in town. There's also a small supermarket with some healthy food (among unhealthy ones) on the main floor just behind the smoothie place. 
26. Jan Becher Museum 
The museum can be found on the Becherplatz at the end of the T.G. Masaryk 57 street just 30 seconds down from Revelton Suites where I stayed. The museum will tell you more about the local Becherovka – a herbal bitter alcoholic drink which is named after its founder Doctor Becher. Mr. Becher first made it in his drugstore in 1807 as stomach medication drops. The original "Karlsbader bitter" gained popularity and has been called Becherovka since 1918. Most bars and pubs in Karlovy Vary sell simple Becherovka liquor or mixed with tonic (Beton.) I personally don't drink alcohol so I did not visit the museum but if you are into it, it might be interesting. It's said now only 2 people know the exact mixture of the Becherovka ingredients as it's been passed from father to son. Only those making it know its secret ingredients.
27. Moser Glass Museum 
As the name suggests, you can check out more about the notorious glass products that have been made in Karlovy Vary since 1857. The Sklářské Muzeum holds more than 2,000 exhibited pieces and will teach you about the glass history also via documentary movies in 6 languages. Many shops in town also sell Moser glasses, vases, plates and other colorful glass products which could be great souvenirs for your family members.
28. Mattoni mineral water and Magnesia
You will notice the Mattoni name written on many restaurants and cafeterias because it's the most known mineral water produced in Karlovy Vary. I remember a very funny TV commercial already from my teenage years which made Mattoni known all around Czech republic and Slovakia. Another one, Magnesia, also comes from here and that's the one I've been drinking for years when at home.
29. Charles IV beer 
If you know me, you must be really surprised now to see that I mention beer in my article, as I don't drink at all. But, one of the local beers, pivo Karla IV, holds the King's name because he was the one who gave Karlovy Vary the right to make its own beer. The beer has been made in town ever since.
30. Get apple strudel and tea
During my cold visit of Karlovy Vary, I would always freeze after half a day outside taking photos in temperatures below zero. That forced me to get a cup of hot ginger tea at the Cafe Elefant. The cafe offers great view and also warm apple strudel. In summer mint tea is advised instead of the ginger one, as mint cools down your body while ginger heats it up.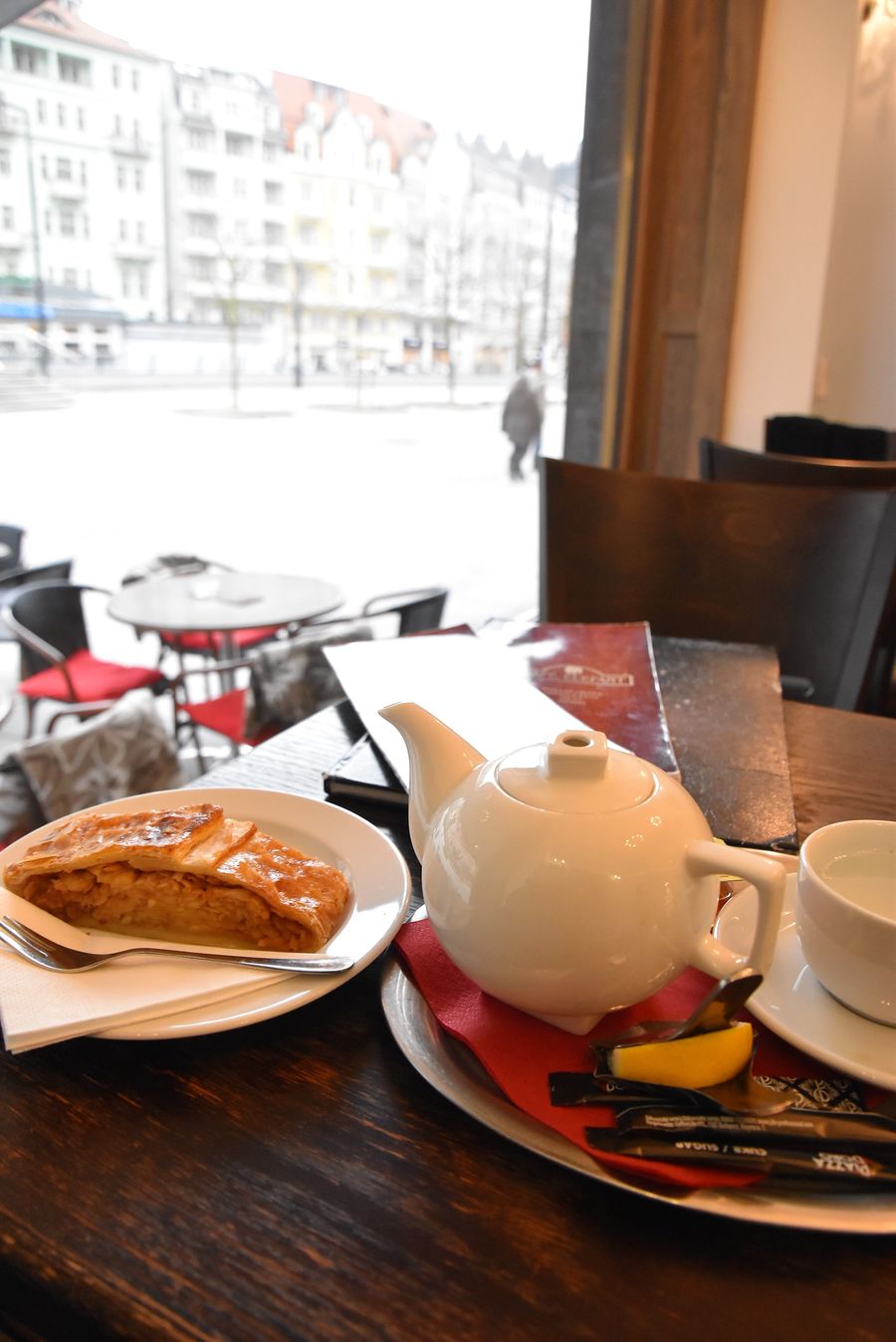 31. BONUS: Taste Karlovarské lázeňské oplatky Kolonáda 
Making of the sweet Carlsbad wafers has been the local tradition since 1860's. Occasionally, the town people used to savor warm wafers. Oplatky still remain one of the top things Karlovy Vary are still famous for. The delicacy is being sold in many flavors. However, I put them on the last place on the list because of my personal dietary reasons. According to the ingredients I found online, the wafers are not vegan (I am) and they contain palm oil which I really do not support. DISLIKE! Hope they will make a healthier version of them for us, the health freaks.
Go ahead and check the best 230 photos out of more than 3,000 I took in Karlovy Vary in my Karlovy Vary photo album 🙂
I visited Karlovy Vary as part of the #K700 campaign to celebrate 700th anniversary since birth of the King Charles IV. You can find more posts about the campaign also on my social media channels searching for hashtag #K700. The campaign was supported by the Czech tourism board. You can find more facts about town on the Karlovy Vary tourist office website.