Best chocolate massage at Tawan Thai Spa Nikolina Karlovy Vary
During my 9 days in Karlovy Vary in November 2016 I simply had to do things the town is mostly known for. It means drinking thermal mineral water and getting pampered at spa which is exactly what I love the most. I spent my 2 afternoons at the Tawan Thai Spa Nikolina Karlovy Vary.
I hope you already know by now that I am crazy about massages, and Thai massages are my favorite. When I am in Thailand, I get a massage almost every single day. Yes, when I am there for a month it equals 30 massages. No kidding.
So when I found out there's Tawan Thai spa Nikolina Karlovy Vary, it was obvious I would spend some time there getting "fixed" back to normal 🙂
I had four 2-hour massages at Tawan Thai spa. Yes 8 hours of massages.
It sounded like a good idea to me even though it seemed funny to the manager.
"Are you sure you want 4 hours of massages in a row?"

 

I could only smile. "Oh yes!"
And that was hell of a decision! I have to say that I noticed the Tawan Nikolina Thai spa house already a few days ago when I was taking photos of Karlovy Vary city center. I looked to the Becherovka-bottle shaped store selling famous local alcohol and just behind it spotted the nice tall building where Nikolina is located.
So then I knew where exactly to go once I booked my spa treatments over emails.
Once I entered, I noticed that Nikolina is really a cute romantic place decorated with Thai statues and images, candles and a smell of natural oils.
Tawan Thai Spa Nikolina Karlovy Vary massages
Hot chocolate massage
The spa receptionist also double checked if I was really up for 4 hours of massages and did not want to change for a different day. If you know me, then you are sure I was so looking forward to my treatments and 4 hours is nothing to me. I could even spend a whole day getting pampered in spa.
And there was no better moment for that than after all those freezing days full of my town walks when I tried to take loads of cool photos of Karlovy Vary. I could even feel my right knee again, but on a different place than usual, maybe a muscle/tendon this time. Having said that, I was more than ready for those 4 hours of "me time."
Are you asking why to put chocolate on your skin?
Well, I am sure all the chocolate lovers (I am one of them) will not need any explanations because they already know its 100 benefits by heart.
Chocolate is packed with antioxidants which fight free radicals, protect skin from the UV rays, gets rid of dead skin cells and make the skin look younger. And it keeps the skin well-nourished.
We started off with me putting just a thong and a shower cap on. All the other layers of my clothes were left on the chair.
Then I was asked to lie down on the massage bed covered with a plastic foil. Obviously, I could already imagine the mess all around me during the chocolate massage so the foil was much needed 😀
The masseuse started to heat up my muscles massaging my back, arms and legs first through a towel. Oh yeah, I could so feel she was Thai thanks to her moves. Then the whole body massage was done with hot chocolate mixed with oil.
Very soothing, perfect temperature and even better smell.
Is there anything better than a smell of bitter chocolate? Yes, being all covered with it 😀
The massage was not too hard, rather soft and relaxing. First, the whole back, then arms, butt and legs for approx. 50 minutes. The masseuse was really great in finding the spots where it hurt me the most, like shoulders, lower back, butt muscles and calves just below the knees.
I mostly focused on the chocolate smell trying to switch off my mind.
Chocolate.
C h o c o l a t e.
CHOCOLATE!
I tried my best not to think about all the things I still needed to do while I was there relaxing and doing nothing. But it did feel awesome.
Breathe in the chocolate smell, breathe out work. Breathe in, breathe out.
After the whole back body was massaged like million times over and over with hot chocolate, I could turn over. The same thing followed now from the legs, belly, all the way up to cleavage, hands and arms.
After another 40 minutes the therapist wrapped me in the foil that was on the bed and covered with a big towel so I felt pleasantly warm. Let me tell you, that was a very strange feeling, but nicely strange. I felt like an Egyptian mummy with my hands and legs along my body without being able to move 😀 
But the massage was not over yet. Once the therapist cleaned all the chocolate from my neck, she gave me a deep massage there. Then a soft hair and face massage followed to finish the whole 2-hour treatment. After she unwrapped me, I could take a shower.
OMG, I made such a mess on the way to the shower. Everything was covered with chocolate. Hope they are used to this and managed to clean it. It made me feel really bad for leaving chocolate footprints all around.
This chocolate massage was the best massage ever!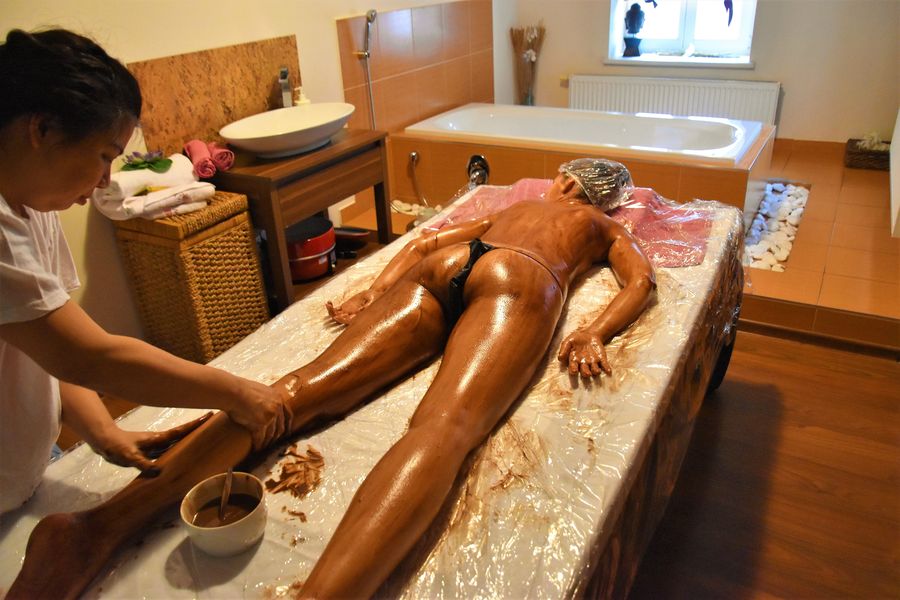 Aroma massage 
As soon as I dried up after the shower, I put another thong on and jumped on the same bed. The therapist could only laugh. Her English was simple, but enough for the most important things during the massage which I did not mind at all. I prefer silent massages to those with chatting.
Before, I had a choice between vanilla, chocolate or jasmine oil for the massage and I chose the lovely jasmine. I did not feel like sweet vanilla, and already had 2 hours of chocolate, so jasmine was the best option. I love its smell so mych I sometimes use it instead of perfume.
The same Thai therapist that knew my body well enough already gave me another 2-hour aroma massage with jasmine oil. This one was a lot stronger than the previous one. I believe it was a good thing as the muscles were already a bit relaxed so tthe masseuse could reach deeper.
I mostly noticed her paying more attention to my neck, arms around biceps, forearm muscles, calves and along the outer part of both legs. 
Frankly, I found myself falling asleep during the massage only until the masseuse pressed on some spots too hard with an elbow which is what usually hurts me the most. After the full body massage she also dedicated some time to my face and hair.
Then I could sit straight so the masseuse could do some traditional Thai massage stretching moves with my arms, neck and back. I was so glad I had those two massages in that order as the softer one was first and then the one with more pressure on followed. But on the other hand, I did ask for a strong aroma massage anyway…
Those 4 hours that at first seemed never-ending flew too quickly. To be honest, I could have handled another 2 hours easily 😀
After the massage, I was offered a cup of tea which is/should be a normal procedure at all Thai spas.
OMG, I left Tawan Nikolina Spa House flying like a bird. Light as a bird feather. What a liberating feeling it was!
Euforia hemp oil massage 
Four days after I returned to Tawan Thai Spa Nikolina for anothr two 2-hour masssages.
Euforia massage was the Tawan massage of November 2016. They usually give discounted prices for a different treatment each month and in November it was euforia massage. So I decided to try it.
It was done with 100% hemp seed oil which has loads of health benefits. It contains vitamins A and E, minerals and omega-6 which are great for skin. It's also anti-inflammatory, improves blood flow to the skin and it's an awesome moisturizer. Hemp oil fats are similar to our skin fats so the massage increases skin elasticity, brings new life to dehydrated skin and soothes any skin rashes or allergies.
100% natural hemp seed oil has a charateristic strong, very specific smell which I adore. Not everyone likes it in the beginning but I got used to it and take a deep breath in always when I can smell it for the first time again. Which is what I did also when the spa therapist put the oil on her hands to start off the massage. 
The whole euforia massage was very similar to the aroma massage I had 4 days ago. It was a good traditional Thai oil massage with stimulating of acupressure points. I admired how the therapist could follow almost the same moves in the same order. As my muscles were frozen from the whole day outside, I appreciated the softer massage.
First, the whole back body was massaged, then the front. I noticed that the masseuse focused on my inner thighs and shoulders. Those two parts of my body hurt the most on that day. 
The treatment was completed with a great stress-relieving head massage. Head massages are like heaven to me!
Kombi massage 
As the name suggests, the combi massage is a combination of Thai aroma massage in the upper body and classic Thai massage in the lower body. If you can't choose if to get Thai massage or oil massage, then this Kombi might be your ideal choice to get benefits of both.
After the Euforia massage I received real Thai massage pants instead of thong. I swear I will never figure out how to put those huge pants on, not even after more than 200 Thai massages I've had in my life 😀 
Just so you can imagine the whole treatment better, I had the pants on but was topless. That's because of the oil massage in the upper body only. It's upon the therapist to decide if which part of the body to start with.
My therapist began with the leg Thai massage. She was mostly using elbows to release the pressure and also doing MANY different moves with legs.
Have you ever had a Thai massage and wondered what on Earth the therapist was doing with you? That's exactly how I felt.
Sometimes I even wonder if I ever survive the Thai massage and leave in one piece or come in one piece and leave in million pieces.
As you maybe can imagine from my words, this Kombi massage was not relaxing at all compared to the previous massages I had at Tawan. But, I hope you are aware that proper strong Thai massages are not very relaxing.
After approx. 2 months without a Thai massage I almost forgot how it feels to let someone get into the muscles I didn't even know I had.
The massage process was as follows: first legs from the back, then vanilla oil massage of the back and arms. Afterwards, the same from the front, legs first and then upper body. I think every single point the masseuse pressed on my legs hurt like crazy. Mostly around the ankles and groins, inner thighs, along the bones and just above the heels. It must have been from all the walking and hiking as I walk approx. 10 km every single day.
The therapist finished the massage moving my back, my head and my arms in many different directions with me in seated position. If you've ever had a Thai massage, you know exactly what I mean.
PS: During every single Thai massage I've had in my life, I've always asked myself why I'm doing it. IT HURTS. But then I feel so relaxed, so relieved and so satisfied in my body I know I will always go for more. And getting more than 200 massages in the past prove it.
I really do not understand people who never go for a massage. It's definitely one of the best feelings ever!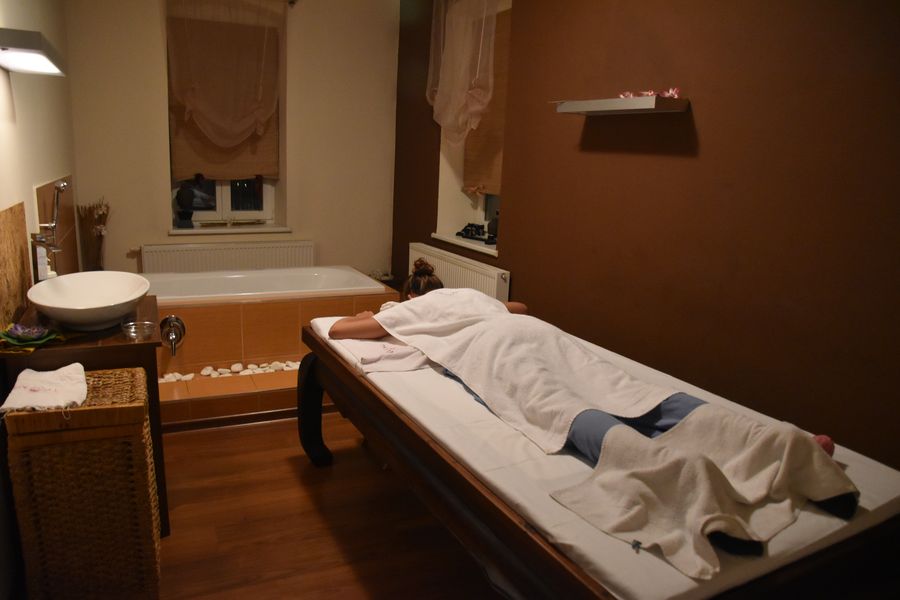 If you are staying in Karlovy Vary, then also check out my article about
30 things to do in Karlovy Vary
. I bet you didn't know about many of them that are worth doing 🙂
Huge thanks to Tawan Thai Spa Nikolina receptionists for taking photos of my treatments and to the therapists for the awesome massages. Getting massages at Tawan Nikolina was part of my Adventure and spa project and also #K700 campaign with Czech tourism to promote destinations connected to King Charles IV.

For more information, please visit Tawan website. There's also Tawan in other cities in Czech republic, such as Prague and Brno; not just in Karlovy Vary.