Our detox Chivasuka retreat Chiang Mai – day 1 and 2
Detox Chivasuka retreat Chiang Mai
Day 1 – solid food
We took a flight from Kuala Lumpur to Chiang Mai where Karin, one of the owners of Chivasuka picked us up. I really appreciated the personal pickup after a couple of hours of traveling. Many taxi drivers don't have any idea where Chivasuka is located (it's not on Google maps yet) so Karin prefers to pick up the guests herself. It took us approx. 75 minutes to get to Chivasuka situated 50 km North from Chiang Mai.
The word Chivasuka is from two Thai words and means healthy life.
A pleasant, not super hot weather greeted us there. I was surprised to see the temperature reached just 23 Celsius at mid-day, and then 28 in the afternoon. What was even more surprising, the night temperature drops to 12 Celsius! Wow, I never thought I'd use my jacket in Thailand. The same jacket I wore when leaving Slovakia in the beginning of this trip. Bear in mind we visited in the first half of February.
Once we arrived to Chivasuka, Jan, Karin's husband, who is the chef on the retreats, made a refreshing welcome smoothie of berries and coconut water for me and dad.
Then Jan showed us around our bungalow. There's just 2 bungalows for 4 people altogether to keep the whole retreat more personal. Our bungalow was pretty big, with hot & cold shower, a toilet, 2 beds, a table with chairs, small wardrobes, a porch with relaxing sofas, and a hammock.
Jan was nice enough to give us also a second hammock during our stay so we could chill out in them at the same time. The wooden bungalow was fully equipped with bamboo, wooden and rattan furniture, mosquito net around the bed, fans, nice Chinese tea set with chamomile and pandan tea, and even natural shower toiletries together with a Thai herbal toothpaste in the bathroom.
OMG, and the views! We were located 700 m above the sea level on top of a mountain surrounded by evergreen jungle. And there was even a tea plantation just a few metres behind our bungalow. How cool is that? Aw, and a small village of 50 inhabitants is just below the Chivasuka. 
Afterwards,
Karin talked to us about our health to know as many details as possible.
We discussed what we wrote in our health forms she asked us to fill in even before the retreat. We talked about what is good, what is not so recommendable, what habits we can develop or keep out of these we've already had. I'd call it a nutrition consultation. It was more focused on dad's habits as I've been already mostly on raw vegan diet, learned a lot about it on other
raw vegan retreats where I got also certified
. As dad's English is very basic, I had to translate to him most of our conversations during the whole retreat.
Lunch was really surprisingly awesome! Jan loves making food and he also likes using loads of herbs. He prepared for us dried veggies (dad enjoyed mushrooms the most), a green salad with garlic sauce, and salty cucumber pickles. And cold hibiscus tea which reminded me of Mexico where they drink rosella hibiscus agua de Jamaica all the time.
Karin made us a kombucha drink of ginger and turmeric to provide us with probiotics and kick start the digestion. Then we laughed at drinking a shot of Japanese herbal probiotics followed by a green juice of mint and pennywort served in a Luxembourg champagne glass. Drinking healthy juices from shot and champagne glasses on a detox retreat? Why not :) Then we had a nice light dinner – avocado soup with herbs and old spices, with tomatoes, garlic chives and nutmeg on top. Very light, yet very filling and more than enough for dinner.
An hour after dinner I decided to use steam sauna outside of our bungalow. I've never seen such a cute portable one person sauna! You just boil water in a steam machine sends steam inside the sauna which through a pipe . I was sitting there on a chair, rubbing my feet, sweating, smelling a mixture of Thai herbs getting out of the sauna… with my head outside observing the hills and listening to many different birds. Oh yes, what a perfect end of our first day, I thought to myself…
Day 2 – blended food
Since our second day we started our mornings with:
stomach acid test – approx. 100 ml water with 1/3 of teaspoon of sodium bicarbonate
a few min later parasite drink – papaya blended with papaya seeds (strong bitter taste thanks to the seeds)
30 min later warm water with apple cider vinegar and chili
30 min later green juice
30 min later breakfast
The first morning we had to wake up at 7.20 am to have time for all the morning drinks before breakfast. For some reason I feel ok to wake up earlier than at 9 am in tropical destinations, especially in the jungle or on the beach. At home I tend to sleep until at least 8.30 am.
I remember waking up at night because of feeling cold. When I was brushing my teeth, shaking from unexpected cold (cold in Thailand??), dad came inside.
 

"It's really just 12 Celsius degrees outside." dad said.

"No wonder I'm so cold. We wear winter jackets with this weather back home. I'm gonna put also a thermo shirt on."
Dad had a good laugh at me but after 3 weeks since we left Slovakia, I felt really cold.
Our first drink was water with sodium bicarbonate. Depending on the time when you burp after drinking it, you can check how acidic is your stomach. If it makes enough of acid to break down the food, not enough, or too much.
It might sound weird to you, but I think this was the first time I've actually burped ever in my life (besides when being a kid!)
We also did urine pH test in the morning but not the first urine as it's always the most acidic one. Mine was perfectly alkaline 7.6. The best pH should be between 7.3 and 7.5 when the body is in a perfect balance. Anything less than 7.3 means acidic which we want to avoid.
My first day (yesterday) when we arrived, I was eating solid meals with my dad. My second day, day 2, was just a blended day for me, so after all these morning drinks, I had a smoothie for breakfast. Karin and Jan were always eating with us, I mean dad had the same meals as they were having, and I was on a special detox program. Let's say on a stronger detox as I am healthier than dad.
After breakfast, we went for a short walk around and then took a nap. I am usually not napping at all but had very little sleep in the previous days so needed to catch up with some sleep.
Then it was time for lunch which we started with 3 natural pills: milk thistle pill with enzymes pill with antioxidant pill.
The three of them had a mushroom miso soup for lunch and I had the same just blended and without chive. Then they had Japanese veggie noodles and I had them blended with avocado for a better taste. Loved the taste of my blended soup and actually preferred it to their noodles. Less chewing and easier on stomach. Obviously, if I chew the soup well enough.
You should always chew everything you eat as long as possible to mix it with the saliva which contains enzyme amylase to break the starches.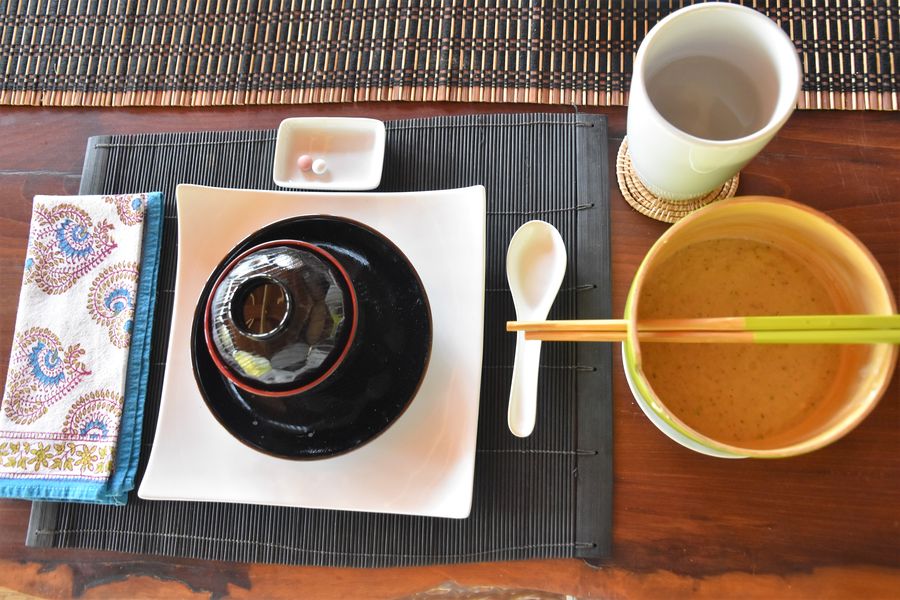 In the afternoon, when I was travel blogging on my laptop at the bungalow porch, Jan prepared a nice surprise for us – fruit ice cream made of bananas, orange peel, coconut and some other ingredients.
Then I meditated on the porch sitting on the sunbed, and practiced yoga for 45 minutes in the yoga gazebo at sunset time.
We started dinner again with enzymes + milk thistle + a glass of green juice. Then we had a tomato strawberry soup followed by a salad of mustard leaves, kale and red peppers. I had the same soup and then a blended version of their salad, but with banana to make it sweeter as the mustard leaves have a very strong taste otherwise.
At dinner we shared some stories with Karin and Jan and then I read a book.
I have to say our first two days passed very quickly. Dad loved all the meals Jan served him, which was a great sign for a meat-eater on a "normal" Western diet (read unhealthy diet eating everything). Of course, I also enjoyed both my solid meals and smoothies. I am all into smoothies so I was more than happy in the end of our second day. 
---
---
---
---
Both dad and me were eternally grateful for our 8 days at Chivasuka.
When I wrote this post after my stay back in 2017, Chivasuka was still located in Thailand close to Chiang Mai. However, the owners decided to move to the Caribbean island of Curacao. Now they do Chivasuka detox retreats there on Curacao, and not in Chiang Mai any more.