Horizont Resort wellness – a romantic wellness hotel in High Tatras with the best massages
Horizont Resort wellness hotel is a perfect getaway for all those who are looking for relaxation with unforgettable views of the High Tatras, the highest mountains in Slovakia. I have to say that the High Tatras are my favorite mountains in my home country and I've been there dozen times. We used to go there hiking when I was a kid with my family every year a few times. And I invited 2 of my ex boyfriends to the mountains as well. As you can see, the Tatras are very deep in my heart and I'll always love the area, no matter what. Since my teenage years, I have had a habit of revisiting the mountains at least once every year. So far, so good!
And last month when I had a chance to stay at the most modern wellness hotel in the High Tatras, I could not say no. You know I am a wellness person and I love saunas and jacuzzis, right? There's no better place in the High Tatras for a relaxing gateway than Horizont Resort. Why? Find out below 🙂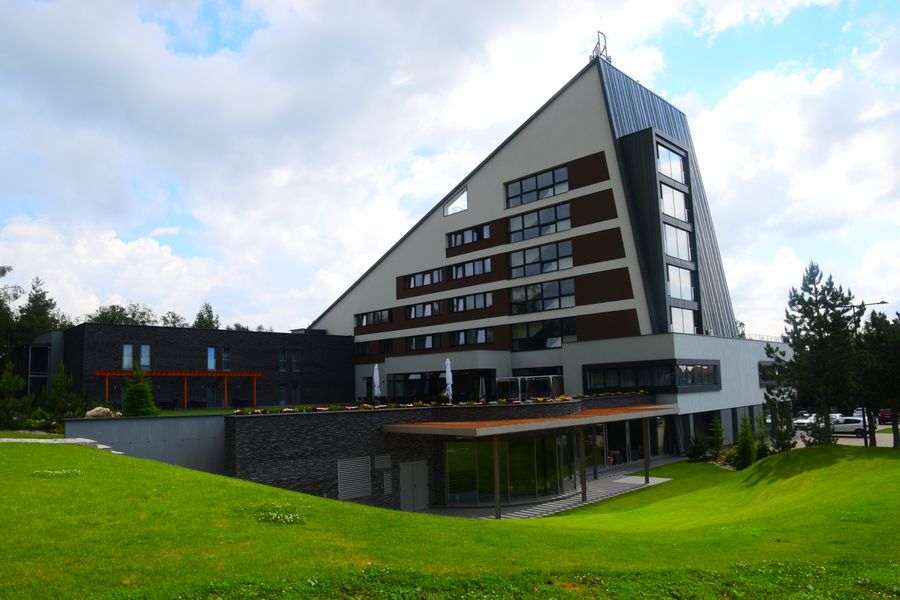 What I loved at Horizont Resort wellness hotel:
Location and the views – Horizont Resort is located in Stara Lesna village, just 2 km from Tatranska Lomnica. If you've ever been to the High Tatras, then you know the location is the best when it comes to the view. All the hotels situated more inside the High Tatras have no good view of the whole Tatras panorama. But from the Horizont Resort you can see the whole Tatras. You will fall in love with the views even if you are not a mountain person, trust me. I spent hours there simply staring at the mountains and observing the clouds moving quickly above the mountain peaks. It felt like a meditation to me. So calming!
My room and big bathroom – My room had big windows across the whole room. I had all the curtains opened all day long to see the High Tatras. Incredible to wake up to those views, let me tell you 🙂 I could also see the mountains from the bathroom while taking a shower or a bath. Yes, my bathroom was so big that I had both a shower and a bathtub there. Not a bad idea to take a shower with a mountain view, right? 
Mountain massage & spa centre with a pool bar. Few hotels in Slovakia have a pool bar. Prices there are fine as well, not too expensive at all, and they also offer fresh fruit and non-alcoholic drinks, among other things. Another thing that families might appreciate is that Horizont Resort wellness allow kids or teenagers to enter spa centre, too. I enjoyed swimming there, and a few minutes in jacuzii as well.
Saunas – hotel guests have free entrance to wellness centre (pool, jacuzzis, saunas and relaxing areas) during their entire stay. I went to saunas 3 days in a row and loved it. You can choose from 4 different saunas: infrared, dry Finnish, salt and steam. In the middle of the spa centre you'll find a small cold water pool to cool off. They also have ice if you'd prefer a different way of cooling down your body after sauna. I only went to infrared each time it was free, and tried salt sauna once as well. There's two relaxing areas in the spa centre, one is with a jacuzzi and a big water bed, and another one more in the back. In this relaxing room you can lie down on a bed, read magazines they have there, look at a waterfall wall, or meditation looking at fire/waterfall TV. No noise can be heard there from the rest of the spa centre, which is a big plus. I have to say that my very favorite parts of the whole wellness centre were infrared sauna and big water bed. It was so relaxing! I could seriously lie on the bed all day long O:) 
VIP Sky lounge – this is not included in your hotel stay and you have to rent it per hour. However, I highly recommend you to book it as you might have the nicest memories from the resort right from the VIP Sky lounge. It's a private Finnish sauna, with a little kitchenette, and a jacuzzi on the rooftop of the hotel. You will also get sparkling wine and a fruit platter. As I don't drink, I fully enjoyed munching on the fresh fruit from the jacuzzi while staring at the beauty of the High Tatras mountains. Don't think there's a better place in the entire area for a romantic chill with a view like this. We were there for 2 hours and didn't even use the sauna. Yes, we spent a lot of time taking photos and videos for this article and mostly for my social media, that's true. But the rest I was just in the jacuzzi feeling satisfied and happy with the High Tatras in the background. I mean, who would not be? Just look at the photos below.
really great full body massage – the wellness centre also offers different kinds of massages. And as I can never get enough of massages, I had a full body relaxing aroma massage done by Tomas, a young Slovak guy. I could choose essential oil I like the most and chose coconut oil. The hour massage started with back, and then arms and legs. Although I ordered an easy relaxing massage, the masseur was kind enough to spend more time and use more pressure on those parts of my back where it hurts me the most. Well, I did ask for that as I prefer strong deep tissue massages, and wanted to use Tomas's strength. He is a big guy so why to have a relaxing massage only if I could have a strong one? He really found all spots where I have stuck energy in my back and worked his magic. And then the masseuse put hot stones on my back for the last 10 minutes of the massage. I found out that my back was in a very good condition compared to most people. Well, it must be yoga, vegan diet and many massages.
Horizont Resort wellness has the best massages in Slovakia. Out of those I've had so far, this one definitely wins!
the best Thai massage ever – I had two massages. The one I mentioned above, and a classical Thai massage. I have had hundreds of hours of Thai massages in Thailand and other countries. I can honestly say that the Thai massage I had at the Thajske masaze in Horizont Resort was the best Thai massage I've ever gotten outside of Thailand. Nuad Thai massage is a full body traditional Thai massage without oil when they dress you up in Thai comfy clothes and the masseuse uses fingers, palms, elbows, knees and sometimes even steps on you. My masseuse Nu comes from Phuket so we even chatted about Thailand a little bit after the massage. Nu really knew where to press and how hard to do so. She worked on the most problematic parts of my back, and even used a small hammer to release the pressure over there. Getting a Thai massage while at Horizont Resort wellness is a must, trust me 😉
Breakfast – quite a big variety of breakfast food. Even being a vegan I had things to choose from, especially many cereals and fruit. When I asked, they gave me soy or almond milk to use with cereals.
Free water at the wellness. You know you need to keep hydrated when going to sauna, right?
Design – hotel is decorated with cedar wood and other precious natural materials. In my opinion, hotel design fits the whole mountain area. 

Lobby bar where you can chat, get a drink and on weekends even listen to live piano music

Nice cigar lounge – I do not smoke and don't like smoking but the lounge is so beautifully decorated that I had to check it.

Grill house with a terrace behind the resort where you can have big celebrations and events of all kinds. Very few hotels have a grill house so thumbs up for this.

Multifunctional playground in the back of the hotel where you can play tennis, basketball, football or other sports. No need to go hiking if the weather is not the best or if you are not into it. There's many other sports to do right behind the hotel.
Conference Hall for 260 people has its own entrance which is very useful so the conference visitors don't need to go through the hotel reception.

Wellness centre is also accessible from outside and it's open also for non-hotel guests. Easier for them to enter the spa centre directly from outside than going through half of the hotel.

Sports shop with a lot of useful sport gear and clothes, in case you forgot to bring something.

It's a new hotel, completely restored and refurbished.
I'd say that Horizont Resort is great for both couples and also for families. They have family apartments and many things to do in and around the hotel if you have kids. And for couples, as I've said earlier, it's a perfect romantic place.  I could easily stay there alone as well, or with a friend. 
To sum it up, my favorite things about Horizont Resort wellness were the views of the High Tatras from the room, VIP lounge jacuzzi, saunas, and massages. And was there something I would improve? Yes, very few details. The room doors were very loud so other guests would wake me up in the morning before I wanted to wake up. The bed pillow was really big for me, too. And the rest maybe just more vegan choices for dinner because it was a bit of a struggle for me. Breakfast was fine.
---
---
TIP: Did you enjoy the photos in this article? I took a lot more there. Check my photo album from Horizont Resort 🙂
---
TIP 2: If you'd like to book your stay at this hotel or any other hotel, I recommend you to do it via Booking. Get a $15 discount if you book any hotel via this link 😉
---
---
Thanks so much for the hotel staff who made my stay unforgettable. For more information about the hotel, check Horizont website.
.
.
Check my Instagram for more photos from my trips around the world 😉