Where to stay in Presov city centre – Hotel Carpe Diem Presov
I have to say I travel around Slovakia way less than I would like to, and less than my home country deserves. So each time I am spending more weeks in here, I try to plan some courses and yoga lessons so I can explore the towns some more. When I organized a raw course in Presov (Prešov in Slovak), I planned 4 days in town.
I haven't explored Presov for years if I don't count the super short Christmas market visits two winters in a row when we took a few minutes to walk around. However, I have never properly seen anything in there. This time I decided to change it and stroll around the town a lot more getting my daily 10,000 steps.
I stayed right in the Presov city centre at the 4* Hotel Carpe Diem. It's located just a minute from the main street which was very convenient. The 8-hour raw course I was leading took place at the AkoRepa Vegan Bistro just across the Double Tiffany hotel restaurant.
As the hotel website looked very simple, it took me by surprise to step into the grandious hotel. In the very first second I remembered we did see the hotel from the back side last winter and its name put a smile on my face. Yes, it was the right decision to choose the romantic Hotel Carpe Diem Presov and not just because of its name which is also one of my life mottos. 
Things I enjoyed at the Hotel Carpe Diem Presov:
very fast wifi – I had a router right in my room number 201 and could work online (you know, the biggest necessity of digital nomad lifestyle)
location – honestly, just to cross through the Double Tiffany restaurant to get to the main street was perfect. I couldn't feel the hustle and bustle of the busy main street but on the other hand I could appear there as soon as I needed it and go shopping :)
there's 15 double rooms named by the 4 seasons of the year or metropolitan cities and even designed to match the name. My 2-bed standard Vienna room was the personification of nobility and magnificence. Super cute decorations made me feel like a Queen.
big paintings in the rooms – portraits of important historical people or impressive buildings in town
*The last photos shows my 25 litre anti-theft backpack from ebags
the hotel is located in the fully restored municipal house from the 15th century which gives you the feeling of going back in time
breakfast included in the room price at the stylish Double Tiffany restaurant. You just walk a few metres from the hotel towards the main street and can enjoy buffet breakfast – fruit, pastry, ham, cheese, sausages, eggs etc. The Double Tiffany is supposed to be one of the most romantic restaurants in town. If the weather permits, you can have a meal or a cup of tea outside in the garden looking at the green ivy on the walls.
when I had to leave before breakfast, they asked me if I wanted a breakfast package with me so I could grab some fresh fruit before my raw vegan course. Thumbs up for giving me a pack of fruit and a water bottle instead of buffet breakfast. What a sweet gesture!
big bathtub in my bathroom – you all know how much I love taking a bath and working from bathtubs and jacuzzis and I am glad I could find time for that on my last night.
the hotel is good for both leisure and business travelers – you can enjoy business class apartments if needed
welcome drink at the Cuban bar (if you drink alcohol)
Lobby bar with TV where you can chill out – great for business/family/friend meetings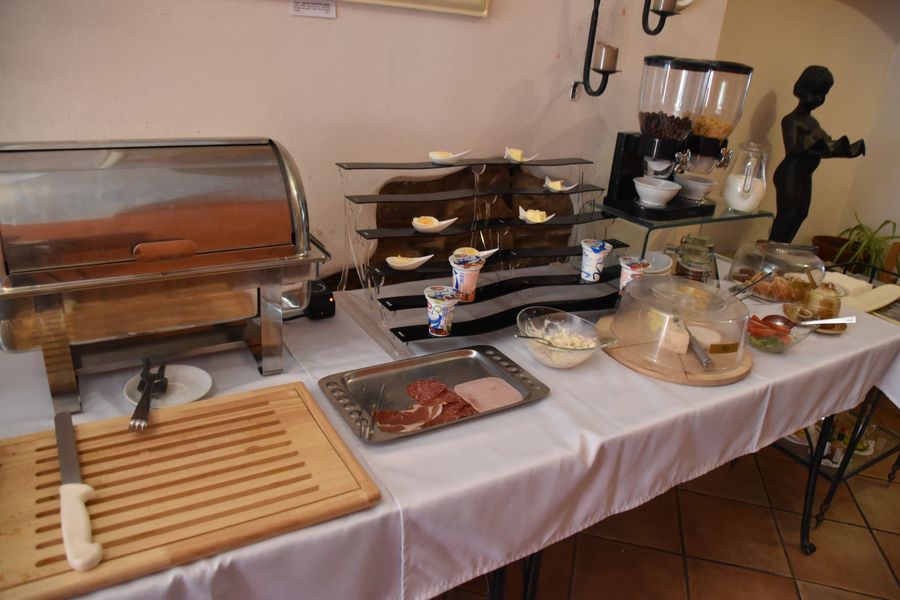 Can't forget my travel blogging from the bathtub …
I have to say that the boutique hotel Carpe Diem Presov is a lot more beautiful when you visit in person than it looks online. If you are visiting town, please give it a try. For more information, check out Hotel Carpe Diem website.