Historical hotel Hviezdoslav Kezmarok city centre
When I was checking out some hotels to invite my mother to for her birthday, my friends recommended me to try the 4* hotel Hviezdoslav. I had a look at their website and was surprised to see the elegant rooms located in a building of historical significance right in the city centre of Kezmarok. Only when I scrolled through some Kezmarok photos I remembered our quick visit there 2 years ago with my family. We so loved the colorful town I was hooked to revisit. 
Good news? They had a free apartment for the dates we needed. So we hopped on 3 trains to get to Kezmarok, a small town overlooking the High Tatras and stayed there for 5 days.
A bit about the history of the hotel and its former inhabitants:
Pavol Orszagh Hviezdoslav, the most-known Slovak poet, spent 4 years in one of the hotel houses here when he studied at the Kezmarok Lyceum. He lived at the house which was the first building of the hotel where we still can see old reception nowadays. As you can guess, the hotel was named after the famous poet.
Jakub Kray used to live in the second building of the hotel. Their house did not have a front door and they had to enter through the neigbor's. Jakub Kray was a famous Kezmarok Mayor and diplomat who was executed in town by the Austro-Hungarian Army (because the new town Mayor was also in love with Jakub's wife and he could also choose who to hang from those who were fighting against the Army to keep the town.) His grandson Pavol Kray was a well-known army Marshal in Italy, Austria and France.
Carl Hayde used to live in the third building. He was famous for making Slovak gingerbread pernik and big candles (up to 7m). With his products he won a World Gold medal in Paris in 1900. Even his grand grand daughters living in Germany come to the hotel nowadays every year and stay at one of the rooms here at the old house. One of them even slightly remembers their old family room.
What I liked at the Hotel Hviezdoslav Kezmarok:
there are 24 elegant rooms (standard, deluxe and apartments) at the hotel but in June 2016 they open another 6 rooms so altogether 30 rooms
we stayed at one of the apartments number 26, called the Provence apartment and enjoyed its stylish design in violet, grey and white colors
we had fresh fruit, dried fruit and nuts every day
they do not use GMO ingredients at the restaurant Poetry (a Gothic path restaurant which belongs to the hotel), so you can taste only seasonal and fresh meals instead
the restaurant menu shares also some info about the Kezmarok landmarks (with little photos at the bottom of some pages so you can recognize them easily when walking around town)
daily lunch menu is offered at the restaurant Poetry. A candle on each table completes the romantic atmosphere in the yellowish setting with Kezmarok landmarks painted on the wall. I could not get enough of the paintings in between the meals. What a great idea!
When eating our first lunch at the restaurant, I got surprised to hear my mum saying "I've never had a borscht like this. And you know I try it everywhere I can. It's probably my favorite soup ever." And she meant it as then she ordered the same soup 3 more times. Even the waiters laughed at her repeated choice.
Wellness Harmony was opened in 2011 together with the opening of the hotel – there are infra-red sauna, steam, Finish dry sauna and herbal sauna, a jacuzzi, small tepidarium and a cold room where you can cool down after the hot sauna time. The wellness is small, but super cozy and once we were there completely alone with my mum which made us feel like at home. I appreciated all the wall paintings in the relaxing room behind the sunbeds – paintings of mountain animals (eagle, chamois,lynx) and Kezmarok landmarks
Bowling center with Kray wine bar were opened here in January 2015 and at the reception you can rent a bowling line which we did 2 evenings in a row. Was so much fun to play bowling with mum after such a long time but that was the way we celebrated her birthday laughing like crazy :)
they organise literature evenings at the Café Literature. It's a perfect place where you can order drinks, cakes or hand-made chocolate pralines any time during the day and get a book from a shelf surrounded by portraits of famous people. Very lovely place to chill which is also open for non-hotel guests.
two salons for family/friend/business meetings – Marshall salon and Thokoly salon, and also Lobby bar Muse
the towels in the room smelled so sweet, like flowers
every day little packs with new bed linen and towels are left in the rooms to grab and use in the sauna
Congress Hall Sofia looking very romantic has a capacity of 150 people, great for weddings, receptions, seminars, etc.
they prepared vegan meals for me at the restaurant, such as carrot soup; peas and mint soup; asparagus ragu with potatoes, raddish and scallion (my favorite meal there); tofu with veggies and rice; red lentils with shiitake and Oyster mushrooms; and pumpkin with truffles was also yummy!
loads of tourists and locals come to the restaurant Poetry to dine out
super friendly staff – from the director, through receptionists to waiters. They were all very welcoming and smiling all the time which is a bit of a rarity in Slovakia (and if you don't believe me, read about 5 things I dislike about Slovakia – number 1 for me is the common negative approach.) However, at this hotel we were only treated beautifully which, in my opinion, is thanks to the lovely director which knows exactly what she is doing :)
lovely summer terrace in the hotel backyard
one morning they made delicious vegan chia pudding of date syrup, strawberries, chia, soya and coconut milk, and peanut  butter. Loved it!
I also enjoyed 2 raw vegan cakes there – a blueberry one and then a chocolate one. Delicious!
it was super cute to get into our room and see they left her a birthday card and a rose. She almost cried out of happiness and surprise :) And our restaurant table was also decorated that day which was another sweet details from the hotel stuff. It's visible they really do care about the guests and try to give them the best service possible. The hotel motto "Your small hotel with a big heart" is really on point.
the dark carpet with red roses at the reception was so beautiful. I found myself staring at my feet and shoes all the time when walking through there.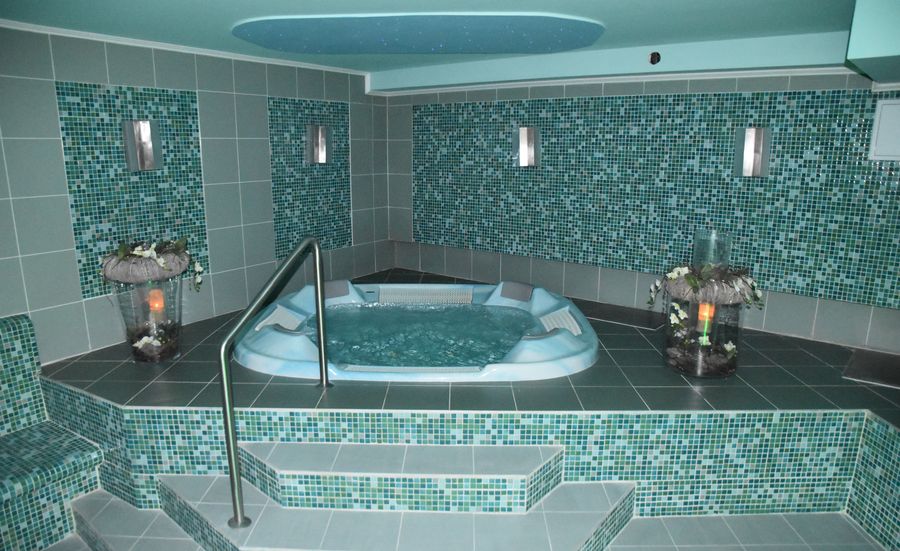 As you can see on one of the photos I am holding a Signet Guarantee Quality sign which the Hotel Hviezdoslav received for a year. Together with 4 more Slovak travel and hotel experts we are giving these quality certifications to the best hotels in Slovakia and Czech republic based on their services and everything they offer. Hviezdoslav hotel was the first hotel to receive Signet from us, well deserved!
PS: If you are visiting this picturesque town, also read my article about 12 things to do in Kezmarok.
For more information, please check out Hotel Hviezdoslav Kezmarok website :) I am sure you would love it there.