Pure Raw vegan green juice detox Bali – day 3
Morning 
After
second day of green juice detox
, I slept for 8.5 hours like a baby without even moving and woke up with loads of energy. But then at the yoga I felt a bit dizzy so I went to the infra-red sauna to get rid of toxins faster.
I felt like not drinking anything but water and didn't enjoy the taste of turmeric water nor the green juice at all. Some other course participants experienced the same. 
My day 3 chart:
bright eyes
light tongue
stress 0
glowing skin with eruption on the face
general being 4
loads of energy when I woke up 5
0 energy at yoga
too much energy the rest of the day 5
2 hours of sunshine
My day 3 detox in this order:
colloidal silver
10-minute walk
1 l of water
30 minutes of yoga
25 minutes infra-red sauna
pool and sunbathing
1 turmeric 10 am
1 detox tea 10.30 am – 11 am
1st green juice 11.20 am – 11.40 am
2nd green juice 12.30 pm – 1 pm
1st stool – diarrhoea 1.30 pm
30 minutes of infra-red sauna
10 swimming pool laps
3rd green juice – 4.30 pm
880 ml of detox tea 5 pm – 6.30 pm
2nd stool – diarrhoea 6.15 pm
10-minute walk
colloidal silver and probiotic pill
1 hour leg and back massage
altogether 5.18 l of liquids
Science lesson
On 100% raw diet you need to get rid of everything you don't need first and then the  nutrients can absorb better. So for certain time you might get super skinny and then more "normal" when your weight stabilizes in the state of homeostasis.
Some experts do recommend B12 shots but those are synthetic. So eating algae (chlorella, spirulina) and sea weed helps with natural B12 vitamin.
The more acidic you are, the more acidic food feels good. The more alkaline you are, the more alkaline food tastes good.
Magnesium calms down your body.
Liver has difficulty to process synthetic vitamins and minerals so it is damaged. Then less of them gets absorbed.
We started chewing 1 or 2 chlorella pills which boosts alkalinity and builds the immune system.
If you feel full of gas and not feeling good, take some charcoal – a tea spoon with a cup of water, it absorbs chemicals and heavy metals in your body. We could use them both during the detox.
Candida
it is yeast/fungus overgrowth in the canals from the mouth to the anus
we all have yeast so only when it gets unbalanced with bad bacteria and parasites, it's an issue
yeast builds immune system, and decomposes the body when someone dies
almost everyone has candida on a "traditional" diet
statistics say that 1 in 3 women have it, 1 in 5 men have it
it's like a little web which expands when eating anything
candida lives behind the mucus plug
it floats in the blood and in the brain
stevia doesn't help candida to grow
coconut oil, oregano oil and grapefruit seed extract are good for killing candida and clean the blood but you also need to take intestine cleaners
probiotics clean candida, too
some mushrooms (button and cremini) are just fungus so help candida to grow (vs. portobello, oyster mushrooms, reishi, shitaki function as a sponge so are good for you)

maple syrup and cashews also feed candida.

the combination of carbs and fats makes candida. So Amy recommends to eat or just fruit or just fat for a couple of months and see how your body reacts. It is recommended to be on a certain diet for 3 – 6 months to see a difference (talking of 80/10/10 or only fat diet, or pure raw diet.)

we take flax seeds and blood cleaners on the Pure Raw diet. Flax seeds scrub the candida yeast out of the body.
Symptoms of candida:
headache
acne
anxiety
mood swings
diarrhoea or constipation
skin eruptions
painful period
cravings for alcohol
sweet cravings
bloating
hard PMS
muscle weakness
earache
low sex drive
sore throat
itching
sensitivity to fragrances and other chemicals
persistent cough
small bubbles like white foam getting out in the colon therapy
it's like being living dead
you don't treat others well when you have a lot of candida as your brain/mind is foggy
co-dependant behaviour
greedy behaviour
When you are not losing weight on raw in the beginning and your body is not changing, there is something stuck in your body.
Check if you have candida – spit inside of a glass of water and when it floats, you have candida and when it drops, you don't have candida. Also blood tests can be done but they are not so sensitive.
Getting rid of candida is a long process.
Children – raw vegan, detox and candida 
Kids and babies show candida with a diaper rash or hyperactivity. Find fun ways to give them half the dosage of flax seeds and blood cleaners (half of the adult dosage.) 
Breast feed babies for at least 1 year or until they don't want it any more and the mother stays mostly raw. Zeolite is good to get rid of toxins when pregnant, but no fasting as the baby absorbs toxins. So then you need to detox the baby, too.
Do not use cow milk or other animal milk. If the mother doesn't have milk, make coconut milk, hemp milk, coconut water, nut and seed milks, or use probiotics.
Parasites
As I mentioned, before the detox we could send our morning stool to check for the parasites. Mine was showing everything was fine, even also all that traveling to India, Latin America and Africa. But that test is just 30% correct.
There's thousands of different species. 
You feed the parasites first, then you feed your body. They can eat you from the inside out. You get skin issues when you have parasites.
ecola – is not a bad parasite, you can just take dragon's blood and herbs, or MMS to get rid of it.
E. Hystolica parasite has a certain size so you need a certain water filter to filter them. It eats the tissues inside your body, lungs, liver and the brain. It is a dangerous parasite in Bali. 40% of Balinese people have it because of the hygiene.
Garden variety parasites are no big deal, not so dangerous.
Most people who have pets or work in nurseries have parasites (changing diapers when the parasites get into under the nails so you can clean them with peroxide.) If you live in a third world country or have traveled to Africa/India, most probably you have parasites, too.
Certain parasites get into your body even on raw diet when you have a strong immune system. It's easier to get them once you've had them already.
What to do:
1. accurate parasite testing – hot stool test is the best or going to Dc. Kevin Cahill in NYC (Central Park West 65th Street.) He scraps from inside of your rectum to test it. Also you can go to CDC in Sydney, New York, London, Brighton hospital or an alternative person who is educated and willing to learn more (scientist types.) Ask for the most invasive test possible and do the test a few times.
2. proper reading – laboratory needs to read it properly (looking into different species of parasites)
3. proper treatment – not all parasites are treated equally. Some need stronger and different herbs.
Parasite treatments
zapers – in A cure for all diseases book by Dc. Hilda Clarke, she speaks about radionics – zapping parasites are killed with electricity (you got to know the certain frequency of that parasite.) 
Diatomaceous Earth DE is good to clean (t is tiny microscopic parts of shells. It's almost like eating tiny species of glass that kills parasites.) Make sure you take food-grade DE.
MMS cleans blood, too but take it carefully
probiotics – living cultures that need to be kept in the fridge. Innate probiotics are great. Some last from 1 week to long of time.
Fermented food is sensitive probiotic when it is not moved without touching and created in certain way so only some fermented food have probiotics in them. Coconut yogurths or coco probiotic could be good if home-made but not bought in packages.
The more acidic you are (under 7.0 pH), the more probiotic and natural antibiotics you need to take. It heals candida on its own when you get the pH higher than 7.4 pH.
pH means potential hydrogen = how much hydrogen my body can uptake
To heal your body, you need 80% alkaline foods and 20% acidic and maybe later you can lower to 60% of alkaline to keep the balance.
GI = glycemic index
To heal candida, we should eat food with less than 18 GI. Some studies say low GI is under 32 but that still makes candida.
Peanuts, beets, cashews, potatoes, bananas, corn, baby Thai coconuts don't reproduce themselves in nature as they have been hybridized by people (GMO). They also tend to mold, are high in sugar and low in minerals so they get parasites easier.
Non-raw vegans eat loads of starchy foods, beans, pasta, rice, chickpeas etc. but they are really all high GI.
Carrots – do not juice them on their own because it is so GI but eating them whole is fine – GI is under 18.
Finding your new you
Do not try to please others and make them happy so they can be what they want to be, to be themselves.
Food for thought:
How do I perceive the behaviour of others towards me and how I react to what I think they are doing to me?
How do I handle relationships at home/with friends/at work?
Do I work harder for those people I have troubled relationships with?
Do I try to fix everything for them, do I fight, become very passive or prefer not to deal with them at all?
How I deal with close people means how I deal with everything.
I usually try to express myself properly but if they don't seem to be open to understanding, I might fight people around me. But when I see that it does not work after a while, I become passive.
On the other hand, I learned not to fight people who are not super close to me and just leave them without dealing with them any longer. I tend to fight those dear to my heart more than those who are not important to me.
But it also changed when I became more raw vegan, I am way calmer now and usually let it be.
I need more understanding and patience.
The old me will always be there but I can create a new me capable of more with healthy habits. Be committed, consistent and creative.
I need to change some things to open the place for something else.
Afternoon and night
After the science class we had a skin care lesson by the swimming pool trying different things on our bodies (body scrub and then all natural ingredients we could also eat – spirulina, aloe vera, coconut oil etc.)
Then went to the sauna again for 30 minutes and had a lovely chat with one of my favorite girls who invited me for a cup of detox tea later.
I finished my lovely birthday with an hour massage and super grateful for hundreds of birthday messages I got online.
I thought of chocolate maybe 3 times because of some birthday messages and chocolate my friend had in her fridge but other than that I was not hungry at all until 22.30 when my stomach made some noise.
I was proud of myself for dealing super fine with the third day of green juice detox so far.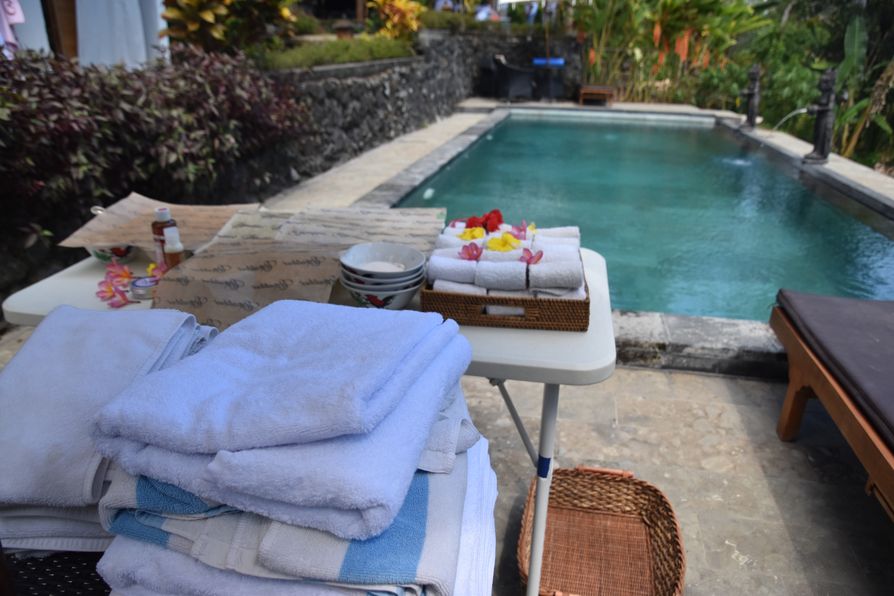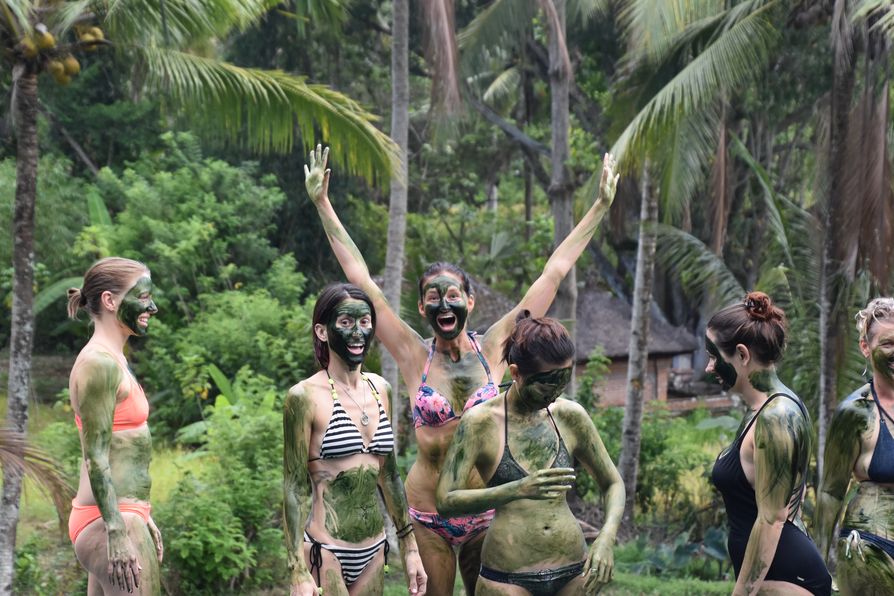 For more information about Pure Raw vegan courses, please check Amy Rachelle website. I am eternally grateful for being part of the training which made me a better person.