Sheraton Imperial Kuala Lumpur – luxury at affordable price
After staying at the amazing modern
Aloft hotel with perfect rooftop pool
, we checked into the 5* Sheraton Imperial Kuala Lumpur for our last 3 nights in the city. Both of the hotels are part of SPG. I never checked much about Sheraton Imperial until our stay so I had zero expectations whatsoever.  
What we enjoyed at Sheraton Imperial Kuala Lumpur:
we were impressed as soon as we entered the hotel as we had no idea it was so luxurious. I've stayed at some Sheraton hotels in other destinations, such as Sheraton in Prague or Bratislava, but the whole design of Sheraton Imperial KL is completely different. Such a breath-taking interior! It looked like a mixture of Italian and Asian to me which makes it more exotic, I guess.
Our visit was just after the Chinese New Year so we could find some Chinese elements around the hotel. I also learned from the manager that Chinese, and also some other nations in Asia follow a principle of not having the 4th floor in the building. So in Sheraton the floor number 5 follows the floor 3. But in some other buildings, for example in condominiums, yo can find 3A instead of 4.
location – centrally located, close to many city landmakrs. Sheraton Imperial is just a 25-minute walk from the Petronas Towers, the main KL attraction. You can walk from the hotel, take a taxi/Uber, monorail or LRT rail. We walked to the Petronas towers twice while at Sheraton, once at day time to record videos with my friend and then also after dinner to take photos of the night Petronas.
our Club room with 2 single beds with the KL Tower view – our room was on the 37th floor which is the second top floor with rooms so we had the best view possible. Dad loved our bathroom with a nice rain shower, and I enjoyed also the bathtub. Loads of toiletries were obviously included, too. The whole marble design makes the bathroom look very luxurious. We even had a wardrobe, a security safe, and a minibar. Unlikely to our Aloft room, minibar was not included in the room price.
wide comfortable beds and super comfy pillows and blankets. I slept like a baby there, honestly. And dad did, too. For some reason I always remember the feeling I get on a comfy bed in each hotel I stay at. This simple fact makes some hotels stand out among others. Just because I could get a really nice sleep there.
3 free bottles of water per person per day in our room
night room set up – they made our beds, gave us chocolate on the first evening, and closed the window curtain for the night
complimentary welcome fruit plate and a plate with chocolate snacks after check in. It was SO yummy!
we could use Sheraton Club room benefits – the Sheraton club is located on the top 38th floor and includes complimentary 2 pieces of standard laundry per room per night, complimentary local calls (except mobile phones), wifi and broadband internet, complimentary shoe service. You can also enjoy club breakfast, beverages during all day, afternoon tea, evening cocktails and some snacks. There's computers with internet to use and other services, such as personalized check in and check out or even money exchange. I always enjoy hotel club lounges as I can grab a snack or a cup of tea and get some work done there when I am traveling alone. Each afternoon we would find some time to stay at the Sheraton Club with dad. For dad, it was his first time at a club like that which made him feel "important." They served a very tasty guacamole during the club cocktail hours.
complimentary buffet breakfast – you can choose where to have breakfast if at the Sheraton Club on the 38th floor or Essence (the main restaurant on the 1st floor). Essence offers a huge variety of different cuisines, such as Malaysian, Indian, Chinese and Western/European. At least that's how I designated the different meals. Ham, cheese, eggs, bread, pastries, pancakes, fresh veggies etc. make a European breakfast to me. Then different soups and noodles maybe Chinese/Asian, curry and dal Indian, and then traditional Malaysian meals which names I cannot remember as they usually come with meat (I am vegan and don't eat them). Personally I enjoyed a cook making fresh juices (of apples, carrots etc.) and a big fruit station where I could also get my favorite watermelon and papaya. They also have a very good veggie dal for breakfast with roti. If you are gluten-free, I found gluten-free bread (haven't tried it though as I've got used to be 99% without any bread so didn't want to spoil it). Unfortunately, we didn't have time to check the Sheraton Club breakfast but I'm sure you wouldn't get that many buffet choices up there.
Essence restaurant buffet dinner – amazing sweets, cakes and pastries, so many different varieties! Also a chocolate fountain, fruit, gluten-free soya desserts, and again main meals from different parts of the world, similar to those I mentioned about Essence breakfast.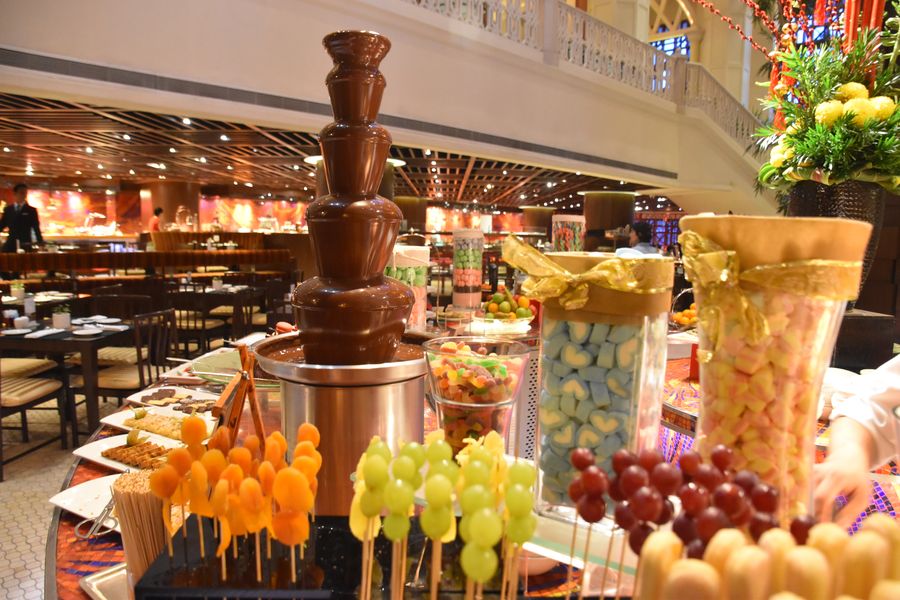 many meeting rooms and ball rooms for different occasions, such as wedding, events, company meetings, conferences etc.
award winning Mandara spa – this Balinese spa on the 5th floor is really a hidden piece of heaven. I enjoyed a 50-minute relaxing Balinese massage there on our second day. It was very funny to enter the spa and hear that Amy, the spa manager, was watching my health videos and following my Facebook fanpage. She was super nice and then even took some photos of me having the massage. I was offered a cup of ginger tea before the massage and could pick out of 4 oils the one I liked the most. Then my spa therapist Stacy asked to changed into panties and a sarong, lie down on the massage bed and then simply forget about the world around me. Stacy was super professional, very smooth with her movements and always covering every part of me that was not massaged at that moment. I even fall asleep to the relaxing Balinese music in the background. Could easily get a 2-hour massage like this one. After a lot of walking and not enough sleep on the previous days, the soft relaxing massage was all I needed. Afterwards, I was offered a cup of ginger tea again.
swimming pool on the 5th floor with the views of the KL Tower. There are free pool towels and free wifi. I appreciated the very quiet pool. To be honest, I wrote most of this article on a sunbed underneath a pagoda by the pool. As I didn't feel like swimming due to the wind and clouds, I worked on this article instead. It was after the relaxing massage so I felt full of energy and wanted to use it wisely.
very well-equipped fitness room – just next to the Mandara spa on the 5th floor you can find the fitness room with many different exercise machines, also water bottles, exercise balls, yoga mats, green apples for snacking and even headphones to use if you want to listen to your music.
award winning Italian restaurant Villa Danieli  situated on the 5th floor by the swimming pool. We had our first dinner there and the chef made special vegan mushroom soup and mushroom risotto for us. So yummy! I can always guess just from the risotto if they can cook well as it is not so easy to make a delicious risotto which is not too dry. Aw, and the colorfully painted restaurant ceiling looked so stunning! I spent the whole dinner looking up to the ceiling. If only there was no mosquito annoying me underneath the table, I'd enjoyed even more :D
Celestial Court with authentic Cantonese cuisine – it's the restaurant situated on the 3rd floor where we had dinner on our last night. As we were still super full from guacamole at the Sheraton Club, we only ordered a vegetable mushroom soup and shared a dish of veggie noodles. What a nice dinner!
Toastina Cafe and Bar with some quick snacks to grab during the day – it's also located on the ground floor in the back of the hotel behind the lifts just next to the office entrance. Sheraton building is also home to many offices but their staff enters through a side door. Just next to it, you can find Toastina, too.
safe for guests – you need to insert a hotel card in the lift to be taken to the room floors
medical centre on the ground floor – in case of any emergencies, guests could visit the doctor right there
on the ground floor in the back of the hotel you can find a little grocery shop to buy the most necessary things
I was not happy with just one thing – public wifi. Guestroom wifi did not get to some of the restaurants and swimming pool so we needed to use Sheraton public wifi. The problem is you need to ask for a new code every single day. It might be good for security reasons, and also help wifi to be faster with less people on it, but then being online sometimes after midnight was a challenge. But to be fair, wifi worked very well all the time when we managed to go online.
Overall, our experience at the Sheraton Imperial Kuala Lumpur was very pleasant. I will have great memories from breakfast and desserts at Essence restaurant, relaxing massage, Sheraton club and guacamole, and of course our views of the KL Tower and other skyscrapers from our Club room on the 37th floor. Sheraton, thank you for having surprised us in a good way.