My 16 favorite things to do in Kuala Lumpur
Many people will tell you there is not much to do in Kuala Lumpur but it depends on your perspective and for me KL is still a must see. I spent there 3 days in November 2011 and it's no secret it was one of my dreams to see the Twin Towers.
Kuala Lumpur was one of my dream cities, so I had to do it. As usual, I walked it all through so if I did it, you also can and thus save money on the transportation. I put up a list of things to do in Kuala Lumpur.
Kuala Lumpur things to do
1. Petronas Twin Towers – a must both during the day and at night. The towers are visible from most of the city. Between the 41st and 42nd floor there is the Skybridge through which you should take a tour. It is necessary to queue up to get a free ticket (1,000 tickets per day) early morning. Unfortunately, the skybridge was under the reconstruction when I visited KL 🙁
2. KLCC Park – You have to take a stroll around the KLCC park that is just behind the Towers. It is such a cool place with one of the best views. It can get a bit crowded though during holidays or Sundays as most of the families and young couples come here. It still has its charm.
3. Shopping – there are plenty of shopping malls in KL. One of the most interesting is the Berjaya Times Square with a Theme park inside. It just shows us that all the life in KL happens in a shopping mall. The Pavilion shopping centre is another famous mall in KL mostly because of its Pavilion Crystal Fountain which is the tallest Liuli Crystal Fountain in Malaysia. The three bowls of Hibiscus represent three cultures living in Malaysia in peace (Malay, Chinese and Indian).
4. Kuala Lumpur Tower – being the tallest tower in Southeast Asia, it's possibly the best place to get the best view of the city.
5. Bukit Bintang – very popular Bintang Walk is the shopping area full of cafes, bars,  restaurants and street food. Good for shopping during the day and then for nightlife after. Head off to Chulan square for a waste choice of different restaurants.
6.Chinatown – for all the lovers of street markets, cheap goods, fresh fruit and cheap hostels.
7. Central Market – a huge building with a lot of souvenirs shops for those who are not fans of street markets. It is more posh but worth a visit.
8. Little India – with Jalan Masjid India in its heart has as usual the best spicy smell ever. Full of textile shops and Indian snacks similar to other Littles Indias in any big city.
9. Masjid Jamek – Jamek Mosque is one of the oldest mosques in KL and also one of the must things to do in Kuala Lumpur. Its Moorish architecture was designed by Arthur Benison Hubback above the confluence of Gombak and Klang rivers. It was built on the first Malay burial place in Kuala Lumpur.
10. Sultan Abdul Saman Building – in front of Merdeka Square. This impressive Moghul building was esigned by A.C. Norman and built by the British in 1897. It housed Selangor State Secretariat, then the Supreme Court, and it was abandoned for several years now it is the seat of Ministry of Heritage, Culture and Arts.
11. Merdeka Square – originally a cricket green known as Padang, since 1957 called Dataran Merdeka or Independance Square. The Malayan flag was raised here for the first time on August 31, 1957 and since then National day Parade is held in there. The flagpole, the main spot of the square, is with its 95 metres one of the tallest in the world. Merdeka Square is one of my favorite spots of KL, I loved the Sanitary Board fountains there.
12. St. Mary's Anglican Cathedral – designed in a Gothic style is a bit hidden behind the fountains of Merdeka Square that one would never guess the building is a church. (a tip – there are free toilets inside so if you are at Merdeka Square and have to take a pee, go inside the church)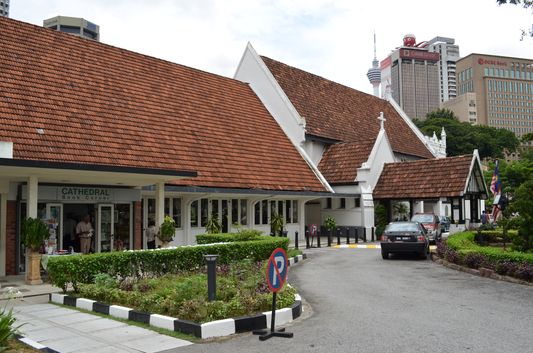 13. National Mosque – just remember to keep your body covered when you visit.
14. Perdana Botanical Garden – sometimes simply called as Lake Gardens – probably the most peaceful plart of Kuala Lumpur. If you want to relax from hustle and bustle of the big city, take a walk or run in the park. Don't forget to visit the Perdana lake. If some peace and quiet surrounded by lovely green nature is not what you are looking for, Lake Gardens are home of Deer Park, Orchid Garden and National Monument.
15. KL Bird Park – situated at the entrance to Perdana Botanical Gardens of KL, is the world's largest free-flight walk0in aviary. It was opened in 1991 and if you are a bird lover, then this is the right place for you. It is not just flamingos showing off their red colour in the pond, or parrots flying above your head, but the park offers bird shows as well at 12.30 pm and 3.30 pm every day.
16. Butterfly Park – close to Lake Gardens, an imitation of tropical rainforest with more than 15,000 plants, ponds and 120 species of butterflies. On the way out there is an insect museum which you should not miss.
*What do you think? Would you do any of these things to do in Kuala Lumpur? Or have you done some already? Share in the comments below 🙂