Where to stay in Nusa Dua – luxury villas Samabe Bali
There's only a handful of destinations where I had tears of happiness in my eyes when I first visited… I can definitely mention the magical Teotihuacan pyramids in Mexico, stunning Boracay beach or entering my private luxury villa at Samabe in Bali.
It was a couple of days after I finished my Raw vegan detox training in Ubud in November 2015 when I decided to treat myself for my birthday with some alone luxury time. And what could be a better place than one of the most luxurious accommodation I've ever stayed at on the road?
I was picked up at the Grand Mirage hotel where I spent a few days and then taken to Samabe Resort on the Nusa Dua beach. After a quick check in with a healthy drink, my butler on a golf cart drove me to my luxury villa number 36 and showed me around the villa.
Just to make you jealous, I had a huge stylish Balinese decorated villa just to myself: a swimming pool with 2 sunbeds and a sunshade, a terrace with a table and chairs, a living room with sofas and a reading sofa, a bathroom, 2 showers, toilet, wardrobe hall, a bedroom with double bed, another relaxing sofa and a work table.
Oh yes, I had so much space in the villa! Shame none of my friends could join me in the end but then I hadn't spent almost any time on my own for a couple of weeks before Samabe so I needed it recharge my batteries.
Check out the video from my Samabe luxury villa:
What I loved about luxury villas Samabe Bali:
welcome note with fruit and my name written on a leaf. I love these details that add a personal touch to my hotel stay 🙂
I received a really sweet gift – a female and a male hat, sandals, a hand fan and a beach bag (right now I am at home in Slovakia when writing this article and the gifts are by my feet)
free wifi around the resort
I had the Unlimited Privileges Package with all inclusive meals and drinks (the other one is limited with breakfast only)
golf carts to take you around if you ask for one but I preferred walking to stay fit
you get a map of the property to know where the villas, restaurants and other buildings are located
At Samabe Luxury Resort they want to conserve water and chemical waste asking the clients to reuse the towels. I am trying to be as eco-friendly as possible and thus always use the same towels for a couple of days even when I see no signs of it at hotels. But here at Samabe I did notice the eco sign.
a TV in the bathroom, bedroom and living room – yes, I had 3 TVs but had no time to watch them.
I enjoyed travel blogging from a super cool bathtub in my bathroom. One evening I poured hot water in, added bath salts that was part of my villa toiletries and scheduled photos on my Instagram.
outdoor shower came in handy before and after swimming in my private pool
yes, I had my private swimming pool where no one else could go but me – I finally enjoyed swimming and sunbathing naked without anyone staring.
really cute kimono bathrobes
if you like the Spa Factory Bali toiletries at the villas, you can buy them at the Timeless Boutique at the hotel
free morning yoga class on Monday to Saturday – it was really good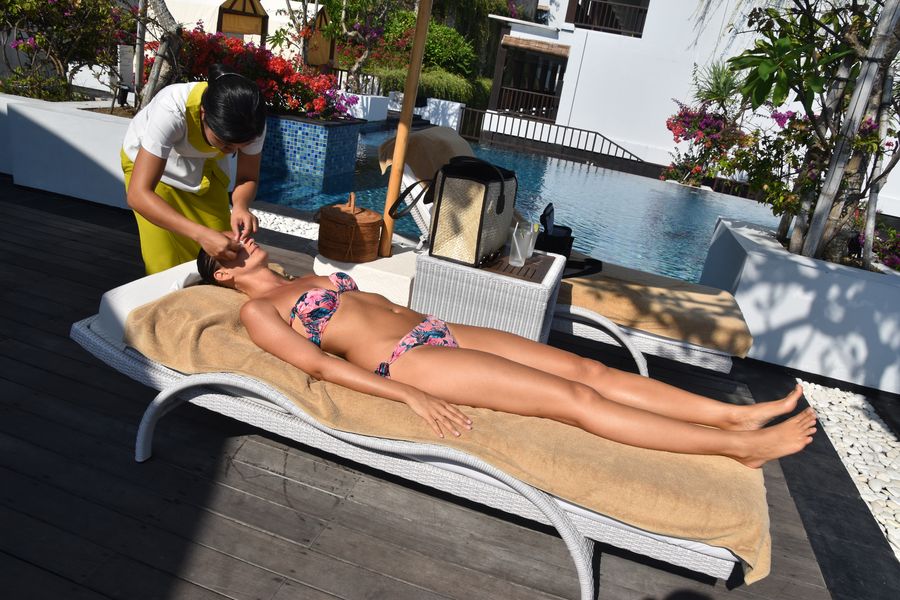 you can choose one activity per day from the Samabe Signature Activities (that was included in the Unlimited Package I had): I chose a 60-minute Balinese massage directly at my villa and Uluwatu temple sunset trip. I also went to the incredible 90-minute Devdan show in Nusa Dua which I can highly recommend. The show will make you learn more about the Indonesian culture in a super interesting way – with different styles of both traditional and modern dance from Bali, Sumatra, Java, Borneo and Papua. Devdan Show really took my breath away! It's not allowed to take photos/videos during the show so can't really show you how stunning it was so at least check out the last minute when the dancers were saying bye 🙂
laundry service – after spending a month in Thailand and another one in Bali, I finally could get proper laundry instead of washing the clothes by hands on my own. My clothes were given back to me on the following day all packed and folded nicely.
coffee and tea maker in the villa
thumbs up for free potable water bottles in the villa as in that heat it's necessary to drink a lot
insect repellent in my wardrobe was very useful in that hot and humid weather
you have a 24-hour personal butler. I could just call the reception, say what food/drinks/anything else I wished for and it was delivered soon to me. Let me tell you I asked for so much young coconut water they had a laugh at me! You can even ask your butler to set up certain aroma in your room/villa (ask for aroma therapy).
live music – one of the nights at Rempah-Rempah restaurant I was there I could listen to live music at dinner and the band played known Spanish songs for me
fully-equipped gym and table tennis
close to the private white-sand Nusa Dua beach. The beach was just a few minute walk away from my villa through the rest of the resort and then down the staircase.
a public swimming pool for all the hotel clients. The pool has a nice view of the sea, it is surrounded by beautiful green plants with red and violet flowers and you can order some drinks or food from the Ring of Fire pool bar just there. No need to go further.
spa – I only entered the spa to have a look but didn't get any treatment there as I had a massage right in the comfort of my villa living room I mentioned above.
huge semi-buffet breakfast at the main Rempah-Rempah restaurant full of fresh fruit, juices, cakes, cereals, salty meals, Indonesian, Thai, Janapese, Western meals, and even special organic breakfast. You can even order a hot meal, too. I am glad I went to the restaurant to get breakfast just one morning as I literally spent there like 2 hours tasting many dishes and then regretted it for the rest of the day as I couldn't enjoy my swim and yoga that well. On the other mornings I just asked my butler to get me some fresh exotic fruit and young coconut water to enjoy by my pool.
one afternoon a spa therapist gave me free cucumbers on eyes and a quick head massage by the pool. It's one of the free activities included in your stay.
Rempah-Rempah restaurant offers also some Asian and Mediterranean vegetarian/vegan meals which is why I preferred to have proper dinner there instead of just ordering something less healthy delireved to my villa. I so enjoyed the fine dining at the Rempah-Rempah being treated like a Princess with coconuts, live making of guacamole in front of my eyes, memorable mushroom soup, and also tasting traditional Indonesian salty meals and desserts.
shop with wooden Balinese gifts made by a local man right there outside of the shop
unique top Crystal Blue restaurant with a view of the pool and Ocean and a fish pond around the tables. The restaurant focuses on European cuisine and seafood.
interesting statues on the way down to the beach and around the villas
possibility of a candle-lit romantic dinner on the beach in a half cave
went for a walk along the beach to watch the beautiful sunset
free umbrellas in the villas to use around the hotel
there's monkeys around, mostly in the morning so just watch our for your things left outside of the villas and lock the villa doors. I don't mind monkeys, I actually do enjoy looking at them from further because it brings me more to nature.
as I said, Samabe Bali was one of the coolest places I've ever stayed at. It's not just great for solo travelers who love to get pampered, but also for couples and honeymoons. Even wedding ceremonies can be arranged here in a really nice place overlooking the Ocean.
If you want to know more about my holidays in Bali, read another post where I summed it up.
I took so many photos at luxury villas Samabe that I couldn't include them all in this post. But you can check out my Samabe album for more 🙂
My stay at Samabe Bali was a press trip as part of Adventure and Spa project. For more information, please visit Samabe website.