Ayurveda and Yoga One World Retreats Bali – day 6 and 7
Day 6
Yoga
We enjoyed the
Brahmani Pranayama breathing
(you close your ears with palms, index fingers or thumbs and do OM or hmmm sound to listen to the vibration of your brain. Imagine bees in your head to feel the space element there). Then we did
udzaji
, then the lion breath for a couple of times.
We focused on relaxing the neck, shoulders, wrists, belly, ankles, toes, joints.
Then lying on my back first right leg up with breath in, then leg down when breathing out.
Then the same with the left leg. Then right arm up with breath in and down up above my head, then stretch more up. Breath in up and breath out down back next to the body. The same with the left arm. Then both arms together.
We finished the yoga class with meditation repeating SA SAY SO HUNG (if I got it right) mantra touching the thumb and index for sa, then middle for say, ring finger for so and pinkie for hung for a few times. Then you keep touching the pinkie and thumb closing your eyes. We chanted OM Shanti Shanti Shanti OM. Shanti means peace.
Breakfast
I started off with juice made of asparagus, celery, carrots, lemon and coconut water. Then I tried fruit, semolina porridge (a coarse grind of high-protein durum wheat) with cooked orange-peel banana with strawberries and bananas, and tomatoes and avocado. Perfect breakfast for me, so far my favorite one.
After breakfast I relaxed for half an hour by the pool but it was cloudy so replied to some work messages and emails. Needed a cold shower to wake me up as was feeling a bit slow and tired
.
Ayurveda cooking class
 One word – awesome! Dr. Aparna taught us the healing benefits and use of some Ayurvedic spices and plants and showed us
 how to make simple Ayurvedic meals. It was fun to watch her and the meals turned out delicious!
Water temple Gunung Kawi Sebatu Tegallalang
In the afternoon we were taken by cars to the water temple Gunung Kawi Sebatu Tegallalang to finish out retreat week with healing ceremony. It was not the same water temple I visited 2 weeks ago at the
end of Pure Raw retreat
. This temple is less visited by tourists than the Tirta Empul, it's not so main stream, but more quiet instead. We just met a few locals there which made the whole experience more natural and less stressful. 
We changed into swimsuit wrapped with a white blanket to pray and then to step into the water. Each water jet serves for something else and you can walk from one to the other washing your face/head/hands while praying for something/making a positive wish.
"My prayer – mantra was: I am healthy, happy, calm and wealthy and have a perfect partner."
The interesting thing? I got an incense stick with 2 ends like the only person out there. What is it supposed to mean? Any signs out there? 🙂
Then we could change into dry clothes, and we sat down on the floor with the stick and flower offerings letting the local priest clean the energy around us.
At the end we got Balinese bracelets made of red (Brahma), black (Vishnu) and white colour (Shiva) representing these three most important Balinese Gods.
I have to admit I am not a religious person but I so admire all the spiritual practices! I can really feel they change me heaps and visiting this water temple was not any exception. I left like a brand new person and been using the same prayer mantra in my morning meditations ever since.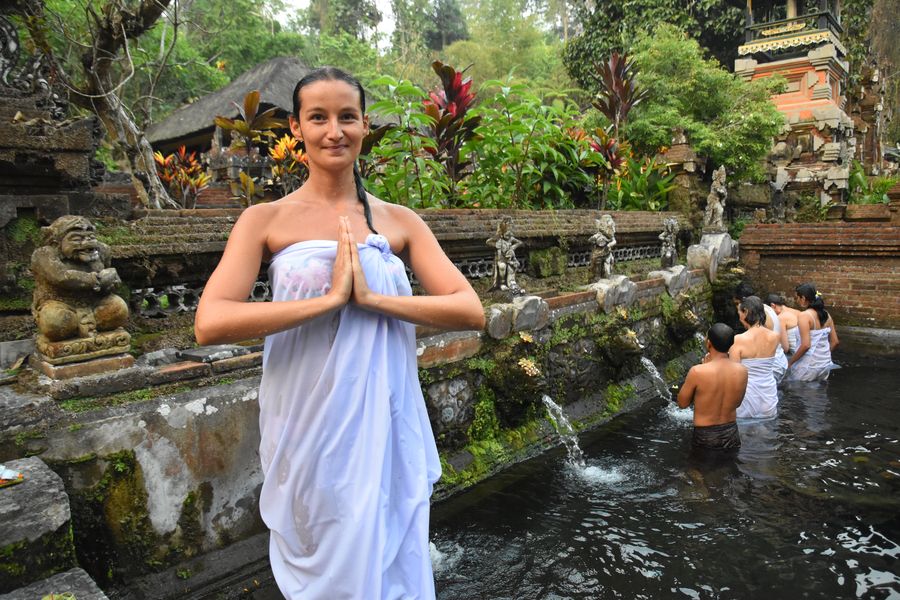 After the water temple we rushed back to the hotel to enjoy cocktails and vegan sushi rolls at the Prince house and dinner with vegetable pesto pasta (or fish thah others could opt for) and raw chocolate cake.
We were asked to write on our paper the things we want to let go of to prepare it for the morning closing ceremony.
We finished the dinner at 10 pm and then I spent some time on my laptop doing the necessary things until midnight.
Day 7
Yoga
Was both slow and fast, really cool. I did have fun even though I didn't have much energy.
Yoga was followed with a fresh smoothie and a cup of herbal tea and then a super interesting ceremony to let go of what we don't need. First, we leaned how to make Balinese flower offerings at the yoga hall, then each one of us sat by the little fire and let Wayan burn the paper with the things we want to get rid of. Then we took flowers and walked down to the river throwing the petals to the water during a prayer. It was so powerful I was left with tears in my eyes thinking of all the negative things that happened in my life and I really, really wanted to forget about them at last.
Putting offerings to the temple and circle of gratitude were memorable.
We officially finished our Ayurveda and Yoga One World Retreats with a huge brunch and then I went to town to meet up with friends and buy some things and once back, I packed.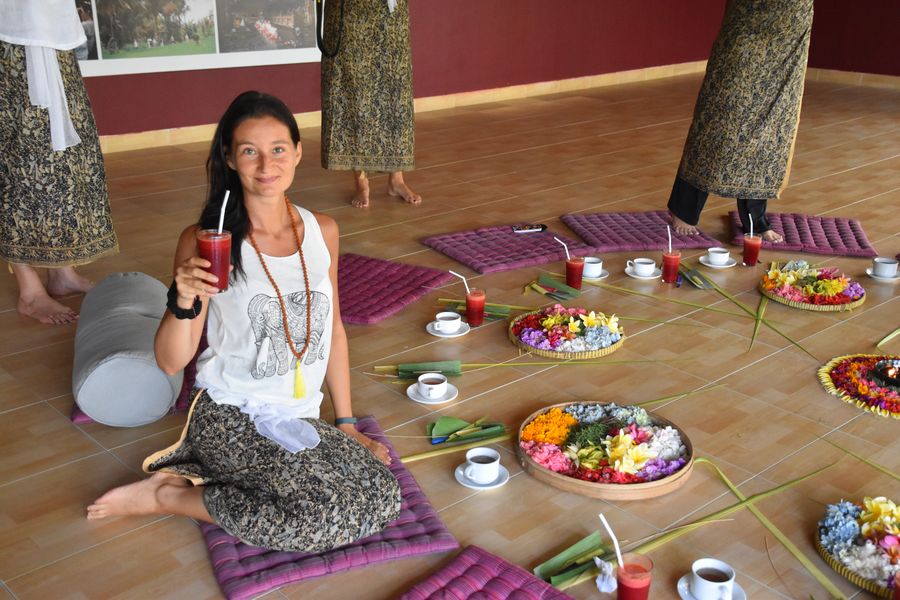 I am eternally grateful for being able to participate at one of the One World Retreats at Kumara resort, the first one about Ayurveda. Everyone there was super nice and I had an incredible time. You can also check their new resort outside of Ubud and new website Oneworldayurveda.