10 reasons why Thermalpark Sirava Wellness is my favorite wellness in Eastern Slovakia
I was born in the very East of Slovakia, just a few kilometres from the Ukrainian border. Most of my family still lives there in my home town Snina and despite of all the travels, I still call Snina my home. I am so used to go to wellness and get massages when traveling, that I need to do it when at home, too. In 2014 a new wellness center was opened in Zemplinska Sirava dam located approx. 1 hour by car from Snina. I fell in love with the Thermalpark Sirava Wellness already the first time I visited it with my family. I've been there with a few friends as well, but usually we go there for a whole day with my mum and her partner. All three of us love the saunas there.
First thing I noticed was the pentagonal shape of the Thermalpark Sirava building. Very creative and so uncommon in Slovakia. 
10 reasons why Thermalpark Sirava wellness is my very favorite wellness in Eastern Slovakia
1. Healing thermal water
The place is called Thermalpark for using healing thermal water in their pools. The water is supposed to help with skin and joint problems. So you can swim or just relax in the pools and enjoy the water benefits. How awesome is that? The Water world has 4 indoor swimming pools: massage, wave and swimming, kids pool and relaxing pool. There's also 3 outdoor pools, 2 of them are with hot water and 1 with a bit colder water good for swimming. 
And if you want some fun, there's also slides 😀
2. Saunas
If you walk upstairs above the pools, you will find Wellness world. Even when the pools are busy with kids, wellness is adult only. I know I will always be able to switch off my mind there, no matter what. There's 4 saunas: bio (dry sauna with herbs), dry Finnish sauna, infrared sauna and steam sauna. You need to wear a sheet to enter all the saunas, except the steam sauna, where it has to be naked because of 100% humidity. All the 4 saunas are spacious and beautifully designed. There's different showers, ice and even a pool with cold water to cool down after the sauna.
My very favorite Thermalpark Sirava sauna is the infrared which also has the best effect on human body as it releases many toxins out of your body, not just mostly water and minerals compared to other saunas. And the infrared sauna at the Thermalpark Sirava is the biggest I've ever seen. There's a sort of cute wooden chairs to sit on so you don't need to squeeze next to a sweaty stranger. Everyone has their own space. Thumbs up! 
Oh and there's also a jacuzzi but no swimsuit is allowed. All Thermalpark Sirava Wellness center is without swimsuits. There's changing rooms to change from bikini to sheets at the entrance to the Wellness.
I also appreciate free jars with water and lemon, and cups for sauna guests. Drinking water between the sauna sessions is extremely important.
3. Sauna rituals
Thermalpark Sirava Wellness offers a couple of sauna rituals during the day. I believe the first one is at 2 pm in the bio herbal sauna, then at 3.30 pm in the dry Finnish sauna and then again at 5.30 pm and 7.30 pm. There's a few more sauna ceremonies in the steam sauna that are charged extra, but those I mentioned before are part of the Wellness entrance fee. What's great about the rituals is the whole atmosphere. Even my mum who is not a fan of the Finnish sauna enjoys the ritual atmosphere and thus can stand the heat during the ritual. Otherwise she would not go to that sauna and would choose other saunas instead.
Each Finnish sauna ritual takes approx. 10 minutes, there's really cool music on, and a wellness staff member does different moves with a towel to send even more heat your way. Each ritual also has a certain essence (lavender, honey, cinnamon, cherry etc.) so it feels even more sensual. In the middle of the ritual everyone will get ice to cool down and then the staff continues with even stronger towel moves. Sometimes there's a girl, sometimes a guy doing the ritual. Once we were lucky and a guy with really nice body was doing the ritual so I could not stop staring. It even added to the whole already very luscious atmosphere 🙂 
Just so you understand, there's more people (other guests) during the ritual and anyone can leave if they don't feel ok. I usually sit in a lotus position with my hands in mudra and completely breathe in the atmophere. I always plan my whole wellness stay there based on the ritual times. Wouldn't like to miss a sauna ritual there.
*Because of other guests and heat damaging the camera, I don't have any photos from the sauna rituals.
4. Views
One of the things I love the most about Thermalpark Sirava is the views. Did I mention it's built by the Zemplinska Sirava dam, hence the name? You can observe the quiet dam from the outdoor pools, and even from the relaxing area in the Wellness. Once I finish my sauna session and take a shower, I lie down on a bed, cover myself with a blanket and stare out of the window observing birds, the dam and hills on the horizon. Huge windows in the Wellness relaxing area was a great idea! Aw, and there's really cool ball lamps changing colors when it starts to get dark. It feels even more romantic then!
TIP when in the Wellness relaxing zone: If you look closely, you can spot the Rock of Snina mount (called Sninsky kamen in Slovak) on the horizon. It's the most-known mount in the area situated in the Vihorlat mountains. Underneath the Rock of Snina lies a volcanic lake the Sea Eye (Morske oko). After reading this article, I recommend you to read my article about Morske oko lake surrounded by the UNESCO beech forests.
5. Massages
So you understand, the Thermalpark Sirava is divided into 3 parts: Water world with swimming pools (indoor, outdoor), Relax zone inside at the end of the changing rooms, and Wellness world on the second floor (saunas and a jacuzzi). There's different prices to enter these 3 areas. If you want a massage, you can get one in the Relax zone. They offer many different kinds of massages, from foot massage, back massage, signature massages, chocolate masage, peelings etc. I've tried a foot massage in the past and my last time there also the Albert's back massage.
Albert's back massage is a 50 minute signature massage consisting of 4 parts: heated wrap, then oil back massage, hot lava stone massage and neck massage. I was so happy during the whole massage! The masseur Kubo was very profesional and we even had a nice conversation. After a couple of days of sitting in front of my laptop, I really needed a massage to release the tension. As I often get strong Thai massages, I asked Kubo to use a lot of pressure when massaging my back. Everything was more perfect. After this massage I am sure to get another massage on my next visit. There's not that many places where you can get a good massage in Eastern Slovakia but I can highly recommend Thermalpark Sirava.
6. Jacuzzi
Once you are already in the Relax zone after a massage, you can chill out there on a sunbed or in the jacuzzi overlooking the Sirava dam. It's even possible to rent the whole Relax zone if you'd like even more privacy. However, after a spa treatment, you should definitely jump into the jacuzzi as well. I bet it won't be crowded at all. You might even get as lucky as I did and relax in the jacuzzi on your own. There was no one but me and the masseurs in the Relax zone when I was there my last time at mid-day which meant jacuzzi alone. And there's even a dry sauna if you'd like to use it. If you are there with your partner, you can use the sauna just for the two of you…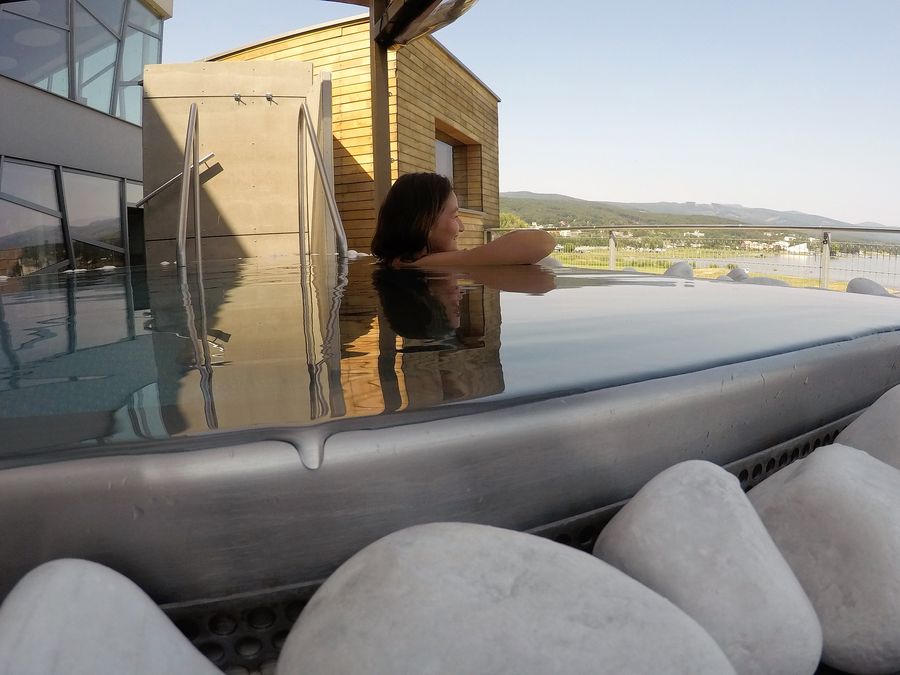 7. Outdoor pool with hot water
The 2 outdoor pools with hot thermal water are open all year long, the colder water pool for swimming just in summer. In winter time I always go to the outdoor hot pool once we arrive to the Thermalpark. Always the outdoor hot pool with amazing view of the Sirava is the first thing I do after putting the bikini on and taking a shower. I go there first because my hair is still completely dry when we arrive. I wouldn't like to get sick with wet hair in cold weather. But you can also take a hat with you to protect your head.
It's so cool to sit in hot water while it's cold outside.
8. Outdoor sunbeds
If the weather allows, you can even sunbathe on the outdoor sunbeds in summer months. That's another added benefit, right? To be honest I usually don't visit the Thermalpark Sirava in summer as often as in winter and now it was the first time I could lie on a sunbed there. It was perfect to enjoy the Sun during the day, and then when it got colder and cloudy, go to sauna.
9. Indoor pools with water jets
The indoor relaxing pool has different water jets. You can stand or sit next to them and get a free massage. I always try to massage my neck, back and even belly and tighs when in the pool. Water massage does feel great. 
10. Indoor pool with waves
If sitting in a hot thermal water pool gets too boring, you can have some fun in the wave pool. Usually it's mostly kids and men there jumping in the waves. So much fun to look at them even if you don't go to the pool yourself. When the waves are not on, you can swim in the pool.
Here you can find a video from my visit to Thermalpark Sirava Wellness. It's in Slovak language so if you don't understand it, just watch how it looks like in there 🙂
For more details, check out Thermalpark Sirava website. And for more information about the area, head to Kosice region website. Thermalpark Sirava Wellnes is located in the Kosice region in Eastern Slovakia. If you are into UNESCO site, there's quite a few of them not far from Thermapark. You can check them on Unesconadosah.