3 reasons to visit Levoca Slovakia
If you are from Slovakia, I am sure you've not only heard of Levoca, but most probably have been there, too. One of the Royal towns in the Spis region is quite known in my home country. The city centre is located inside the well preserved walls. However, the remaining walls are not the only reason to visit Levoca Slovakia. 
3 reasons to visit Levoca Slovakia
1. Architecture
The architecture of Levoca is so unique that since 2009 it's been on a UNESCO World Heritage List. If that does not say it all to you, then I can frankly tell you that Levoca city centre is a real jewel. I could walk around over and over just staring at the burgher houses and never get bored. The Master Paul's Square, the main square of the city, is a long rectangle shaped square with more than 60 burgher houses of different colors. Some have been restored, some not yet.
Each house looks special but some are even more special than others to me. My very favorite houses at the main square are Krupek's house (green house with wall paintings) and Thurso's house (cinnamon colored house with interesting roof).
2. History
Levoca town has quite an interesting history. Since the first written mention in 1249 a lot has happened. One of the negative things that influenced how the town looks like now was a major fire in 1550. That's why most of the houses we can see in the city centre date back to the 16th century as they were built after the fire. Very few modern changes have been made on the local houses from outside, which is one of the reasons why Levoca city centre is a UNESCO Site.
3 interesting things about history of Levoca:
In the Middle Ages all the houses in Levoca had arcades so people would not get wet in the rain while walking under the arcade covered passage. Many arcades have remained until the present time.
The whole Levoca town in the Middle Ages was located inside the town walls which were 2.5 km long in the 14th century.
Out of the original 15 bastions and towers, 6 were preserved.
Top historic buildings to visit in Levoca:
St. James's church
Town Hall
Burgher houses
Marian hill with neogothic Basilica of the Blessed Virgin Mary (Basilica Minor)
Cage of shame
Protestant church
Minorite Monastery with Black church 
Baroque church of the Holy Ghost
town walls and bastions
3. Pilgrimage
Levoca is a famous pilgrimage site. Over centuries many people have been visiting Levoca to walk to the Marian hill (Marianska hora in Slovak). You can walk there from the city centre, or even go by car just to visit the Basilica Minor which is always open for visitors for free. Be ready for thousands of pilgrims during the main pilgrimage which takes place the first weekend in July. The rest of the year is quite peaceful to walk there.
Did you know that the main pilgrimage used to be always on the 2nd July until the Communist era? The Communists did not like the fact that the 2nd July was sometimes on week days so since then it's always the first weekend in July.
Pilgrimage in Levoca is so popular that it was even visited by Pope John Paul II on the 3rd June 1995. It is said that 750 priests and around 650 thousand of pilgrims attended Pope's mass on that day.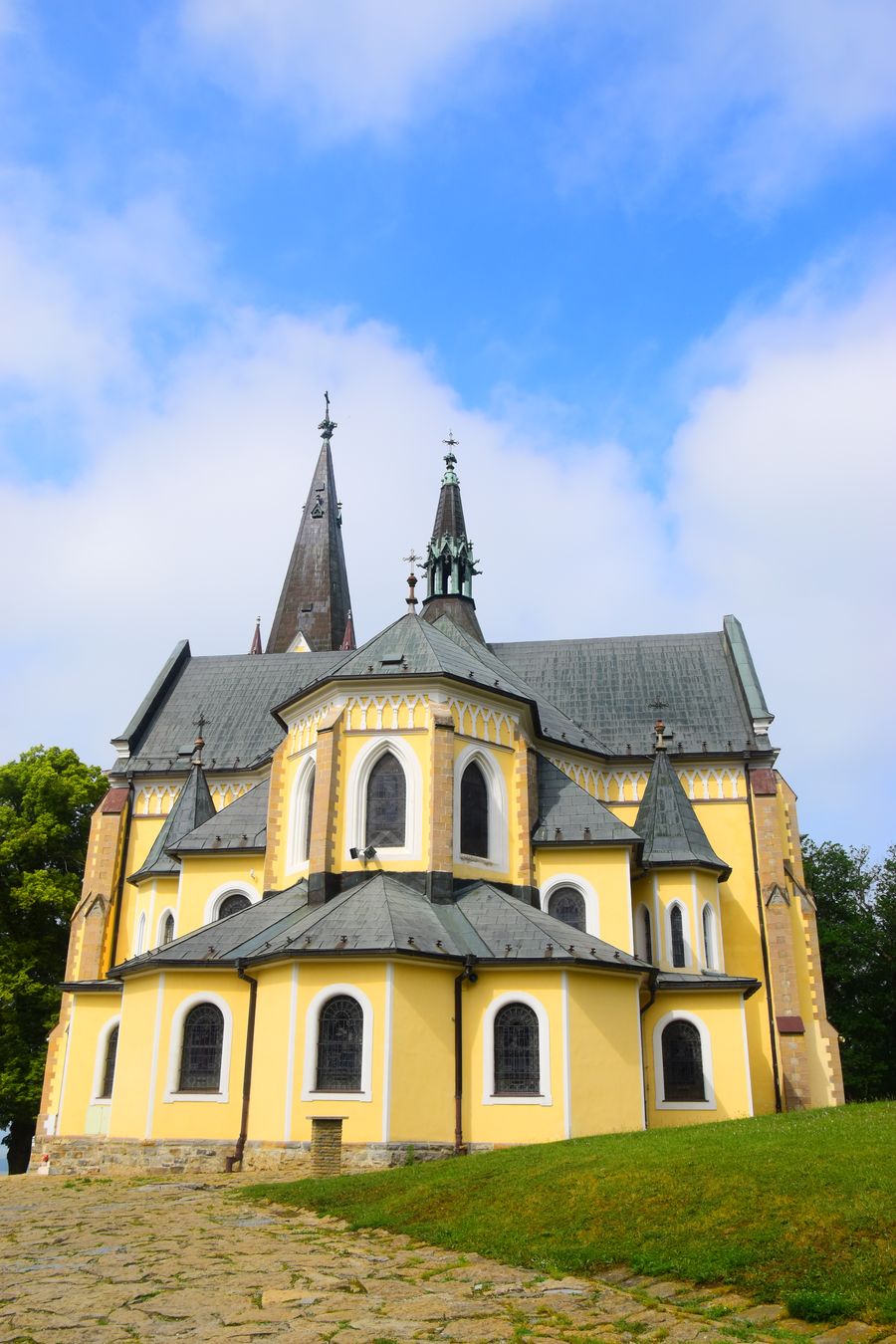 ---
---
TIP: Here's my article about top 10 things to do in Levoca if you decide to visit 😉
---
---
To learn more about this lovely city, visit Levoca official website. Did you know that Levoca belongs to Tatry Spis Pieniny region in Eastern Slovakia? If you are visiting Levoca, I recommend you to visit something close-by as well. Check out website Tatry Spis Pieniny for more information about the area.
***Huge thanks for this amazing trip goes to Levoca info centre, Tatry Spis Pieniny regional tourist info centre and Hotel U Leva. If you are looking for a good hotel to stay in Levoca, I can highly recommend Hotel U Leva located at the main square.