15 things to do in Bocas del Toro
For many tourists, Bocas del Toro islands in Panama are a must-stopover to enjoy never-ending parties, meet new friends from around the world and just have some fun you will have to tell your best friend about then. Despite the fact that Bocas del Toro are exotic islands on the Caribbean coast of Panama, it is easier to get there than one might think. Buses and a boat, or private vans and a boat are the best way.
Anyway, Bocas del Toro visit does not have to be JUST about crazy parties you won't remember half of later on.
I have been to Bocas already 3 times and spent more than a month there in total. Definitely worth my stay even though each time there it rained more than I would like to.
 15 things to do in Bocas del Toro:
1. Practice yoga. I have to be honest with you. Before 2012 I was never into yoga. I used to think it was boring and not enough of a workout. It all changed during my first visit to Bocas del Toro in May 2012. When searching for things to do in Bocas, I found Bocas Yoga, a purple studio. There, Laura Kay proved me wrong with at a kick-ass yoga class making me sweat like in a sauna. 2 yoga classes with her made me fall in love with yoga. Then I revisited Bocas two more times for a few weeks and have been practicing yoga ever since. I even teach yoga classes now in my home country Slovakia whenever I am there in between my trips around the world.
Unfortunately, my yoga teacher Laura moved out from Bocas del Toro to Playa Coronado but I am sure you will be able to find another great yoga teacher in Bocas del Toro.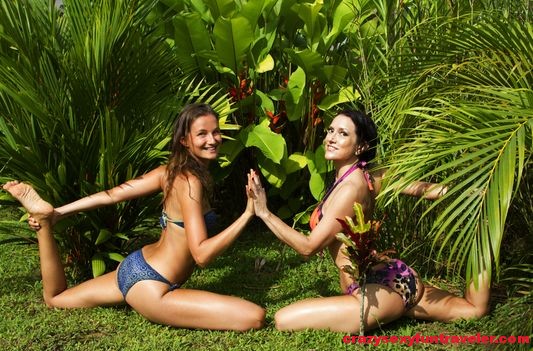 2. Dine out at restaurants. I don't usually recommend this as it's a lot of money but while in Bocas Town, it's a must! I have to be honest with you. I put on weight each time I went to Bocas. I would like to say I don't even how it it was possible but the truth is I know it all. There's many good restaurants in Bocas Town where I spent most of my time and I used to go out every night and eat more than usual while there as I didn't know when I was going to come back.
My favorite one is Bocas Blended which is an old blue Thomas School bus selling mostly wraps, salads, smoothies and coconut water. I could eat there all the time, no kidding! The only down to it is that the bus closes at 5 pm so it is not open for dinner. But they offer lunch menus that are worth all the money. And even my friend Pablo loved Bocas Blended! During the day, when the Sun wants to burn your skin, get a fruit smoothie at one of the many stalls in Bocas Town and a young coconut by the park.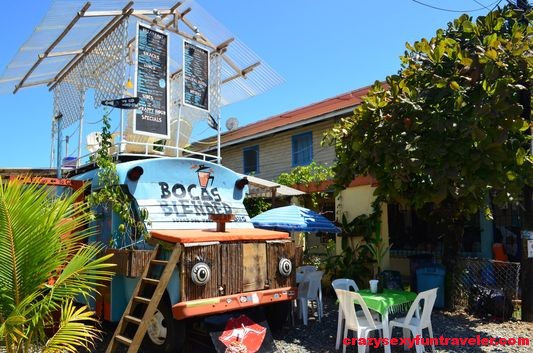 3. Scream at ziplining. Bastimentos Sky Zipline Canopy at Red Frog Beach on Bastimentos island is one of the best zipline tours I have personally been on. It's a very diverse adventure where you can not only zipline, but also do a small rappel down a tree or walk along suspension bridges or ropes hanging out between the trees. And don't forget to take your friends or even family on these hours filled with adventure!
4. Beaches, beaches and more beaches. I mean, no surprise huh? Bocas del Toro are tropical islands, after all! Starfish beach is definitely my very favorite beach located right on the main island Isla Colon. There is a local van that can take you there or you can rent bycicles (be prepared for some hills), or even a scooter like we did. It's worth to go there for the entire day, I believe.
Once you leave your bike at the parking lot/or get out of the bus at Boca del Drago, you need to walk or take a boat to the beach itself. They sell fresh coconuts and also some meals there on the beach. Just please, be kind to the starfish the beach was named after as every year their number diminishes quickly. Such a shame! So please do not take them out of water (I heard they die after just 3 seconds outside of the sea!!!) and mind your step when walking and swimming.
5. Taste local organic chocolate. Bocas islands are awesome for growing cacao trees so people start to realize that and build farms where they make usually hand-made organic chocolate without any chemicals. For such a chocolate freak like myself, Bocas is a paradise on Earth! You don't even want to know how much money I spent there just on chocolate and chocolate brownies that are sold almost at every restaurant in Bocas Town. You can find a variety of vegan chocolate bars (no dairy), chocolate nibs, raw cacao beans, raw chocolate with raw coconut sugar or many fruit flavors with exotic fruit added. Dorothy's Own Chocolate is definitely worth a try. Disclaimer: You might get addicted.
6. Bocas sailing. Take a sailing boat around the most impressive islands and watch playing dolphins on the way. I thought that because of the rain we would not be able to go on the trip but in the end the weather was nice to us and we spent a few hours on the Bocas Sailing trip. We not only saw dolphins in the Dolphin Bay but also snorkeled in the Mangrove Reef. What a fun way to spend a day exploring more of Bocas del Toro!
7. Get a holistic treatment at Danuta's Holistic Healing Center. Danuta, a super sweet Polish with a ot of positive vibes offers a variety of treatments, such as Reiki energy healing or Zen Shiatsu I also tried. After more than 20 years of practice, Danuta really knows very well how to send you energy and where to touch you. Plus, imagine such a relax with a sea view and little breeze!
8. Learn something new at workshops. Always whenever in Bocas, please check out different workshops and courses you could possibly do there. During my stay, I did a Brain Wave vibration workshop and also received my Reiki level I certificate after yet another course. Both were done by Lila from Coloreando Auras (she was visiting from Costa Rica) and took place at Danuta's Holistic Healing Center.
9. Learn surfing. Personally, I am scared of waves and since an incident in Mexico I won't even put a feet into the sea when the waves are higher than my knees. But, many people enjoy playing in the waves and would love to learn surfing. I heard that the Red Frog Beach on Bastimentos island or Bluff beach on Isla Colon are the best beaches to surf. There's even some surfing tournaments organized on the Red Frog Beach to watch the best ones!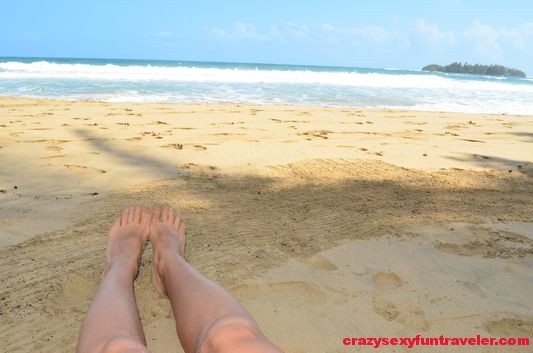 10. Walk barefoot. Bocas del Toro are definitely one of those places where you can easily walk barefoot when the pavements/roads are not extremely hot at mid-day and no one is going to send weird faces your way. There were days when I even forgot to carry my flip flops and had a laugh when I had to enter a restaurant to get dinner. Anyway, I did not care that much. Walking barefoot has many health benefits, such as reflexology massage, toning leg muscles, greater ballance and circulation, reduced inflammation and grounding, etc.
11. Walk around Old Bank. Old Bank is the main town on Bastimentos and definitely worth a visit. There's some known restaurants, Up the Hill chocolate and cosmetic farm and most of all you can have a glimpse of how the West Indians live here. If you get overwhelmed by drunk tourists on Isla Colon and wold like to see more of a local life, then this is the place to check out.
12. Watch the night sky from the pier. My last visit to Bocas was all about this. I met Rodney, a Black guy from local family living in NYC who was just visiting back home, and he decided to get daily 10,000 steps with me each day. We usually walked at night after dinner and finished it at the pier just out of the Bocas town on Isla Colon. It's a great place to lie down, look up and stare at the Moon and stars. We even saw loads of falling stars! I think I saw there more falling stars than anywhere else altogether.
13. Learn to scuba dive. Because of my ear problems I have never been able to scuba dive (the most I managed was snuba diving on St. Kitts island but already that was so painful to me!), hovewer it is definitely on my bucket list. I know many travelers come to Bocas del Toro and take diving lessons at La Buga which also has a little restaurant (some healthy meals and smoothies on the menu) and a bar La Buguita.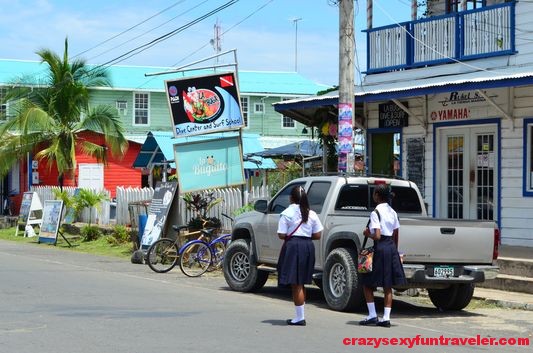 14. Buy natural Punta Coco products. I try to stay far away from cosmetics full of chemicals and each time I get a chance to get organic products, I am in. Punta Coco is a family company located on one of the Bocas islands and they make eco-friendly soaps, repellents, shampoos, conditioners and lotions. So go and get a pack of them! No parabens, no sulfates, I promise!
15. Buy souvenirs.
  Last, but not least, you just gotta get little reminders of your perfect stay, right? There's a bunch of souvenir shops all around the streets of Bocas Town selling different colorful clothes, towels, hats, or even hand-made molas souvenirs done by the indigenous Kuna Yala women from
San B
las islands
.
If you fall in love with Bocas and decide to stay for longer, some of other things to do in Bocas del Toro might be: checking out the Bat Caves on Isla Bastimentos, La Gruta Caves at Isla Colon (you need a headlight) go on a chocolate tour, eat at the Firefly restaurant on Bastimentos observing the stars (make sure you check out their opening hours and don't end up visiting like we did when they are closed), learn Spanish at Habla Ya language school.
PS: There's a new cool thing on Isla Colon in Bocas del Toro which I have not seen personally yet, but heard of it. It's called Plastic Bottle Village. There's a few different things built of plastic bottles that were found on and around the Isla Colon. You can even stay overnight at the Castillo (castle made of plastic bottles). There's a huge problem with plastic on the islands so this village was built to inspire the next generation in making more sustainable choices, as well as spread this building practice to areas that could use the inexpensive but practical buildings.