3 best things to do in Coron Philippines
After TBEX conference in Manila, the capital of Philippines, together with a group of other bloggers I was invited on a trip to check out the most important things to do in Coron Philippines. We took a direct flight to the Busuanga airport named after the island. Please don't get confused.
Coron town is situated on the Busuanga island, NOT on Coron island. Coron island is a different island where the famous Kayangan lake is located. Coron town is the main town on Busuanga island. 
When you say Coron, you can be refering to more islands in Northern Palawan in the Visayas area of the Philippines; or to Coron town only.
Our first part of the Coron trip was visiting Busuanga island.
Where to stay in Coron
The Funny Lion hotel in Busuanga island
I recommend the spa boutique hotel The Funny Lion located just a 30-minute drive from the Busuanga airport right outside of Coron town. I found the virgin mangroves surrounding the hotel very fascinating. I appreciated my king size bed in a modern room facing the swimming pool. Thumbs up for natural toiletries provided in the rooms as I am really trying to avoid chemicals as much as possible. Even after months, I can still remember the smell of the shampoo.
We had a really fancy lunch at the antique furniture decorated Hunt restaurant (the Funny Lion restaurant). It was there where for the first time ever I tried sea grapes – amazing little sea weed balls that pop in your mouth. So tasty! The chef also made me special noodles with mushrooms and my favorite truffles. Delicious!
All the hotel guests can also enjoy buffet breakfast at the restaurant.
Just wish we had more time to spend in the nice swimming pool during the day and then jacuzzi at night, but we hiked Mt. Tapyas first and then went on a snorkeling trip around Coron most famous attractions.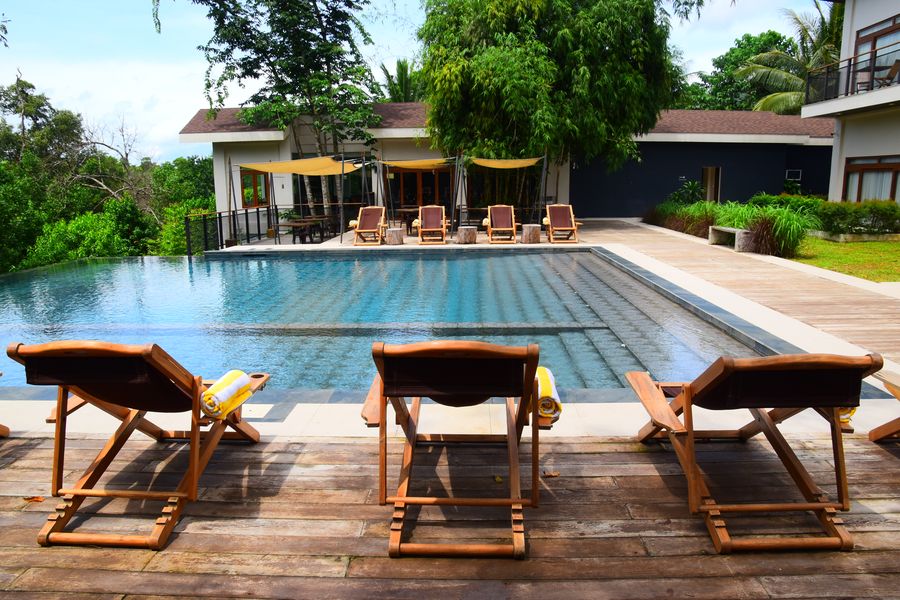 Club Paradise on Dimakya island
After landing at the Busuanga airport, you can take a car to the river where a 40-minute boat will take you to the Dimakya island. Club Paradise is a luxury resort located on the Dimakya island. You won't find anything else on the island, but the resort. How cool is that? After the Funny Lion, we also stayed there. 
They were very accommodating with my vegan meals at the Club Paradise, and buffet breakfast offers a wide variety of fresh meals. You can even get a spa treatment, also go snorkeling to the nearby islands, relax on the white sand beach, or watch fruit bats flying from here to the opposite island at sunset. If you need more information, I wrote an entire blog post about my stay at the Club Paradise. The staff at this hotel will make you feel like part of a big family.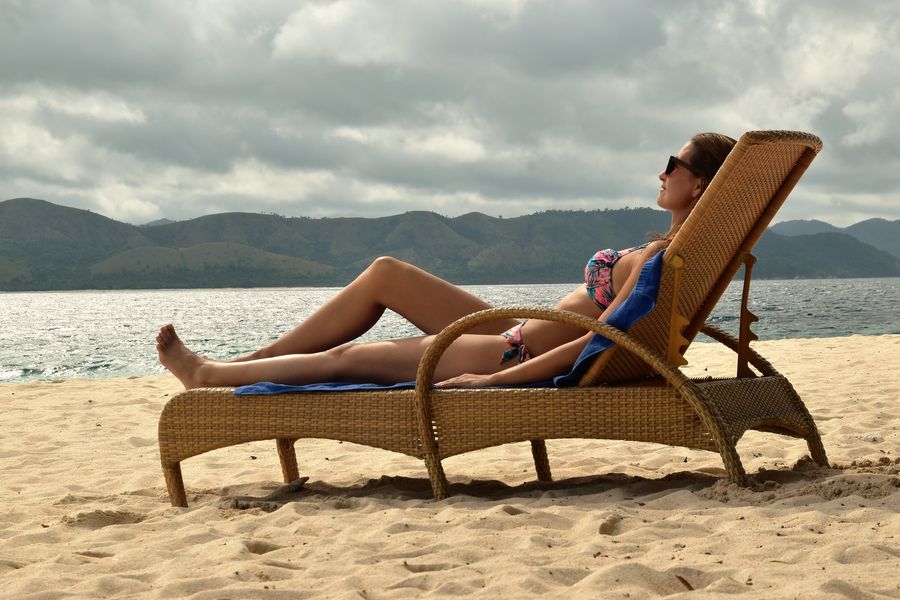 3 things to do in Coron Philippines
1. Climb Mt. Tapyas
Mt. Tapyas is a small mountain in Coron town on the Busuanga island located approx. 200 m above sea level. The beginning of the hike was just a 10-minute drive from the Funny Lion hotel. It's the mount with big white Hollywood-looking signs saying CORON with a tall white cross on top of it.
It takes more than 700 steps to get up. Everyne will tell you a different number from 720 to 750, but more times I heard 721 steps. I forgot to count). I recommend you to go or early in the morning or before sunset. We hiked it early in the afternoon which was not the best idea because of the strong heat on the way up. But at least we sweated out some toxins from excess filipino food.
"Tapyas" in local Filipino language means "slice" so the locals laugh that everyone does lose a slice of themseles after hiking to the top. Because yes, you will for sure in that heat and humidity.
But then the views from the top are so worth every drop of sweat. You can see Coron town, the port and surrounding islands. Jaw-dropping.
2. Chill in Maquinit hot springs 
After hiking back down from the Mt. Tapyas, our van took us to the Maquinit hot springs. We had to drive 5 km East of Coron town through bumpy roads. Maquinit hot springs are also situated on the Busuanga island.
You pay entrance per 1 hour, and then each hour is extra paid. The best is to visit at sunset or just after it once it's not that hot any more. That's is exactly what we did.
The spring water which is supposed to come from an underground volcano source has a pleasant temperature of 38 to 40 Celsius degrees. What makes the hot springs so unique? The pool is filled with slightly salty water, not fresh one because during high tide the sea waves cover the hot spring pool mixing the fresh underground water with the salty Ocean water.
I learned that group of local friends or families grab some snacks and come to the hot springs to chill. So we got inspired and brought banana bread and glass noodles (I had them just with vegetables, the others with meat, too).
Tip: You need to bring your towel and dry clothes. You can change in the toilets by the entrance.
3. Coron snorkeling
Coron in general is famous for snorkeling. Coron town is not a nice beach destination and I personally haven't seen any beach on the Busuanga island. But we took a boat in the Coron port and went on a full-day snorkeling trip to the surrounding islands. Oh my God, so stunning. I could sit in front of the boat all day watching the different limestone islands around me.
First, we snorkeled in the unique Twin lagoon = Coron Twin peaks where you can only get through a small cave in low tide. The water there is a mixture of salty and sweet, hence oily looking. Very beautiful place.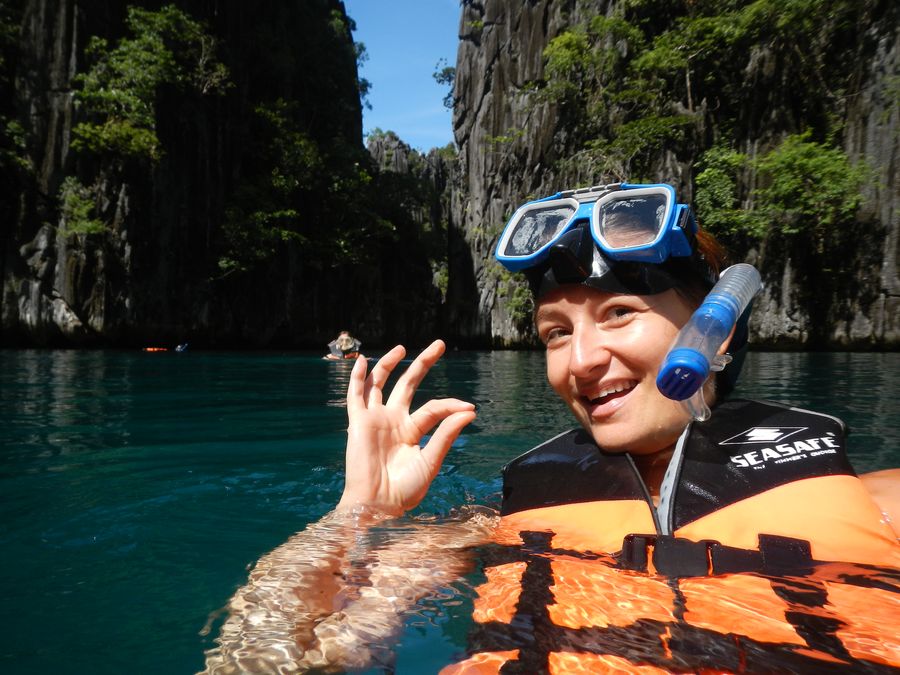 Here is my beautiful 4 minute video from Twin lagoon snorkeling:
Then we were taken to the Siete pecados = 7 sins corals to see more fish and corals. I was a bit afraid of snorkeling too close to the corals so I spent the whole half an hour there just observing a nemo fish I found. 
Afterwards, we had perfect lunch at a small beach. And then were taken to Coron island to hike up to the top of the well-known Kayangan lake. That's the view you can see on many Coron postcards. Then we slowly walked down to the lake. It was raining which made it a bit slippery but swimming in that clear lake in the rain was even more magical. Many small needle fish dwell in the lake. 
Huge thanks to Tourism Philippines for this amazing trip of a lifetime. I am so glad thanks to our trip I could write about things to do in Coron Philippines.