Unique wellness hotel Augustiniansky dum – my favorite hotel in Europe
There's very few hotels I will remember forever. Yes, I've stayed at hundreds of different hotels around the world but just some of them are memorable. Why? Many are nothing special, and in many I don't feel like I am someone. I just feel like one of many guests. But Augustiniansky dum is different. Since I first opened the main door and stepped inside, I knew I was going to fall in love with it. The main entrance hall smelled so nice that I can still remember it even now when writing the article. After spending 5 incredible days at the unique wellness hotel Augustiniansky dum, I decided to tell you more about it. Are you looking for a place to disconnect? Look no further :)
Augustiniansky dum (literal translation is Augustinian's house or Augustine's house) was built in 1904 in  neo-Renesaissance and neo-Gothic style inspired by British countryside houses. Originally, it was called Augustinian monastery of St. Thomas and was built for monks, the followers of St. Augustine. That is why St. Augustine is also pictured above the main hotel door.

 
Not only monks would stay at the monastery, but later on also famous writers and artists, such as Leos Janacek, a well-known Czech composer who stayed at the St. Thomas monastery more than 13 times. It is because of the building location in Luhacovice, a famous small spa town in Eastern Czech republic.
Then, after a few years in ruins, the monastery was renovated and open as Augustiniansky dum hotel only in 2010. It's a historic monument so all the renovation had to be done following certain rules. We can still see the original staircase with handrails. 
What I really liked at wellness hotel Augustiniansky dum
Small and very cozy. I felt like at home there.

Free wifi all around the hotel – great for digital nomads like me. Yes I know I should not work when staying at a hotel like this, but should relax instead. I did a bit of both.

Every guest is treated in a special way. So loved the personalized attitude! Augustiniansky dum has one of the best guest services I've ever experienced at a hotel.

Hotel is nicely decorated with natural materials, flowers, herbs and candles. They pay attention to details.

As the building was a monastery, it has its own Roman Catholic chapel which is open every day. You can go there and check it any time during the day, and even pray if you feel like it. There are also weddings organized at the chapel.

Apples, tea and infused water welcome guests at the reception. Such a simple detail makes such a big difference. I was so thirsty when I got to the hotel after almost 12 hours of traveling so being able to get a glass of water was a great idea.
Room
I had a tablet in my room. I do travel with my laptop but if I didn't, there was a tablet I could use to stay connected with the world. What an awesome idea!

It's a very quiet hotel. I could not hear any noise in my room. My room was on the top third floor and had the garden view. It felt so peaceful to open the window in the morning and listen to the birds chirping. 

Augustiniansky dum has the healthiest mini bar I've ever seen in a hotel room – they even had a raw vegan bar, nuts, sweet potato chips, organic coconut and cacao chips (very yummy), lip balm, and dried fruit in dark chocolate. Oh yes! Vegan feast in the room ?

Big mirror in my bedroom above bed.

Non-transparent windows in the bathroom. Another small detail, yet so appreciated. Nothing will be seen from outside so you can do whatever you want to in the bathroom.

Eco-friendly label in the bathrooms asking guests to reuse the towels to save water. 
Wellness
Wellness centre (pool and jacuzzi) is open from 7.30 am until 8 pm (week days) or 9 pm (weekend). Then saunas open before lunch time too. That's a great idea because many hotels open the wellness centre only at lunch time or in the late afternoon and when it's raining, you cannot use it and have to be stuck in your hotel room. So thumbs up for early wellness centre opening hours.
Free herbal tea made of herbs from the hotel garden, infused water and apples in wellness. Can you imagine that there are wellness centres where you have to pay for water?? I've been to some and to me, it's illogical, especially when potable water is free. But in many wellness centres they don't even give you a glass to get free potable water. That's not the case of Augustiniansky dum where you can choose from 2 different kinds of infused water (with fruit, herbs and veggies), herbal tea or just still tap water. 

There's also a minibar with snacks (3 of them are vegan) in wellness centre next to free drinks and apples.

I had a 50 minute full body massage (called St. Thomas relaxing massage).  I could choose from a few different natural oils to be used for the massage. I decided to go for grapeseed oil mixed with an essential oil. The massage was done by a Slovak masseuse. She was the nicest masseuse I've ever met in my life, I mean talking of her personality and soothing energy. She even told me where I had energy blocked in my body which I was 100% sure she was right because I could feel it, too. The massage released muscle pain and made me feel like flying :) 
I also had 110 minute Augustinian ritual. It consists of full body peeling which represents Earth element. Peeling of your choice is mixed with oil of your choice and then put on back, arms and legs. Then once you take a shower, you will get a dynamic massage (also legs, back and arms) with warm oil you chose before the ritual. I opted for a herbal oil to boost energy. Oil massage symbolizes fire element. Then for hydrating wrap I chose a paste made of green and white clay with essential oils and water. Water element is found in wrap part of the massage. And while the lotion was working its magic on my skin, the therapist gave me a soft head massage. I have to say the therapist was working a lot with energy, moving energy from his arms to my body. As I do many energy rituals myself too, I could really feel it. After 15 minutes, I could take another shower to get rid of what my skin did not absorb. I felt like a brand new person after the ritual and they also offered me a cup of lavender tea with lemon while relaxing on a water bed. 
Showers and cold water pool are behind wooden door so others cannot see you when you are cooling down naked after getting out of sauna. In most wellness centres everyone can see everyone else and sometimes it's not that pleasant ? In wellness hotel Augustiniansky dum I was super happy I could take a cold shower on my own behind the door without strangers staring at me. Oh yes, privacy!
There's paper cups for water and tea in wellness – not plastic ones. You can even write your name on a cup to reuse it during the day when going in and out of sauna. Really appreciate it as it saves so much plastic. Thumbs up!
My favorite sauna was herbal sauna with 45 to 50 Celsius degrees inside and many different herbs hanging out from the ceiling. Each time I stepped into the sauna, I could not stop smiling. That herbal smell made me feel good.
The relaxing room is so pretty and peaceful. You can grab one of many interesting books they have there and chill or on a water bed, or on a sunbed.

Czech and Polish organic cosmetics are used in spa – I appreciate they are using local cosmetics and not brought from somewhere really far. Local companies for the win!

Indoor swimming pool has massage jets you can turn on whenever you want to.

There's 3 bins in wellness to sort out rubbish (organic, paper and plastic). Big thumbs up again!
You can find ear sticks, hair cosmetics and cotton pads in the female changing room.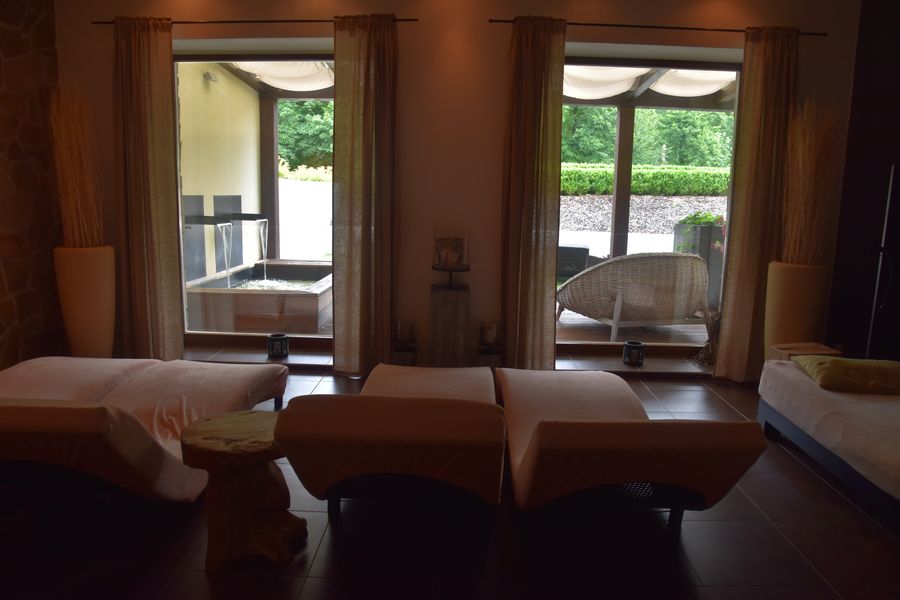 Cuisine
Really delicious high end cuisine – I was amazed since the first dinner.

They use mostly locally produced ingredients in the kitchen which I something I will always support.

Beautifully decorated restaurant Symfonie

Afternoon soup is served in the Lobby bar so you can have a simple lunch there. I only found time once to go there but they made an effort to make vegan soup for me.
They serve a 3-course dinner at the hotel restaurant Symfonie. Together with the 3 meals there's also a salad bar where you can get as many veggies as you want. I really enjoyed the concept as I like to eat raw veggie salads for dinner.
I got different vegan meals for dinner: for example raw vegan chocolate cake with sorbet and fruit, lentil hummus with peppers, saffron risotto with asparagus, couscous with tofu, veggie curry with rice, different kinds of vegan fruit sorbet, muesli bars with avocado and date paste. They were all finger-licking, yum!
Many different oils and dressings are part of dinner salad bar.

Huge breakfast buffet – there's so many healthy things there to choose from. I am not sure if I've ever seen chlorella,  young barley and matcha tea as part of  breakfast buffet until I stayed at Augustiniansky dum. They also have tofu, hummus, many cereals, fresh fruit and other healthy things. Heaven for healthy people like me! And also those who would like to do some detox while on holidays.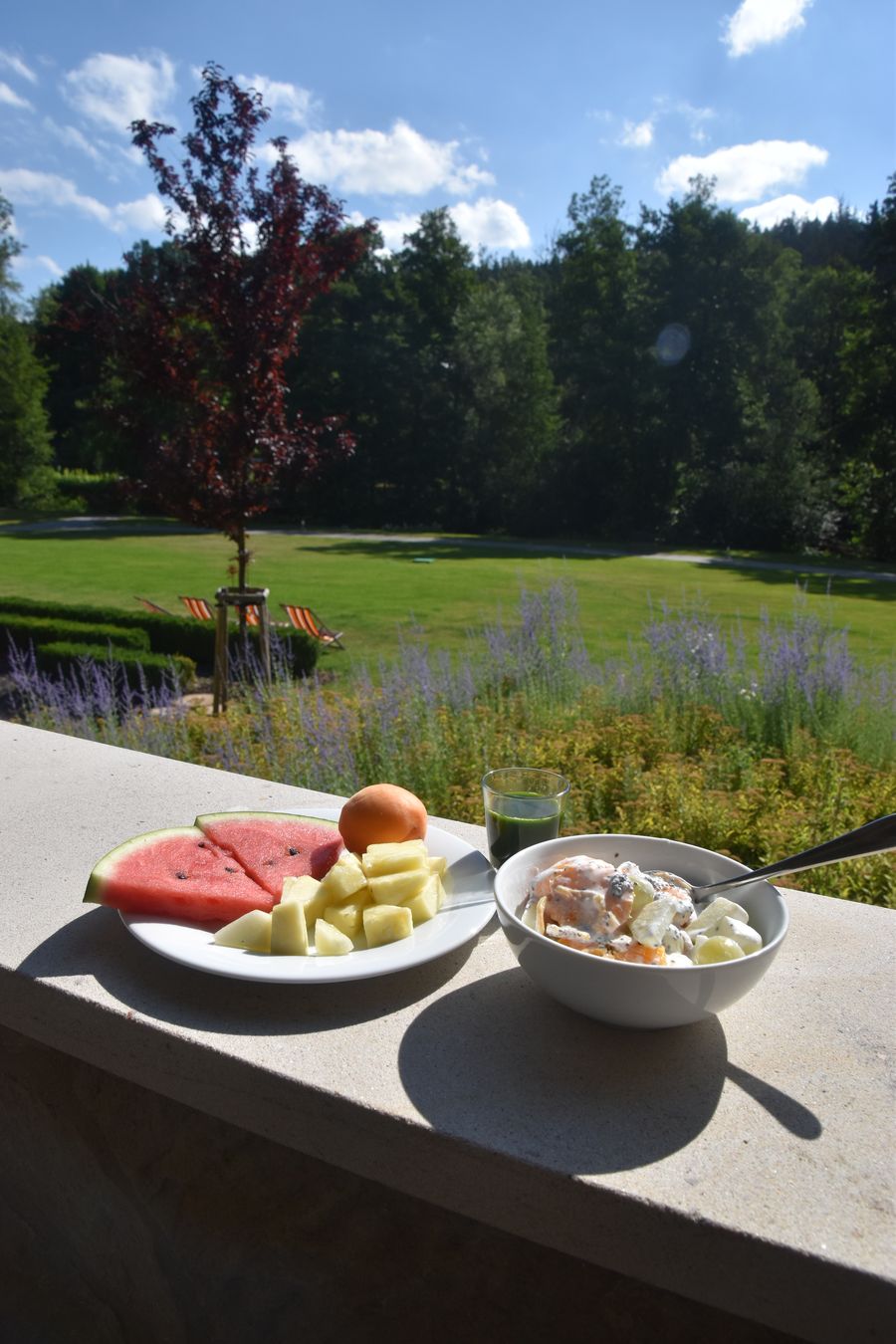 Garden
We can find a big garden behind the hotel. Loads of grass surrounded by trees is a perfect place of bliss where everyone will be able to switch off the mind.
Garden of 6 senses is the one of the most unique things I've ever seen at a hotel. You can stroll around the garden and use your 6 senses (smell, touch, hear, taste, sight and intuition). There's lanterns with herbs inside so you can open them and smell, different healing musical instruments to play on and listen to (hear), Braille alphabet (touch) and a pavement made of different materials where you can walk barefoot (reflexology and touch). There's also a labyrinth to stroll around with closed eyes until you reach the middle of it (symbolic way of going towards your centre representing sight and how our brain tends to analyze everything based on what we see). Part of the garden has herbs and berries which you can taste (taste). The last 6th sense is our intuition and it's located inside the winter garden next to the reception door. You can use your intuition to pick one card and then learn from wise words written on it. There's many interesting cards about love, self-love, time, sadness, anger, happiness etc. They even do a ritual around the garden where you should participate, I believe.
There's a little garden with herbs and their names just outside of the winter garden. You can read about the benefits of those herbs and even learn which ones are used in Augustiniansky dum spa and restaurant.
Childen playground where you can exercise as well. I also appreciated swings as I am crazy about them. You know what they say… never grow old :)
Yoga classes take place in the garden in summer. I joined one class and loved it. Felt calmer and more stretched afterwards. 

I heard that instead of yoga, they do sauna rituals in winter. Maybe I should revisit in winter as I really enjoy sauna rituals as well.
Other
Very professional staff – all of them were SO nice and not only to me, but to all the guests ? I was paying a lot of attention to see if they were smiling at everyone and nice to everyone, and they really were. Plus, staff members had a great communication among themselves, which is not very usual at hotels. I have to say I was very satisfied with them.
You can buy many things at the hotel, such as herbal tea from their garden, organic cosmetics they use in spa, postcards, essential oils, candles, Belgian chocolate, spa wafers and other gifts.
Just a few metres from the hotel there's a sport area LuhaPark with minigolf and tennis courts that hotel guests can use.

If it's too cold outside, you can grab a book, sit on one of the sofas in the winter garden and chill.

Augustiniansky dum is a non-smoking hotel. The only place where you can smoke is the salon by the reception, nowhere else. Cheers to no bad smell around the hotel, especially in hotel rooms. To be honest, I hate cigarette smoke.

Restaurant menu is changed 4 times a year. Spa menu, hotel flower decoration and hotel smell change depending on the season, too. 

The whole hotel concept is based on human feelings, emotions and senses. Wellness hotel Augustiniansky dum focuses on giving the guests an experience they won't forget. The more we use our senses, the more we remember those moments, right?
This is the longest post I've ever written about a hotel because there's so many things I loved at the wellness hotel Augustiniansky dum. I felt so amazing there that I can honestly say it's my favorite hotel in Europe so far. And what I'd change there? Very few things, for example better label vegan food and allergens in buffet, and have room cosmetics more natural. I also missed a plug next to the bed to charge my phone or laptop while sleeping. There were plugs next to the table and sofas, but not next to my bed in my room. The rest of the hotel gets my biggest thumbs up for everything.
---
---
---
---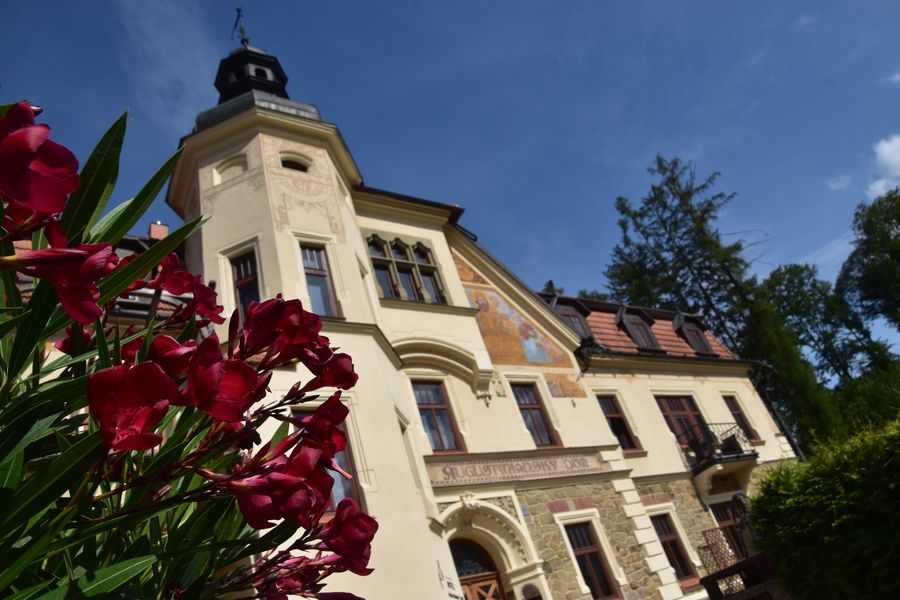 Big thanks to all staff members who made my stay unforgettable! For more information, check Augustian website.
.
.
.
Follow me on
Instagram
for more photos from my trips;)