Walk in Venice
Venice. Romantic place for lovers. Never-ending number of bridges. Venice gondola ride. San Marco. Historical buildings. Churches. No cars, motorbikes, buses. Pigeons. Narrow streets. Many tourists. Yes, it's true, Venice is all this. But it's much more than that.
It has a great atmosphere. Nice music. Elegant restaurants offering you pasta and pizza. Venice masks and carnival every year. Markets. Famous Murano glass… Let's see this beautiful town in more detail.
I've always wanted to go to Venice in Italy. But it's one of those places where you just cannot go with one of your best girlie friends, or your parents, or alone. You have to go there with someone from the opposite sex to enjoy the atmosphere better. So finally I found someone to go there with me – 22nd to 24th October 2010 …
The best way to explore the town is to take a walk in Venice. Be prepared to climb up millions of steps and bridges. It is said there are almost 500 bridges in Venice. First, I didn't want to believe it as sometimes it was not easy to find our way to cross the canal and it took us minutes and minutes to find a bridge.
But trust me, after 2 days of walking, I crossed so many bridges like maybe all together in my life so far. I don't know if it's really 500 of them, but there are definitely too many bridges in this romantic town. It's a great exercise to burn the calories you get from lovely Italian food, so enjoy eating in restaurants and then let's walk in Venice.
If you get tired of walking or just want to do one of the things Venice is famous for, take a gondola. There are many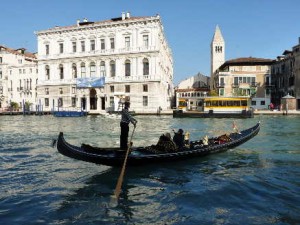 places where you can take it from, for example St. Mark's square or anywhere where you see a typical gondola man in black trousers, black and white stripe T-shirt and a hat who is shouting the funny "gondola, gondola". It's not the cheapest hour of your life, but definitely worth the money. Another ways of discovering Venice are: taxi boats, vaporetto and traghetto. Traghetto – ferry in Italian, is the cheapest (50 cents) and quickest way to cross the canal from one side to another so you don't have to find a bridge. For vaporetto, the best way, depending on the duration of your Venice stay, is to get a 12 to 72-hour tourist travel card and get on and off whenever and wherever you want and see the whole Grand canal. You can purchase tickets at the train station, at ticket office at every vaporetto stop. online at www.actv.it or when you board the vaporetto ask the conductor for the biglietto. Always remember to validate your ticket at yellow ticket machine before entering the boat.
If you feel like spending money and like to see everything form a bird perspective, HeliairVenice offers helicopter tours over Venice; 3 different tours from 110 to 330 euro per person (10 – 30 flight minutes). It's necessary to book it online.
Or at least take the lift for 8 euro up to Bell tower at Piazza San Marco and get an amazing view of Venice from this campanile. This is what we did as I always have to see the place from somewhere higher –  professional deformation, I guess 🙂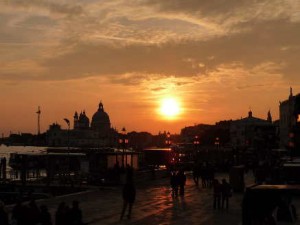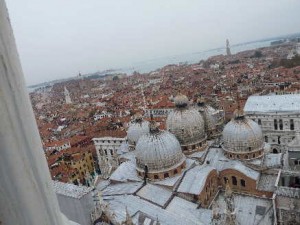 What you have to see during your walk in Venice, without any doubt, is:
1. white Rialto bridge – 1 of the 4 bridges across the Grand canal, rebuilt from wood to stone, was the only bridge to cross the Grand canal on foot till 1854 when Academia bridge was built; it has 3 walkways – the middle one with little shops.
2. Rialto market – next to the bridge, a perfect place if you want to buy some souvenirs
3. Piazza San Marco with many restaurants with their own live music and Piazzetta San Marco. We were lucky as it was a full moon when we went to Venice, so the water level was higher because of the tide and we could see a bit of the so called acqua alta (high water) at the San Marco Square. But they are well prepared here for this, so there are benches for people to walk through, shops and restaurants have a kind of metal panel at the entrance so the water does not get inside and waiters are working in rubber boots.
4. Basilica di San Marco – pay the fee to enter; Roman Catholic cathedral, Byzantine architecture, known as 'Church of gold' for its gold decoration to represent the Venetian power and wealth, has a breath-taking ceiling mosaic.
5. gothic Palazzo Ducale – 'Doge's Palace' in English as it was the residence of Doge of Venice. Now the museum, adjust to the Basilica, offers an amazing contrast of colours and plenty of arcades.
6. Jewish ghetto with cute small shops – don't go there on Saturday when everything is closed.
7. eat and go shopping along the Bacino di San Marco – Riva degli Schiavoni, Riva Ca' di dio, Riva dei sette martiri till the park for some relax.
8. Lido di Venezia – an island separating the Venetian Lagoon from the Adriatic sea, vaporetto takes you here in a few minutes, people go there in summer to the beach, cars are allowed here.
9. Murano – an island famous for its glass manufacture.
To walk in Venice gives you the opportunity to explore this special town built on 100 small offshore islands, all the little streets, squares, bridges, churches without any noise of traffic or fear of getting robbed.
Venice now belongs to one of my favourite places, it has many of the things I love: history, delicious food, good for shopping, romantic atmosphere, boat transport, it's safe… If you think you could like it too, check out how to get to Venice.