Tirolesa – Zipline in El Chiflon waterfall
More times I have seen some travelers writing about how they did ziplining and I already decided I was going to do it, too. It did look scary a little bit, but every adventure that has anything to do with flying, is just my thing.

But the day I visited El Chiflón waterfall in Chiapas, I was not in a mood for any adventure. It was one of those not many days when I needed just a quiet day. And then when I saw how high the zipline, I was like "no, thank you". But my Japanese friends who were there with me wanted to do it, so they managed to convince me as well.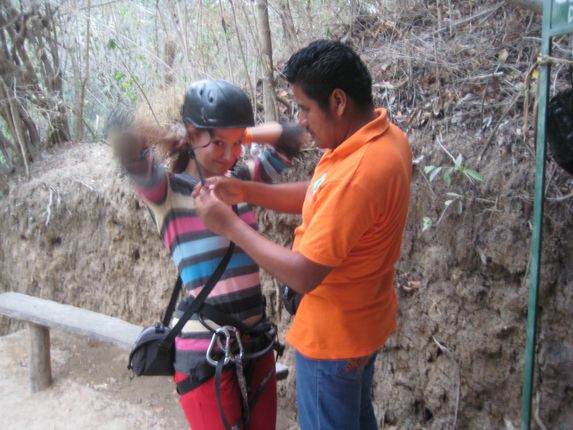 Those 5 seconds when I was ready to start, with all the equipment and half feet already in the air, it scared the crap out of me. But during the zip-lining itself I felt like a bird and did not want it to stop. The turquoise water and El Chiflón waterfall from the air were something unbelievable. I am so happy my Japanese friends convinced me to do it. Can't wait to repeat it somewhere else.
Zipline in El Chiflón costs 150 Mexican pesos and has two parts, the first one is from the height of 120 m and while you scream, you see the waterfall El Chiflón and the turquoise pools. Then the second one is from 140 m and it is much faster and in the end you have to grab a green rope to get down of it.
In 2011 when I was there, zipline in El Chiflon was the highest zipline in the whole Mexico. So after this one, zipline I did in Tankah which is not that high, was not such a crazy adventure.
---
---
TIP 1: I've done zipline in many other countries and really fell in love with it. Here's my post about zipline in Bovec in Slovenia with amazing views of the mountains.
TIP 2: Going to Las Vegas? There's a lot more to do outside of town than just casinos. Check my zipline experience in the Bootleg Canyon 😉
---
---