22 Weligambay hotel in Sri Lanka – luxury Weligama hotel
When I was planning my stay in Sri Lanka, I knew I wanted to do some traveling around but also chill for a few days. I remembered that a friend of mine stayed there at a luxury hotel in the past so I checked it and fell in love with it straight away. Honestly, Sri Lanka to me never meant luxury. I was sure it was mostly backpackers traveling around Sri Lanka because it is easy and local transportation is very cheap. Boy, was I wrong! Sri Lanka can be a good destination for luxury travelers as well (or luxury bloggers like me). If you are searching for a Sri Lanka luxury hotel but for affordable prices, keep reading my article about 22 Weligambay, a luxury hotel in Weligama. 
22 Weligambay hotel opened only in 2017 after it took them 2 years to build it from scratch. I have to say I really like the design of the hotel. The interesting staircase and the pool with the sea view were my favorite parts of the hotel when it comes to its design. 
What I loved at 22 Weligambay hotel in Sri Lanka:
Junior Suite on the top floor – my first time I stayed in a standard room on the 1t floor but the second time on the top 3rd floor in Junior Suite. OMG the suite was the best! Made me feel like at home so much. Very interesting design, big bed, spacious kitchen and comfy living room. I had a lot of space in the suite to practice yoga, which I could not appreciate more. By the way the speaker I'm using when doing yoga (on the photo below) is from a Czech website Milica.
Buffet breakfast, yay! Loads of local fruit for breakfast. I was super happy with pineapple, papaya, mango, guava and watermelon every single morning. Besides fruit, buffet breakfast offered also many other options, for both veggie and meat-eaters. But personally, I usually eat just fruit in the morning, especially in hot weather as it's cooling down my body.

2 different fresh juices and coconut water from young coconuts was also part of buffet breakfast. I have to say I was the most grateful for coconut water as it's my favorite drink ever so I was stuffing up my face with it. If I had to choose just 1 thing to drink/eat for the rest of my life, most probably it would be young coconuts.
I loved all the staff members. They were all so nice to me and my friend. Very friendly, especially the younger ones were always talking to me with a smile on their faces.

Free wifi was pretty fast almost all the time, except during a heavy storm and sometimes at dinner time. Maybe because many guests were online at the same time when dining. But it was still mostly very fast so I could do my travel blogging online duties. After almost no wifi in Hikkaduwa where I stayed for a week before 22 Weligambay, it was necessary to catch up with online work. But there's still place for improvement to make wifi work well all the time 😉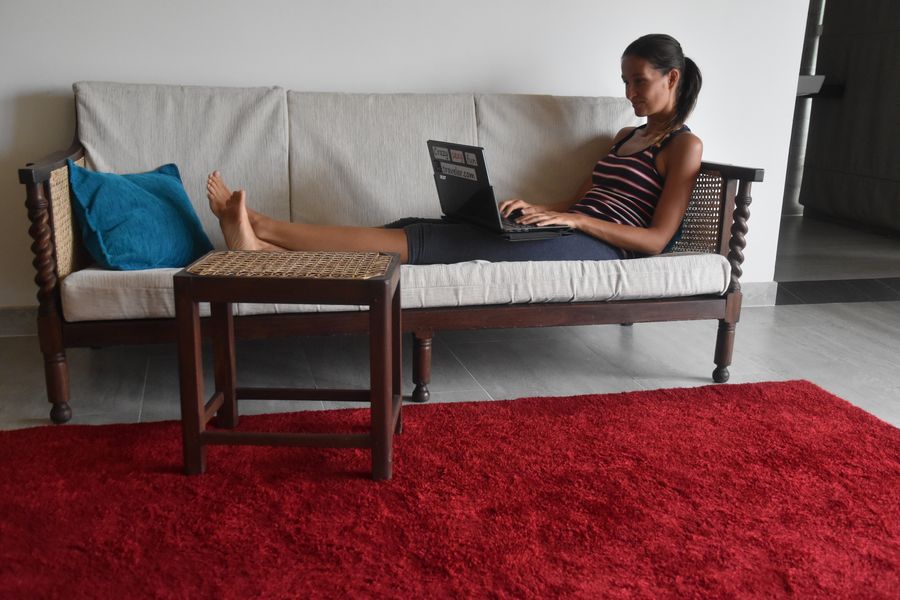 I was nicely surprised with dinner, too. Depending on the number of guests, we had or a menu dinner with 4 courses or a buffet dinner. I did not expect 4 courses at all. Thumbs up for big portions. Usually when you hear 4-course dinner, you might expect tiny portions… You know what I mean, when 95% of the plate is empty (as you usually get in top restaurants). But that's not what they were serving at 22 Weligambay. I talked about big dinner portions with the manager and he told me that Europeans eat a lot so they needed to keep up with our appetite ?
Buffet dinner was delicious as well. There were always a few vegan options and the chef would always tell me which meals I could eat and didn't contain any animal products (I have been vegan since 2013). I enjoyed mostly: red cabbage with apples (reminded me of home as we make red cabbage in Slovakia but not with apples). Then I loved the taste of papadam, traditional Sri Lankan dhal curry made of lentils; and carrot, beans and cashew curry with coconut milk etc. Each buffet dinner also had different wok vegetables and raw salads to choose from (e. g. cucumber, tomatoes, green salads, beetroot with onion, guava or pineapple salad etc.). To sum it up, buffet dinner offered many healthy choices, and also some less healthy. The cuisine at 22 Weligambay is so delicious that I would stay there just for the sake of food 🙂
They were really trying to accommodate my vegan diet also when it comes to desserts. If I didn't feel like eating fresh fruit (which because of digestion I don't usually eat after other meals), they were happy to make me vegan desserts if I asked for them. Coconut pancakes with coconut nectar, grated coconut and jaggery (sugar made from coconut or kitul palm) were so delicious! Other desserts I enjoyed were sesame toffee balls, fried bananas and sago pudding. 
15-metre long swimming pool was my absolutely favorite part of the hotel. I spent there many, and I mean MANY hours chilling, napping, working on my phone and swimming. Well and sometimes also sunbathing for a few minutes per day to get Vitamin D. But usually I stayed under an umbrella in the shade replying to emails and posting photos and videos on social media channels. I also tried to swim at least 1 km per day while there. On some days I managed even 1.3 to 1.8 km which were more than 50 pool laps. 
22 Weligambay hotel has direct access to beach which is definitely an advantage as you can be in your swimwear by the pool and then just walk to the beach to take a dip in the ocean. 
The hotel has its own water well and they clean the water through osmosis so the tap water is great for drinking and most probably even better than bottle water you would buy in stores. 
Paintings and drawings of Sri Lankan animals and landscapes can be found all around the hotel. I love the idea of showing off what the country has to offer. In my junior suite I had a painting of elephants above my bed. So pretty! 

I found the hotel to be very clean. I saw staff members cleaning the floor and windows all the time.

The female receptionists wear sari clothes which gives an extra touch to the whole hotel.
Room service… You can have dinner in your suite. When I stayed in junior suite on the top third floor, I was extremely grateful for being able to enjoy dinner on my own in my kitchen while working on my travel blog. I would just always choose what I'd like to have for dinner and then a waiter would bring it to my room at my desired time. Room service is awesome and it makes me feel even more at home! 
Amazing Ayurvedic massage – I booked a few full body massages at the hotel and they were all done by the same lady. She was so good! She knew exactly where to press harder and when I had something blocked. If you feel sore or would just like to chill and pamper yourself, a massage would be the best thing to do.
The hotel organizes different tours, such as Sri Lankan cooking class, visiting national parks and rain forest, surfing and other water sports etc. I did the cooking class with them. You might get surprised now because I don't like cooking and I hardly ever cook. I cook maybe 5 to 10 times a year, and sometimes even less. It's because I eat a lot of raw food, eat out at restaurants and hotels when on the road and at home sometimes my mum cooks so I'm not really forced into cooking more. But it's always good to learn something new, right? Doing a cooking class there to learn how to make traditional meals was a great idea. And if someone like me says that and I don't even enjoy cooking, then if you like to cook, you should definitely take a cooking class, too 😉
Back to surfing… Personally I don't like waves but Weligama Bay where 22 Weligambay is located is an area famous for surfing. You can rent surfs or book a surfing lesson directly on the beach just in front of the hotel. The surfing instructors are very cool 😉
What could be improved:
In the morning it was a bit loud when staying in a room on the first floor.

Wifi could be even faster.

Write food allergens next to each meal at buffet breakfast and dinner so people with special diet do not have to ask what they can and cannot eat.

Offer more healthy (vegetarian and vegan) meals as part of the menu.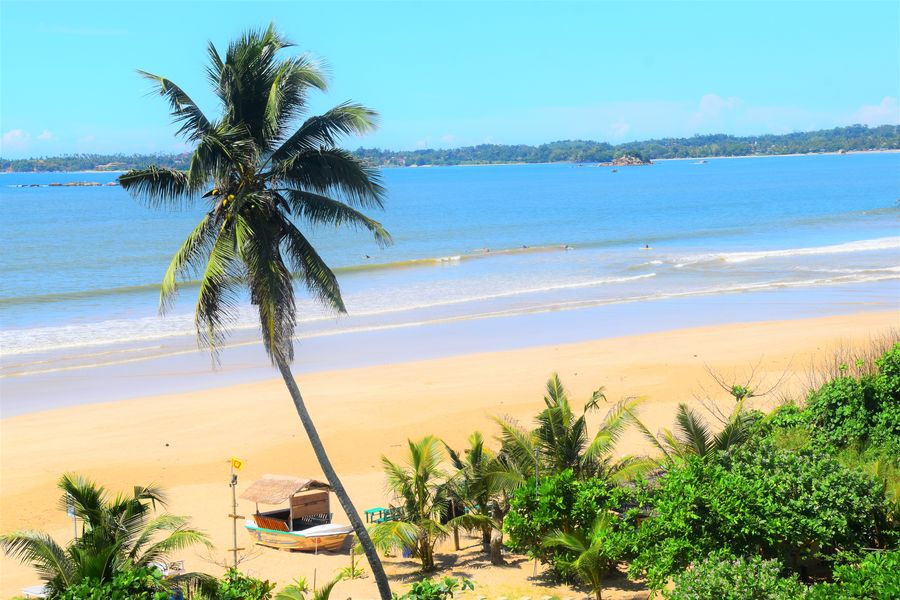 As you can see from my photos and description, I really enjoyed my stay at 22 Weligambay hotel. Besides everything that I've mentioned above, I will also remember one situation:
I was talking to the pool lifeguard and he asked me what I liked about Sri Lanka.
I said "people, many vegan options, exotic fruit and beach."
He asked me why I liked the people.
"Well, everyone is so nice to me. You all smile."
And as soon as I said that, he smiled at me "not like in Europe, right?" he asked.
"How do you know if you've never been to Europe yet?" I was curious.
"Because I see some guests from Europe here at the hotel and they never smile. But you do smile, Alex."
"You are right. In Europe many people have big houses, more than 1 car and a lot of money but they are not as happy as you guys here in Sri Lanka." 
And what he said then I'll remember for a long time: "We also want money but smile first." ???
So remember, don't forget to smile ?
---
---
---
---