Falling in love with Chiang Mai
Everyone keeps speaking about Chiang Mai. When I first came to Thailand in October, my initial plan was to head off to North for at least a week and spend some time also in Chiang Mai as everyone is in love with that place. But because of the floods the trains and buses were canceled on the way to North, so I decided to take a short trip from Bangkok to Cambodia and Angkor War. Once I came back, the North of Thailand was still flooded so instead I went to Koh Samui island, Koh Phangan and Koh Lanta.
During the couple of months traveling around SE Asia, my expectations about Chiang Mai were just going higher and higher each time someone asked me if I was there already. So after the 3-week trip around the Philippines, I decided to go back to Thailand for the third time already and finally visit up the North a little bit, it means Kanchanaburi and Chiang Mai before enjoying Christmas in East Slovakia.
With my two buddies we took a sleeper train from Bangkok to Chiang Mai which is what most people do. It was a hell of a trip, never-ending story let's say. It was one of those long train journeys which I actually enjoyed. But I was kind of happy to explore all the beauty of Chiang Mai finally after 3 months of a big desire to go there.
We got off of the train and had a small idea of where to go next. The pick-up taxi brought us to the East Tha Pae gate behind which a lot of guesthouses and hostels are located. We walked around a bit with heavy backpacks checking out the prices, and Holger the softness of the bed 😀
Nothing was good enough like the hostel we saw on the leaflet at the tourist information at the train station, so we decided to keep looking for the best place to stay. In the end, we had our lunch first at The Wall restaurant and enjoyed some 30 minutes online (yes, we are all addicted, or should I say hard-working bloggers?!) Then we checked out more hostels, but the leaflet hostel turned out to have different prices, so in the end we took the first nice hostel we found – Kavil. I had the best view ever from my room!
To be honest, the first night I was kind of disappointed by Chiang Mai.
Yes, you hear me. Disappointed. I expected too much from it as not only every single person that once visited Chiang Mai truly loves it, but as well because a couple of bloggers live in here. So there must be something about Chiang Mai they love. But for the first 2 days I was just wondering what it was.
You cannot do a lot of sightseeing in Chiang Mai itself.
The town itself is easy to walk through (if I don't count the outskirts too). There are just tons and tons of temples, every single street has some of them. I can bet that you would see at least one temple after each 10 minutes of walking.
And I love it. I was really obsessed with the temples once I came to Thailand for the first time. They are a sort of replacement for me for the archeological sites in Mexico. But after visiting plenty of temples during 3 months in Asia, I did not feel like visiting many temples in Chiang Mai again. It's pretty much the same thing again and again.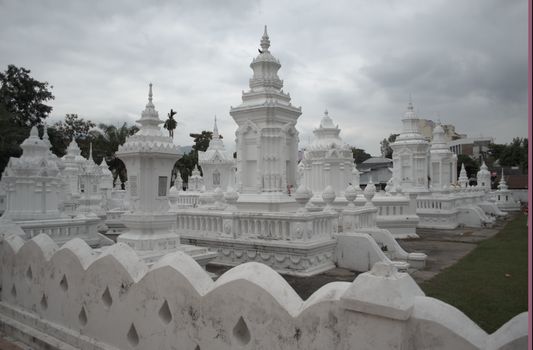 But I did stroll through Wat Suandok temple which was built in the 14th century and varies from the other 'wats' by white colour of the small temples in front of it. Wat Suandok is located on the Suthep Road which leads to the most important and famous temple of Chiang Mai – Doi Suthep temple situated on the top of the hill with 304 steps and overlooking the whole Chiang Mai area.
So like I said, forget the proper sightseeing in Chiang Mai. There is a bunch of other things to do. You have to get a massage (foot, oil, Thai massage) which is cheaper here than in the rest of Thailand (120 – 200 Baht per 1 hour, e.i.  3 – 5 Euro per 1 hour). I extremely enjoy the foot massage done at the street with passers-by around you as we don't have this in Europe.
Once you are done with the massages and temples, you should do some shopping at the Night Bazaar like we did. Negotiate the prices though. And Sunday walking street (Rajdamnuen Road) with the Tha Pae gate form the Sunday market which is enormously popular with both Thais and foreigners.
I bought a lot of souvenirs and Christmas presents in there. The Sunday market starts already in the afternoon and finishes at the night hours. You can get a lot of different meals here (I got a special chocolate banana roll), fruit shakes, fruit, soups, clothes, handmade bags, handicrafts, shoes and more stuff.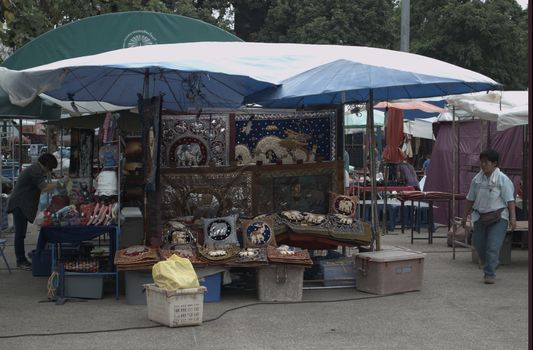 Apart from the markets, Chiang Mai is famous for its night street stalls. It is pretty cheap to have dinner in one of the stalls and the food is safe so no worries to get any stomachache or diarrhea.
What many people (bloggers – digital nomads) brings and most of all keep in Chiang Mai for longer is also another reason – wifi areas everywhere. Almost every restaurant and hostel has good reliable wifi. I think I have never seen such a good internet connection anywhere else in SE Asia than in Chiang Mai.
And we all know that we do need good wifi to work. So great cheap food, wifi, fruit shakes, vibrant town and lovely friendly atmosphere is what many young people love about Chiang Mai. And I have to say, my third day in Chiang Mai I started loving the place, too. It was not love at the first sight, but I guess it will last for longer 🙂
I had a chance to meet up with some bloggers that lived there at that time. I really had a great time at the dinner and then lunch meeting up with these guys. Hope to see you around guys again somewhere in the world!