Best 15 things to do in Eilat Israel
I had not even heard of Eilat town until my first Israel visit when I explored more of Tel Aviv, Jerusalem and the Dead Sea in September 2015. An online fan of mine is living in Eilat and she told me about it asking me to visit.
Exactly a year passed and I still knew nothing about Eilat until I was invited on a press trip there in September 2016. I had not more than a few minutes to check in Google what Eilat has to offer, so I only went through a few photos. But, the photos did not do it justice.
I was so surprised once we landed in Eilat. It is bigger than I thought, more modern and so not reminding me of other parts of Israel I have been to.
If you happen to visit this 60,000 inhabitant town, and you so should, what do I recommend you to do in Eilat?
15 things to do in Eilat:
1. Skydiving
Calling all adventurous souls reading this post, you have to go skydiving in Eilat. Why? Skydiving here is unique and not only because I did it 🙂 I've never been to any other place where you can see 4 countries at once (Saudi Arabia, Jordan, Israel and Egypt) and all so close to each other as fingers of your hand. Not sure if you know, but I gave myself a birthday gift in 2009 – skydiving in Gran Canaria which was one of the craziest thing in my life until that time.
So now in Eilat I knew what to expect from the airplane jump. But knowing it made me even more scared than my first time. I did a short meditation before the jump repeating to myself "I am calm and safe" and then closed my eyes for the most scary second when getting out of the plane. We jumped from 3 km and it took us approx. 6 minutes which seemed super long and super short at the same time. I spent the whole 6 minutes or screaming or laughing.
2. Dolphin Reef relaxing pool 
What to do after an insane skydiving jump? You need to properly relax your body and mind and Dolphin Reef might be the best place for doing so. There's many activities to choose from at the Dolphin Reef and one of those I highly suggest is a relaxation treatment in one of the three relaxing pools (fresh water, sea water and floating pool with loads of salt and minerals, similar to the Dead Sea).
The treatment itself lasts 30 minutes. I had no expectations and no information about it, which, I believe, gave me even a bigger wow feeling. Sweet Dana, my treatment therapist, asked me to float on my back, close my eyes, let her "play" with me as with a puppet and simply relax. The treatment was based on many different things to make all my senses come to life. I've had hundreds of various relaxation and spa treatments around the world, but none of them was any similar to this one. Underwater chill out music reminded me of Ancient Baths in New York City, but here also Dana did many movements with me. She gave me a little massage, put small pebbles on my body, moved with her knees to create water bubbles to give me chills all over my skin etc. The whole treatment felt so sensual and I left feeling like a newly born super Goddess.
After the treatment I enjoyed all the three relaxation pools for some more. It's so worth to pay extra for the treatments, trust me. And I also appreciated being able to squeeze fresh orange juice right there above the pools and get some healthy snacks.
PS: it is forbidden to take photos there so I don't have any photos from the relaxing treatment.
3. Snorkeling or scuba diving with dolphins
Honestly, being a vegan and a big animal lover, I do no support places like ZOOs where animals do not have a choice of living a wild life they should. I would not like to be stuck in a cage or a small place, either. So why should them, the animals, who are supposed to be wild and free?
That was exactly my concern before visiting the Dolphin Reef but then I found out that although 5 dolphins live here freely, they don't have a fence around them. They are always somewhere close by but live in a big area. These dolphins are not trained to do anything, they are not domesticated in any way. But although the Dolphin Reef staff can see the dolphins hunting food every day, they can never be sure of if they get enough food so they do feed the dolphins here. 
When a young boy, one of the staff members was explaining to us more about the dolphins, one of the tourists asked him:
"Do you like dolphins?"

"I love them." he answered.

"Why?" she kept asking.

He started laughing. "Because they are dolphins. They are simple and elegant at the same time." 🙂
I think he sumed up why I am a dolphin lover, too. Who could not like these cute animals?
I was so blessed to go snorkeling with the dolphins there. After all the preparation and explanation, we were taken in groups of three to the sea. Holding each other and making sure not to touch dolphins with our hands, we followed our instructor. We had a chance to see 3 dolphins playing with us. OMG, what an experience!
Shame it is not allowed to take photos nor videos with your own camera because they are trying to protect the dolphins here as much as possible. But on the other hand it made me enjoy the present moment of having dolphins swimming around me way more than if I'd have been taking photos.
4. Camel ranch
I was a bit confused if to promote camels or not (same reason than with dolphins) but then was reminded that camels have been used to carry people for centuries. True. If the camels are treated right and you can see they are calm and have enough food, then maybe it's not such a bad idea to ride a camel, right?
One evening we visited the Camel ranch just outside of Eilat and could ride camels for an hour among the Eilat mountains. It was such a peaceful experience with camels walking behind each other. A sort of a camel meditation in dry Eilat nature just before the sunset. It is recommended to ride camels before it gets dark so think of it when planning your trip.
After the ride, we were taken back to the ranch where our guide prepared fresh laffa bread right in front of our eyes. We could then taste it with olives, za'atar and goat cheese while drinking hot tea. Sitting under a tent we also spotted an ibex coming towards us until a dog terrified it barking.
There's other activities to do at the Camel ranch Eilat, such as adventure park or Jeep ride in the mountains. Jest their website for more info.
5. Wow water show
The Wow water show is an incredible show right at the end of the Isrotel Royal Garden Hotel building which we attend together with a huge crowd willing to have a laugh. We were lucky to get first row seats which made the whole experience even more fun. There is a new show each year performed by other artists so when you are reading this it might be a completely different show to the one I saw.
The best way to describe the Wow water show is with the following phrases: the best laugh, long-lasting goosebumps and eyes wide open. I noticed the sexy male artists already by the swimming pool a few hours before the show which made me even more excited once they jumped on the stage. Dancing, singing, playing with water and most of all performing very hard yoga and stretching poses was what got me the most. So appreciated all their hard work and effort. I could honestly watch the same show every night with my mouth open in awe!
Because we sat in the front row, we got more wet than other guests but it was more fun, I guess. Shame no photos nor videos are allowed during the show, but again, simply watching it made me enjoy it even more.
6. Timna Park
It took us almost 30 min from the Royal Garden hotel to get to the Timna Park. At the entrance we saw some Egyptian statues because they were mining copper here since the 18th century BC. One of the statues represents an Egyptian Goddess of miners. About 8,000 copper mines were found in this area.
All the rock formations and mountains we could see around the Timna Park were natural. Even the road is very simple as they don't want to interfere with nature. We could see more natural sites, and also different colors and layers of minerals and stones (reddish iron, limestone etc.) from different periods of time. First, we walked around the mines. You can still see the greenish stones around the mine holes.
The 40-metre deep mine holes are now covered because of the security reasons. We noticed that really obese people would not fit into the holes. To produce copper you need trees to melt it in the shade (if you don't want to melt as well). This is why the copper was just exploited here and then taken mostly on donkeys further somewhere else to produce copper products while melting it. Nowadays, approx. 5 km from here, copper is still produced in modern mines. 
We took another break at the Mushroom rock formation which reminded me of Arbol de piedra in Uyuni desert in Bolivia. Frankly, if it was not more than 41 Celsius during our visit, I could easily spend the whole day strolling around Timna Park and doing a walking meditation with loads of water in hand. Later on we also visited a shop in the Oasis, with many beautiful souvenirs, free traditional hot tea and toilets. Just at the shop entrance you can ask for a small glass bottle and play with different kinds of sand making a sand bottle art to take home as a souvenir. 
In the evening you can cycle or hike around the Timna Park and even enjoy summer festivals. It can be a pleasant emperature of 20 Celsius at night, while more than 35 during the day. Here you can see more of my photos from Timna Park.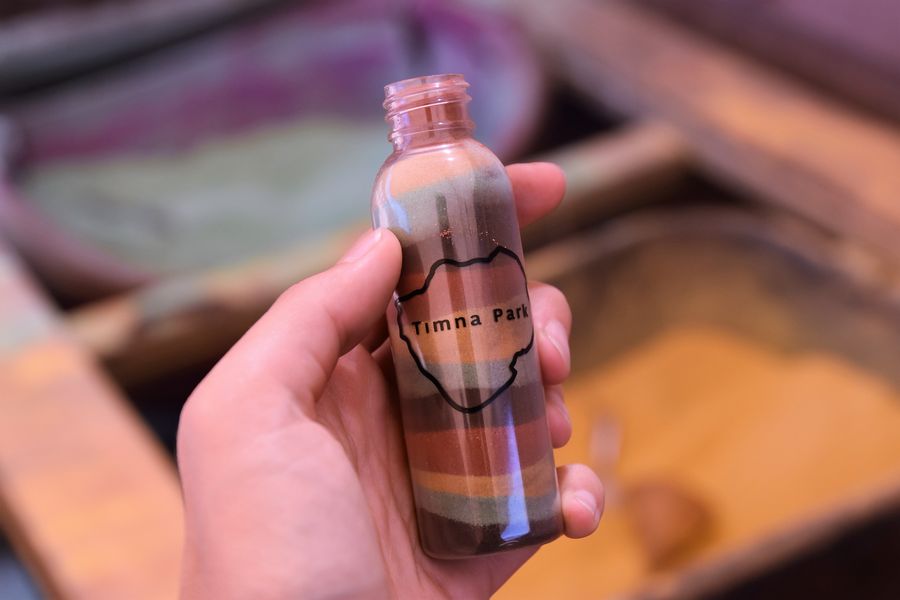 7. Musical fountain show
This is a very touristy attraction but who cares? My very first musical fountain show was back in Barcelona in 2006 when I had tears of joy in my eyes. Now each time I see a musical fountain, it just cheers me up. And this one in Eilat was wonderful, so many lights and different kinds of music. To hear a Latino song by that Pyramid building surprised me  the most. Plus, airplanes flying just above our heads made the whole experience even more unique. Definitely stop by for those 15 minutes to watch the musical fountain show if you are somewhere in the Eilat centre. Its time table changes depending on the season. We watched it at 9.30 pm on a Tuesday night in September.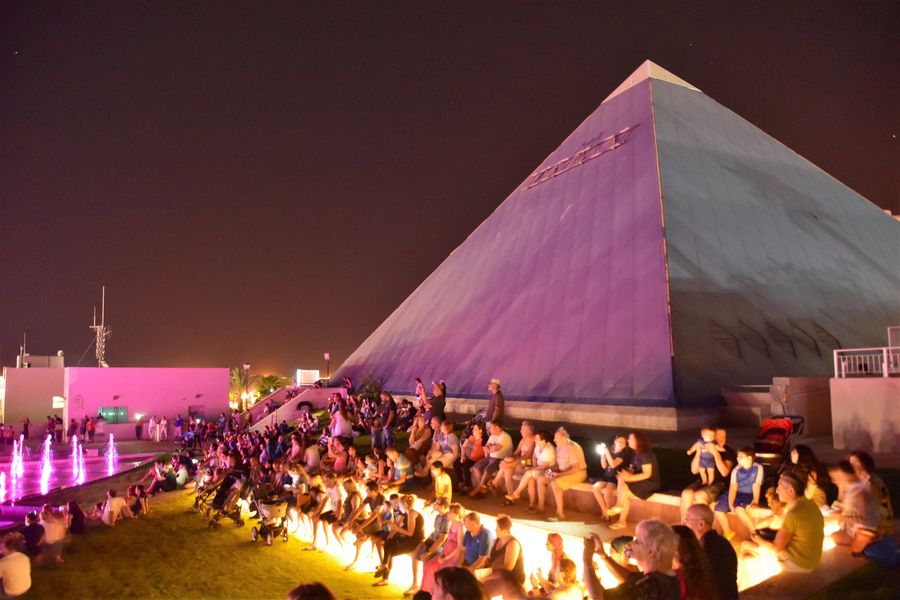 8. Eat and eat some more
It's no secret that Israel has one of the best cuisines ever, at least for the vegetarians and vegans, even though there's not that many traditional Israeli meals. Both Israel in general and Eilat offer a mixture of different cuisines and restaurants. I am a huge lover of things like hummus or pomegranate juice and could have both of them almost each day without getting bored of it (unfortunately not without putting on weight). Anyway, I can definitely recommend you 7 best vegetarian and vegan meals to munch on in Eilat, as I wrote an entire article about them.  Grab something to eat and go read that article.
9. Beach 
People go to Eilat on holidays, many Israelis but also more and more international tourists. And what we all want to do on holidays? Relax, get some tan, swim, read a book and enjoy doing nothing. Eilat is a perfect place for that thanks to its nice beach.
The best thing about it? You can see the whole bay from the beach, and 3 other countries, as I've already mentioned above in the skydiving section. You can even choose from different beaches as Eilat's sea shore is approx. 12 km long from the Jordanian to the Egyptian border. Hotels along the coast have a nice beach but I also encourage you to spend some time on the Aqua beach where you can snorkel, scuba dive or go for a nice swim in the crystal clear sea. Loved the vibe of that beach and I am sure you will, too.
10. Ice Mall skating
Unfortunately, we didn't have time to visit the famous Ice Mall which is one of the well-known Eilat "landmarks" among the Israelis. I guess it is because of the ice skating ring (hence the name of the shopping mall) where you can really skate. Coming from an ice-hockey country, I do not find skating that striking as I can skate every winter back home in Slovakia if I wish so. But being able to ice skate basically in a desert location when the outdoor temperatures are crazy high? Awesome, right? 
11. Shopping
Eilat is a famous duty free zone so both Israelis and foreigners go shopping there. The prices are better here than in the rest of Israel which makes sense for the national vacationers to leave with a bigger suitcase. Despite of no tax prices, I found some things more expensive than in Slovakia.
On the other hand, you are not able to get many of those things in Slovakia at all, or only in the capital. I just had a few minutes to check the stores and bought a pack of Medjool dates as they grow just here outside of the town, and 2 white tank tops. But let me tell you, Eilat's promenade becomes an outdoor shopping mall on evenings. Families and couples all go for a walk before and after dinner and leave with hands of bags. 
12. Umm Rashrash
Visit the National Heritage Site of Umm Rashrash where the British mandatory mud-brick guard station was built in 1933. Then the famous "ink flag" was raised here in March 1949 for the Israel's Independence when they established here the Southern border of Israel. This site was declared a National Heritage Site in January 1994.
It has a really nice sea view and airplanes fly just above it, so cool for a walk!
13. Scuba diving in the Red Sea
Unfortunately for me, I was not fit enough to do scuba diving in Eilat (got earache from all the air con) but it is for sure one of the best things to do there. The Red Sea is the Northern-most reef in the world, thus popular with European divers. Just a couple hour flight and you can dive in paradise.
14. Bird watching
Out of other things to do in Eilat I can point out also the IBRCE bird watching park Eilat if you are fond of birds and have patience to wait for some nice ones. I put this one on my bucket list for my future visit.
15. Underwater Observatory
Coral World Underwater Observatory is very popular among Israeli families as they can easily spend half a day there with the kids, taking photos of all the animals and animal statues. There's a shark pool, and many smaller pools with different fish and turtles where you can even watch them being fed by the observatory staff.
Aw, and don't forget to visit the Eilat viewpoint just next to the roundabout with an anchor and Eilat sign 🙂  Have a look at more of my Eilat photos in the album.
………………………………………………………………………………….
For more information please visit Eilat tourism website or the general Go Israel Tourism.
My big thanks go to the Ministry of Tourism of Israel and the Embassy of the State of Israel in Slovakia for this opportunity to visit Eilat.