Delicious vegan food in Rodrigues island – vegan Rodrigues
To be honest, before my trip to Rodrigues island I was a bit worried about getting vegan meals easily there. But since my arrival, everyone tried to please me so much with different vegan dishes that in the end I even put on a kilogram just after a week there. If you check the following dishes, you won't judge me 😀 So can you get really delicious vegan food in Rodrigues island? I hope my vegan Rodrigues article will make you hungry!
But then hey… Rodrigues is a tropical island which means a lot of exotic fruit and coconuts grow there. Even if no other vegan meals would be possible to get on Rodrigues, I would be more than happy with coconuts and fruit only anyway. That being said, restaurants on Rodrigues island amazed me so much.
Vegan food in Rodrigues
Restaurants
There are no vegan restaurants on Rodrigues, and I believe there's not even a vegetarian one. There's not that many restaurants on Rodrigues island altogether anyway. Most people have both breakfast and dinner at the hotels they are staying at, and just sometimes go for lunch to a restaurant. At least that's what I saw while there. So if there's a restaurant you would really like to taste meals at, then it would be better to call them ahead of time and maybe even advise them about your vegan diet. Just to make it easier and be sure that you would get a table at the restaurant of your choice and at the time of your preferance.
Although some restaurants don't have any vegetarian, and definitely no vegan meals on the menu, you will be able to ask for special meals. You might give them some options or just leave it on the chef. Hopefully my following photos will inspire you. I never told them what to make for me but always let the chef come up with something. Maybe that's why I also got curry at more restaurants 😀
1. La Caze Mama
La Caze Mama is a traditional restaurant which opened in 2016 in the middle of the island. It's quite a famous restaurant serving local food made by really talented chef Paulina. Chef's creativity in the kitchen will leave you speechless.
Chef Paulina prepared many vegan dishes I could try:
vegetable tempura
aubergine confit
tomato, red onion and coriander salad
carrot, red onion and beetroot salad
beans and rice
as the main dish I got a plate of chow chow vegetables with zucchini, cassava, corn and other veggies I don't even know the names of. 
fresh fruit as a dessert – I was so full that I had to ask for takeaway. Plus, I don't eat fruit after other meals because that would sow down the digestion and make the fruit ferment in my body. And that's not something I want so I usually eat fruit on empty stomach for breakfast or just before lunch.
La Caze Mama was the first restaurant I ate at on the island after having breakfast at Bakwa Lodge where I was staying. I have to say that the food was very traditional and made of fresh local ingredients.
2. Chez Perle
Chez Perle is a local restaurant in the Southerwestern part of Rodrigues. It's attached to Chez Perle guesthouse surrounded with beautiful garden. I think we spent there 3 hours eating and drinking a coconut our taxi driver Arnaud got for us from their coconut palm tree. Such a relaxing atmsosphere!
If you would like to get some vegan meals at Chez Perle, you could ask for:
beignets de pomme de terre which are the yummiest fried potato balls ever

red beans (reall tasty) and rice

fresh pawpaw salad with salt, pepper, green onion (chive), vinegar and oil

After lunch we were served traditional citronella infused tea with corn flour cake (because of the eggs, the cake is vegetarian, not vegan).
3. Le Marlin Bleu
Le Marlin Bleu restaurant is located in Anse aux Anglais just outside of Port Mathurin. You can take a sit inside or outside by the road with the view of the sea. We opted for fresh air outside. As they don't have vegan meals on the menu, I left the choice on the funny owner. I was nicely surprised to see that their chef was very quick preparing our meals. Very shortly, the restaurant owner served me a plate of vegan vegetable curry with rice, a small fresh salad and aubergine in sweet sauce. Delicious, indeed! Not only the taste was excellent but they also serve beautifully arranged meals. Thumbs up for that!
The owner of Le Marlin Bleu knows very well what vegan and vegetarian means, and he also speaks great English so it will be easy for them to make you something special. Oh, and there's good wifi there too… which is rare on Rodrigues 😀
4. Francois Leguat Reserve restaurant
If you are visiting Rodrigues island, I bet that most probably you will also spend a few hours at Francois Leguat Reserve to see the giant turtles and the Grande Cave. They have a nice modern restaurant at the site where I had lunch just before my tour. You can ask the waiter for a vegan meal although it's not on the menu. I recommend you to get vegan curry with rice and beans. Super yummy! As you might have noticed, one of their traditional meals is rice with beans, or just beans you can pour on top of rice or veggies or other meals. Beans at Francois Leguat reserve were so tasty I had to finish the whole bowl even though I could barely move afterwards 😀
5. Tekoma
During my visit in 2017, Tekoma located on the Eastern coast, was the only 4* hotel on Rodrigues. There's no 5* hotels which made Tekoma the most luxurious hotel on Rodrigues. I was stoked by the Ocean views and the villas they have. The resort has an elegant restaurant by the reception and also a smaller restaurant by the beach. As it was very hot at mid-day, we chose the beach open-air restaurant. Breeze is always a good idea, isn't it?
I was a bit upset not to find any vegan meal on the menu either. And it also took them quite a long time to prepare our meals. But while waiting, I went for a barefoot walk along the beach. And then the huge bowl of fresh veggie salad the waiter brought me was worth the wait, too. Eating all those different greens made me feel energetic again.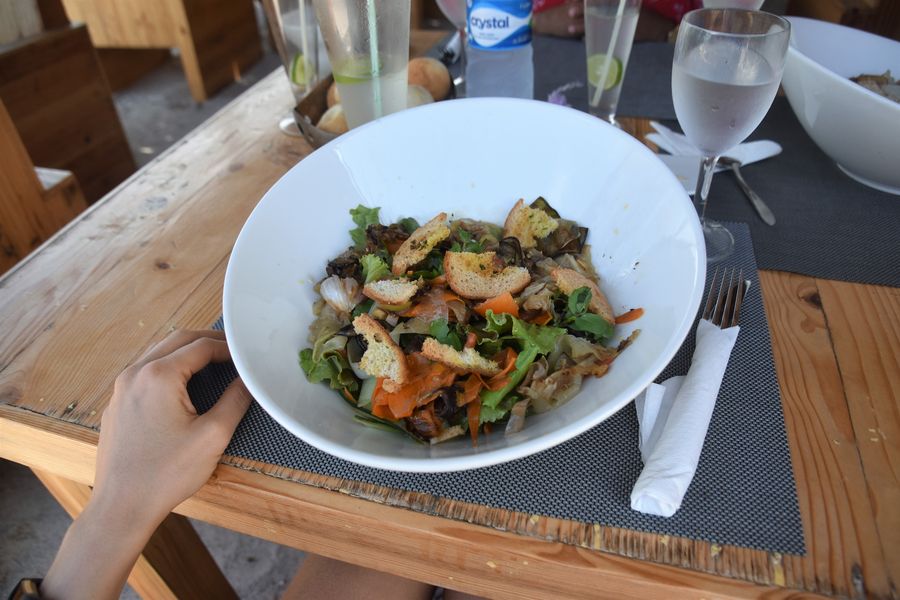 TIP:
If you are looking for a hotel where they would make you vegan breakfast and dinner, then I recommend Bakwa Lodge and La Belle Rodriguaise. I stayed at both and was happy with the food they provided. Here's more about
hotels on Rodrigues
.
---
I can recommend you also other vegan meals to get on Rodrigues island:
You can buy so many kids of fruit and veggies at the Bazar Port Mathurin (Port Mathurin market) opened every morning. It gets the busiest on Saturdays. It's possible to buy young coconut water just outside of the market next to the parking lot. Yes, finally a place to get coconuts on Rodrigues!
Special jam called compot Rodrigues is made in November and December from local peach, pineapple, papaya and sugar. It's eaten on the New Year too.

There's loads of local fruit growing on Rodrigues island but most of it is seasonal. I highly recommend you to try mango, papaya, coconuts, wild raspberries (they are very different to those we know in the Western world), peach, avocado, jackfruit, sweet Victoria's pineapple (sometimes also called Royal pineapple), dragon fruit (both white and red), custard apple, guava, tamarind…
Papaya, called pawpaw (pronounced as "popo") can be used instead of carrots or to make popo salad when not ripe. Ripe pawpaw is eaten fresh as fruit. I found the pawpaw fruit on Rodrigues more yellowish inside, and more round than the papaya I know from other countries.

Maize (corn) is part of Rodriguan local dishes and it's very famous. Dry seeds are grounded, cleaned and washed for a rice-like cooking. In the past, wood fire was used to cook maize.

Sweet potatoes

Cassava leaves are used as vegetables in main dishes.

Bilimbi  – it's small yellow very bitter fruit. To be honest, I didn't like the taste and I was making weird faces when tasting it for the first time. But it's part of the culture experience, isn't it? So do try it if possible 🙂
Rodrigues is not a country famous for sweets and desserts. They don't usually eat many sweet things which makes it easier for you not to put on weight when there 😀
However, if you get a chance, try sweet potatoe cake with coconut inside. We also had an interesting baked banana dessert at La Belle Rodriguaise. While mine was vegan, others had it with whipped cream on top so it was vegetarian.
Two more things to remember:
Unfortunately, it's not that easy to get young coconuts as I'm used to on other tropical islands around the world. Although coconuts grow at every corner, most restaurants do not sell them. Looking forward to the day when the locals realize the power of coconuts and how much many foreigners love them. 
When you ask for coconut ice cream in many tropical destinations, it will be made of coconut milk and coconut meat only, thus vegan. However, careful with ordering coconut ice cream on Rodrigues. I asked about it at Le Marlin Bleu and Tekoma and it was made with cow milk, and not coconut milk which makes it vegetarian, not vegan. I really hope they will start making vegan coconut ice cream on Rodrigues one day in the future 🙂
---
TIP 2:  Here's 10 things you need to know about Rodrigues island before you plan a visit there.
---
TIP 3: I hope that if you visit Rodrigues, you would also like to do other things there but eating, right? In that case please check my article about 15 things to do on Rodrigues island. It's a detailed list of top activities on the island.
---
*I visited the Rodrigues island thanks to Tourist board on the Rodrigues. So grateful for this unique opportunity! You can find more information about the island on their Tourism Rodrigues website both in English and French.