Advantage of travel bloggers: 7 unique experiences I had thanks to being a travel blogger
I founded this travel blog in September 2010 and been professionally travel blogging since March 2011. It was when I left my flight attendant job in Italy and bought a ticket to Mexico. Yes, I have been making a full living out of this travel blog for 7 years already!
Being a travel blogger has a couple of disadvantages but also some pros to it. And if it didn't have more advantages, I would have stopped writing long time ago. I hope you get that 😉
Advantage of travel bloggers
Usually, as a travel blogger, I get to see behind the scenes, get more information and see more of tourist sites than the "normal" tourists do. I am even sometimes allowed to take photos and videos where it is otherwise prohibited. Just because I will give the place/tour some promotion then and for that I need photos.
Thanks to my blog I get to see important/famous people, do expensive things and visit special places. 
In 7 years of blogging I've had uncountable unique experiences thanks to being a travel blogger. Find just some more memorable ones below:
1. Meeting with Taboo from Black Eyed Peas
When I was invited on a press trip to Northern Italy in 2014, one of the visited destinations was also Rimini. We went to the Molo Street Parade to watch concerts at the boats. Because we were bloggers, we had a chance to enjoy the full hour on one of the boats right next to Taboo from Black Eyed Peas. Taboo, a skilled DJ was smiling at me, even winked at me during the concert and we could also take photos together. I even shared a few words with him afterwards, and later on again at the VIP party. Just me, Taboo and his bodyguards haha… He's such a nice guy 🙂
---
TIP: More about my meeting up with Taboo here.
---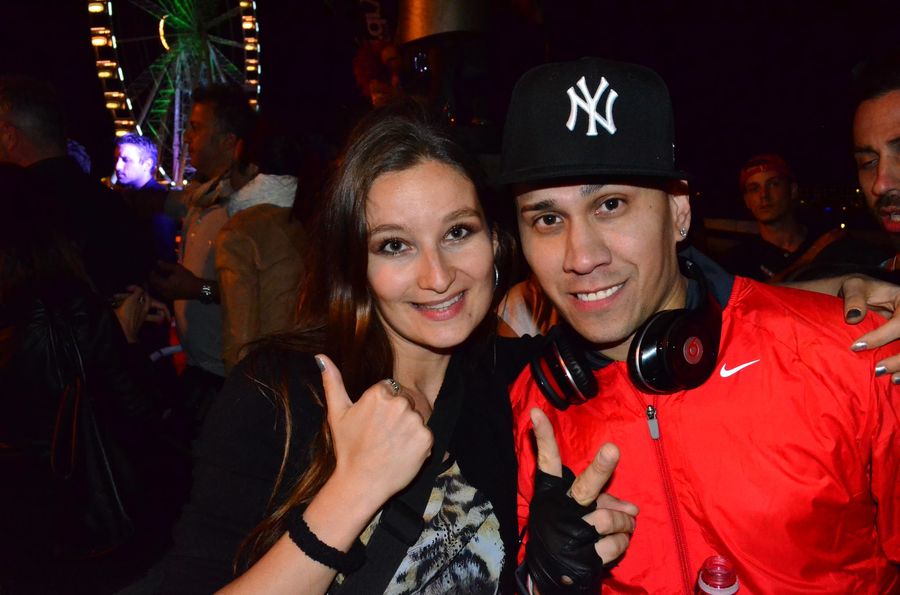 2. Dinners with Ministers
 Occasionally, when on press trips, we do have meetings or even full dinner with Ministers, usually Ministers of Tourism. I was lucky to meet a few already but the meeting I remember the most was on St. Kitts and Nevis islands in the Caribbean. When we were staying at the Montpelier Plantation Hotel, we could get some rest and then go to the restaurant to have dinner with other travel bloggers and the Minister and his wife. I took a shower, changed into a dress, took photos of the sunset and then sat on my bed waiting for the dinner time. We were supposed to start the dinner at 7 pm. The time seemed to be passing slowly. Then at 6.40 pm I got a phone call if I was still joining them for dinner as I was 40 minutes late. It turned out my mobile phone changed the time zone by itself when I entered my bungalow and instead of 7.40 pm it was showing only 6.40 pm which made me be late for the dinner with the Minister. That was such a fail I do not use automatic time zone setting on my phone ever since. I always set it up manually. I felt so sorry for being late because I'm a very punctual person.  
3. Maiden Voyage MSC Preziosa
I am a big fan of boats, ships, cruiseships you name it. Thanks to being a travel blogger, I was invited on a press trip to write about MSC Preziosa cruiseship around the Mediterranean sea. The best thing about it? It was just 3 of us, travel bloggers and we shared the cruiseship with famous people, such as Sofia Loren and Mr. Vago (MSC CEO). Why? It was the Maiden Voyage (the first cruise ever) of the new MSC Preziosa ship. Imagine loads of press, celebration and even fireworks before we took off from the Genova port for the first time. We were taken such a good care of on the whole cruise that I felt like a Princess.
---
TIP: Here's more about my luxury MSC Preziosa cruise experience.
---
 
4. Samabe villa
I don't think I'd ever get that rich that I could spend more than $1,000 per night at a luxurious villa just to myself. But because I write about luxury trips on my blog, one of the amazing hotels I've stayed at was Samabe in Bali. I have very fond memories from that place… huge villa with a private swimming pool just to myself, full body massages, tours around Bali, all inclusive meals, and even a 24/7 personal butler bringing me all the fresh coconut water I asked for? That's what I call heaven. I felt probably more peaceful there than in any other hotel in the world.
---
TIP: More about my luxurious stay at Samabe villas is my other article.
---
Just a few months ago I stayed at another super cool resort, Lux South Ari in Maldives which is probably the best hotel I've ever stayed at 🙂 
 
5. Meeting with actor Corin Nemec
As a travel blogger, I do want to get better and learn new techniques so I attend travel blogger conferences. The last one I attended was TBEX in Jerusalem in March 2017. At the opening of the TBEX conference, we also had a chance to meet the Hollywood actor Corin Nemec. I mention him out of all the actors I've met in my life, because of his very human attitude I truly appreciate. 
Corin is so easy to talk to, so down to Earth and he even keeps following my trips on Twitter 🙂
6. Helicopter rides
Maybe I would not spend money on limousines and helicopters if not invited to promote them as a travel blogger. Just thanks to my job I was able to get a helicopter ride above the breath-taking Niagara Falls and also amazing Las Vegas at night. Not only I got a helicopter ride in Vegas, I was picked up by a limousine and taken to the helicopter like a real star! Oh yes, I could get used to this luxury lifestyle! 
---
TIP: Here's photos from my helicopter ride above Las Vegas.
---
7. Submarine
One of many unique experiences I've had thanks to blogging is also a submarine trip. Yes, you hear me right! When in Sweden in July 2017, I stayed 2 days at Djuronaset close to Stockholm. Altough the weather was not the best at that time, we could go on a submarine tour! Such an interesting experience difficult to describe using words 🙂