Where to stay in Playa del Carmen – HouseTrip apartment El Taj Oceanfront
Maybe you have noticed I returned to Quintana Roo in
Mexico
in September 2o14 – back to Cancun, Playa del Carmen, Isla Mujeres and Tulum again after 3 years. It was so cool to see what has changed in the meantime and what remained the same. 3 years is not a long time in general but not going back to some of the best beaches I've been to seemed way longer than I wanted to. I already compared
Cancun and Playa del Carmen
and stated that personally I prefer Playa for more reasons. This time, once again, I paid a visit to both towns. My first days in Playa del Carmen – just before TBEX conference in Cancun – I spent renting an apartment with 2 other bloggers. We rented a top floor apartment with the beach view via HouseTrip in the very heart of Playa del Carmen town. Together with a few other bloggers who were renting other 2 apartments in El Taj Oceanfront Condo Hotel, we had the most amazing time together swimming with the whale sharks, boat tripping, relaxing at different beaches and tasting Mexican food in posh restaurants in Playa del Carmen. I can tell you one thing …
4 nights at HouseTrip apartment El Taj Oceanfront were simply not enough …
I already fell in love with the place after I first stepped in … I was greeted in such a sweet way, and once I saw all the plants around and little pools with fish and fountains and the unique swimming pool, I knew I was going to enjoy this place more than I planned. To be honest I did not check out the El Taj Oceanfront apartments we were booking via HouseTrip too much online before coming here which only made up for a bigger positive shock once we were walked into our top luxury apartment. No wonder, El Taj Oceanfront & Beachside Condo Hotel is the only hotel in Playa del Carmen that was voted as one of the Top 25 Hotels in Mexico, and as well one of the Top 25 Luxury and Trendiest Hotels in Mexico on Tripadvisor 🙂 Together with Kathryn (from
Mommy Kat and Kids
) and Paige (from
All over the Map
) we had a big apartment for just ourselves – a kitchen with a table, a living room, and each one of us a double room with a private bathroom.
That's just one of the advantages of HouseTrip apartments/homes – they all come with a kitchen and at least one bathroom.
And in El Taj Oceanfront we had even 3 bathrooms which came in very handy in the morning when we needed to get ready for our adventure
Viator tours
in the area.
What I liked about Playa del Carmen HouseTrip apartment El Taj Oceanfront:
location – situated just a few meters from the 5th Avenue (the main Playa del Carmen tourist street with all the stores and restaurants) and also right on the beach. It took me a minute to get from my apartment to the beach, so easy!
fast wifi – having a wifi in our apartment was priceless. If you are a digital nomad and you just cannot survive without internet connection for more than a few hours, you know what I mean. Blogging and social media posting right from my bed right before going to sleep or straight after waking up is more than comfortable.
fully-equipped kitchen where you can cook or invite a private chef over to prepare a special Mexican dinner for you and your friends. On our last night we invited the Chef Alexandra Iserte Garcia to cook for us. It was a little cooking workshop where we could learn the basics of some traditional Mexican meals Alexandra chose for our dinner. Having a chef over in a normal hotel would not be really possible – just another advantage of staying at one of the HouseTrip holiday rentals.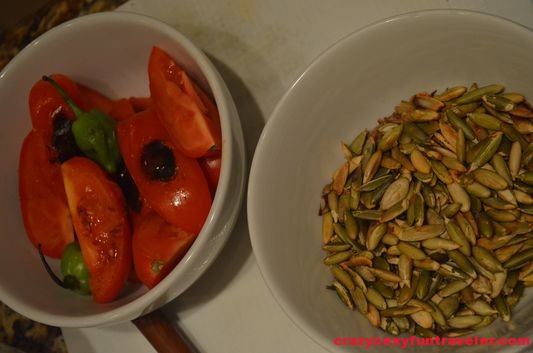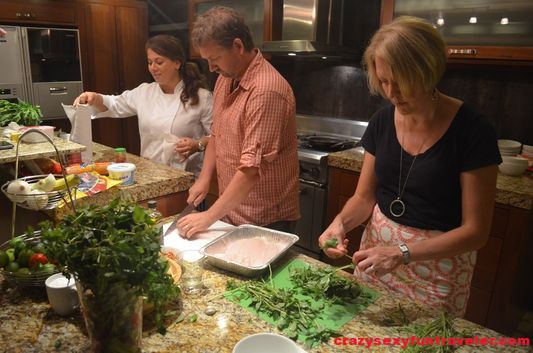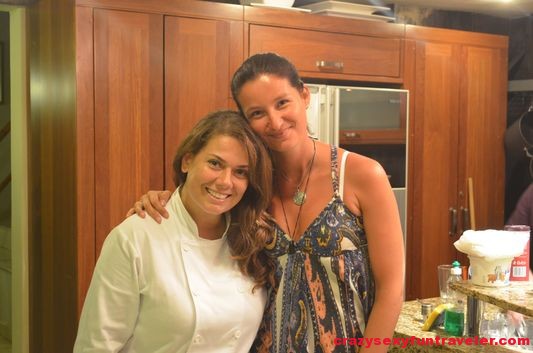 potable water in a water container in our kitchen
super cool swimming pool with a very special jacuzzi of a funny shape and all nicely lit at night
the Maya Spa close by – and you get a 10-minute free massage there or a $10 discount for any other massage
gym with a lot of different activities throughout the week – please check out the schedule and remember that the gym is not located in the Condo Hotel itself but a few minute walk from it
breakfast included – you can choose from 2 different restaurants, the Indigo Beach restaurant is on the beach with cool views and buffet breakfast and the other one – Imprevist restaurant is just a 2-minute walk from El Taj where you get a fresh juice, coffee/tea, pastries, a fruit plate and then you can also pick a main dish from the menu (all included)
top apartments (like the one we had on the top floor) have a private jacuzzi, relax zone with sofas and a grill area on the very top with the best views of the beach
washing machine and dryer with all the detergents – incredibly useful for travelers. For me personally, doing the laundry is one of the most annoying things on the road and having a washing machine together with a dryer right in the place where I am staying at (and included in the price!) comes so handy.
very nice professional staff ready to help you with all your needs
super comfy beds and pillow – I slept like a baby in that king size bed
free towels and sun beds on the beach right in front of the apartments
natural chocolate toiletries in the bathrooms – I am a chocolate freak and I also use just natural cosmetics, no chemicals, so finding these chocolate shampoos, conditioners, body lotions and soaps in my bathroom was such a nice surprise.
when staying at one of the El Taj apartments you will also get a VIP discount card to use it in different restaurants and stores around Playa del Carmen
big showers where you can actually even sit and they are nicely designed
Buddha's statues and images around – love it! Makes me calmer and more relaxed and reminded me to meditate a lot.
I could watch beautiful sunrise above the beach right from our apartment – always very pinky and colorful. What a great way to start a day!
usually you don't have that much space in "traditional" hotel rooms but we had more space than needed in our apartment and thus could spend more quality time with my fellow bloggers together without squeezing in too much.
HouseTrip.com offers houses and apartments all around the world all just to yourself – no need to share them with any stranger, except your own friends, fellow travelers or family members who are on the same trip with you. That's another advantage of HouseTrip  comparing to other rental companies as it gives you the opportunity to enjoy the whole apartment or house only with the people dear to your heart. Not only families use Housetrip when traveling, but as you can see you can rent a place to stay with a group of friends, or more couples can share the same accommodation, too.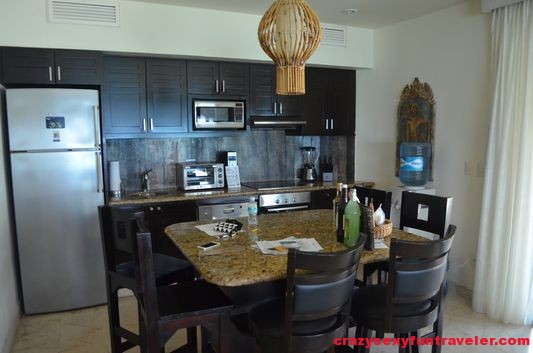 My Playa del Carmen HouseTrip apartment El Taj Oceanfront was organized by HouseTrip as part of my Adventure and Spa project. Now Housetrip has over 320,000 entire properties in more than 20,000 destinations around the world, mostly based in Europe.