Pure Raw vegan training and breatharians in Bali – day 4

Yoga
After
day 3 of our training
, I got my period at 5 am so I got more emotional, feeling like spending my day in bed alone. But I still followed my purpose of waking up for yoga every day so made it there.
Our yoga teacher Robyn told us to concentrate on one thing in the nature which made the whole surrounding feel more alive.
It was tough, I couldn't concentrate and everything hurt during the yoga class. But I was very proud of myself for waking up so early and doing my best.
This morning we sang Listen to your body, hear your soul.
At first I didn't feel like singing at all as I don't like falsettos and today I just don't have any energy to speak and be surrounded with many other people.
Practice makes perfect.
We practice raw vegan diet here and then we can make it perfect after the retreat.
You can do all you need to do in your life without abusing yourself.
With the full raw vegan diet only on the course, some of us started to experience light detox already, me included, as I was not 100% raw just before the training.
It's important to be willing to face your darkness, to let it come and to understand it is natural during detox.
Detox is painful and harmful and it will make your emotions turn upside down.
Your energy drops and raises all the time without knowing why. Be easy on you. Just allow yourself to feel all those things.
It's OK for you to get emotional. It's OK for you to cry. No being tough. It's the reason why you are doing that.
We Westerners tend to do everything on our own but it's OK to ask for help.
Don't be rigid, don't resist to what is happening.
When you feel stuck emotionally, you need sauna, sweat, get circulation moving, get some support with healers, or get a hug.
You shouldn't feel guilty for finding time for yourself. You shouldn't feel weird for the thoughts you have as most of us have the same.
Sharing is becoming my favorite part of the course as not only it helps to clear out my mind but many things that others are saying resonate with me like crazy.
During this sharing circle I realized one thing. Where you are a stranger somewhere, usually people invite you to do things with them, they are interested in your story. But that's not so normal in a place where you live. This is exactly one of the reasons why I love traveling.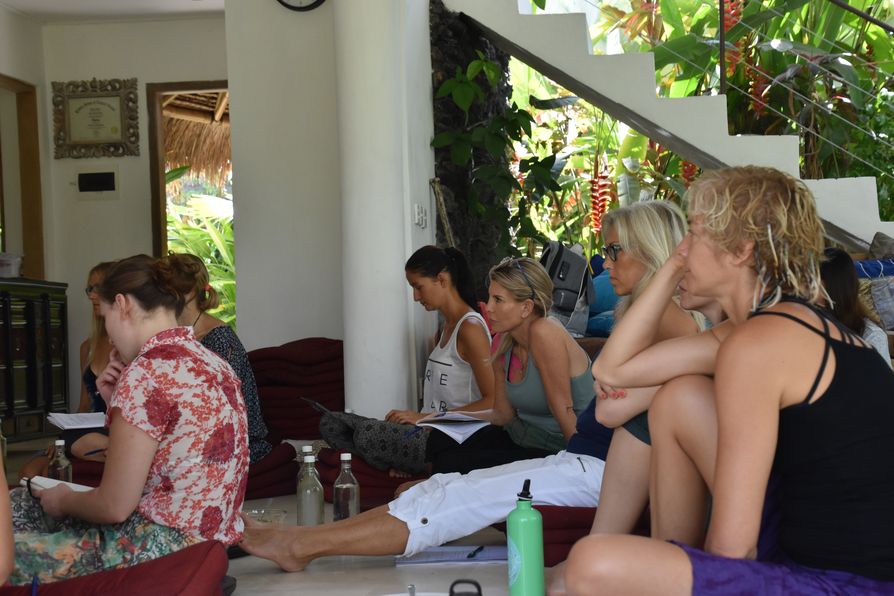 Science class
During the training we were getting two 660 ml bottles – one of green juice and one of kangen water with or without lemon (our choice) that wer included in the course price. 
Digestion
Nuts and dehydrated raw foods are difficult to digest so if you are changing your diet to raw, it can take a few days to move your intestines, as they are getting different food than before. The old stuff is stuck there so you need to drink a lot to keep it moving.
GI – gastrointestinal tract is where all the digestion happens from the mouth to the rectum. 
Digestion begins in your mind so you need to salivate properly. Your teeth masticate the food into smaller parts mixing them with saliva which sends a signal to your brain that your body should prepare for digestion.
In the stomach there is strong acid of about 2 pH (the same as coca cola) which breaks down food into chyme (the mixture of slash of food and stomach juices).
Your stomach can hold 1 to 2 l of food/liquids at once, then it hurts when you give it more.
Then the food continues to the small intestine which is 23 feet long (7 metres) and consists of 3 parts: duodenum, jejunum, ileum. The first 2 parts interact with liver and gall bladder (it pulls out cholesterol and decides what is fat.) The small intestine digests carbs, fats, proteins and absorbs nutrients.
Chewing food is SUPER IMPORTANT as otherwise it's not mashed enough to get absorbed into the blood.
Large intestine have villi and micro-villi which get full when you don't drink enough and eat just traditional diet. 
The undigested food gets stuck in the body as fat – e.g. in the belly, butt, thighs etc.
Large intestine 5 feet is long (approx. 1.5 metre) and starts with cecum that empties the waste into the lower part of the ascending colon, then transverse colon, through descending colon into rectum. 
Each person has altogether around 30 feet of intestines (8.5 metres.)
Stinky gas is a sign of fermentation in the intestines because the waste was there for too long so after a while you feel low energy.
The nods in the intestines are pushing the waste to lymphatic system which gets all the waste. 
Because raw food contain enzymes, high water, oxygen, bio-electrical current, vitamins and minerals, can be easily absorbed.
"We know so much more about our gadgets (phone, laptop, car etc.) than about our digestion and organs."
Our autonomic nervous system consists of two systems: parasympathetic (when we are in rest, digestion, urination, sex etc.) and sympathetic system (it is responsible for fire and fight without me even noticing
When you are tight, stressed, in a bad mood, emotionally disconnected etc. then you cannot digest food properly so you should avoid eating in those situations.
On raw food you don't feel any mucus in your mouth and on your teeth compared to eating traditional food (after waking up in the morning.)
Endocrine system = hormonal system telling entire body what to do. 
Knowledge is power.

 
Find out what you can do for your body. Don't complain about being sick and eating so many pills. Do something about it, instead.
Do not drink when you eat. Liquids wash out the enzymes in the digestive system. So drink 30 minutes before and even later after eating, but not with the meals.
When your body is too acidic, you get acid reflux. The allergens (meat, dairy, flour, sugar) and improperly combined food, together with chocolate and cashews rub the flora in your belly so the unhealthy bacteria begins to grow. The acid leaks out into your blood and you get "fire burns."
People with acid reflux have also candida, for sure, as their body is too acidic.
Motivate others to be healthier
find out what they are willing to change/remove/lower down the size
take out the most toxic thing out of their life first, get rid of that habit
help them to go through the emotional problems
remember you cannot make them to be willing to change something if they do not want it themselves
be their inspiration so they see what you are doing and what works for you
Cooking
I had to sort out some things in Ubud town, move into a different place and meet up with a friend so I missed the cooking lesson with raw vegan chef Jillian Love. The rest of the group there prepared meals, such as pizza crusts, carob macaroons and nutty burgers.
Breatharians in Bali
We had an hour talk with breatharian Atlantis from Atlanta, Georgia is now 33 years old (in 2015.)
Breatharian is a person who does not eat any food. Some do drink, though. Atlantis looked vibrant and alive and it was super interesting to listen to her story.
What would happen if I could only eat the food that my body needs and can really digest???
Atlantis started dry fasting once a week during her period alone without electricity in the forest. And there after three days it all clicked.
Later on, she read a book when she realized she has been a breatharian for a while already.
 

"I rejected seeking outside of myself for wholeness."
Whatever you decide to do, just decide that's something that is going to work 100%.
There's so many beliefs: If you do this,  then that… If you do not do this, then that …
"People ask me where my energy comes from. And I am like I am energy. What are you talking about?" made me laugh.
We, human beings, are created for bliss, joy, love and synergy and have a lot of potential to show it.
How did we get into this situation that we all think we are NOT perfect? It doesn't make sense to Atlantis.
 

 

"The reality when perfect love and life are not true is not what I believe it."
Atlantis did a three week transition process when she felt so amazing, happy all the time and joyful.
"It feels like my all life is perfectly orchestrated the way I want it. People always find me, the timing is always perfect."
Then she experimented with her body.
Atlantis still drinks water, cucumber juice with water, lemon tea and every month or two she has a little bit of food. The last thing she ate two months before this course in November was Thai curry.
You begin to see energetically what feels good to you and what doesn't. If you eat all the time, you don't get that. 
Most people are not aware of what they are doing, they are pretending to care about you but they might be just using you. Many people don't know they are amazing and cannot distinguish what is true and what is not.
 

 

"My body knows if I am fine or not, if everything is where it should be or if there is anything out of place. The first thing is me, if I am in the right situation."
Nowadays, Atlantis takes people for a 7-day process. "At the moment I work transitioning people into not requiring food when they can feel energetically in their body that it can go on its own. In 7 days they can do that with my method."
She also teaches that via Skype. The people she is dealing with lose weight but they don't tend to eat much as their body don't tell them they need to eat. She thinks we need to be very responsible when guiding other people and use science and not just inspiration.
 

 

"It seems to me that once you get out of any sugar, your body doesn't care about food then at all."
With fast food you establish a colony in your belly which tells your brain what it wants and it is in charge of all your body.
The sprouts work as they don't get anything out of your body compared to most of other food. It is said that living food loses most of it after 6 hours of being picked from a tree/plant.
Atlantis doesn't get sick and does tons of exercise, yoga, swim, dance, walking. The more she moves, the more she wants. Movement is important to release the stuck energy in the body. Her muscles can get sore but only for like 30 minutes so the recovery time is fast.
Her challenge is to find enough places to put so much energy she has into. She needs to be constantly directing the energy somewhere all the time.
She paints 8 hours a day and dances a lot and only discovered these things when not eating.She wants to do everything but there's not enough time. So just does what she really wants. The kids do exactly that, too.
 

"I find some pleasure in my own body instead of looking for it outside, e.g. with food."

Maybe the desire to eat is the desire to move? 🙂
At the beginning of detox, you get thinner but you only lose what is toxic for you. But once your body is clear, it can begin to build up muscles. Mostly men get scared about not being powerful without muscles. But they have to accept that and give up and then it all changes.
 

"Many people get what I mean just being around me because of the vibration. It's the same when I am around other breatharians, such as Victor who doesn't even drink water."
Many sick babies first get worse when around Atlantis but then straight away they are fine again. Everything we have and we are, just goes around to each other.
It is all about vibration.
 

 

"I am perfect and I don't let anything into my reality that doesn't support that. This is what I came to the Earth for."
The funniest thing is that Atlantis doesn't know how not eating is possible from logical point of view.
So why is our body designed to digest but we shouldn't eat? Some breatharians were tested and they are digesting but we don't know what exactly.
There is this fear of giving up the food pleasure for nothing but the place we go without eating is according to Atlantis way more interesting.
Loads of energy goes into digestion and you miss many things that you could do instead of eating and digesting.
We have so much emotional attachment to food, it's incredible.
It feels like being home with yourself which is exactly what people are seeking for in real life. You are already inside of your own love story.
 

"Show up now. Be here in this right moment and be the perfection you already are. Anything else is just the beliefs we have."
Atlantis can feel who feels hungry around her as the energy is different. She can also feel when people get stuck in their thoughts.
She doesn't take anything personally so nothing what others say can effect her. The whole ego thing doesn't exist.
People think that she is telling them they cannot eat but she only believes there is just more to all this life than eating.
Just remove what is not you and then your body will know what is magic 🙂
When you feel cold, you are not paying attention to all your body so it shows you to concentrate there more.
She was so humble but so authentic.
Atlantis made a huge sacrifice but sometimes she wants to have a "normal" life.
But she knows she is just energy and doesn't need anything else.
There's a handful of other breatharians in Bali nowadays.
Have you ever heard of breatharians? Have you met one? What do you think about it? Share in the comments.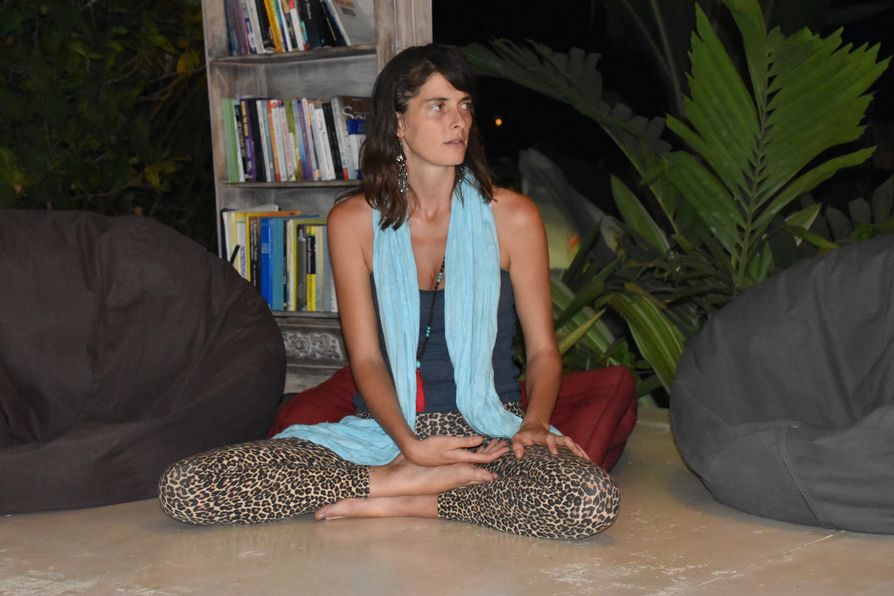 Here you can read more about Pure Raw training –
day 5
.
For more information about Pure Raw vegan courses, please check Amy Rachelle website. I am eternally grateful for being part of the training which made me a better person.