Why I recommend Chivasuka retreat
Detox at Chivasuka retreat
In the first half of February in 2017 when I was on a month trip with dad around Thailand and Kuala Lumpur, I convinced dad to go on a detox retreat with me. As some friends recommended me
Chivasuka retreat
close to Chiang Mai, I decided to give it a try.
It was not my first detox retreat, but it was for dad. I am glad we chose Chivasuka as the whole week there was not a super difficult one. Karin and Jan, the owners of the retreat prefer to serve delicious meals even on a detox so people don't feel disgusted by bitter green meals and then are more open to follow a similar diet after the detox, too.
Why I recommend Chivasuka retreat:
Peace and quiet
Very relaxing atmosphere all around
Karin and Jan are very pleasant to be around, very positive, they really want to help you and make you feel at home. You will definitely make friends with this lovely couple and keep in touch after the retreat.
Personal approach
Thumbs up for how the meals looked – Jan always made them look awesome
Living room with dining room look incredible – dad and I fell in love with the room
Outdoor sitting in the garden was very pleasant
Fireplace – it's always so lovely to have a fire on a colder night
Nicely decorated bungalow 
Warm water in the shower
Free pandan and chamomile tea in the bungalow
Loads of plugs in the bungalow to recharge all the batteries 
Steam sauna
Free unlimited water
Yoga gazebo behind the bungalows – you can practice any kind of yoga, also aerial yoga as there are hammocks for it hanging from the ceiling. Karin can provide you with yoga mats and blocks so no need to carry yours on this trip.
Really tasty meals with good herbs and spices – all meals had a great taste and flavor
Good wifi in the main living room – in the past the WiFi was non-existent in this area but now the connection gets better and better each year.
No WiFi in the bungalows – being a digital nomad myself working online, I still appreciated no wifi in our bungalow as you are supposed to relax and detox from internet and other problems and people. So it was perfectly fine to do the most important things in the living room before/after the meals, and then go offline in our bungalow. And if I needed to send an important message without leaving the bungalow, I could do it via WhatsApp or Facebook messenger using my Chatsim. It's a mobile SIM card which allows me to send chat messages using unlimited mobile data from anywhere in the world without having WiFi. So from our bungalow I was sending messages and then working on my laptop in the living using th WiFi. Perfect 🙂
Amazing view from the bungalow
Location – good for hiking and walking
No bugs and mosquitoes when we visited in February – they were not annoying us
5 dogs – the owners have a good relationship with animals, no killing of bugs and butterflies but they let them go back to the nature
Natural cosmetics in the bungalows and also in the kitchen. No chemicals are used here.
Loads of books to read – if you speak English, you can read a lot on your detox retreat
Each bungalow has a hammock 
Birds singing in the morning – the best sound to wake up to 🙂
Daily cleaning of bungalows
Free Chiang Mai pick up before the retreat and you will be also taken there once your retreat is over
Free massage included – it might depend on how long your package is but when we stayed for 7 nights, a massage per person was included
Loads of candles in the bungalow
Jan brings morning drinks to uour bungalow so you can enjoy a relaxing morning until you walk down to the main room to have breakfast. That's very convenient.
Flexible with lunch and dinner time depending on our plans – earlier dinner when we wanted to have time to digest and then go to steam sauna before bed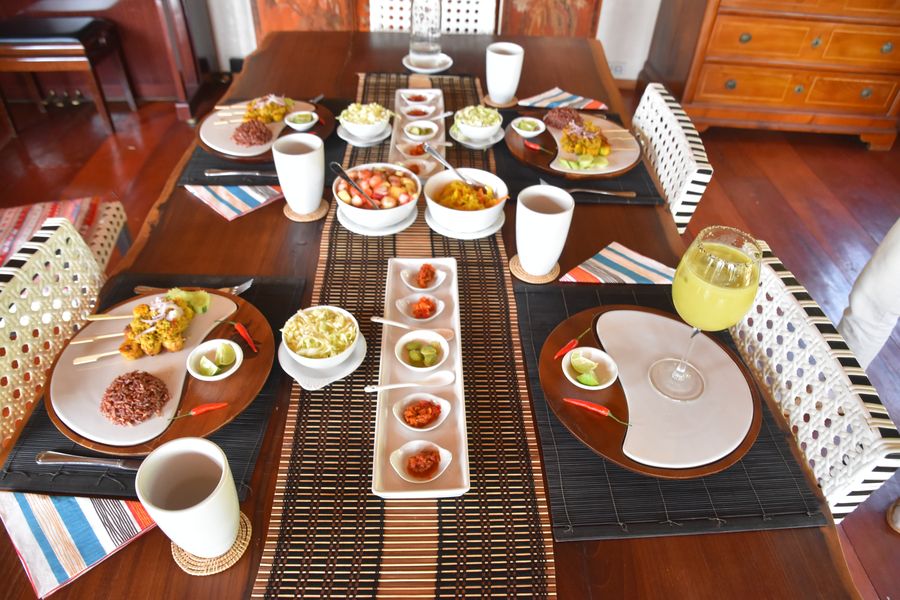 If you are falling in love with this detox places as much as I did just through my photos and information, check out also Chivasuka retreat website for more. I highly recommend you to go there for a detox retreat.
When I wrote this post, Chivasuka was still located close to Chiang Mai in Thailand which is where I did their detox retreat. (Un)fortunately, Chivasuka location changed from Chiang Mai to Curacao island in the Caribbean. But I bet you would get the same, or even better experience on Curacao as I did in Chiang Mai as it's the same owners 🙂