Where to stay in High Tatras – Hotel Solisko Strbske Pleso
I hope you all have heard of the High Tatras, the highest mountains of Slovakia, my home country. If not, then you should definitely check out my post about 10 reasons to
visit Slovakia
. And then continue reading this article about the 4* hotel Solisko Strbske Pleso which is basically situated at the Strbske Pleso (probably the most-known Slovak tarn).
What I enjoyed about hotel Solisko Strbske Pleso:
bed lamps – you touch it and it switches on or off. There's even 3 different light intensity settings. I was so amazed when I accidentally pressed it putting my phone next to it and it switched on. So cool! I've never seen a lamp like this in any hotel I've stayed at. Ever! That's why it comes on the top of my list about the hotel as it's unique.
There's 4 kinds of rooms to choose from – from 14 standard rooms, family rooms to the best King apartment
We had the best view ever – that's what I call the room with a view. Although the room we stayed at was standard and not super luxurious one I am used to (I believe the better ones were occupied when I was there), the view was worth it all. I think I spent more time at the balcony looking at the lake than in the room itself anyway. What an awesome feeling to wake up, walk to the balcony and stare at the splendid mountains observing clouds passing by quickly. The balcony wooden chair was my morning meditation place where I let the first sunbeams fulfill me with energy necessary for a new day.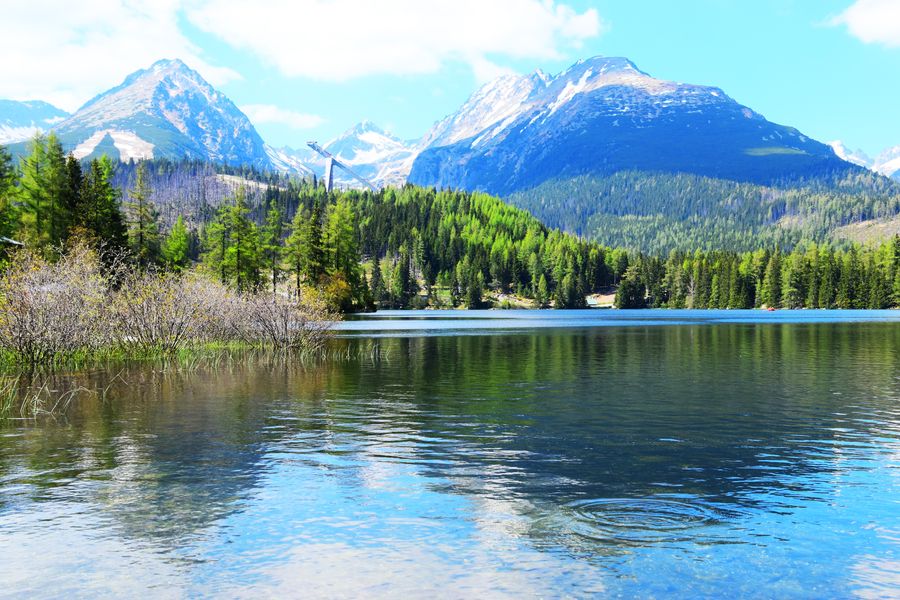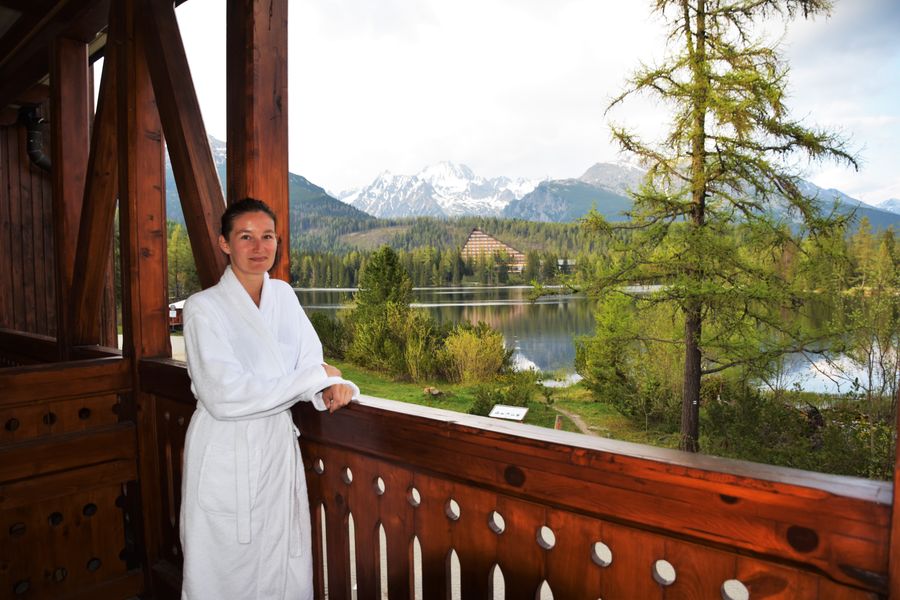 Buffet breakfast – I could find fruit there (different kinds of melons, pineapple, pears, appleas, bananas, nectarines, dried fruit) and the others could easily have anything they wish for, from eggs, sausages, to pastry, cooked/grilled veggies, coffee, tea, different kinds of hot chocolate (try dark orange cinnamon flavor)
Spa – there is infrared, Finnish and steam saunas, Kneipp foot bath, a cold water pool to cool down after sauna, a jacuzzi and relaxing sunbeds. In the relaxing zone you can find a massage chair, too, where I spent loads of time on my last two days. Having a back massage after sauna was definitely a great idea before dinner. Plus, there is also another private jacuzzi in a separate room which you need to book at the reception so no one else will get in there. Very private and romantic, designed for couples. You get a bowl of fresh fruit and 2 glasses of champagne to enjoy watching led lights resembling stars above the jacuzzi.
There's various room packages you can book, out of which some include a 4-course or a 3-course dinner at the Al Lago hotel restaurant. Our package came with a 4-course dinner consisting of starter, soup, main course and dessert. Each morning you get a paper with dinner meals, a joke, weather forecast and some local tips. There you can choose one of the three main courses and check out what the other 3 courses are going to be. My guy who was there with me had 4 courses from the menu but I had special ones: gluten-free vegan. Or I could tell them directly what kind of meals I wanted, or just let them modify the daily menu for me replacing some ingredients or just skipping them completely in my meal. I have to say I really enjoyed asparagus and also minestrone soup, pear sorbet ice cream (I usually don't like light-colored ice cream but only red/purple and chocolate one but the yellowish pear sorbet was finger-licking!) And gluten-free pasta with truffles was awesome, too! This gluten-free vegan meal is not on the main menu as they made it just for me but you can order regular pasta with creamy truffle sauce (contains dairy which I avoid.) And on my last night I asked for risotto with spinach and truffles which, to me, was the tastiest meal at the Al Lago. It's not on the regular menu either but as other guests could have spinach and ricotta pasta from the daily menu, I was inspired by spinach and wanted to have truffles one more time as I rarely have them. This is how we created a new recipe.
the bathrobes have a nice flower smell and the towels have embroidered plants typical for the High Tatras
eco cosmetics in the bathrooms from Damana Ecolabel company using bigger refillable bottles for both shampoo/body gel and hand gel instead of small travel packs. Those who know me well, are aware of my passion for saving the planet so thumbs up for the eco cosmetics!
One of the things I loved the most about the hotel besides the view was the fact I could go out hiking to all the possible directions from the hotel as the mountains are cool all around. I have to admit I've missed hiking a lot as in the past few months I haven't spent enough time in the nature. Surely not as much as I'd like to. Some routes and snow-covered High Tatras peaks reminded me of Patagonia, mostly of our Glacier Martial hiking.
children playing area by the restaurant
elegant Cigar salon next to the restaurant
lovely relaxing Italian music in the restaurant at dinner
many older photographs of the tarn and the mountains are on the walls in the restaurant and hallways, too
Strbske Presso coffee – a local coffee brand which put together 5 different kinds of coffee the Slovaks love the most which can be sipped with cinnamon, cardamom and Tatras gentiana flower. I am not a coffee drinker but if you are, you might want to give it a try 🙂
---
---
TIP: If you speak Slovak, here's my newer article about Hotel Solisko. I stayed at the hotel again for 5 days in October 2019 and wrote an article about my stay in my mother tongue Slovak. This time I visited the hotel with my dad.
---
---
For more information about this High Tatras hotel, please check out Hotel Solisko official website.