Wellness Grandhotel Tatra with nice views of Beskydy mountains
To be honest when I am in Central Europe and not somewhere exotic, I spend a lot of time in my home country Slovakia and don't travel that much around. But that's a shame, right? The last time I decided to explore a few wellness hotels in Czech republic and one of them was wellness Grandhotel Tatra.
It's a completely renovated hotel which opened just a year ago. That's a big plus, do you agree? 
Grandhotel Tatra is located in village Velke Karlovice in Morava, Czech republic. The hotel has incredible views of the Beskydy mountains. 
What I liked at wellness Grandhotel Tatra
All staff members were really nice to me. Those I talked to were very helpful and professional which always adds up a lot to the whole atmosphere and how a hotel guest feels at the hotel. Cannot say anything bad about any of the staff members I got in touch with while there.

I stayed at a really lovely room. I was staying on the top third floor and had a room with big bed and a sofa with 2 TV. The room was kind of divided into bedroom and a living room, and obviously bathroom. I was so happy about the big windows in the bedroom through which I could see the green Beskydy hills. That view, especially early morning after waking up was priceless. My room with a view was one of my favorite things about the hotel, for sure. Just look at it. Isn't it stunning?

Quiet rooms – the walls and windows are designed very well as almost nothing can be heard. Just once in 4 days and a half I heard a door closing in the morning. No other noise whatsoever.
I had a pillow with herbs in my room for better sleep. It smelled so nice.
Many local ingredients are used in the kitchen.

There's loads of good and healthy ingredients for breakfast. I could choose from different kinds of fresh fruit, dried fruit, seeds, salads, cakes etc. Don't worry if you are not vegan, there's typical European breakfast for meat-eaters as well.

I was so grateful to find chia seeds and soya milk for breakfast so I could make vegan chia pudding with loads of fruit. Yay! Give me a vegan breakfast with a view and I am the happiest person on Earth. I also enjoyed having breakfast outside while observing the clouds moving quickly above the hills. It was not very warm even though I visited in the beginning of summer (July), but the views were so worth it.
Here's a video I took from a day spent at wellness Grandhotel Tatra:
The hotel has a unique Wellness centre with stunning views of the Beskydy mountains

Swimming pool is open from Tuesday to Sunday from 7 am until 10 pm so you can go for a swim even before breakfast and before spa with saunas and outdoor jacuzzis open, too. I usually do like to go swimming before breakfast but this time I did not manage to force myself to wake up early because it was Full Moon and I always fell asleep very late. 

Swimming pool has massage jets. I love to massage my back with those jest always when possible.
Wellness centre has 4 different saunas. Unfortunately, my favorite infrared sauna was under reconstruction so I only stayed a couple of times at herbal sauna which is my second favorite. It has the temperature around 50 Celsius, humidity up to 30%, and is beneficial for breathing, skin and muscles.

2 outdoor jacuzzis with the mountain view. I guess you know  already that I am a jacuzzi person, but usually I can't spend a lot of time in a jacuzzi. I just find it or too boring after a while, or they use some kind of chemicals in the jacuzzi which burns my leg skin (I only use natural cosmetics so I am not used to any chemicals). Having said that, I chilled out in Grandhotel Tatra jacuzzi quite a lot. Well, in both of the outdoor ones ? My skin did not feel irritated at all, the water temperature was perfect, mostly as it was pretty cold outside, and those views! I was just massaging my back, legs, feet and hands in the jacuzzi while blankly staring at the hills and clouds. I guess I spent more than an hour per day in a jacuzzi all 4 days during my hotel stay. Unfortunately, the last day was Monday and wellness opens at 2 pm but I was gone at lunch time.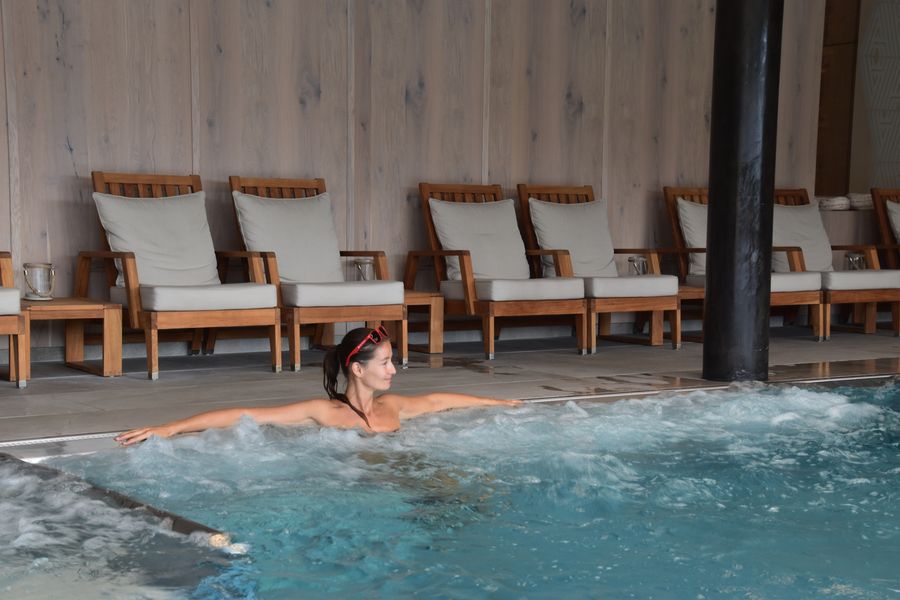 You can turn on the jacuzzis yourself whenever you want to. Good the water jets are not on just at certain time, but when you are there, you choose from 2 kinds of jets and turn them on.

There's free water with lemon and herbs at wellness centre. As I drink a lot in between saunas and after swimming, I always appreciate when there's free water available.

Wellness bar offers also fresh juices, smoothies and salads for healthy people… and alcohol drinks and other snacks, too.

Wellness centre offers many different spa treatments to choose from. They do face treatments with Thalgo, a French company using seaweed in their cosmetics. It's all natural and vegan, no parabens, no mineral oils, nothing artificial. Thalgo cosmetics used at Grandhotel Tatra wellness get a big thumb up from me!
On my first day I enjoyed an hour full body classic massage done by masseur Lukas. I have to say he had the softest hands ever! The massage was very relaxing and I was falling asleep. We even found out that we both do yoga, so another plus for him. Really good massage, exactly what I needed on that day 🙂

I also had a 50 minute Thalgo hydration face treatment consisting of cleansing, exfoliation, neck and face massage (my massage was done with organic sage oil), then a hydration mask, and finished with skin cream and eye cream. It felt really nourishing, relaxing, regenerating and I left with a light up face

The massage bed during the face treatment was heated which made me relax even more. Such a nice detail!
Once every week or every two weeks there's also a yoga class. Unfortunately I missed it by a day. Next time, hopefully.

Fire place next to the reception, and also another one in the restaurant give the hotel a nice touch.

Don't forget to look at the really interesting chandelier from the top third floor down to the main floor. I kept walking up and down the stairs instead of using the lift also to look at the chandelier. Good job with its choice.

Whole hotel is designed with natural materials, especially with loads of wood.

Wallachian room is a pretty room designed with local things. 

Nice Lobby bar where you can hang out in the afternoon or in the evening. I had a meeting there with a friend after 10 years as she happened to be in her home town just 10 km from the hotel so she came over to visit me.

The hotel hallways are decorated with paintings and drawings of people from the local area.

I appreciated fast wifi all around the hotel.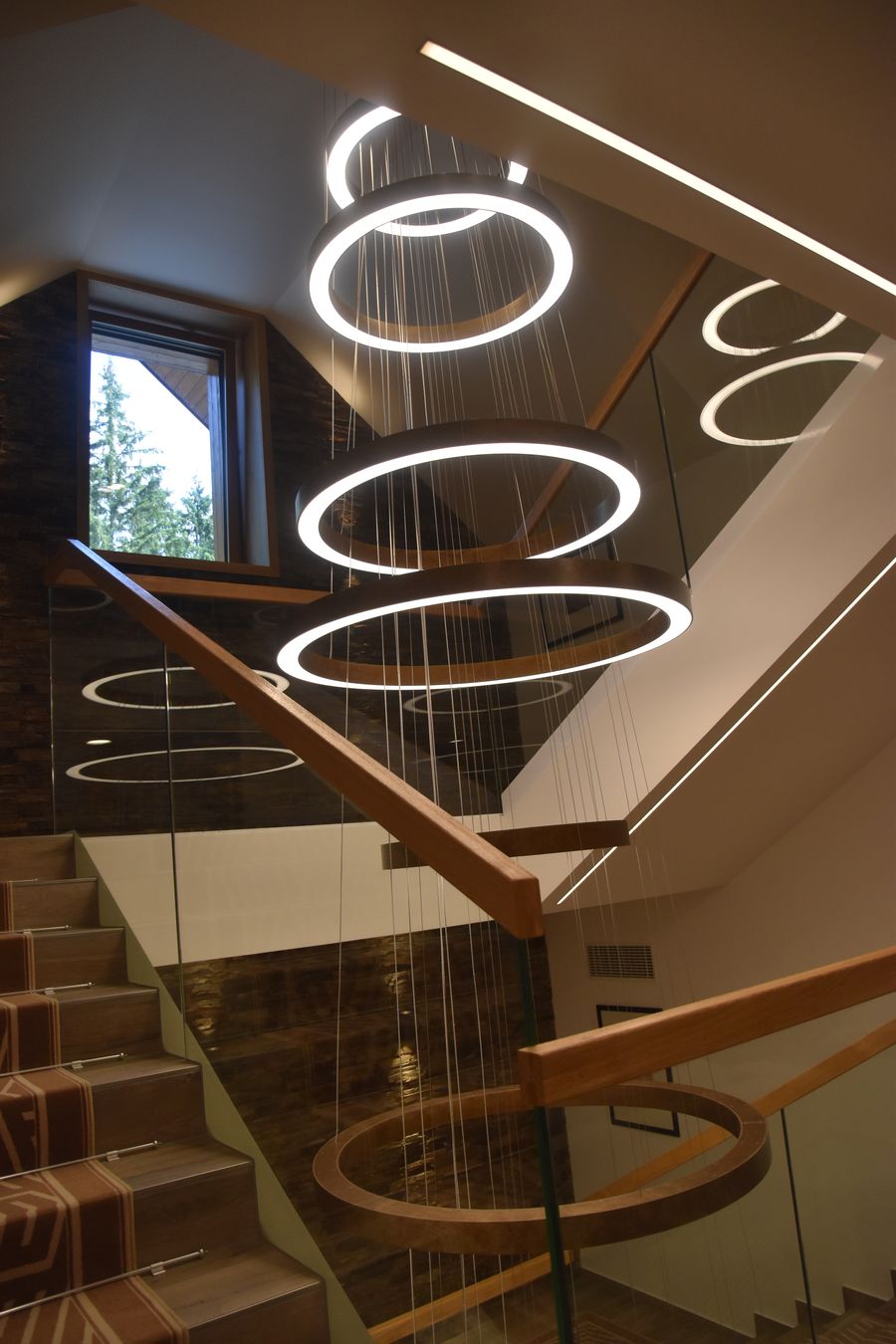 Leaflets about wellness are both in Czech and English and contain all the information about spa treatments, and about 4 saunas they have, their benefits and how to do sauna procedures correctly.

My name was welcoming me on the TV screen in my room ?

You can see a big wine cellar with approximately 4,000 bottles of wine just below the restaurant. I don't drink alcohol at all but noticed that many hotel guests were tasting wine at dinner and seemed to be pleased.

There's a room for kids to play, also over the weekend they play a fairytale/movie for kids in the congress hall.

You can rent e-bikes to explore the surrounding area.

If you are a couple staying at the hotel, then you might be interested in booking a private spa with jacuzzi, Finnish sauna, relax zone, a bottle of sparkling wine and a fruit platter. But as I stayed at the hotel alone, I just enjoyed both outdoor jacuzzis with incredible mountain view.

Hotel has a gym and electric vehicle charging station. 

There's a few really nice wooden animal statues around the hotel so don't forget to check them out 😉
I loved unique chandeliers made of bottles in my room and in the Lobby bar.
Grandhotel Tatra is dog-friendly. I saw quite a few guests staying at the hotel with their dogs. I used to have the best dog ever so I know how great it is to be able to take your dog on holidays.

 
What to improve at wellness Grandhotel Tatra
And what would I improve at wellness Grandhotel Tatra?
As usual, I'd make it easier for vegans, vegetarians and people with allergies and those on a special diet. I would use proper labels with allergens at buffet breakfast and dinner.
I think there should always be a gluten-free vegan option for dinner. At least one so people don't need to ask for it. That's the main thing that should improve. But to be honest, in general, very few hotels around the world offer gluten-free vegan meals so I am trying to change this.
Toiletries in the hotel rooms are not natural. You know my obsession with no chemical cosmetics already, right?
And being a vegan, it hurt me to see all the animal skin around the hotel. I understand it fits the are and the whole hotel design, yet it's not something for me personally. But it does make the hotel look cool.
Yes I understand I am not a "normal" hotel guest because I am vegan who uses only natural products on my body. That is why I am trying to convince hotels to be more eco-friendly, more open to natural cosmetics and offer more healthy food.
What to do around the hotel: walking around Velke Karlovice (visit the church, museum and check interesting local houses), visit a lake, hiking, cycling (58 km of cycling routes), skiing in winter etc.
---
---
TIP 2:
If you'd like to book your stay at any hotel around the world, I recommend you to do it via Booking.
Get a $15 discount if you book any hotel via this link
😉
---
---
.
.
.
Follow me on
Instagram
for more photos from my trips;)