15 things you need to know before you visit Dobsinska ice cave Slovakia
Have you ever thought of visiting Eastern Slovakia, the part of Slovakia I was born in? If so, one of the unique places I recommend you to check out is Dobšinská ľadová jaskyňa. Visit Dobsinska ice cave Slovakia is definitely one of the things you should do while in Kosice region.
15 things to know before you visit Dobsinska ice cave Slovakia
1. Dobsinska ice cave is located in the Slovak Paradise mountains in Eastern Slovakia. Slovak Paradise is one of 9 National Parks in Slovakia.
2. Dobsinska ice cave is the biggest ice cave in Slovakia with more than 110 000 cubic metres of ice!
3. As to the depth and length, it's also one of the largest ice caves in the world.
4. There's ice all year round, even in summer. At some places it reaches up to 25 metres of depth. 
5. The temperature inside the cave is from 0 to -4 Celsius with the average of 2 Celsius below 0. Please carry warm clothes if you don't won't to get frozen there, too.
6. The cave was discovered in 1870 and open to public already since 1871.
7. In the past there was a concert performed in the cave and public ice skating was allowed all year round until 1946. Nothing of that kind is allowed in there any more.
8. You need to hike for approx. 25 minutes from the parking lot to the cave entrance climbing the elevation of 130 m.
9. The entrance to the cave is located at 970 m a.s.l.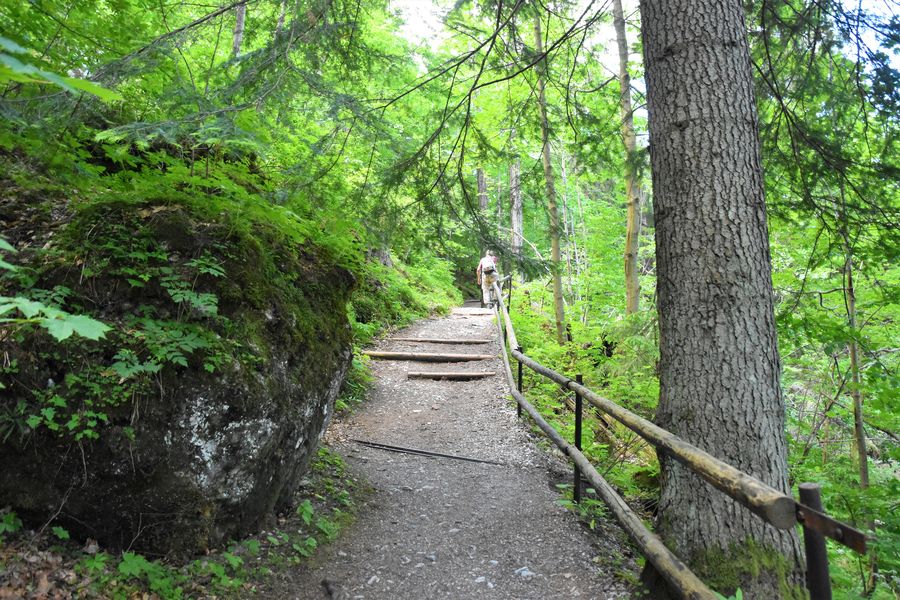 10. The whole cave tour takes around half an hour. You can enter only with a guide who will explain you basic facts about the cave, ice and the names of the cave parts.
11. Walking along the pavement and stairs only is possible inside the cave. 
12. The sightseeing tour of the cave is just 515 metres out of the 1483 metres of the full cave length. Along the route you will see parts of the cave with and even without ice. You will get out of the cave through the same entrance as you got in.
13. Since 2000 Dobsinska ice cave has been a UNESCO World Heritage Site.  
14. For its uniqueness, the stunning Dobsinska ice cave is definitely worth a visit. Hovewer, what I don't like there is that you need to pay quite a lot for the parking, entrance and even 10 euros for each camera if you want to take photos/videos inside.
15. One small tip from me, if you can plan visiting the cave in any other month but June, you would avoid school trips. Having 60 kids visiting the cave with you in June might make your visit less enjoyable and you might not even hear what the guide is saying.
---
TIP: Find more photos from Dobsinska ice cave here.
---
For more information about other UNESCO Sites in Eastern Slovakia, check out unesconadosah and Kosice region for more facts about events in the area.